Learn how to make easy homemade chicken noodle soup that you can pass on to your loved ones for generations! This classic recipe is made with juicy chicken, light noodles, tender veggies and aromatics, and a beautifully seasoned broth!
When YOU make this Chicken Noodle Soup Recipe please tag us @munchkintimeblog on Instagram, we would LOVE to see your creation!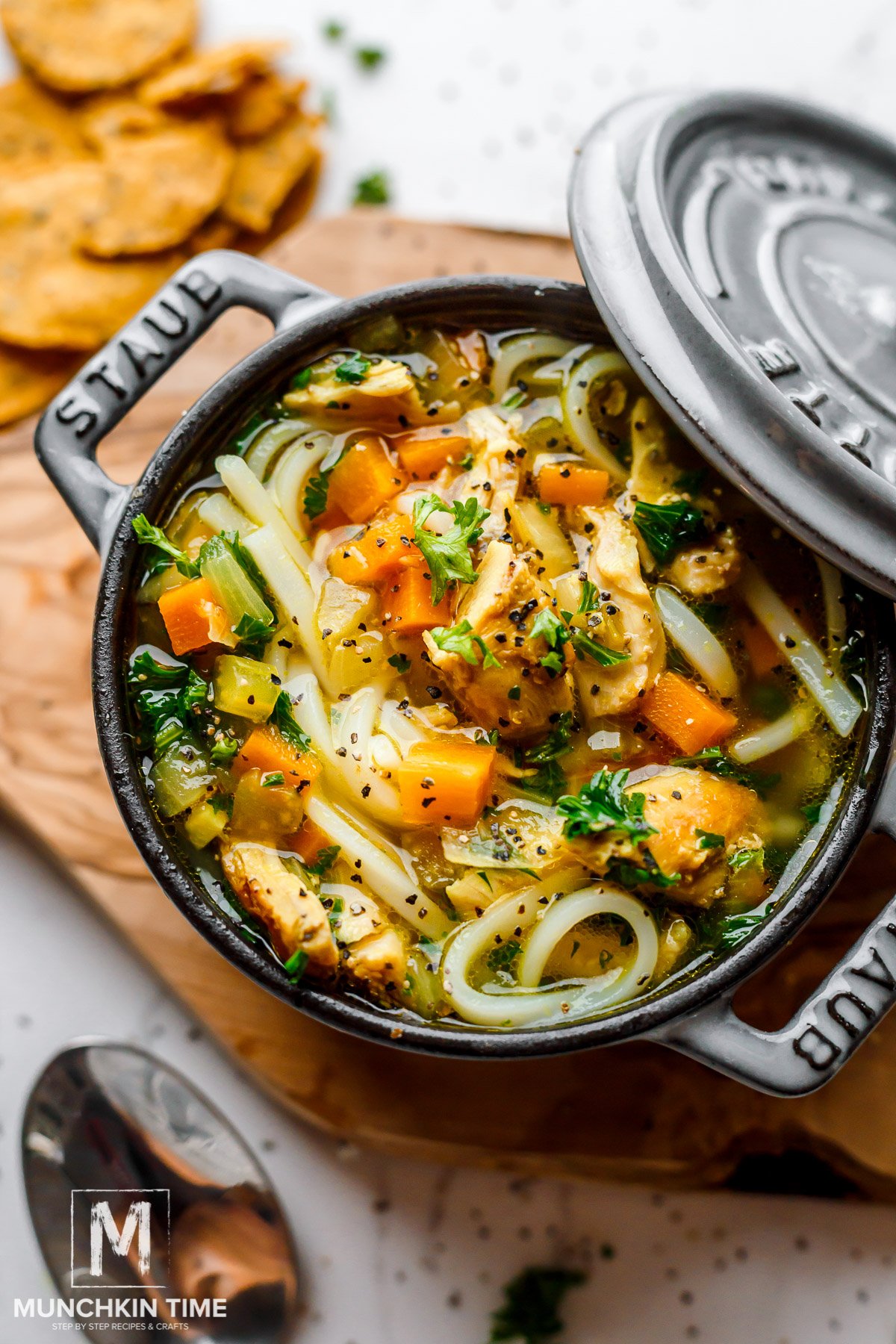 When I think of classic soup recipes, this chicken noodle soup with chicken thighs is the one that comes to the top of my mind. It's a homemade soup made from scratch and there's just nothing better on a cold day that a cozy bowl of traditional chicken noodle soup.
Making soup from scratch is so much easier than you might think. I'm sharing with you easy step-by-step instructions using ingredients that you probably already have most of.
Not only does it taste better than anything from a can, but it's also much healthier! You've got a ton of fresh veggies, control over the amount of sodium you add, and the best part is you can decide on the seasonings for a variety of flavors.
Making this chicken noodle soup recipe is also a great way to use up leftover chicken from yesterday's dinner or throw in whatever veggies you've got in your fridge. There's nothing complicated about this deliciously easy chicken noodle soup but you wouldn't know it by its amazing flavor!
So grab a big pot, your ingredients, and a bowl, and let's get started!

Ingredients Needed for Chicken Noodle Soup
Avocado oil: You'll need some oil to brown and cook the chicken and veggies first. I use a mild-tasting avocado oil but you can use olive oil instead if you prefer.
Chicken: I use different skinless, bone-in chicken parts for extra flavor. Chicken thighs and drumsticks with the fat trimmed. Bone in chicken adds so much extra flavor to the soup.
Veggies and aromatics: Onion, garlic, celery, and carrots. All are peeled and chopped or diced into similar bite-size pieces. Be sure to wash and peel the necessary vegetables before adding them in.
Seasoning: Thyme, Montreal steak spice, turmeric, ground coriander, and a bay leaf. These will help season the broth.
Water: Water allows for all the yummy flavors to be infused into it, turning the water into a flavorful broth.
Salt & pepper: To taste.
Parsley: Fresh chopped parsley is an optional garnish for serving.
Noodles: I use rice noodles, but you can use any pasta of your choice. Egg noodles, orzo, ditalini, orichiette, etc. Cook according to package directions.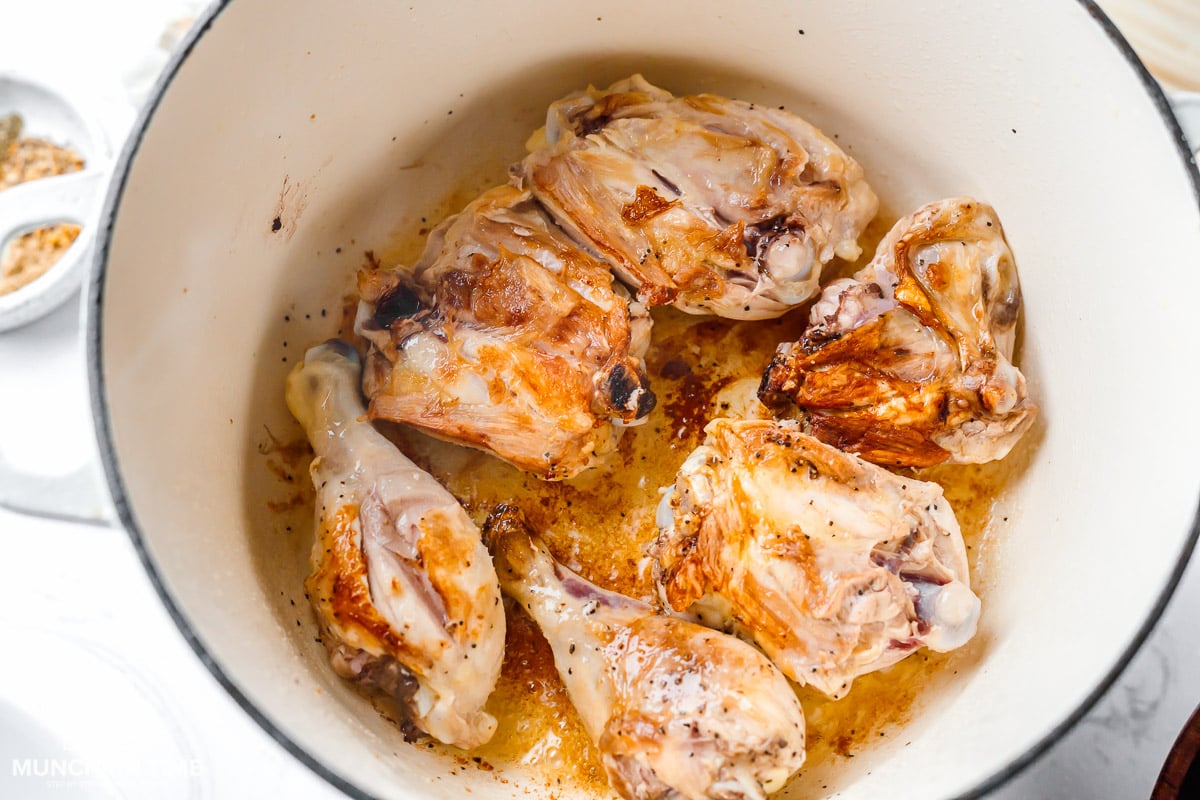 How to Make Easy Chicken Noodle Soup
This immune-boosting delicious soup is a complete meal all on its own! Enjoy it with a side salad and a slice of crusty bread and dinner is served.
Step 1: Over medium heat, add oil to a Dutch oven or large soup pot. Season the chicken with salt and pepper and brown it for about 3-5 minutes per side. If you have a lot of chicken, cook in batches so the pot is not overcrowded. Transfer the chicken to a plate.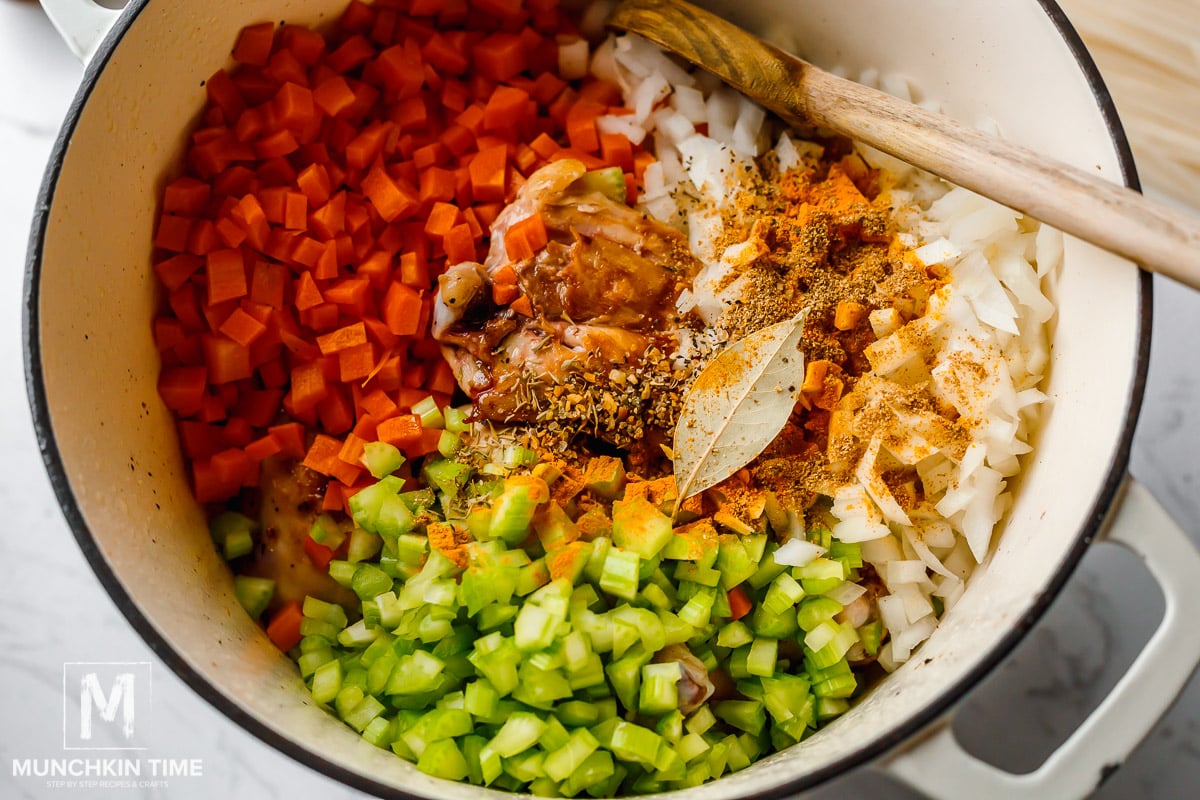 Step 2: In the same pot, cook the garlic for 1 minute. Add carrots, celery, onion, thyme, Montreal steak spice, coriander, and bay leaf. Transfer back the chicken to the pot and cover it with water.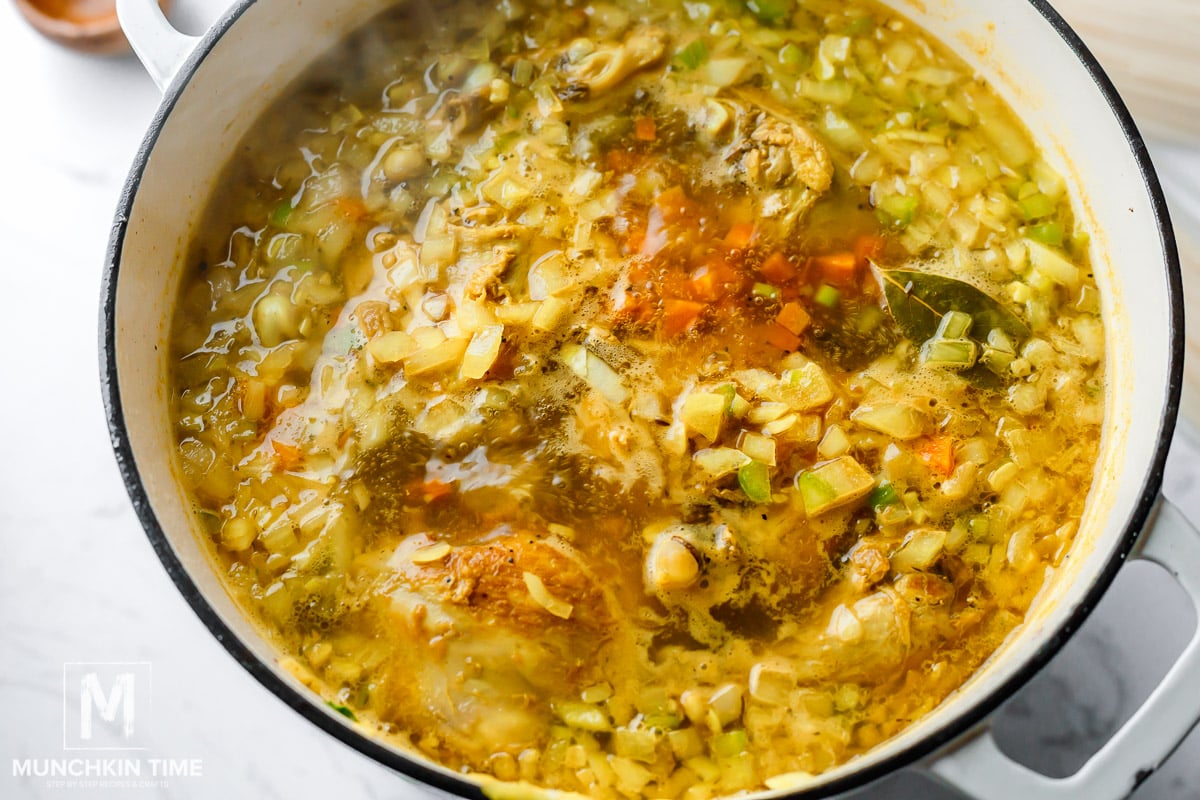 Step 3: Stir everything together and bring it to a boil. Reduce the heat to low and skim the top and remove any foam with a spoon. Partially cover with a lid, leaving space for steam to escape, and simmer for 40 minutes. Stir occasionally.
Step 4: Remove the chicken from the pot and place the pieces onto a plate. Using a knife and tongs, remove the meat from the bones (it should fall apart easily at this point) and chop up the chicken into bite-size pieces.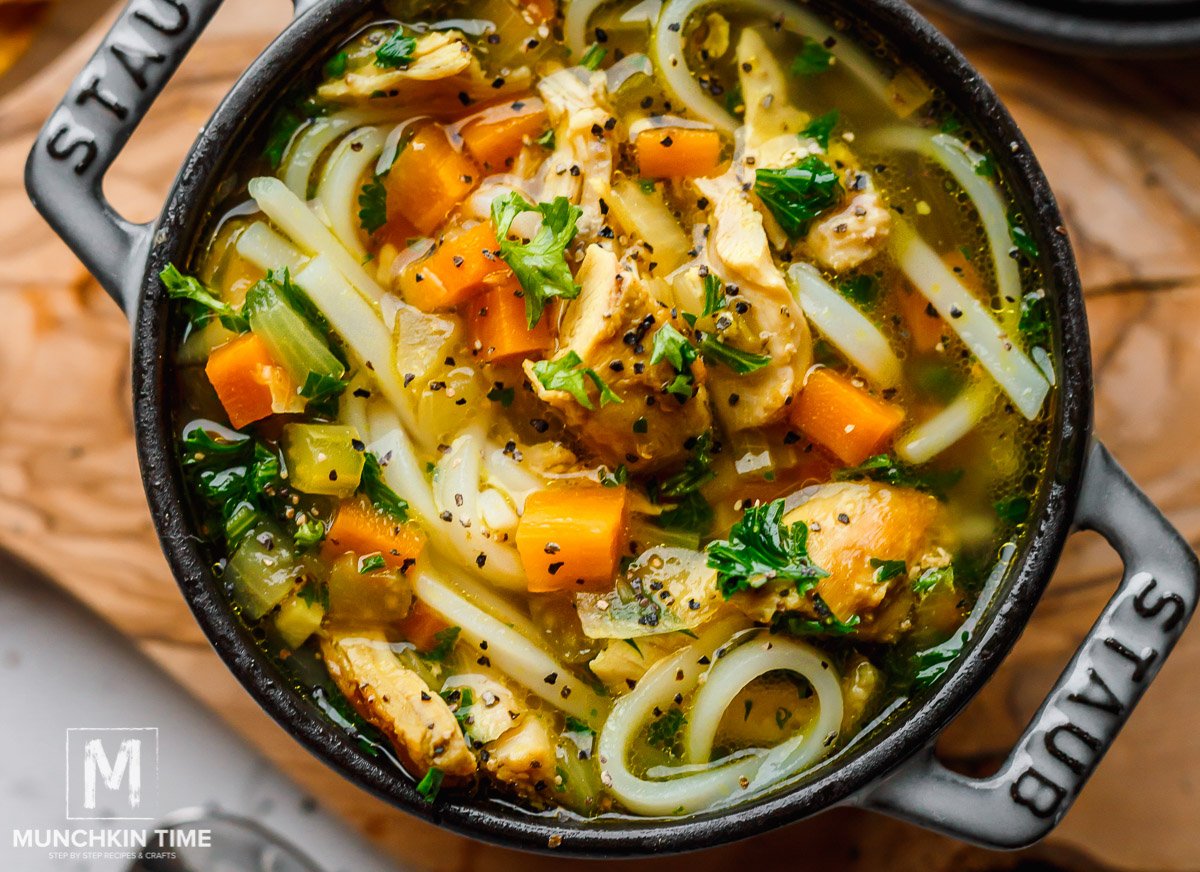 Step 5: Add the chicken back to the pot, add parsley for garnish, and season with salt and pepper to taste. Remove the soup from the heat and discard the bay leaf.
Step 6: Add the cooked pasta to your serving bowls and ladle the soup over each one. Garnish and season again and enjoy!
Recipe Tips
Homemade broth. If you have a jar of

homemade chicken broth

already on hand, go ahead and use that instead of the water.
Do not cook the pasta with the soup. The reason for this is the pasta will absorb too much liquid as it cooks. If you add too many noodles, it can really overtake the entire pot. This way you can control how many noodles are in each dish and since they're already cooked, there's less chance they'll absorb too much of the liquid.
Extra flavor. A squirt of lemon juice with parsley can really brighten up the soup! You can also serve it with a sprinkling of Parmesan cheese if you'd like.
Is this easy chicken noodle soup gluten-free?
As written with the rice noodles, this easy chicken noodle soup is gluten-free. If you're not using rice noodles, just make sure to replace them with whatever gluten-free noodles you prefer.
Is chicken noodle soup healthy?
It is! Especially when you make it yourself. Chicken contains lean protein, vitamins, and minerals. The garlic and onions are high in antioxidants, the veggies also contain vitamins and minerals, and the turmeric has a ton of anti-inflammatory properties as well.
When we make a soup that is loaded with the good stuff without all the extra junk like high sodium (MSG), or added sugars, we can control the nutrients we are consuming.
Add in some homemade bone broth and you're well on your way to fighting cold and flu season!
Can I use leftover chicken?
Yes! This can be a way to reduce waste and get dinner on the table even faster! Whether you've got leftovers or went out and bought an already cooked rotisserie chicken, skip the cooking of the chicken and toss in the pieces towards the end of the simmering time.
Storing, Freezing, & Reheating
Keep leftover soup stored in the fridge for up to 2 days in an airtight container.
If you know you'll be storing it for up to 1 week, keep the noodles separate. As mentioned earlier, they will absorb the liquid over time.
Freeze the soup without the noodles for up to 3 months. If you have a deep freezer you can store it for up to 6 months. Don't forget to label it first!
To reheat, thaw in the fridge overnight. You can reheat on the stovetop over medium heat or in the microwave. At this point you'll want to add fresh cooked noodles back into the soup.
Check Out More DELICIOUS Dinner Recipes
New York Strip Steak Grill Recipe
Cheesy Hot Beef Sandwich Recipe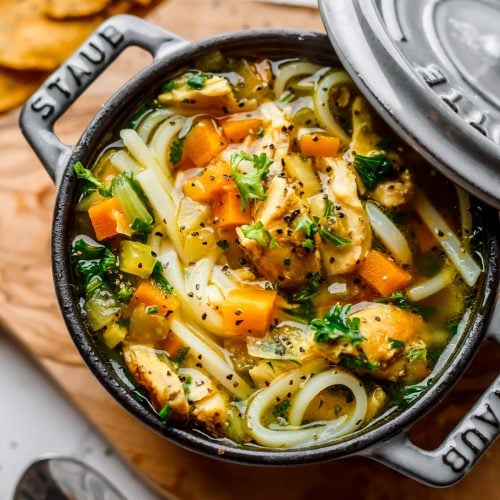 Easy Chicken Noodle Soup
This classic recipe is made with juicy chicken, light noodles, tender veggies and aromatics, and a beautifully seasoned broth!
Ingredients
2

tablepoons

avocado oil

2 1/2

lb

chicken

bone-in chicken parts, I used chicken thighs and drumsticks, skin removed, fat trimmed

4

cloves

garlic

chopped

3

medium

carrots

peeled & diced

3

celery

washed & diced

1

onion

peeled & diced

1/8

teaspoon

thyme

1

teaspoon

Montreal steak spice

1

teaspoon

turmeric

1

teaspoon

coriander

ground

1

bay leave

8

cups

water

salt & pepper

to taste

parsley

finely chopped, for garnish

4

oz

rice noddles

cooked according to the package, or use pasta of your choice
Instructions
Pour oil into dutch oven and preheat it over medium heat. Add chicken, season with salt and pepper and brown on both sides, about 3-5 minutes on each side (you might need to cook in batches).

Transfer chicken onto a plate, next add garlic and cook for 1 minute, stirring few times.

After, add browned chicken, carrots, celery, onion, thyme, Montreal steak spice, turmeric, coriander, bay leave and water. Stir and bring it to a boil, reduce the heat to medium/low. Remove the foam with a spoon. Cover partially, and simmer for 40 minutes, stirring few times.

Transfer chicken onto a plate, using a knife and tongs, cut chicken into bite size pieces. Return chicken back into the pot, garnish with chopped parsley. Season with salt and pepper, to taste.

Serve over cooked rice noodles, or pasta of your choice. Garnish with more parsley and back pepper, to taste. Enjoy!
Video
Notes
Hi! All content & images are copyright protected. Please do not use my images without prior permission. If you want to republish this recipe, please re-write the recipe in your own words, or simply link back to this post for the recipe. Thank you.
Nutrition
Calories:
1731
kcal
Carbohydrates:
6
g
Protein:
1
g
Fat:
189
g
Saturated Fat:
56
g
Polyunsaturated Fat:
40
g
Monounsaturated Fat:
85
g
Cholesterol:
161
mg
Sodium:
54
mg
Potassium:
193
mg
Fiber:
2
g
Sugar:
3
g
Vitamin A:
5190
IU
Vitamin C:
5
mg
Calcium:
36
mg
Iron:
0.4
mg
Q. – Do YOU like this Easy Chicken Noodle Recipe?
Let me know in the comments below, I would love to hear from you!
Thank YOU for YOUR Comment, Share & Recipe Review!
Happy Cooking!