Korean Beef Bulgogi Recipe – Thin strips of marinated beef cooked quickly over a hot sizzling grill or skillet is a delicious way to enjoy homemade Korean BBQ! Serve this easy beef recipe with rice and your favorite Korean side dishes for a meal the whole family will devour!
When YOU make Bulgogi Recipe, tag us @munchkintimeblog on Instagram, we would LOVE to see your creation!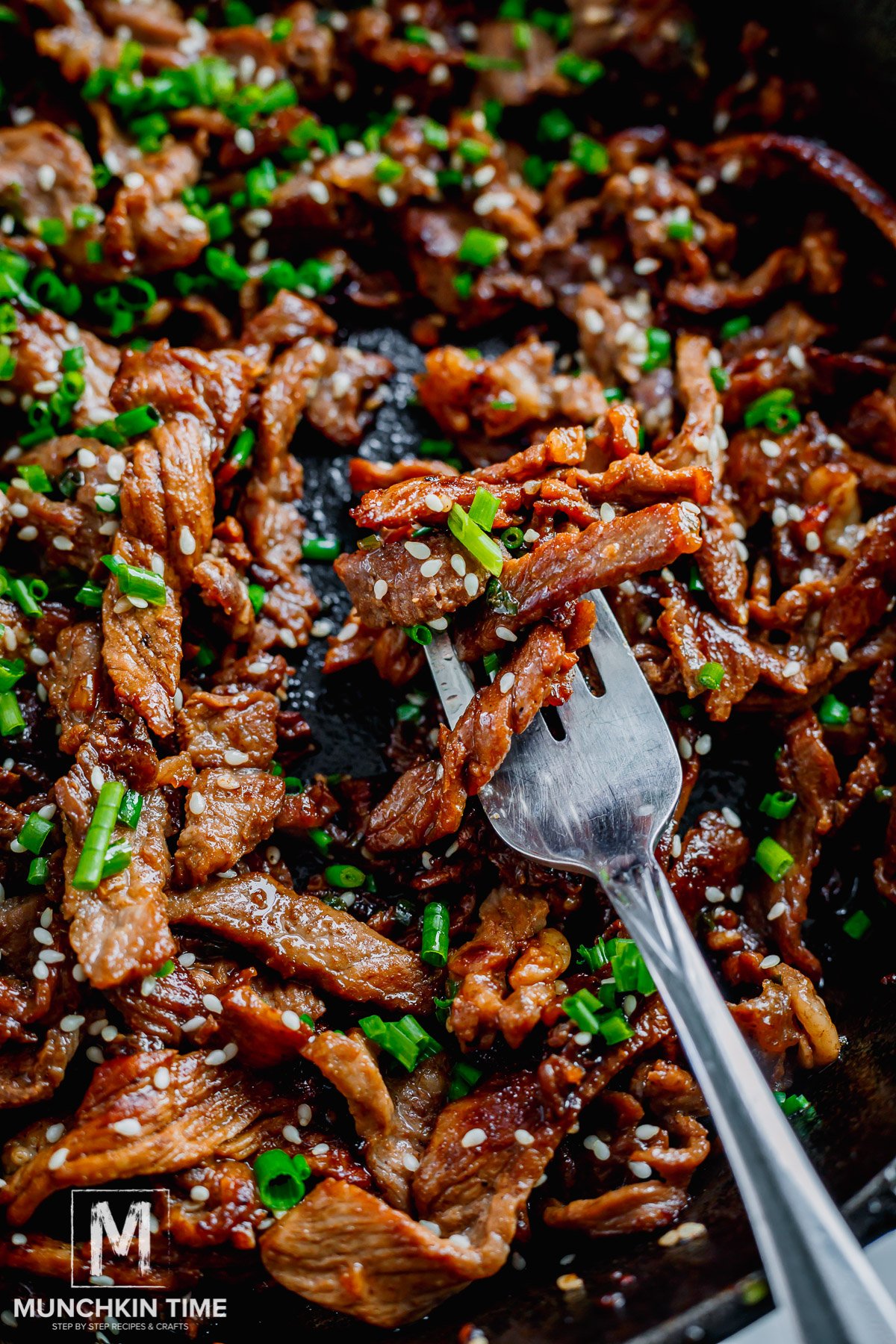 My family and I love going to Korean BBQ restaurants. We love gathering around the grill table and picking and choosing what we want to grill for our dinner. Bulgogi, which also means "fire meat" is the one we all love the most.
When I figured out that I could make a restaurant-style beef Bulgogi at home, it was a game-changer. It's so easy!
Made with thin strips of juicy marinated beef cooked in minutes. Packed with so much flavor, this memorable dish will become a regular meal at your dinner table too!
It has a sweet and savory flavor and smokiness and char from the sizzling heat. The tender meat metals in your mouth and is crazy delicious.
The best part is, we can now have our own Korean BBQ right at home!
What is Bulgogi Beef?
As mentioned above, Bulgogi means "fire meat" so it's essentially meat that is cooked over a fire. It's one of the most popular foods to ever come out of Korean BBQ and it's no surprise. It is AMAZING.
You can make it with other types of protein like pork or chicken, however, the most common and traditional version is with beef.
The meat is cut into thin strips and marinated in a sweet and savory mixture, but of course, there are different versions, depending on who's making it. The 3 most important components of a really good Bulgogi recipe are a great cut of meat, a flavorful marinade, and the right cooking method.
This Korean beef Bulgogi recipe gives you all 3 and ranks right up there with the best beef Bulgogi I've ever had!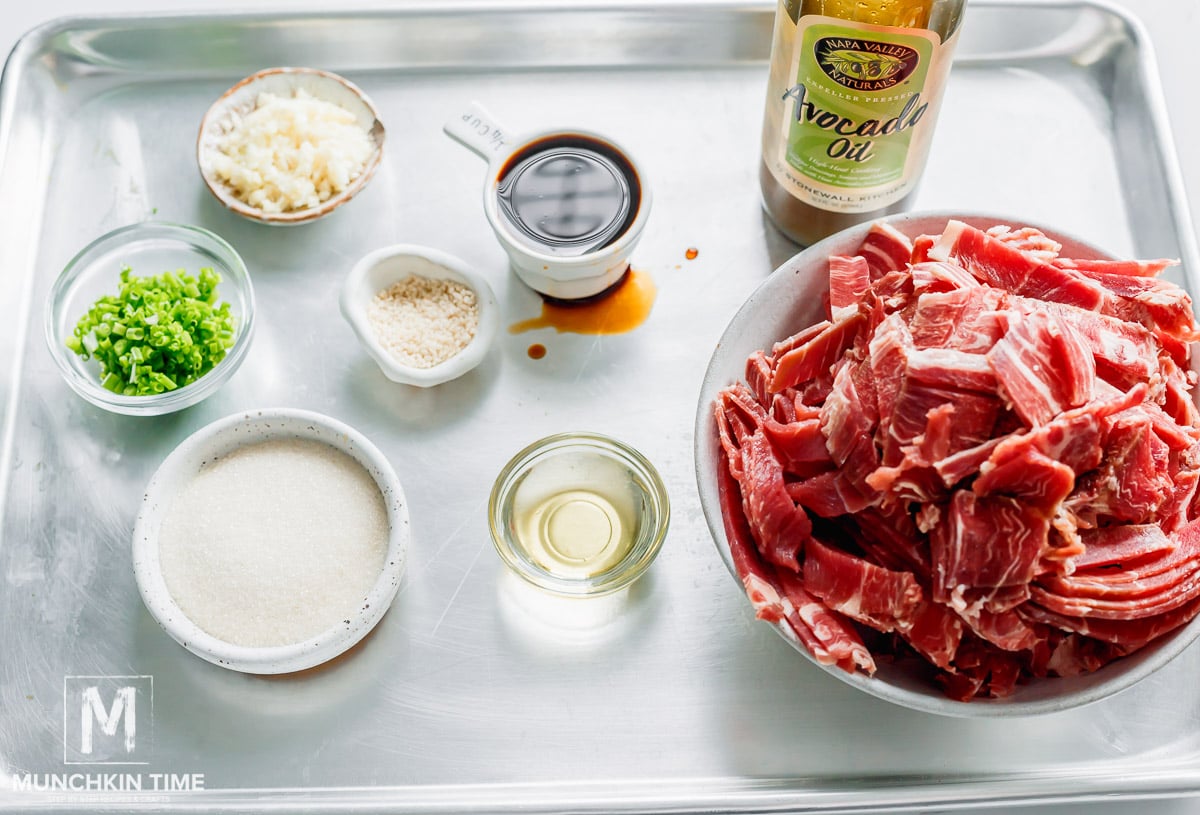 What's in Beef Bulgogi?
Beef: Pick a good cut of beef like a rib-eye or top sirloin. If not, you can actually make a shortcut version with ground beef, if you're looking for something a little more budget-friendly. You want to slice the beef to ⅛" thickness and then cut it into bite-size pieces. Keeping the meat semi-frozen makes slicing a lot easier.
Marinade: Soy sauce, sesame oil, sesame seeds, minced garlic, sugar, chives, and water are what go into this flavorful marinade. Salty, umami, aromatic, nutty, sweet, and savory are all complex flavors that come together so beautifully.
Avocado oil: For cooking!

How to Make Beef Bulgogi Recipe
Step 1: Combine all of the marinade ingredients except for the water in a large mixing bowl. Mix together until the sugar dissolves.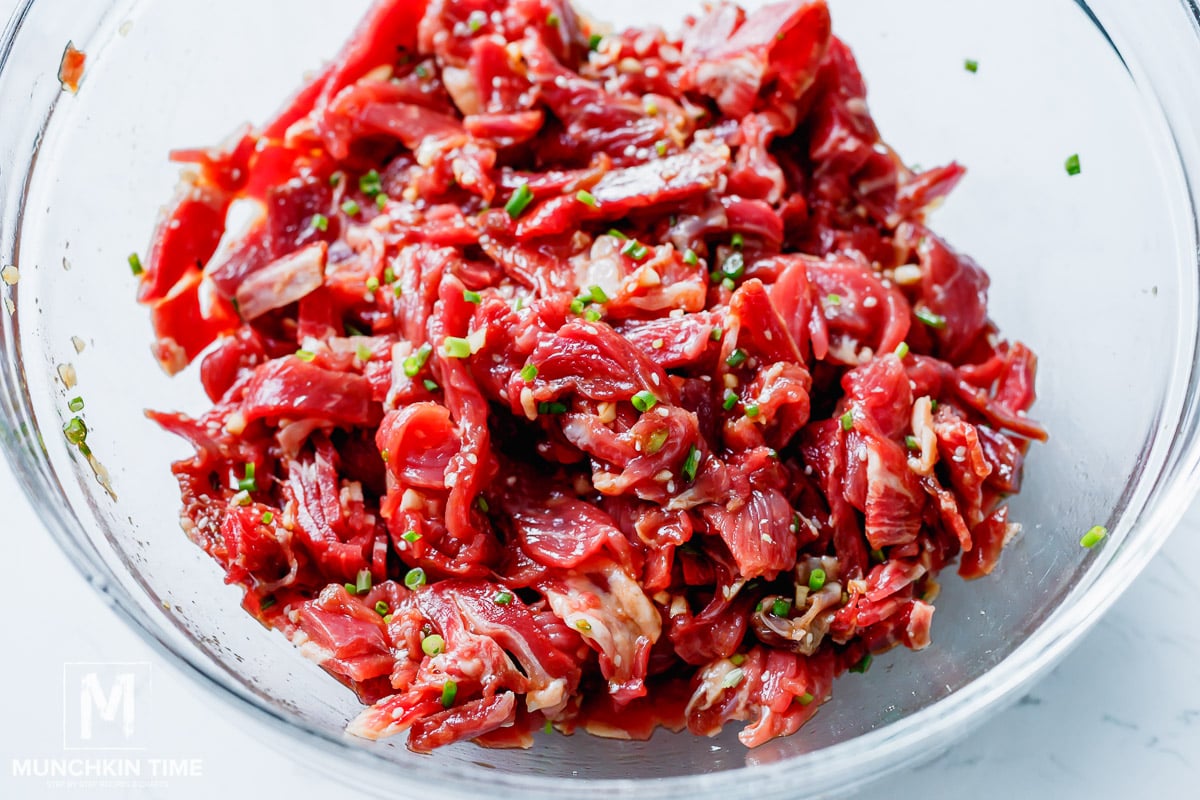 Step 2: Now, stir in the water. Place the beef into the bowl and stir the beef around until it is fully coated. Cover the bowl and place it in the fridge to marinate for at least 3 hours or overnight.
Step 3: Remove the beef from the fridge and allow it to come to room temperature. In the meantime, heat oil in a skillet over medium-high heat.
Step 4: Using tongs, place the pieces of meat in the skillet in a single layer without overcrowding the pan. Sear for 1 minute or until no longer pink, then flip to the other side and sear for another 1 or 2 minutes.
Step 5: Garnish with extra sesame seeds and sliced green onion and serve immediately. Enjoy!
Recipe Tips
Tender meat. The marinating helps tenderize the meat, but you still want to slice it against the grain to shorten the fibers. This will help make it even more tender.
Add veggies. You can add thinly sliced carrots to the marinade as well. Or toss in some mushrooms as it cooks.
Have a grill pan? Use it! A cast-iron grill pan is a great way to promote smokiness and char.
Different sweetener. If you prefer to use puréed Asian pear in your marinade rather than white sugar, go for it. You can also use brown sugar instead.
Spice. Sprinkle in some red pepper flakes for heat! Ginger is also a great way to add a kick to the flavor of the marinade.
What to Serve with Beef Bulgogi?
Traditionally it's served over steamed white rice or brown with a side of kimchi, pickled radish, or steamed veggies. Turn it into a truly delicious meal the whole family will love!
I like to use leftover Bulgogi as a filling in wraps or lettuce wraps for an easy lunch the next day, or making Korean Stir Fry.
How long to marinate beef Bulgogi?
That depends on how much time you have and how tough the meat is. Tough cuts of meat become tender with a longer overnight marinating time.
If you're short on time, tenderize the beef by pounding it first to help speed up the process and then marinate for a minimum of 3 hours.
Can I make vegetarian Bulgogi?
You can! Despite the name fire meat, you can swap the beef with firm tofu and enjoy a vegetarian version of this dish.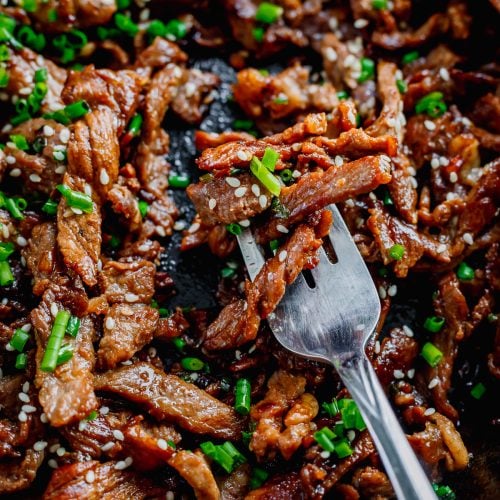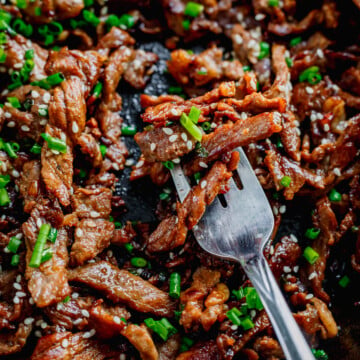 Korean Beef Bulgogi Recipeb
Korean Bulgogi Recipe - Thin strips of marinated beef cooked quickly over a hot sizzling grill or skillet is a delicious way to enjoy homemade Korean BBQ!
Ingredients
1 1/2

lb

beef

rib-eye or top sirloin, sliced to 1/8 inch thick & cut into bite size pieces (semi-freezing the beef helps to cut it into thin strips)

1/4

cup

soy sauce

1

tablepoon

sesame oil

2

teaspoons

sesame seeds

plus more for garnish

1

tablespoon

garlic

minced or finely chopped

3

tablespoons

sugar

2

tablespoons

chives

sliced, plus more for garnish

1/4

cup

water

2

tablespoons

avocado oil
Instructions
Using a large bowl, combine all of the ingredients except beef and water. Mix until sugar dissolves.

Pour in water and add beef, mix. Cover and marinate for at least 3 hours, best overnight.

Heat oil in the skillet over medium/high heat, add beef pieces (be careful not to over-crowd), sear for 1-2 minute or until brown color, flip on the other side and sear for 1-2 minutes.

Serve immediately. Garnish with sesame seeds and sliced green onion.
Video
Notes
Hi! All content & images are copyright protected. Please do not use my images without prior permission. If you want to republish this recipe, please re-write the recipe in your own words, or simply link back to this post for the recipe. Thank you.
Nutrition
Calories:
368
kcal
Carbohydrates:
8
g
Protein:
21
g
Fat:
28
g
Saturated Fat:
9
g
Polyunsaturated Fat:
1
g
Monounsaturated Fat:
13
g
Trans Fat:
1
g
Cholesterol:
81
mg
Sodium:
617
mg
Potassium:
344
mg
Fiber:
0.2
g
Sugar:
6
g
Vitamin A:
44
IU
Vitamin C:
1
mg
Calcium:
35
mg
Iron:
3
mg
Q. – Do YOU like this Bulgogi Recipe?
Let us know in the comments below, we would love to hear from you!
Thank YOU for YOUR Comment, Share & Recipe Review!