3-ingredient Gluten Free Chocolate Cake – this easy gluten free chocolate cake is a lifesaver for quick and easy desserts for gluten-free guests! It's rich, decadent, and chocolaty, so no one will even know it's gluten-free. It's the perfect dessert for any occasion, whether you're following a gluten free diet or not!
If YOU make Easy Chocolate Cake Recipe, PLEASE hashtag #munchkintimeblog on Instagram, we would LOVE to see your creation! Thank you!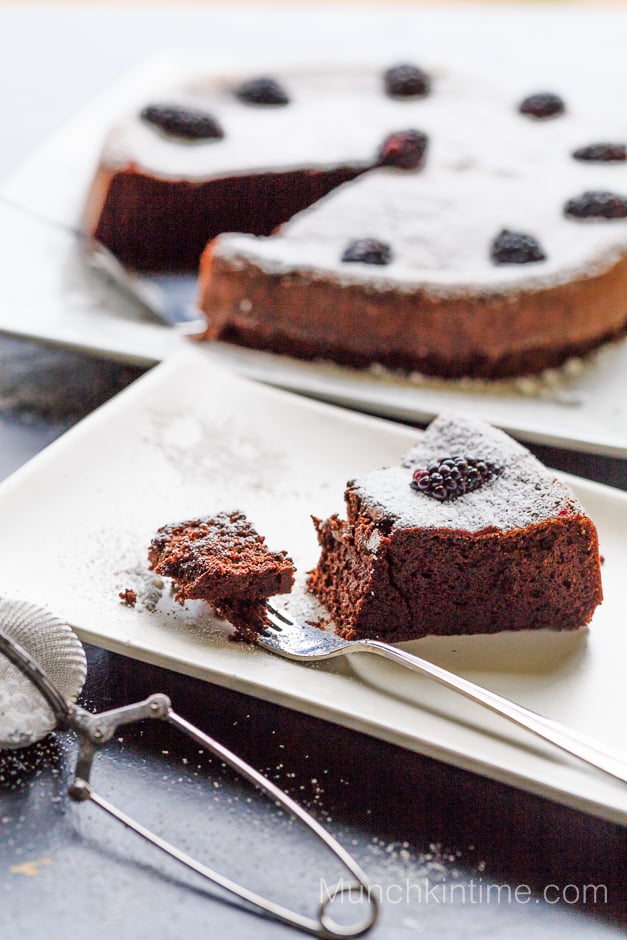 This gluten-free chocolate cake recipe not only has no gluten in it, but it's a flourless cake too!
It's made with 3 ingredients, just eggs, butter, and semi-sweet chocolate which means you probably already have what you need and there's no need to worry about measuring flour properly.
In fact, sometimes working with gluten-free flours can be tricky in terms of finding the right one for the taste and texture and this gluten free chocolate cake recipe doesn't require any of that!
Gluten is a sneaky bugger and can be found in everything from ketchup and toothpaste to flour and seasoning. So, if you need to be strict about it for anyone with a gluten allergy or intolerance, the fewer ingredients the better.
Top with fresh berries, a sprinkling of powdered sugar, or your favorite gluten-free frosting, and leave your guests impressed and fully satisfied!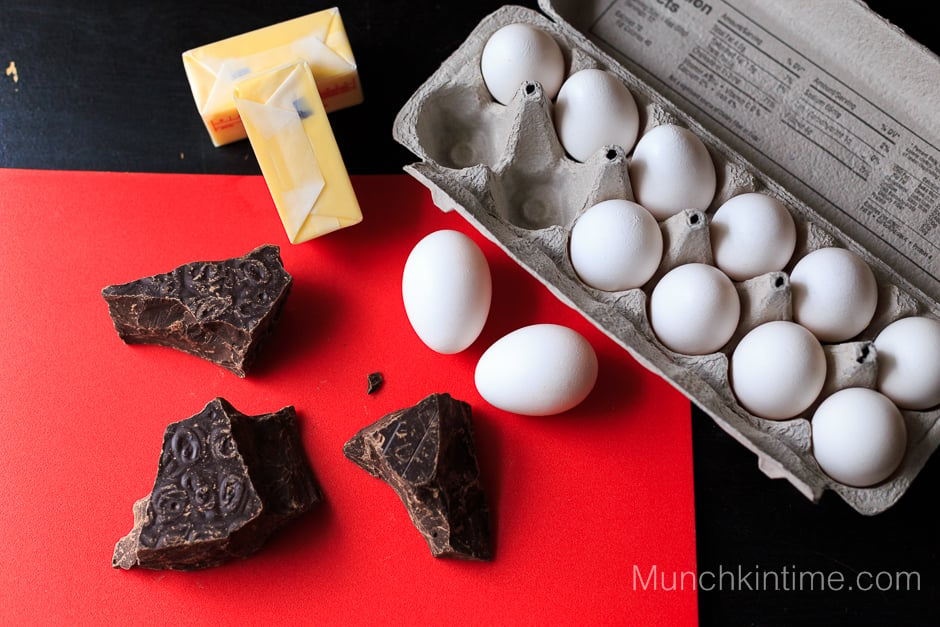 Ingredients for Flourless Chocolate Cake
This 3-ingredient cake recipe is fantastic! Since there are so few ingredients, you want to make sure to use good-quality chocolate. It's a denser cake but the richness shines through.
Large Eggs: There's no flour in this gluten free chocolate cake so we need plenty of eggs to hold it together. They also help to keep it nice and moist, so you'll need 8 large eggs.
Chocolate: Use whatever type of chocolate you prefer. Dark chocolate, semi-sweet chocolate, or milk chocolate. Depending on which type you pick, it will have a different level of sweetness. Ghirardelli is a great brand, but use what you've got.
Butter: The fat needed to keep the cake moist and decadent and the chocolate velvety smooth.

How to Make Chocolate Cake Gluten Free
Before you begin, preheat the oven to 350 F and add boiling water to a separate baking pan and place it on the lower rack in the oven. The steam will help to keep the cake nice and moist as it bakes.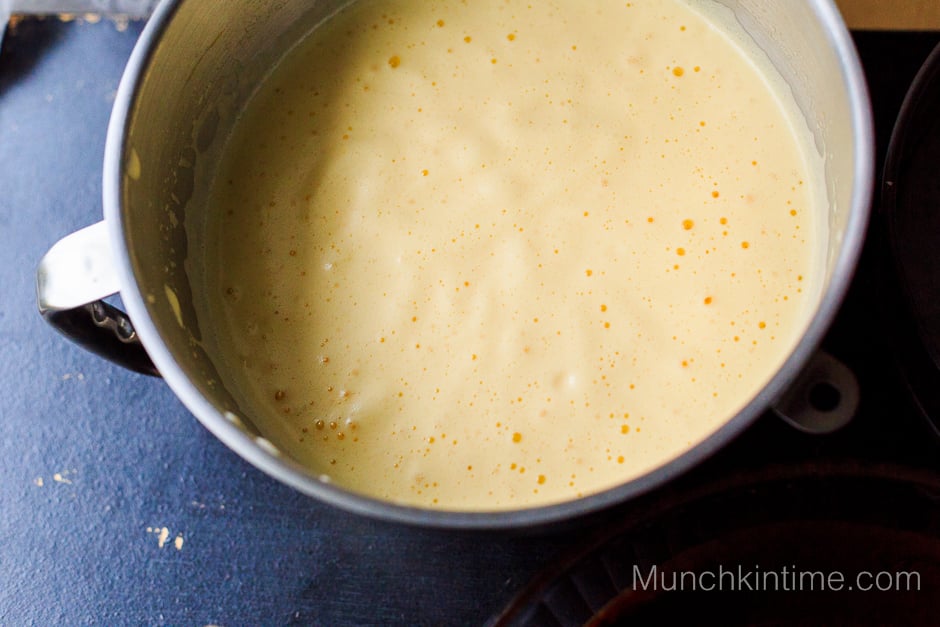 Step 1: In the bowl of a stand mixer (or mixing bowl with an electric hand mixer) beat the eggs on high speed for 5 minutes until frothy and airy.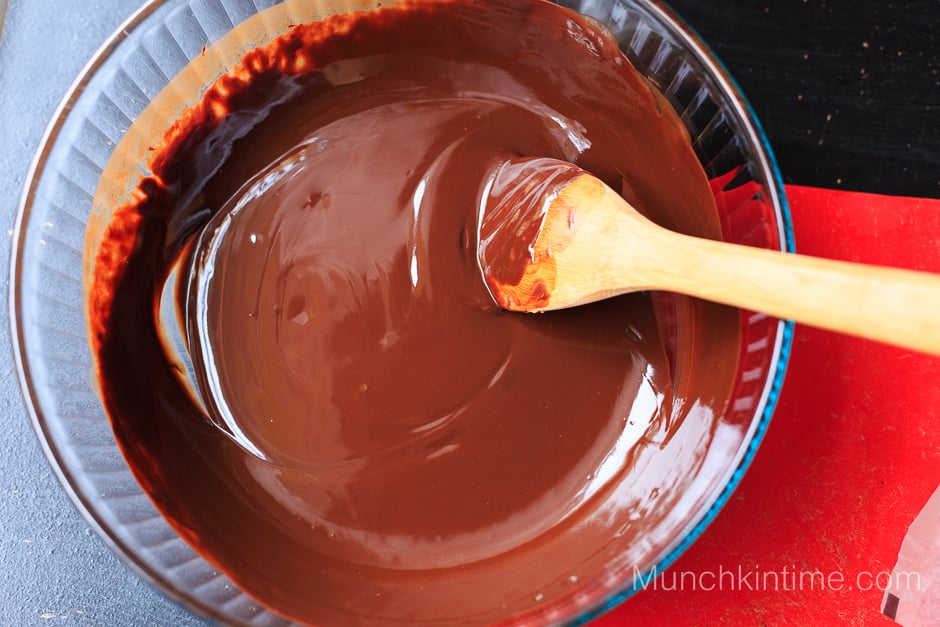 Step 2: Place chocolate and butter in a large microwave-safe bowl and microwave for 30-second intervals, stirring in between each one, until fully melted.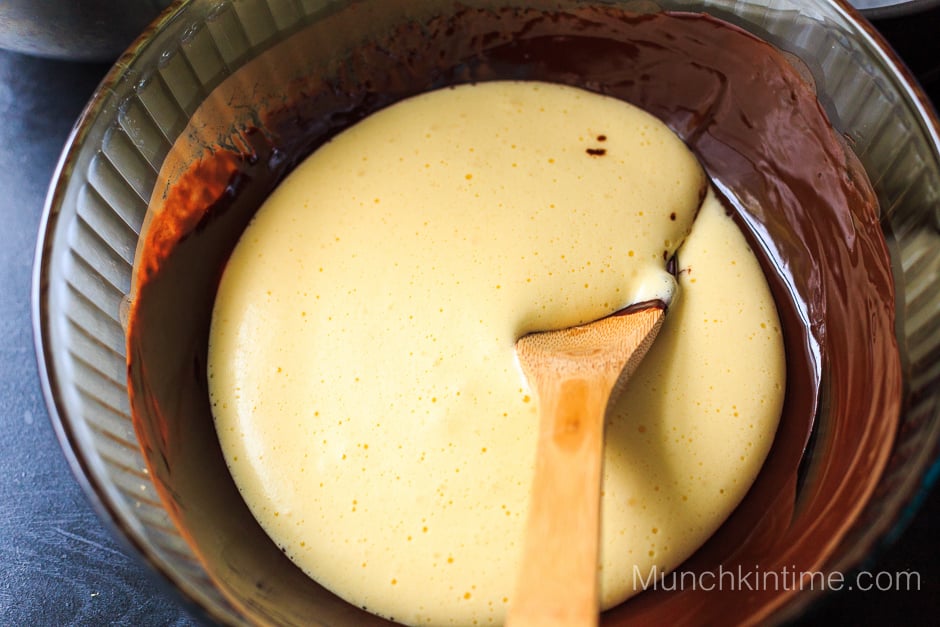 Step 3: Fold in ⅓ of the egg mixture into the melted chocolate but do not overmix. A few streaks of egg mixture are fine! Repeat with the remaining egg mixture until it's all folded into the chocolate.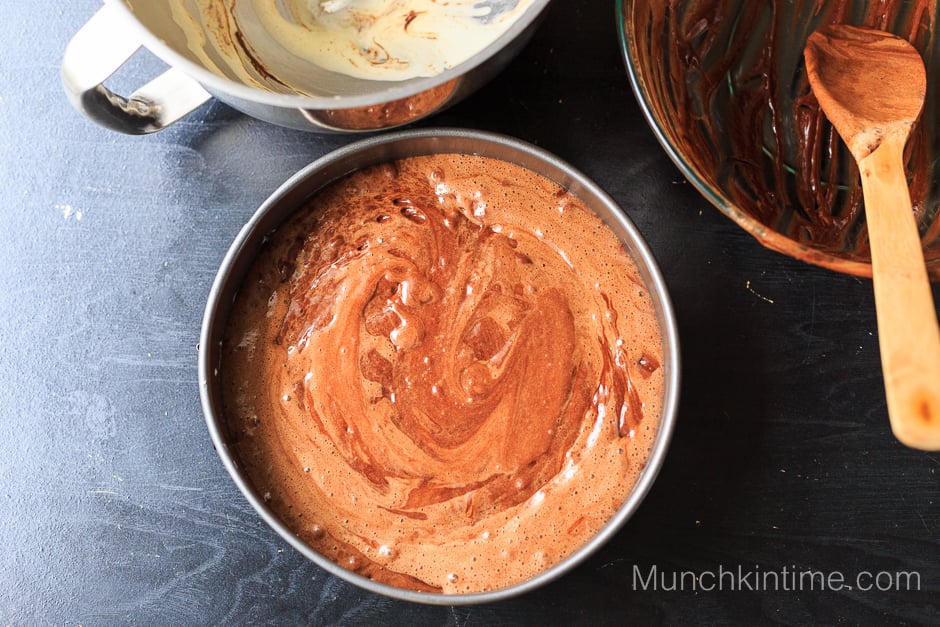 Step 4: Pour the batter into a butter greased 9" parchment-lined baking pan. Spread it out evenly with a spatula and place it in the oven on the middle rack.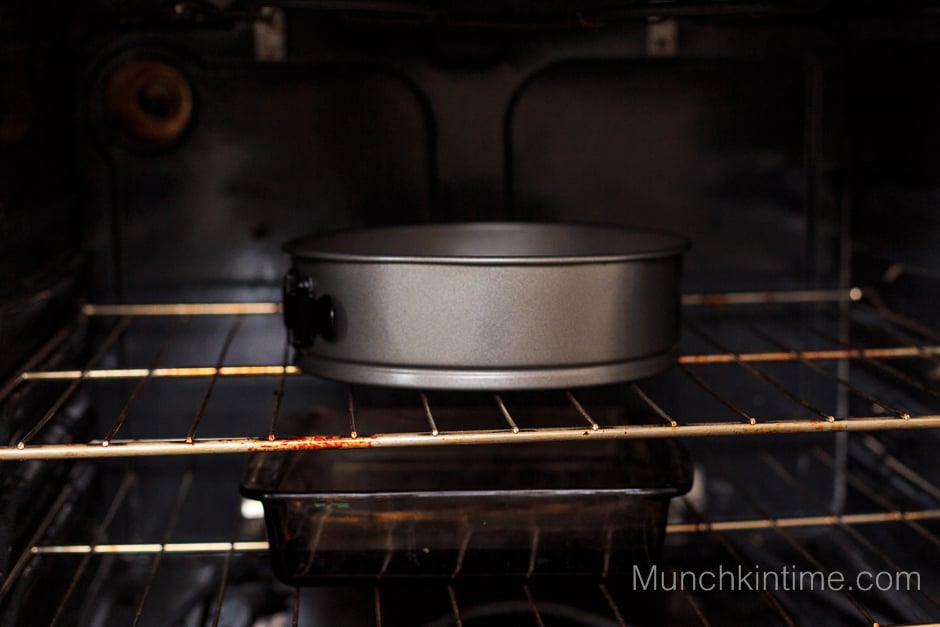 Step 5: Bake for 30-40 minutes until a toothpick comes out clean when inserted in the middle. Let it cool first, then transfer it to a cake platter. Don't forget to remove the parchment paper from the bottom of the cake.
Garnish with fresh berries and a dusting of powdered sugar, and enjoy a slice or two!
Recipe Tips
Make sure to microwave the chocolate in small increments. This way you don't overheat the chocolate. Once it seizes it is very hard to get back to being smooth, and it can even become burnt. Avoid wasting good chocolate by being careful!
Use a springform pan. If you have one, this is a great way to pop out your cake without worrying about ruining its form.
Be careful with the pan of boiling water! It's hot! Leave it alone until the oven has completely cooled. There's no rush in removing it!

Have it anytime. Birthday parties, anniversaries, baby showers, Easter, Christmas, you name it!
FAQs
Is flourless chocolate cake gluten free?
This one is, yes, but it's not the case with all flourless cakes. As mentioned earlier, gluten can be found in so many things, so even though there is no flour, you have to make sure the other ingredients don't contain gluten.
Why do I need a water bath?
The reason for this is so that the cake stays moist and doesn't dry out and crack. It's also important not to open the oven door while it's baking. The change in temperature can also cause it to crack on top.
When you frost a cake you can hide it, but when you're serving it as is, a crack on top of your cake isn't very nice looking!
What can I top my gluten free chocolate cake with?
I like to keep this one simple and let the chocolaty richness shine through, so fresh berries and a bit of powdered sugar is what I use. Berries like strawberries, raspberries, blueberries, and blackberries are always a hit.
A chocolate ganache, or gluten-free frosting is a great idea for a birthday cake, or leaving in plain and serving it for a special brunch with a cup of tea is always an option.
Make Ahead & Storing
To make it ahead, once baked, let it cool and wrap it in plastic wrap and keep it stored in the fridge overnight. You can enjoy it as is at room temperature, or warm it up in the microwave if you prefer.
It is best enjoyed within a day of making it, but will stay fresh for up to 4 days in the fridge.
3-ingredient Gluten Free Chocolate Cake Recipe
Incredibly delicious gluten free chocolate cake recipe!
Instructions
Preheat the oven to 350F. Grease 9 inch baking pan with butter then add a cut out parchment paper inside the baking pan. Using a tea pot boil some water then pour it into different baking pan and place it on the lowest oven rack. This Gluten Free Chocolate Cake requires moist air in the oven while it's baking.

Using a stand mixer beat eggs on high speed for about 5 minutes or until it doubles the size.

Using big microwave-safe bowl place chopped chocolate and sliced butter and microwave it for 30 seconds. Take the bowl out stir chocolate with a spoon then place it back in the microwave and microwave it for another 30 seconds. Repeat this step until the chocolate is nicely melted thru.

Using a big spoon or spatula fold 1/3 of egg mixture into the chocolate until you will see few streaks of egg mixture be careful not to over mix. Repeat this step until all of the egg mixture is fold with chocolate mixture.

Pour batter into the baking pan. Place it on the medium oven rack and bake it for 30-40 minutes or until toothpick comes out clean. Let it cool then remove parchment paper from the bottom and place your chocolate cake on a plate garnish with berries and powdered sugar. Cut a slice and enjoy!
Notes
Hi! All content & images are copyright protected. Please do not use my images without prior permission. If you want to republish this recipe, please re-write the recipe in your own words, or simply link back to this post for the recipe. Thank you.
Nutrition
Calories:
601
kcal
Carbohydrates:
30
g
Protein:
10
g
Fat:
49
g
Saturated Fat:
28
g
Polyunsaturated Fat:
2
g
Monounsaturated Fat:
14
g
Trans Fat:
1
g
Cholesterol:
250
mg
Sodium:
257
mg
Potassium:
397
mg
Fiber:
5
g
Sugar:
21
g
Vitamin A:
998
IU
Calcium:
70
mg
Iron:
4
mg
Q. – Do YOU like this Gluten Free Cake Recipe?
Let me know in the comments below, I would love to hear from you!
Thank YOU for YOUR Comment, Share & Recipe Review!
Have a Blessing Day!