Air Fryer Chicken Nuggets – The easiest homemade chicken nuggets made in the air fryer always come out golden on the outside, tender and juicy on the inside. They're also lighter and healthier, made without any heavy oils or deep frying!
When YOU make Chicken Nuggets Recipe please tag us on @munchkintimeblog on Instagram, we would LOVE to see your creation!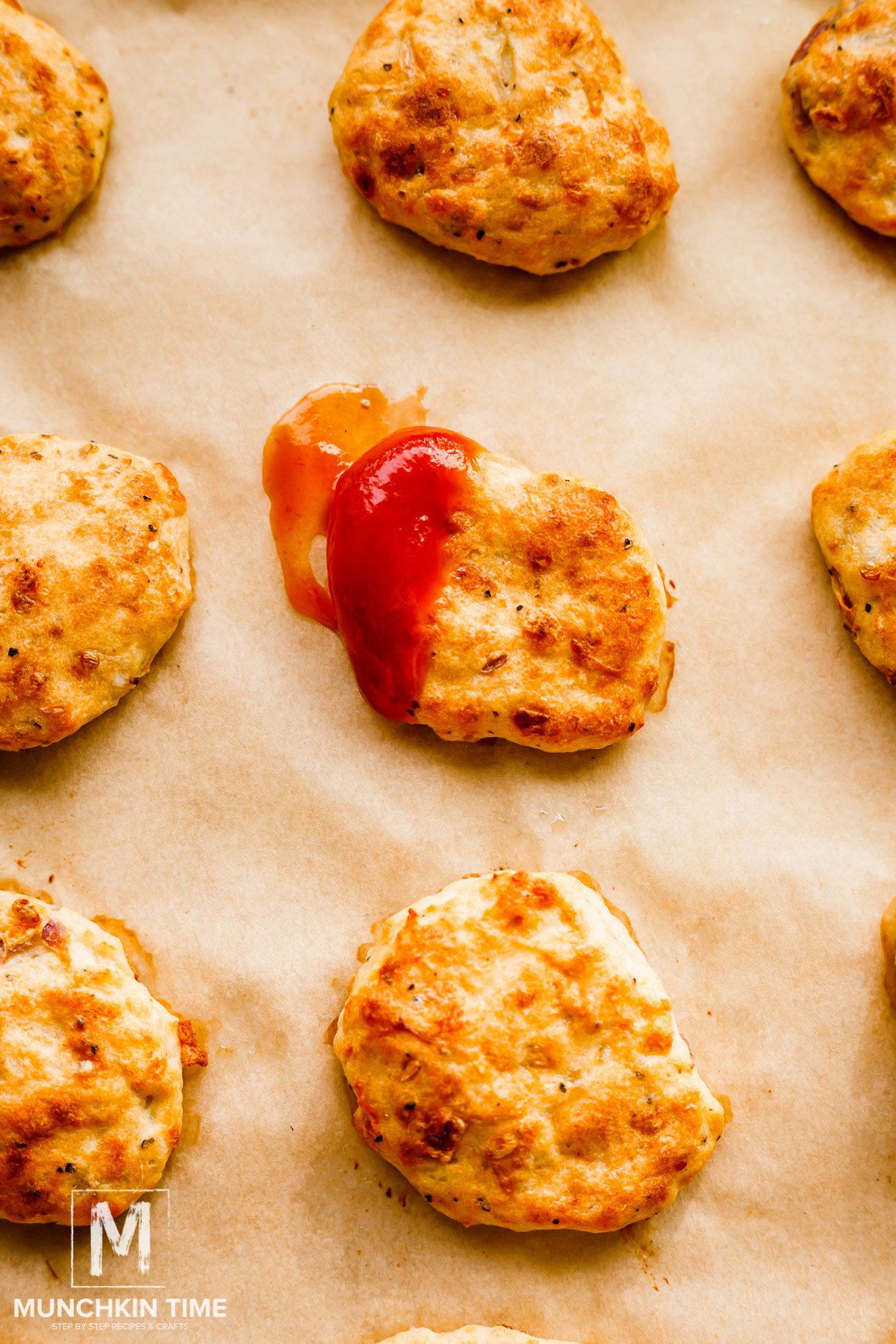 These gluten-free air fryer chicken nuggets are made without dredging in flour or breading and are still exactly how nuggets should be! Perfect.
They come together so easily just by pulsing all the ingredients in a food processor and shaping them into nuggets. Then, the air fryer does all the work!
I don't know anyone who hasn't enjoyed chicken nuggets and fries before, but if you really think about how they're made when you order them from takeout or the freezer section, you may want to think twice!
That's why I decided to make mine from scratch using real chicken breast, boiled potatoes, onions, and some seasoning. That's it! They're super flavorful with just the right texture and so much healthier than the processed kind. I pack these up in my kid's lunches and they go crazy for them!
The air fryer does the best job of crisping up the outside while locking in the moisture and never leaving you with dry, overcooked chicken. This recipe is foolproof.
These bite-sized golden nuggets are incredibly easy to make and are a nostalgic comfort food for the whole family!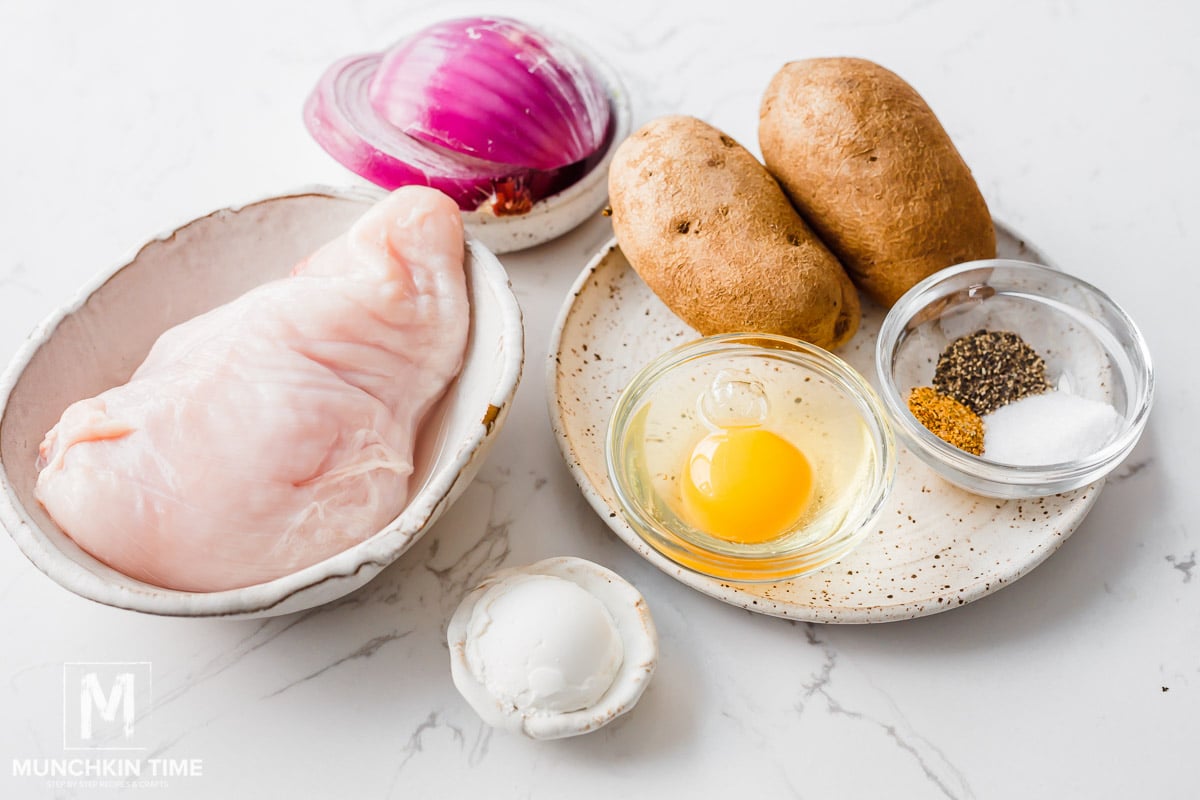 Ingredients for Air Fryer Chicken Nuggets
Potatoes: You can use either 2 medium or 1 large potato. Boil and peel them ahead of time. These act as binding agents thanks to all the starch. It's a great way to replace flour!
Chicken breast: You'll just need 1 boneless, skinless chicken breast. Trim as much excess fat off the meat as you can, if any.
Red onion: Just a medium onion will do. Roughly chop or slice it, as it will become pureed in the food processor anyway.
Egg: Another binding agent that will also help to keep these air fryer chicken nuggets nice and moist.
Cornstarch: This is one of the secrets to crispy chicken!
Seasoning: Garlic powder, Montreal Steak Spice, salt, & pepper.
How to Make Chicken Nuggets in Air Fryer
Step 1: Potatoes should be cooked ahead to save you some time, but if you haven't done that yet, do it now! Boiling is easiest, you can boil them whole or in chunks. Just be sure to peel them. While you wait, chop the onions and gather the rest of the ingredients.
Step 2: Add everything to the food processor. Blend until pureed.
Step 3: Use a small ice cream scoop to scoop out the meat mixture and with greased hands (I like to use avocado oil) form each portion into the shape of a chicken nugget. The mixture can be sticky!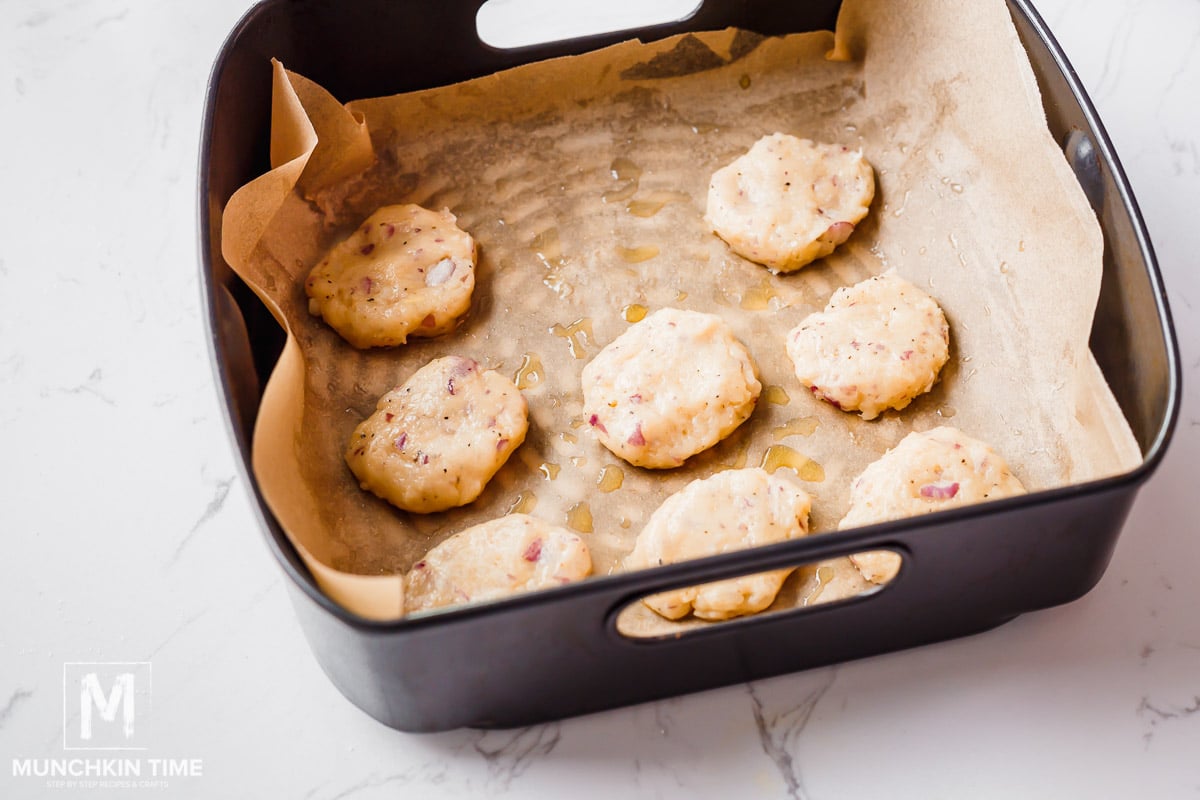 Step 4: Place each one in the air fryer basket. If you want you can line your basket with parchment paper. Regular, or the pieces with holes in them, specifically for the air fryer. Whichever way you go, they'll turn out great.
Step 5: Arrange all the nuggets in the basket in a single layer, leaving enough room between each one for the heat to circulate. You may need to work in batches so you don't overcrowd the basket.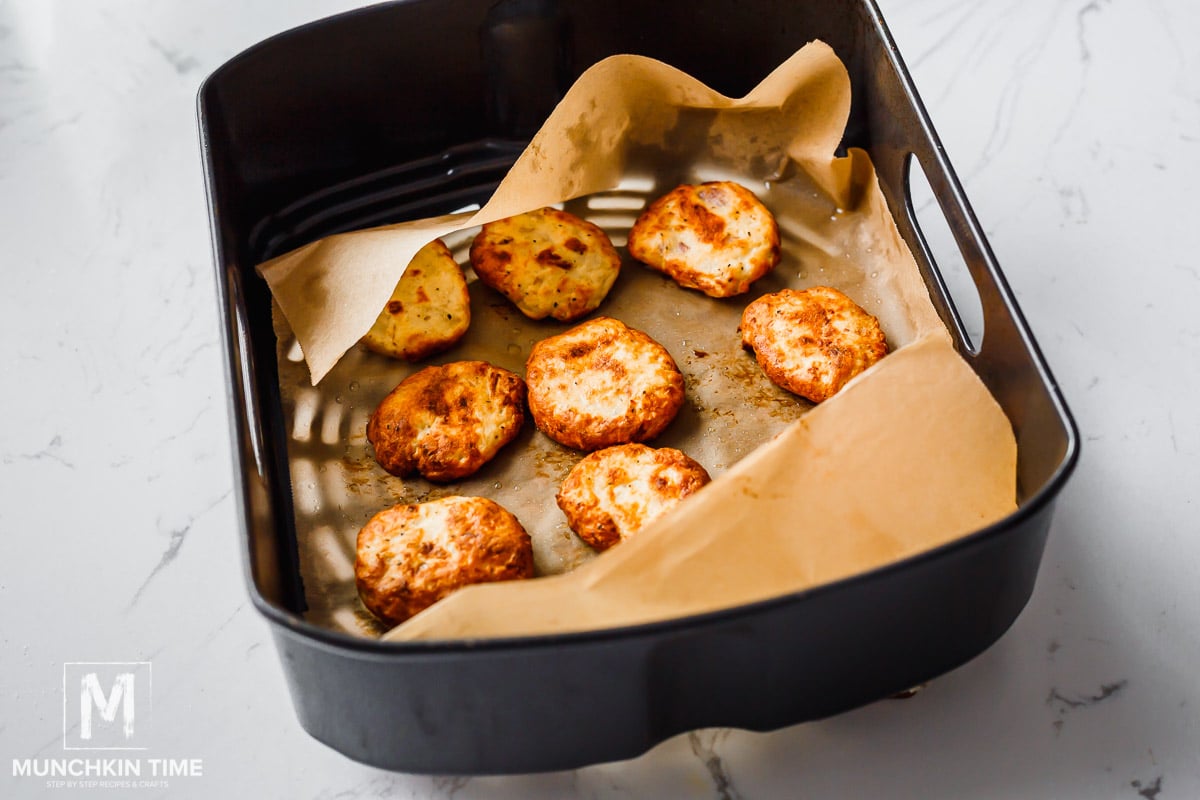 Step 6: Air fry the chicken nuggets at 390F for 15-20 minutes, until golden on the outside and fully cooked on the inside. Feel free to flip them halfway, however, it's not necessary.
Enjoy with your favorite sides and dipping sauces!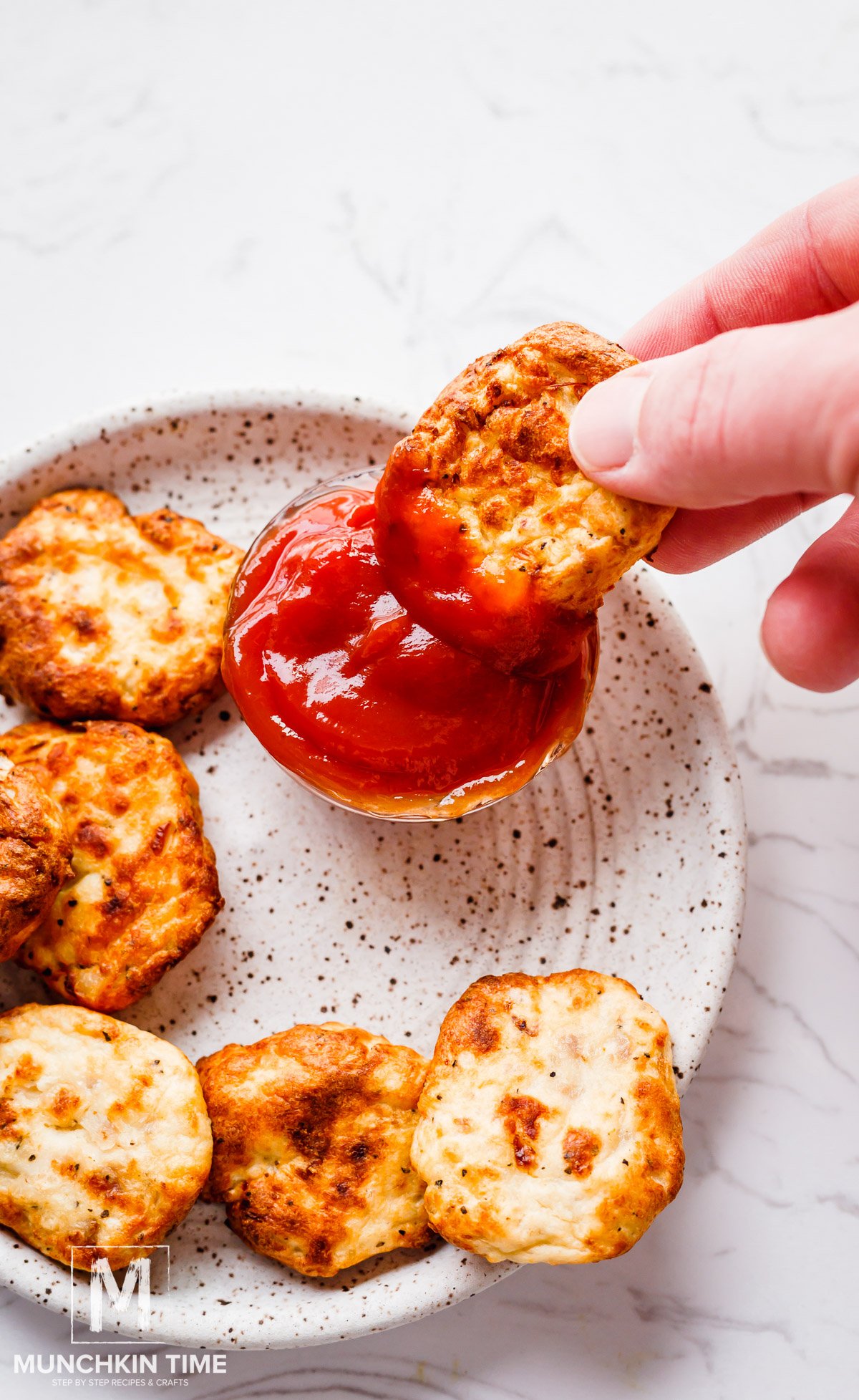 How Long to Air Fry Homemade Chicken Nuggets
Every air fryer, like every oven, is different so you want to check on your nuggets as you go. You can start with 15 minutes at 390F but if you notice they're not quite done yet, leave them in for the extra 5 minutes.
Once they reach an internal temperature of 165F and are no longer pink, they're good to go!
What to serve With Air Fryer Chicken Nuggets
When I serve these on their own for a snack or as an appetizer, I like to provide a variety of sauces for everyone to choose from. Ketchup, BBQ sauce, honey mustard sauce, Sriracha Mayo, ranch dressing, or sweet chili sauce is always good!
If we're having them for dinner, of course, homemade french fries are always a hit! Mashed potatoes, cheesy scalloped potatoes, or macaroni and cheese are too. A simple salad on the side and dinner is served.
Variations
If you do want a little breading on the outside, feel free to coat it in Panko breadcrumbs. If you want to keep these gluten-free go for gluten-free breadcrumbs.
Add a little spice to these nuggets by using a few red pepper flakes or a pinch of cayenne.
Or, if you want to keep it mild and kid-friendly, you can just serve them with a spicy dipping sauce.
Add a sprinkling of Parmesan cheese or freshly grated cheddar for a little cheesiness in the nuggets.
FAQs
Can I bake air fryer chicken nuggets instead?
Absolutely! Place the nuggets on a parchment-lined baking sheet and bake in a preheated 400F oven for 20 – 35 minutes, flipping halfway.
Should I use cooking spray?
Not necessary for this recipe. The avocado oil in the nuggets, plus the grease from the chicken is enough to create a moist, nonstick coating. The cooking spray also helps to brown the outside of the meat, but again, there is enough oil already for that.
How to store leftovers?
Keep them in an airtight container for up to 3 days in the fridge. Reheat in the microwave or if you want to get them a bit crispy again, use the air fryer.
Can I freeze chicken nuggets?
Yes! Once they are fully cooked and cooled, flash and freeze them on a baking sheet so they are solid. Then, transfer them to a freezer-safe bag.
That way they don't freeze attached to one another. Keep frozen for up to 2 months. Thaw in the fridge overnight.
Check Out More DELICIOUS Recipes
Cheesy Hot Beef Sandwich Recipe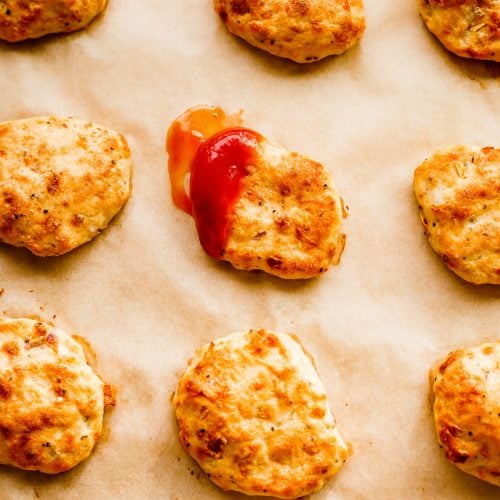 Air Fryer Chicken Nuggets
The easiest homemade chicken nuggets made in the air fryer always come out golden and crispy on the outside, tender and juicy on the inside. 
Instructions
Blend everything in a food processor.

Using small ice cream scoop, scoop chicken nugget mixture onto hands greased with avocado oil. Form chicken nuggets using hands and place it onto air fryer dish lined with parchment paper (if the mixture sticks to the hands use avocado oil).

Air fry at 390 for 15-20 minutes or until golden color.  
Video
Notes
Hi! All content & images are copyright protected. Please do not use my images without prior permission. If you want to republish this recipe, please re-write the recipe in your own words, or simply link back to this post for the recipe. Thank you.
Nutrition
Calories:
25
kcal
Carbohydrates:
3
g
Protein:
2
g
Fat:
0.4
g
Saturated Fat:
0.1
g
Polyunsaturated Fat:
0.1
g
Monounsaturated Fat:
0.1
g
Trans Fat:
0.002
g
Cholesterol:
11
mg
Sodium:
92
mg
Potassium:
96
mg
Fiber:
0.2
g
Sugar:
0.2
g
Vitamin A:
11
IU
Vitamin C:
1
mg
Calcium:
4
mg
Iron:
0.2
mg
Q. – Do YOU like this Easy Chicken Nuggets Recipe?
Let us know in the comments below, we would love to hear from you!
Thank YOU for YOUR Comment, Share & Recipe Review!