Caramelized Onions Burger with Shiitake Mushrooms – the best burger recipe you'll try this grilling season! It's a step above your average burger but it's still super easy to make and worth every extra step because it is just that good!
It's a juicy beef burger topped with caramelized onions and shiitake mushrooms along with traditional toppings like American cheese slices, lettuce tomatoes, all sandwiched between a buttery crispy brioche bun smothered in mayo and sriracha. The best part? The burger is stuffed with nacho cheese dip!
Give your burgers, whether homemade or store bought the facelift it deserves and level up your grilled recipes for cookouts, BBQs, or family gatherings! There is nothing better than biting into a nice juicy burger but when you add caramelized onion and mushroom for burger toppings and all of those delicious flavors, let's just say I could easily eat more than one!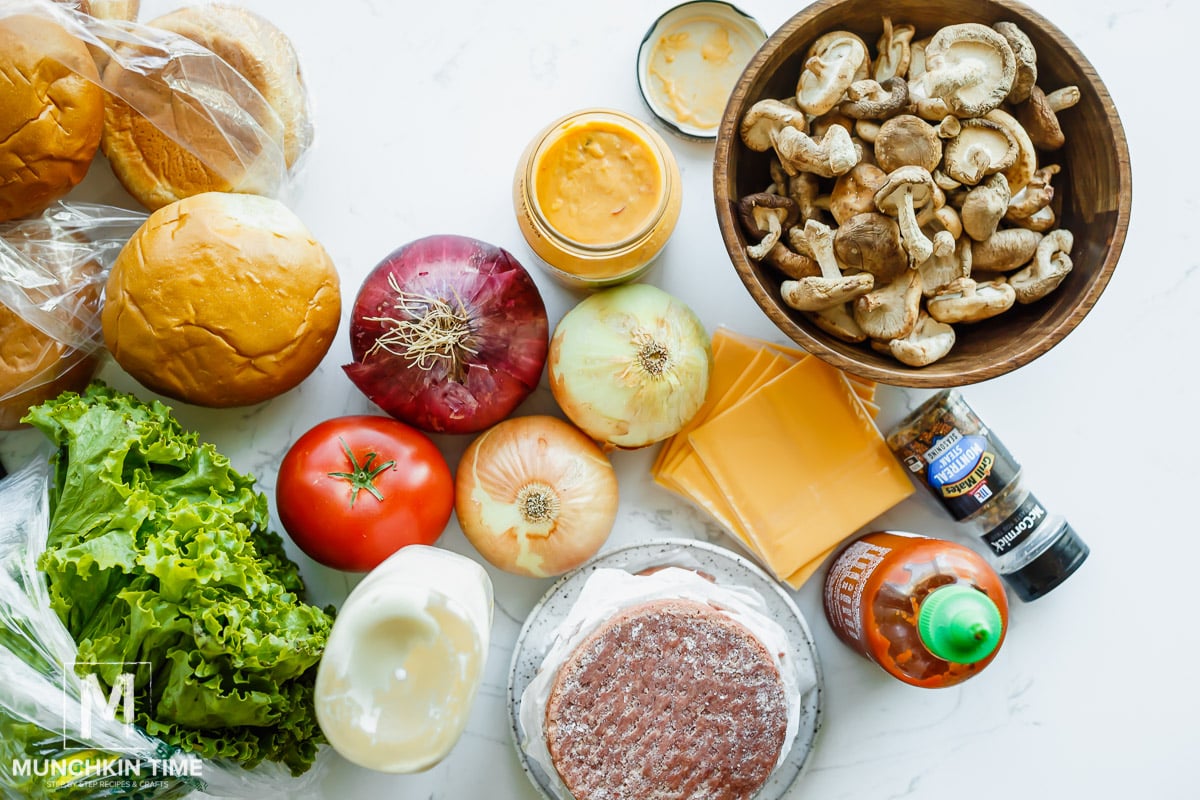 Ingredients

Needed for Caramelized Onions Burger
For the Caramelized Onions and Mushrooms
Butter: Stick with unsalted so that way you can control the amount of added salt. The butter is the fat needed to help cook down the onions and mushrooms, bringing out their deep flavors.
Onions: Once cooked down, you'll notice they shrink! Use 2 onions of any variety. White onions, Vidalia, shallots, red onions, you name it.
Shiitake mushrooms: I prefer shiitake just because I usually keep those on hand. All mushrooms are healthy, however shiitake has a leg up on the others. You use whatever kind of mushrooms you like, they all work!
Sea salt: Brings out the flavors even more.
Sugar: Helps to break down the mushrooms and onions and adds a sweetness that complements the caramelization.
For the Burgers
Brioche buns: Buttery and soft buns are the perfect pairing to your beef patties. You can also go for regular burger buns instead. I have a really great

quick burger bun

recipe to try.
Beef patties: Store Bought or homemade. It's up to you!
Montreal steak spice: Adding a bit of this to the patties while they grill gives it extra flavor.
Toppings: American cheese, tomato slices, red onions, and lettuce.
Nacho cheese dip: I always aim to use a

homemade nacho cheese dip

if I have some extra time, but a shortcut works just as well. It'll be injected into the meat through a syringe, so make sure it's warm and thinned out.
Burger sauce: Mayo & Sriracha or your favorite burger sauce.
When YOU make Caramelized Onions Burger Recipe PLEASE hashtag #munchkintimeblog on Instagram, we would LOVE to see your creation! Thank you!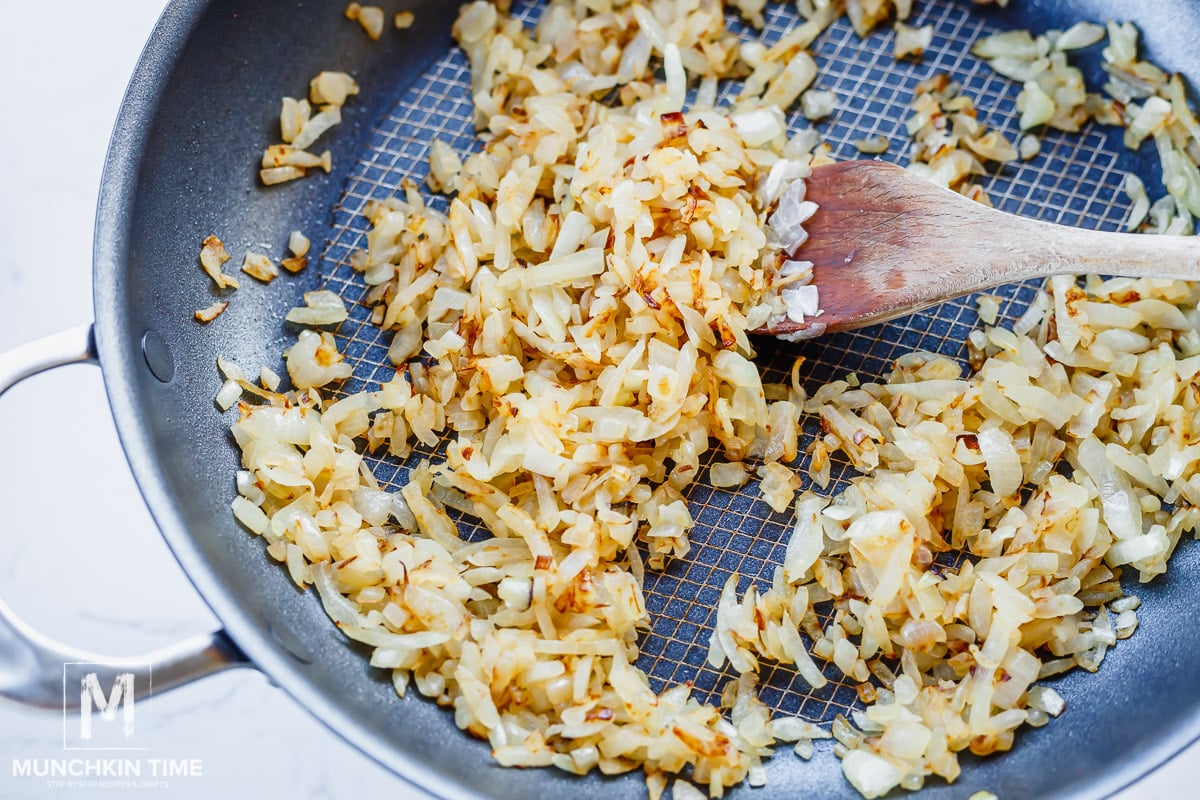 How to Make a

Burger

with

Caramelized Onions
Step 1: Melt butter in a skillet over medium heat and add the onions to sauté for about 10 minutes, stirring occasionally, until it starts turning a golden color.
Step 2: Add the rest of the butter along with the mushrooms, sugar, and salt and continue to sauté for another 5 minutes until the mushrooms have cooked through. Remove from the heat and set those aside.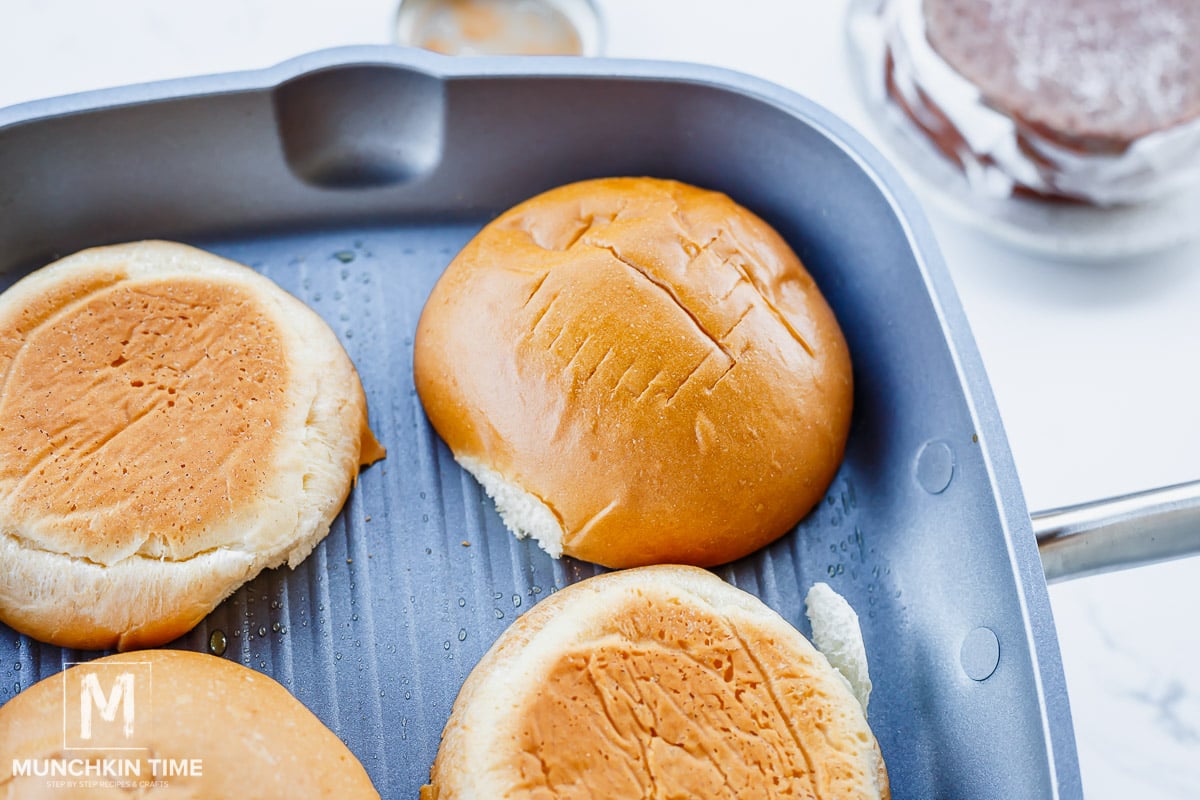 Step 3: Open the buns and lay both halves face side down onto a greased grill or skillet to toast until crispy. Remove them and set them aside, open faced.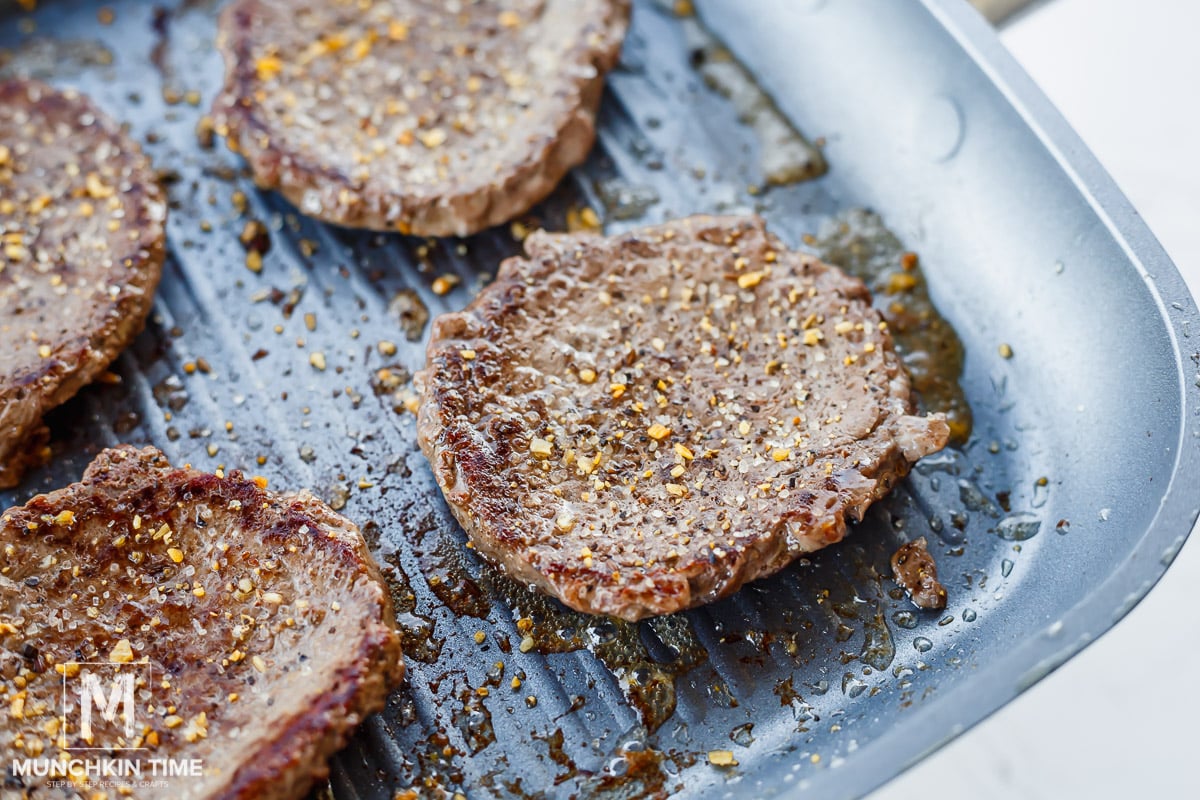 Step 4: Grease the grill once more and cook the burger patties, flipping halfway, until cooked through and desired doneness has been reached. While they're on the grill, sprinkle with Montreal steak spice on both sides.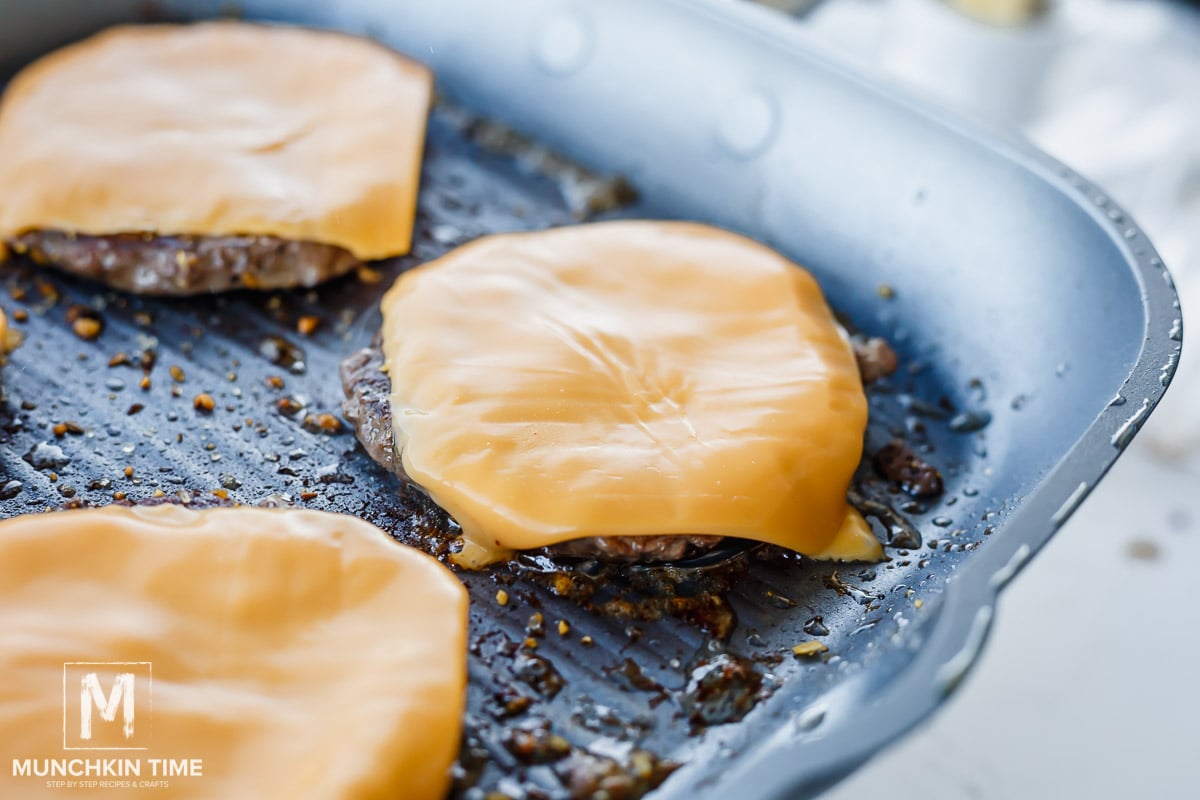 Step 5: Place a slice of American cheese on each one of the patties to melt.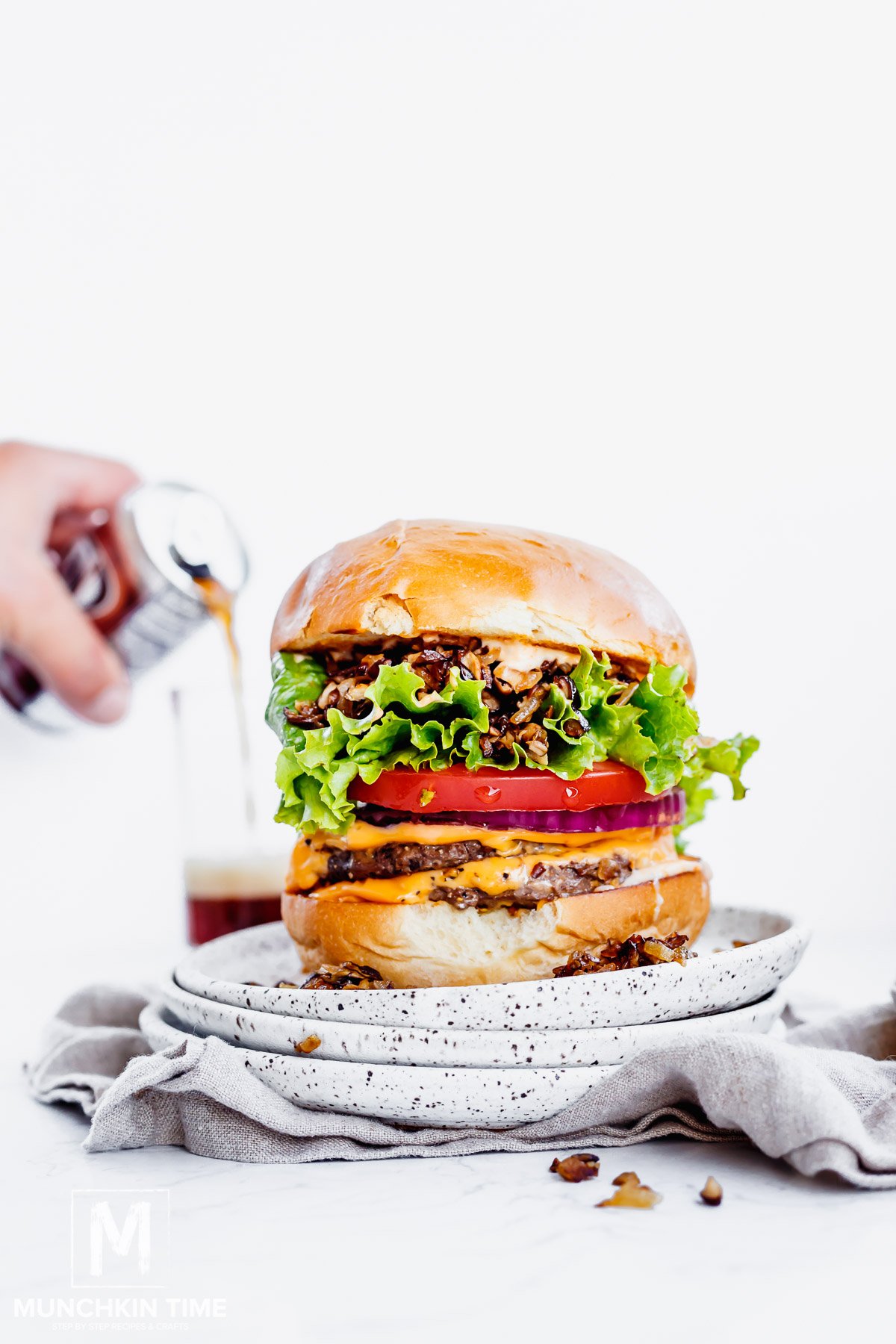 How to Assemble this

Onion

&

Shiitake Mushroom Burger
There are no hard and fast rules about how to top your burger. Use my instructions as a guide and take it from there! Here's how I like to assemble mine:
Spread mayo and sriracha sauce over both halves of the bun.
Place 2 patties (optional, you can definitely stick to 1 if you'd like) with melted cheese onto the bottom bun.
Top with sliced red onions, a slice of tomato, leaf of lettuce, and of course the caramelized onions and mushrooms. Close it up with the top bun.
Fill a stainless steel syringe filled with nacho cheese and pierce it right into the burger. If you want to get fancy, especially when serving a crowd, serve the burger with the cheese syringe in it! Squeeze the nacho cheese into the burger and enjoy!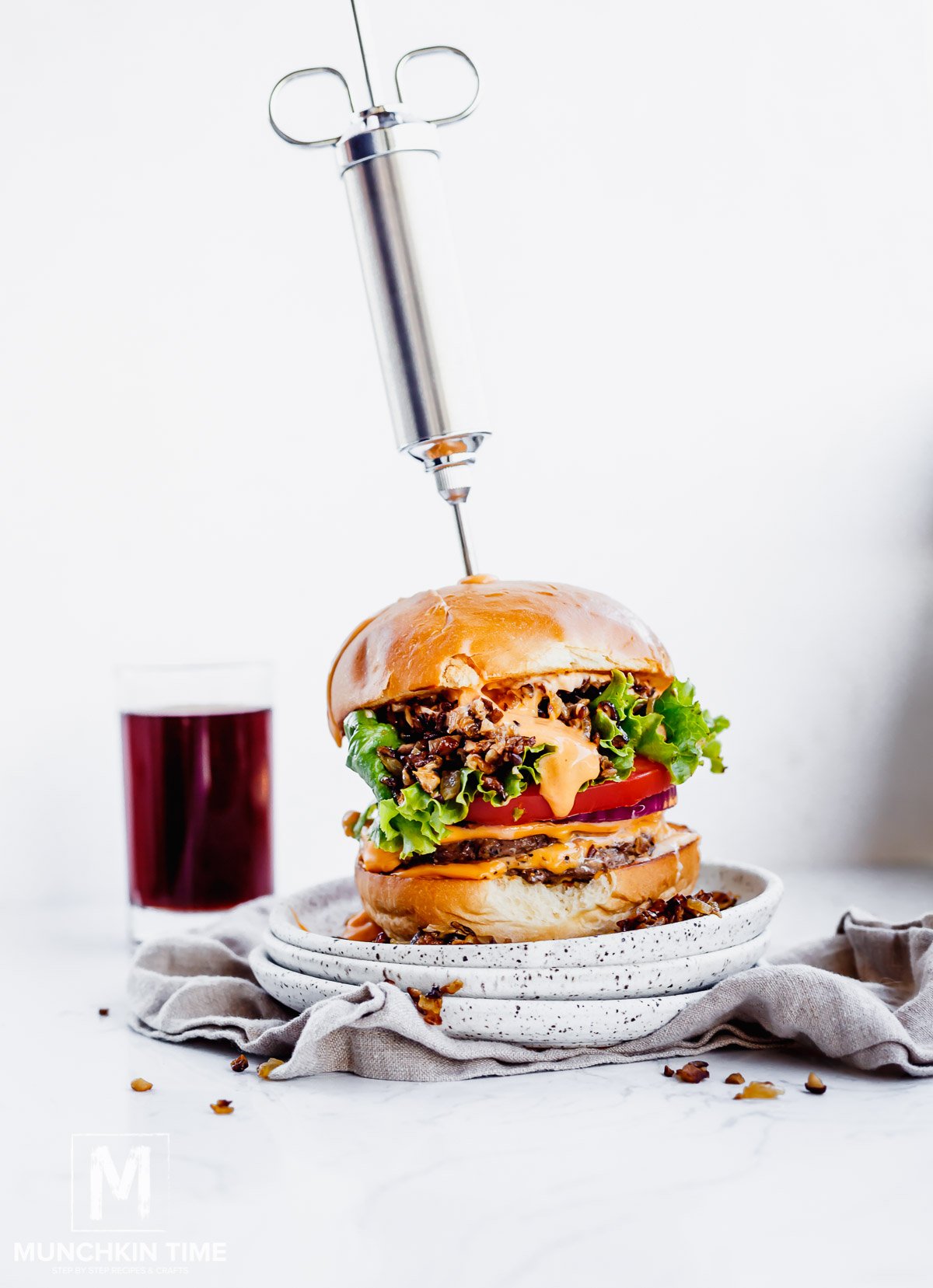 Tips & Variations
The internal temperature of a done burger should be 160 degrees F. For the most accurate reading, use a thermometer. Otherwise, just make sure it's no longer pink in the middle.
Be careful not to overcook the burger because it will dry out!

If you don't have a syringe, don't worry. You can use the nacho cheese as a topping instead, or omit it altogether.

Make more caramelized onions than you need and keep the leftovers. They can be used in so many other ways. Top your hot dogs, pizza, salads, and sandwiches!
Always cook the onions first. Do not add the mushrooms in at the same time. Mushrooms give off water, which will slow down the caramelization process for the onions. They also cook much faster than onions do, so they will be overdone by the time the onions are finished cooking.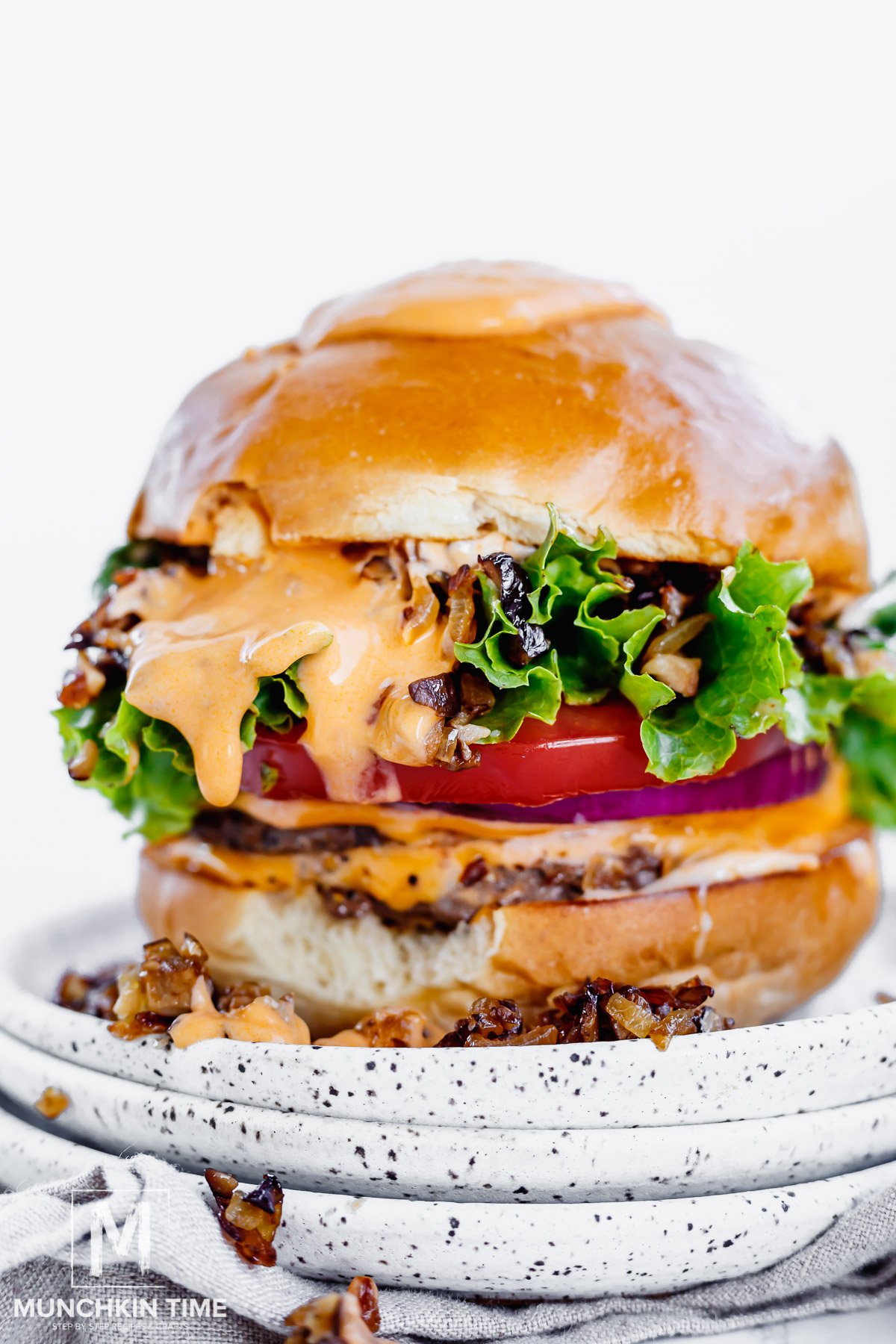 What to

Serve

With This

Tasty Burger

!
As you can see there's a lot going on with this burger, so it won't need much on the side.
I usually go the traditional route with a side of air fryer french fries or a cabbage salad. You can also use some of the extra caramelized onions to make cheesy mashed potatoes with caramelized onions and serve them on the side.
If you're already grilling up a storm, you could always make some grilled veggies or corn on the cob. A refreshing avocado corn salsa would also be great.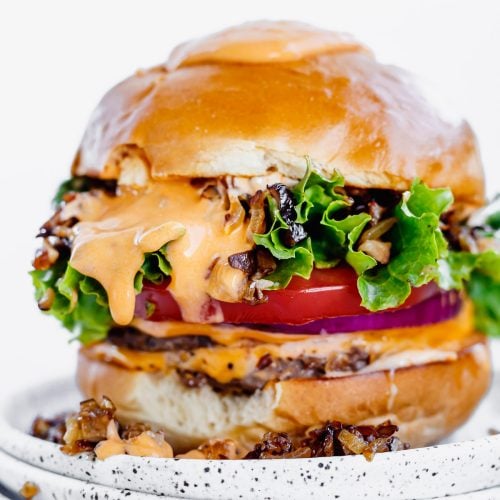 Shiitake Mushrooms & Caramelized Onions Burger
Caramelized Onions Burger with Shiitake Mushrooms – the best burger recipe you'll try this grilling season!
Ingredients
Ingredients for Caramelized Onions & Mushrooms
Ingredients for the Burger
4

brioche buns

or regular burger buns

8

beef patties

4

American cheese

wrapper removed

1

large

tomato

sliced

4

lettuce leaves

8

oz

nacho cheese dip

1

medium

red onion

sliced

sriracha sauce

or any of your favorite burger sauces
Instructions
How to Caramelized Onions with Mushrooms
Into the skillet add 2 tablespoons of butter, once butter melts add onion and saute on medium heat for about 10 minutes, stirring few times, or until golden color.

Next add the rest of the butter (2 tablespoons), shiitake mushrooms, 1/2 teaspoon of salt and 1 teaspoon of sugar. Mix and saute for 5 minutes, or until mushrooms are cooked thru, mixing few times. Remove from the heat and set aside.
How to Make Burgers
Using a greased grill or a greased skillet, toast buns until crispy. Remove the buns and set them aside, open faced.

After, grease the grill or skillet with a little bit of oil or melted butter, add patties and cook on both sides until desired burger done temperature is reached. While grilling/cooking, season patties with Montreal steak spice to taste, on both sides.

Next, add sliced American cheese on top of the hot patties.
How to Assemble a Burger
1. To assemble a burger, squeeze mayo and sriracha sauce over both toasted buns, spread with butter knife.

2. Place 2 patties with melted cheese on the bottom bun, followed by sliced red onion, tomato slice, green lettuce leaf, caramelized onion with mushrooms and top it off with the top bun.

3. Pierce the burger with a syringe filled with nacho cheese. Press the nacho cheese into the burger and enjoy!
Video
Notes
Hi! All content & images are copyright protected. Please do not use my images without prior permission. If you want to republish this recipe, please re-write the recipe in your own words, or simply link back to this post for the recipe. Thank you.
Nutrition
Calories:
1077
kcal
Carbohydrates:
56
g
Protein:
50
g
Fat:
73
g
Saturated Fat:
36
g
Polyunsaturated Fat:
2
g
Monounsaturated Fat:
20
g
Trans Fat:
1
g
Cholesterol:
315
mg
Sodium:
1303
mg
Potassium:
1172
mg
Fiber:
4
g
Sugar:
8
g
Vitamin A:
3426
IU
Vitamin C:
17
mg
Calcium:
321
mg
Iron:
6
mg
Q. Do YOU like this Burger Recipe?
Please let me know in the comments below we would love to hear from you!
Thank YOU for YOUR Comment, Share & Recipe Review!
Happy Cooking!