Hoagie Roll Recipe – Learn how to make fresh homemade hoagie rolls with my simple step-by-step recipe with impressive results every time. They are incredibly soft and ready to be loaded with all your favorite sandwich fillings!
When YOU make this Hoagie Roll Recipe, take a picture & tag @munchkintimeblog on Instagram, we would LOVE to see your creation!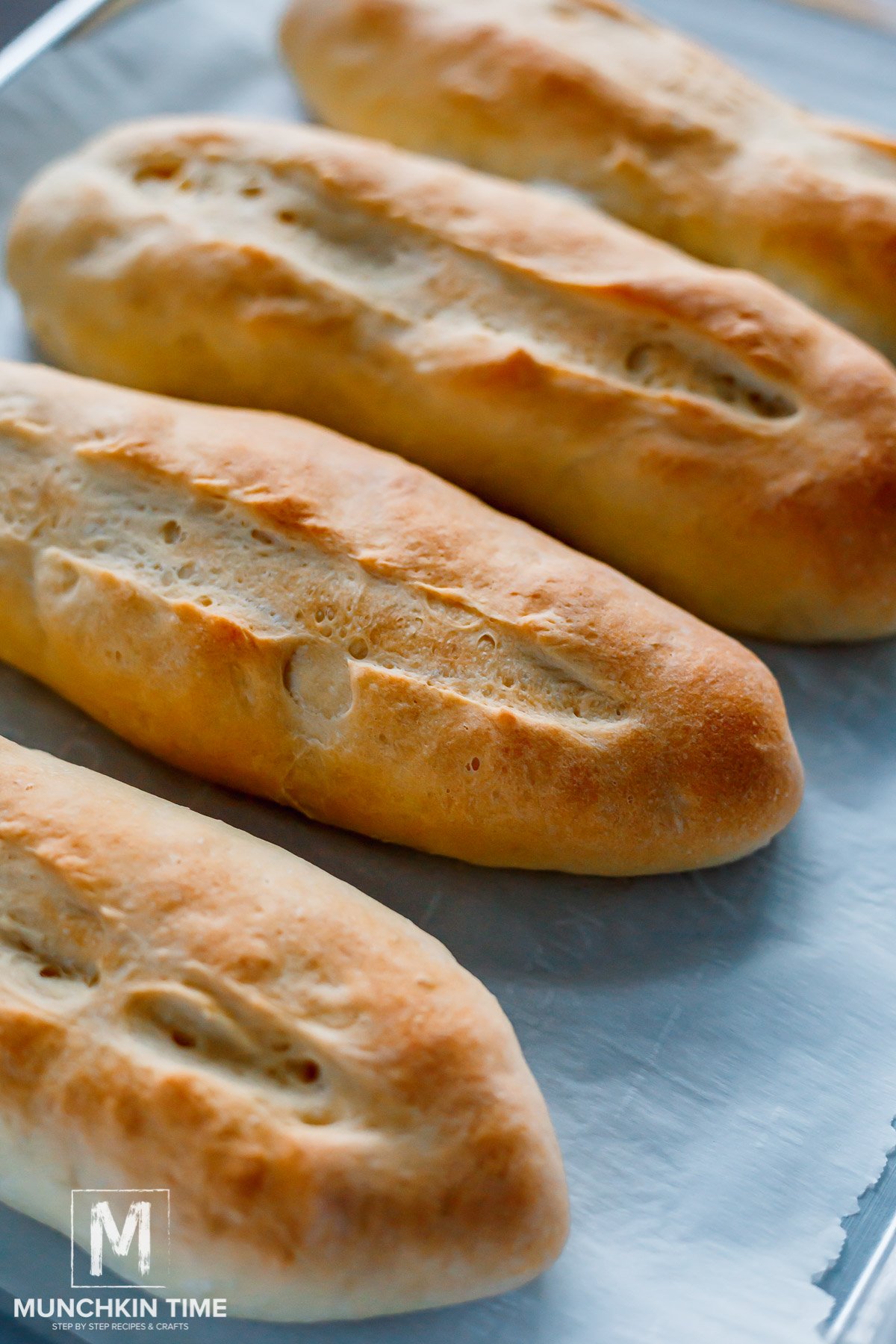 Whether you think it's the bread or the filling that makes a great sandwich, there's no denying that good bread, like this homemade hoagie roll recipe, is the vessel that holds all of the yummy fillings. Without it, it wouldn't be much of a sandwich!
You can make everything from a Philly cheesesteak or a meatball and marinara sub to a turkey bacon club! You name it, this hoagie roll can hold it.
Switch it from a larger log roll to smaller ones for hot dogs or change the shape completely to make them burger buns. Either way, enjoy them for dinner, lunch, or brunch, or present a sandwich platter at your next friendly gathering or lunch meeting.
There are a number of steps to follow, but I promise it's much easier than it seems, so stick with it. Working with yeast isn't hard at all and baking loaves of homemade hoagies is worth the extra bit of effort.
The end results of freshly baked hoagie rolls are going to be something you're proud of. It doesn't get any better than freshly baked bread!
Plus, whatever you don't use up you can freeze for later saving you time later on!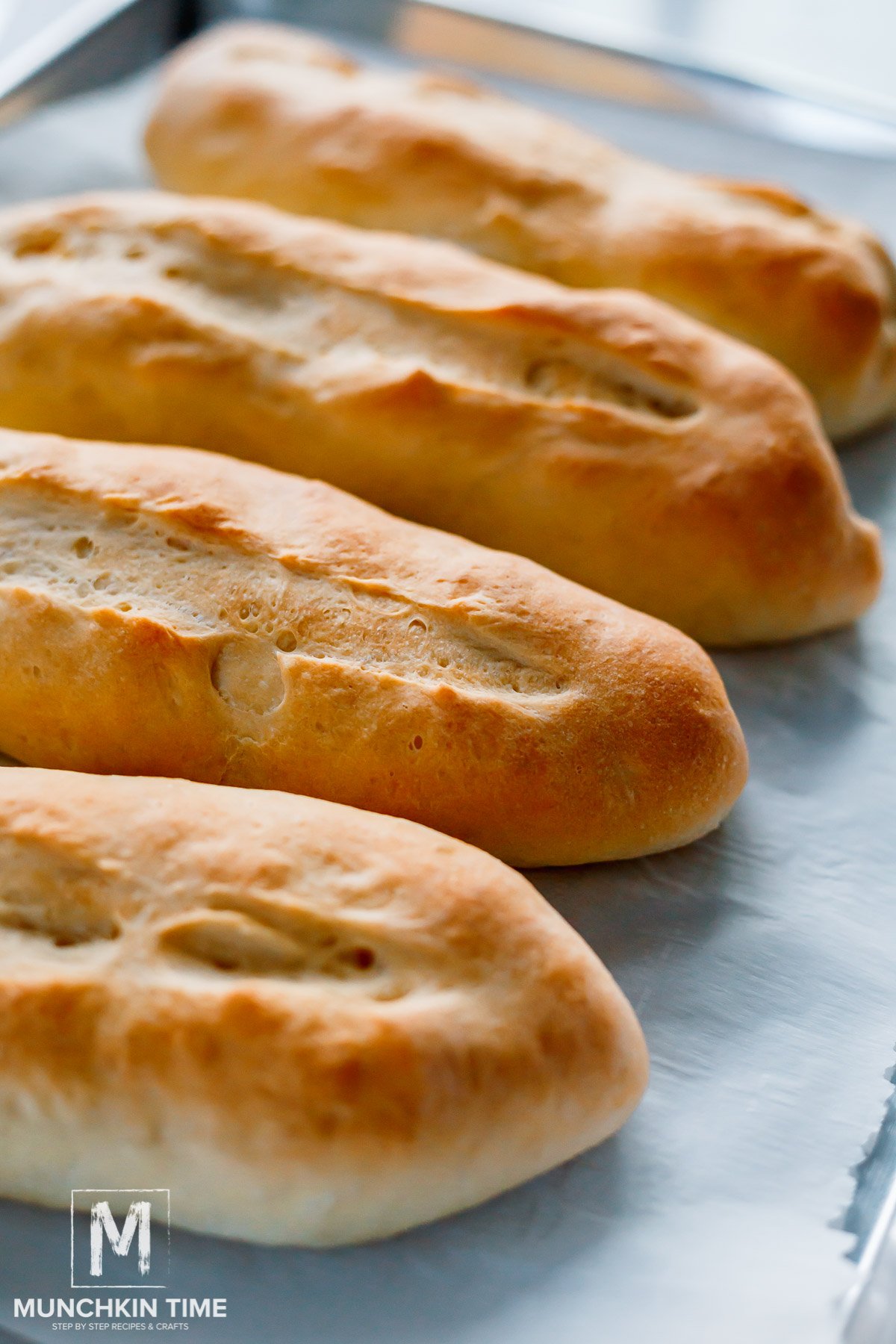 What is a Hoagie Roll?
A hoagie roll, also known as a submarine sandwich, is a long roll (you know, like a submarine!) baked until soft on the inside and slightly chewy and crispy on the outside.
It's probably most famously known for Philly Cheesesteaks, french dip sandwiches, Po boys, and Banh Mi sandwiches, but it can really be used for any filling your heart desires.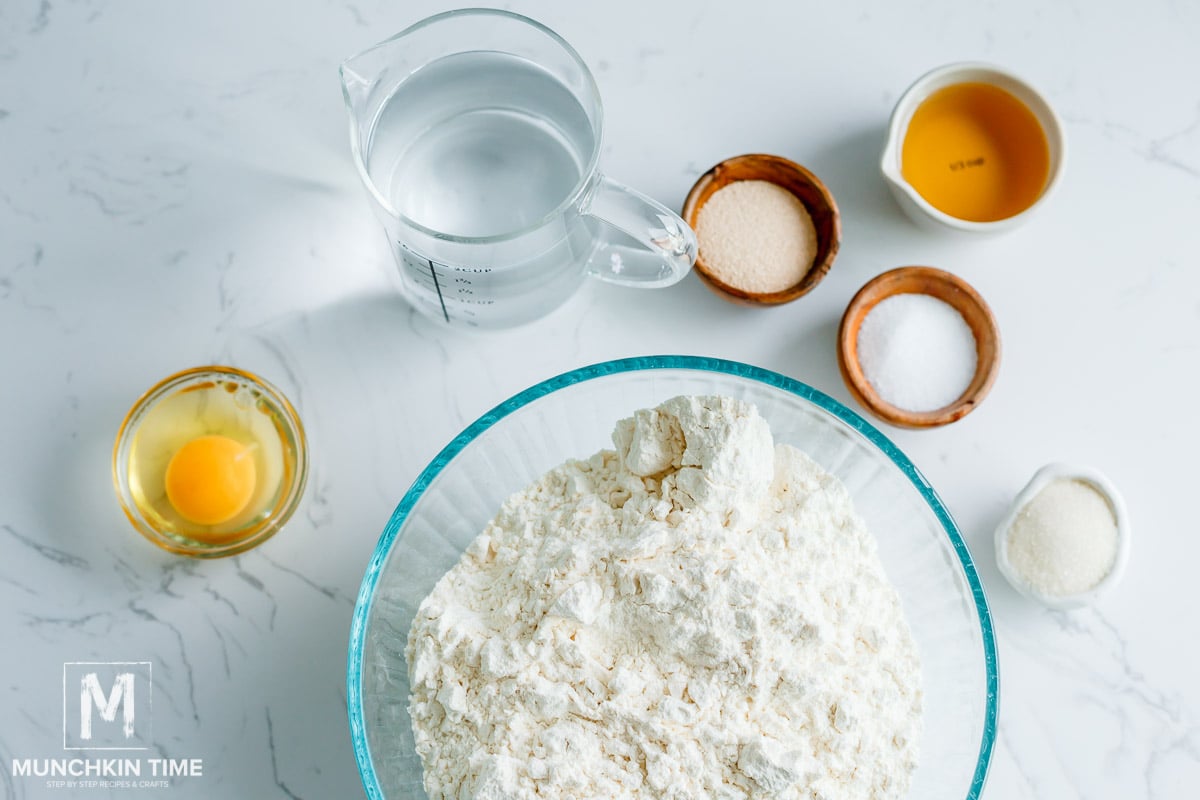 Ingredients Needed for Homemade Hoagie Roll Recipe
All-purpose flour: For the best outcome, always make sure to measure your flour properly. The most accurate way is to use a kitchen scale to get 27.5 ounces. If you don't have a scale, use the spoon and level method. Whatever you do, do not pack down the flour!
Instant yeast: Sometimes labeled as rapid-rise yeast, this type of yeast allows you to skip a step. There's no need to proof it in warm liquid ahead of time.
Sea salt: A little salt to add flavor and keep the bread from tasting bland.
Avocado oil: Oil is a necessary fat that helps to keep the dough from becoming too chewy. It will help you get a nice soft crumb on the inside, and a slight crisp on the outside. Very slight!
Egg: Bring it to room temperature ahead of time. Using an egg to bind the ingredients together so that the bread doesn't fall apart is important. Starting with room temperature ingredients helps the bread bake evenly.
Water: Same with the water, make sure it's at room temperature as well.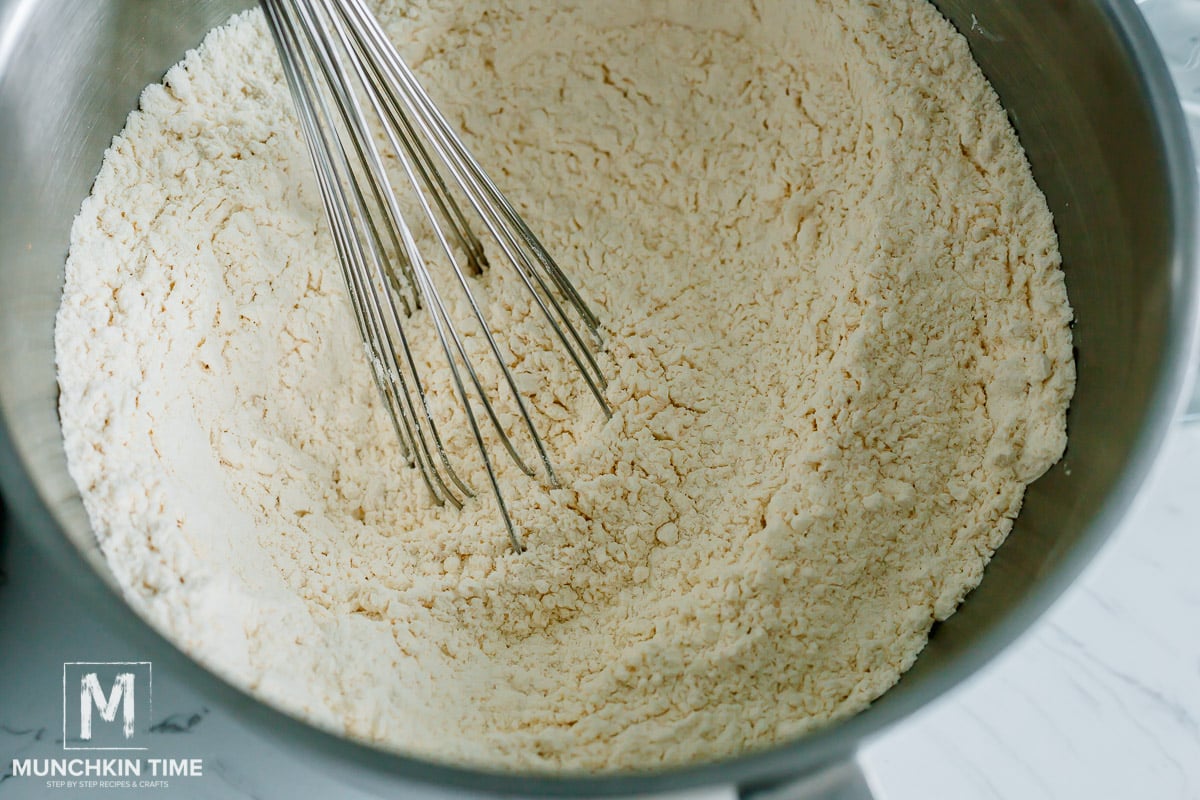 How to Make Homemade Hoagie Rolls
Step 1: In the bowl of a stand mixer, using the whisk attachment (or paddle attachment), mix the flour, yeast, and salt.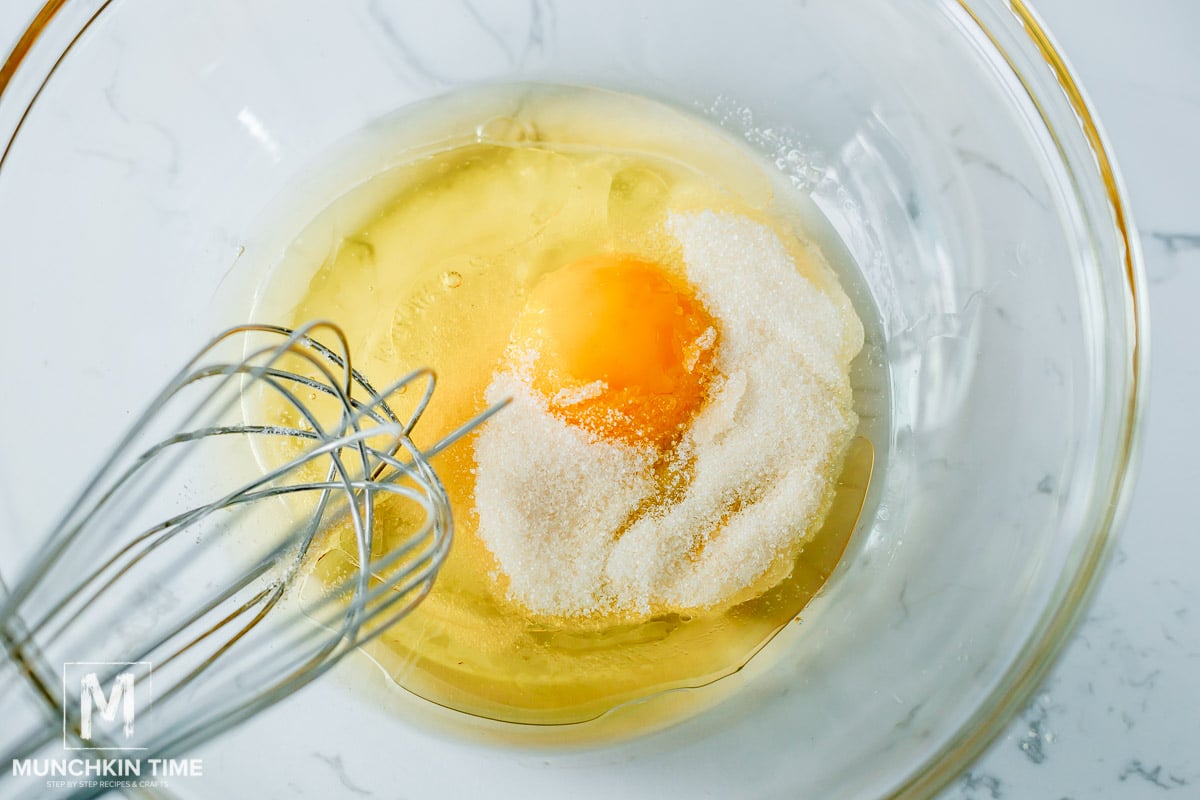 Step 2: In a separate mixing bowl, whisk together the oil, egg, and sugar. Then, add the water and mix until everything is blended.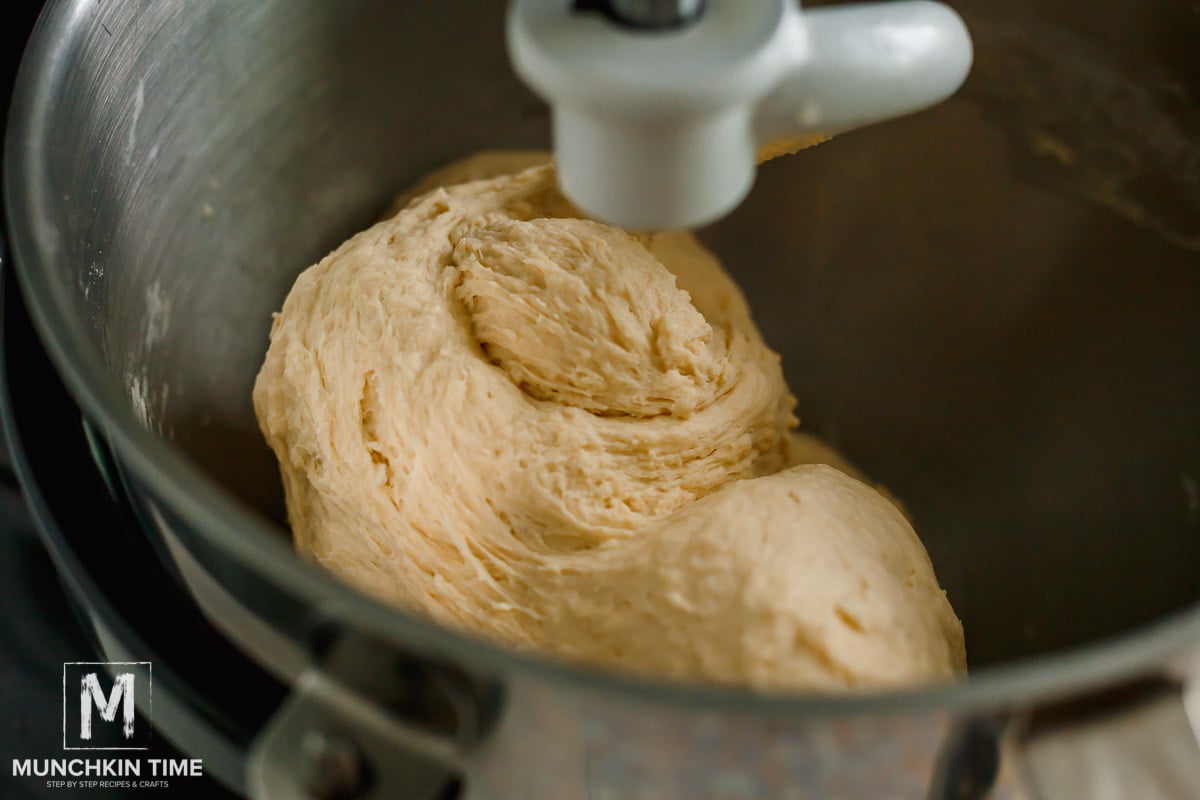 Step 3: Turn the stand mixer on low speed using the hook attachment and slowly pour in the water mixture. Continue mixing until the contents of the bowl start to pull away from the sides of the bowl and a dough starts to form. This should take about 2 minutes.
Step 4: Increase the speed to medium-low and knead the dough for about 8 minutes until the dough is smooth and elastic.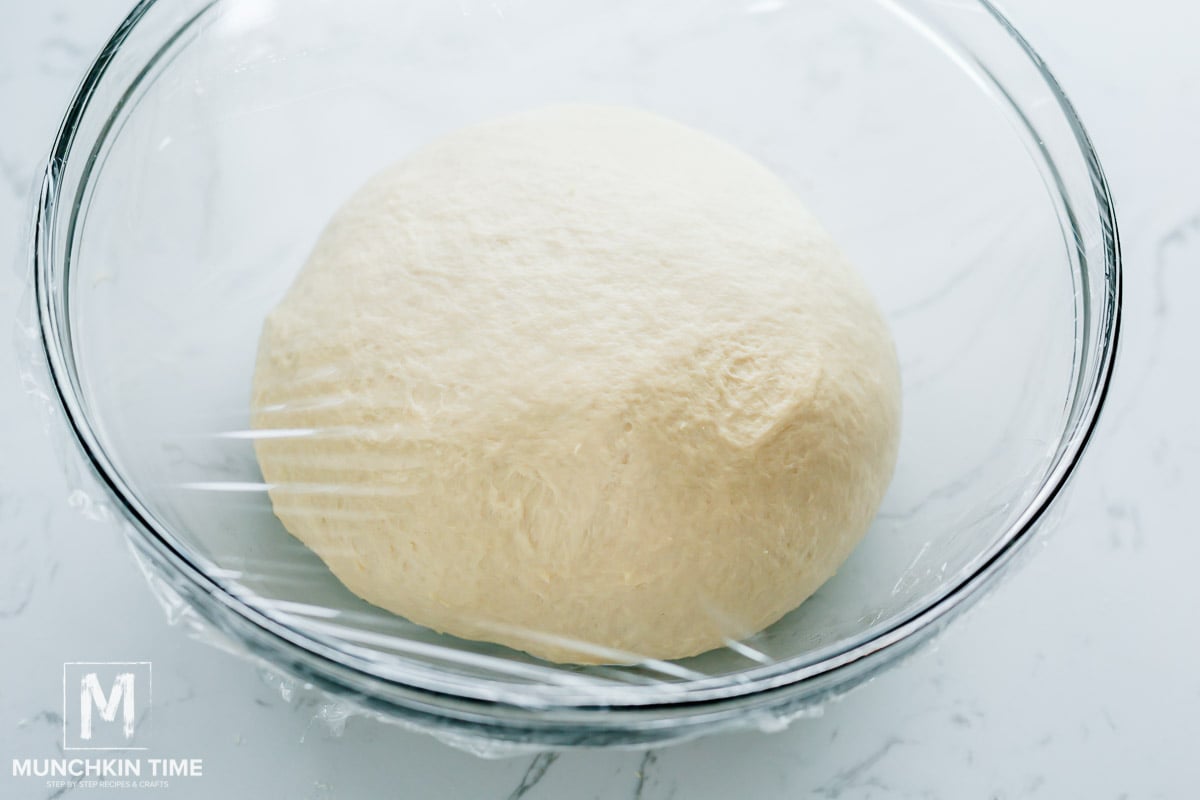 Step 5: Transfer the dough to a clean, lightly floured surface and knead with your hands to form a ball shape by tucking the outer parts of the dough into the center underneath. Place the dough ball, seam side down into a large, greased oil. I like to use avocado oil, but you can use olive oil, or even cooking spray if you prefer.
Step 6: Cover the bowl with plastic wrap and let it rise in a warm area for 1-2 hours until it doubles in size and bulk.
Step 7: Near the end of the rise time, line 2 baking sheets with parchment paper. Remove the plastic covering from the bowl and punch down the dough with your hand to deflate it.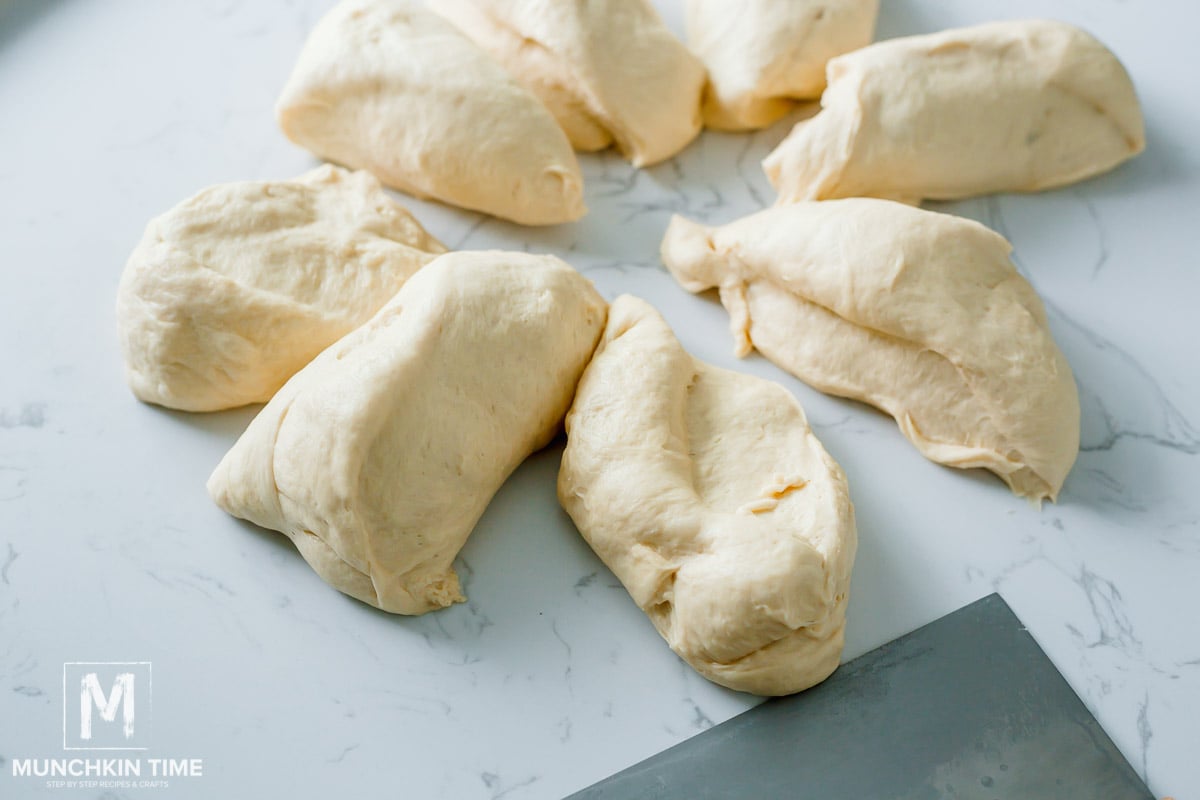 Step 8: Place the dough onto a greased surface and divide it into quarters. Then, divide each of the 4 parts in half to create 8 equal-sized portions of dough. Each should weigh about 5.5 ounces.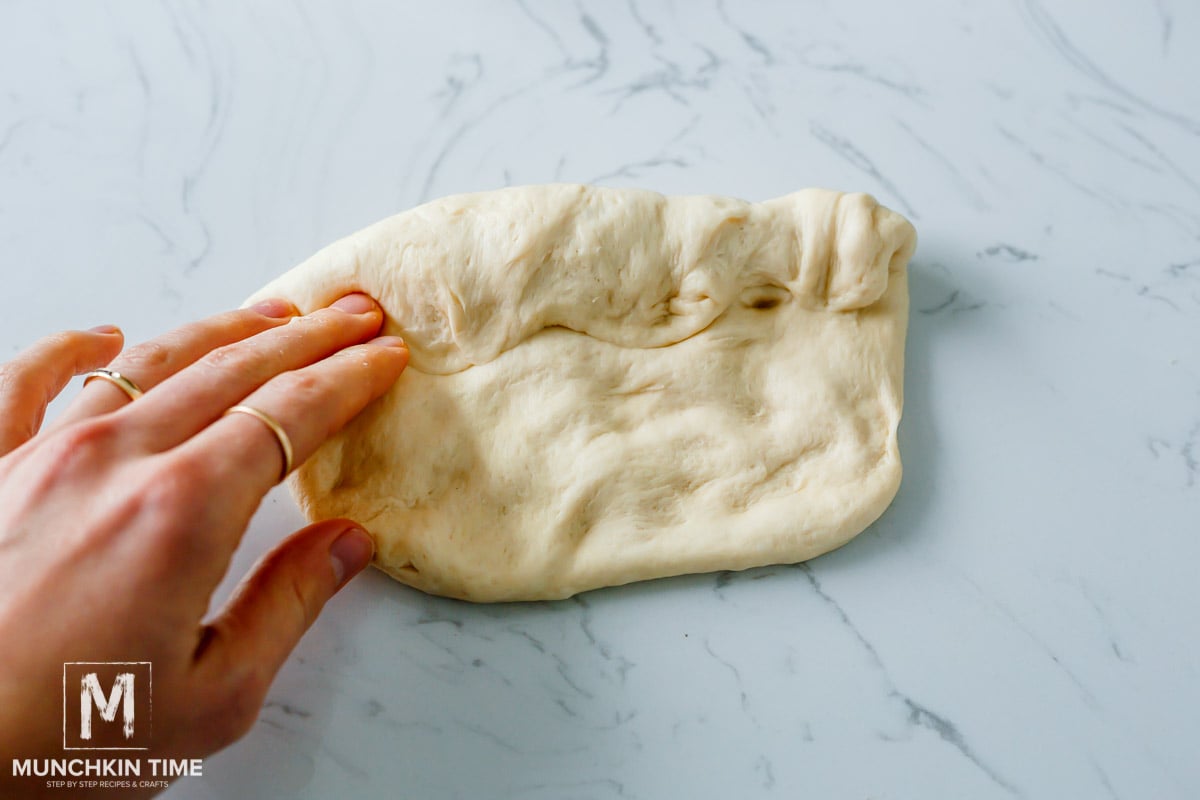 Step 9: Working with one piece of dough at a time, press the dough into a 4" square. While you work with one piece at a time, make sure to keep the rest covered with greased plastic wrap so it doesn't stick to the dough.
Step 10: Take the top edge of the dough square and fold it over to meet the center of the and press down gently to seal it. Then, rotate it 180 degrees and do the same with the unfolded edge. Now you should have it folded in thirds like an envelope to form a 5" x 3" rectangle.
Step 11: Once you have that done, fold the entire rectangle in half and seal it with your fingers. Gently place a hand over the center of the log and carefully roll it back and forth to reinforce the seal.
Step 12: Gently roll and stretch the dough into an 8" cylinder by pulling at the dough in opposing directions starting from the middle working with both hands towards the outer ends. Place the roll onto a piece of parchment paper and repeat with the remaining dough. Keep the rolls 3 inches apart.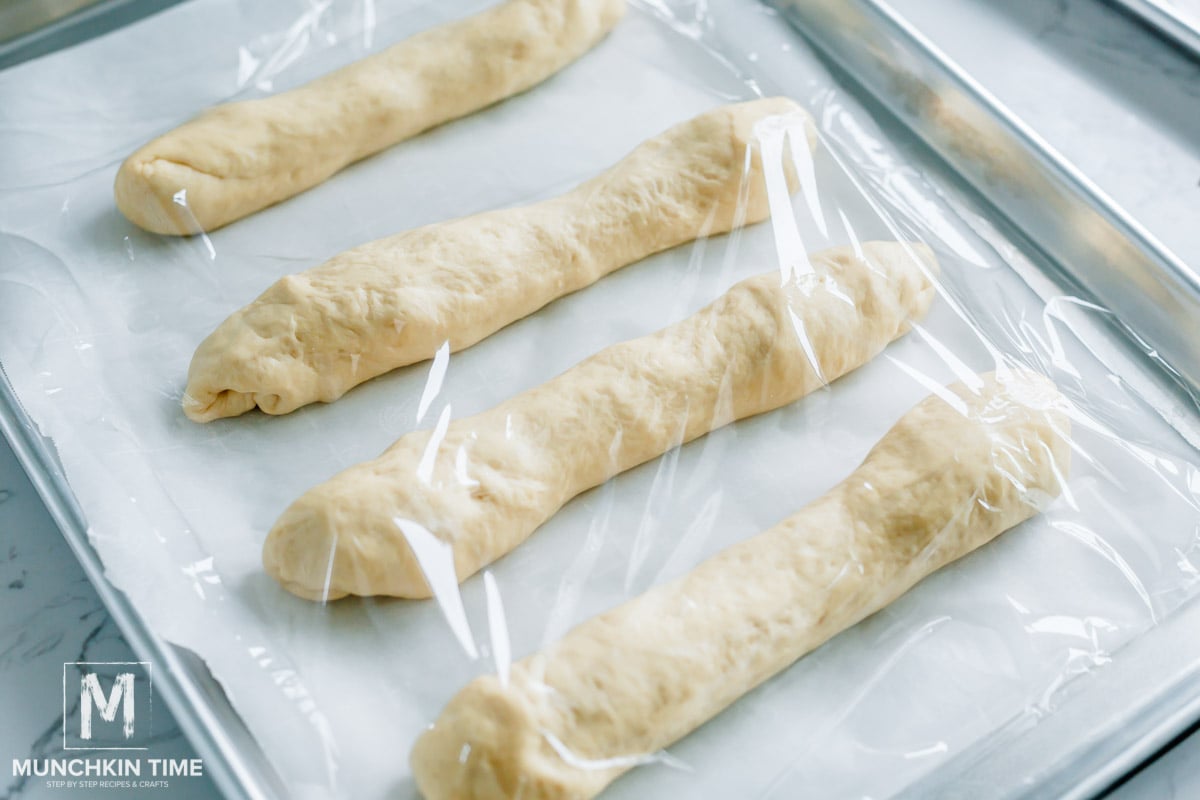 Step 13: Loosely cover the rolled dough logs with greased plastic wrap and let them have a final rise for about 1 hour until the rolls have doubled in size. Use a sharp knife, a razor blade, or a lame to score the top of the dough with a cut about ¼ of an inch deep along the length. Stop 1/2 " from the ends. There is no right or wrong way to do this. You can make a long score from one end to the other, or you can make shorter cuts across the length of the dough crosswise. It's up to you.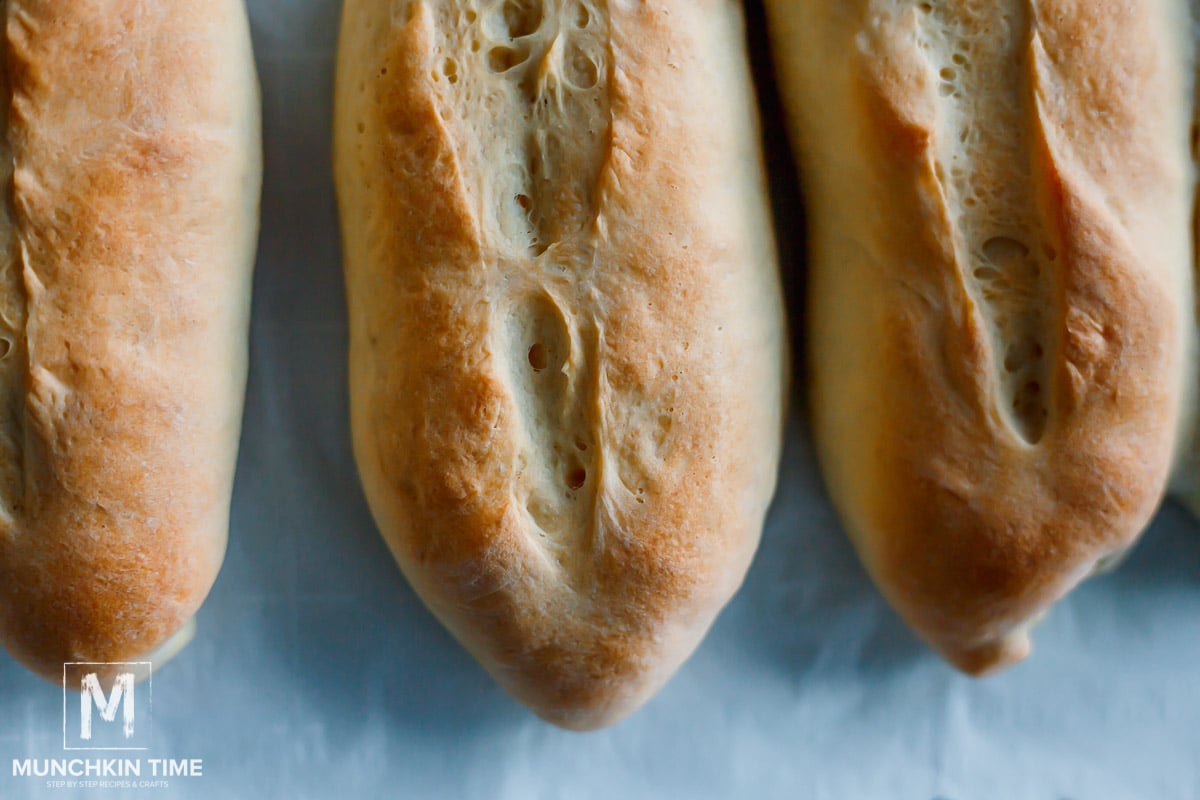 Step 15: Bake on the middle rack of a preheated 350-degree oven for 30-35 minutes. You can also bake on the upper middle and lower middle racks, switching and rotating sheets halfway.
Allow the hoagie rolls to cool for 1 hour and then go ahead and fill it with meats, cheeses, veggies, and all your favorite sandwich toppings. Enjoy!
How to Toast Hoagie Rolls
You'll notice a hoagie roll is way too thick to be put into a regular toaster, so what I like to do is toast it in the oven.
Sometimes I like my bread toasted and sometimes like it nice and soft, either way, it's delightful!
If you're toasting it right away, even though your oven may be off you can still use the residual heat and place your rolls in for a couple of minutes.
You can cut it in half and place it face side down directly onto the grate for a crispy inside. Or you can place it in to whole to toast the outside while keeping the outside nice and soft.
If you don't have a hot oven already, heat it to no more than 300 degrees F. Keep an eye on them!
Expert Tips
Always start with room-temperature ingredients. If you add a cold egg or cold water to the dough, you'll slow down the rising process and then again the baking process.
Test your yeast before you begin. There's nothing worse than seeing your dough not rise! Do a little test in some warm water and if it bubbles and foams, go ahead and use it. If not, discard it and pick up some fresh yeast.
Use room temperature water, nothing too hot. Extreme heat will kill the yeast which is another way that stops it from rising.
Always find a warm draft-free area to let the dough rise. Depending on the temperature in your kitchen, you may find it helpful to use the proofing drawer at the bottom of your oven. Some people even use the oven itself on very very low heat.
If scoring your bread with slashes, I recommend using a lame (basically a razor) if you have one. A sharp knife is the last resort. If using a sharp knife, be very careful to not tear the dough.
Scoring it is not completely necessary as it's mostly for presentation, however, it does give the steam a place to escape which keeps the shape of the bread intact.
FAQs
Can I mix and knead by hand?
You can definitely mix and knead by hand, it will just take a lot longer and a lot more arm strength!
Should I add an egg wash to the dough before baking it?
That would be totally up to you. If you like a darker golden crust, then you can brush it with egg wash first. You can use the whole egg, the egg yolk, the egg white, or even milk. They'll all give slightly different results but present beautifully no matter what.
How many calories are in a hoagie roll recipe?
There are 367 Calories in a single hoagie roll.
How many carbs are in a hoagie roll?
In each one there are 64g of carbs.
Can I freeze leftovers?
Absolutely! Hoagie rolls will keep for up to 1 week at room temperature when sealed tightly, but if you want to extend their freshness, freeze them.
Wrap them tightly with plastic wrap and keep them in a freezer bag for up to 3 months in the freezer.
Must Try Sandwich Recipes Using this Hoagie Roll Recipe
Cheesy Hot Beef Sandwich Recipe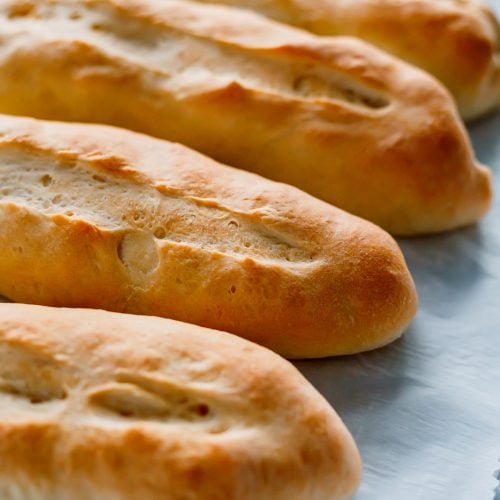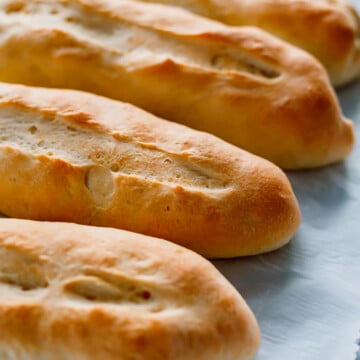 Hoagie Roll Recipe
Learn how to make fresh homemade hoagie rolls with my simple step-by-step recipe with impressive results every time. 
Ingredients
5

cups

all-purpose flour

I like using weights for this, you will need 27 1/2 onces

4

teaspoons

instant yeast

or rapid-rise yeast

1

tablespoon

sea salt

3

tablespoons

avocado oil

plus more for greasing the bowl

1

large

egg

room temperature

4

teaspoons

sugar

2

cups

water

room temperature
Instructions
In a stand mixing bowl whisk together flour, yeast and salt.

Using a different bowl, whisk together oil, egg and sugar. Then pour in water and whisk everything up.

Turn stand mixer on low speed using a hook attachment, slowly pour in water mixture and mix until the dough starts to form, about 2 minutes. After turn the speed to medium/low and knead the dough for about 8 minutes, or until the dough is smooth and elastic.

Transfer dough onto a floured surface and knead it with hands to form a ball shape, about 30 seconds. After place the dough seam side down into a large greased bowl. Cover with a plastic wrap and let it rise for 1 -2 hours or until it doubles in size.

Now line 2 baking sheets with parchment paper. Deflate the dough by pressing it down with your hand. Place the dough onto a greased surface and divided into 4 equal parts, then divide each part into half, creating 8 equal pieces (each piece should weight about 5 1/2 ounces).

Work with one piece of dough at a time while covering the rest with greased plastic wrap. Press the dough into 4 inch square.

Now pull the top of the square toward the center and press to seal, gently. After rotate the dough to 180 degrees and repeat the folding to create a 5 by 3 inch rectangle. Then, fold it in half and seal it with your fingers. Place a hand over the center and without pressing down, roll it back and fourth and reinforce the seal.

Now, use 2 hands and roll and stretch the dough into 8 inch cylinder, by moving your hands back and forth in opposite directions. Place the roll on to a parchment paper 3 inches away from each other. Repeat with the rest of the dough.

Loosely cover with greased plastic wrap and let it rise for about 1 hour in warm place, or until the rolls double in size. Using a sharp knife or a razor blade, create a 1/4 inch deep cut stopping at 1/2 inch from the ends. Bake at 350F for 30-35 minutes on the middle rack (or bake on upper-middle and lower-middle racks, make sure to switch and rotate the sheets halfway through baking). Let cool for 1 hour on a cooling rack. Enjoy!
Notes
Hi! All content & images are copyright protected. Please do not use my images without prior permission. If you want to republish this recipe, please re-write the recipe in your own words, or simply link back to this post for the recipe. Thank you.
Nutrition
Calories:
367
kcal
Carbohydrates:
64
g
Protein:
11
g
Fat:
7
g
Saturated Fat:
1
g
Polyunsaturated Fat:
1
g
Monounsaturated Fat:
4
g
Trans Fat:
0.003
g
Cholesterol:
23
mg
Sodium:
889
mg
Potassium:
150
mg
Fiber:
4
g
Sugar:
2
g
Vitamin A:
34
IU
Vitamin C:
0.02
mg
Calcium:
19
mg
Iron:
4
mg
Q. Do YOU like this Hoagie Roll Recipe?
Let me know in the comments below, I would love to hear from you!
Thank YOU for YOUR Comment, Share & Recipe Review!