Jalapeno Poppers – Make everyone's favorite appetizers quickly and easily with a creamy cheesy filling loaded with seasoning and crispy bacon. Topped with breadcrumbs and then baked until golden, these little bites of heaven are wildly addicting and always the hit at any gathering!
When YOU make Jalapeno Poppers please tag my name @munchkintimeblog on Instagram, we would LOVE to see your creation!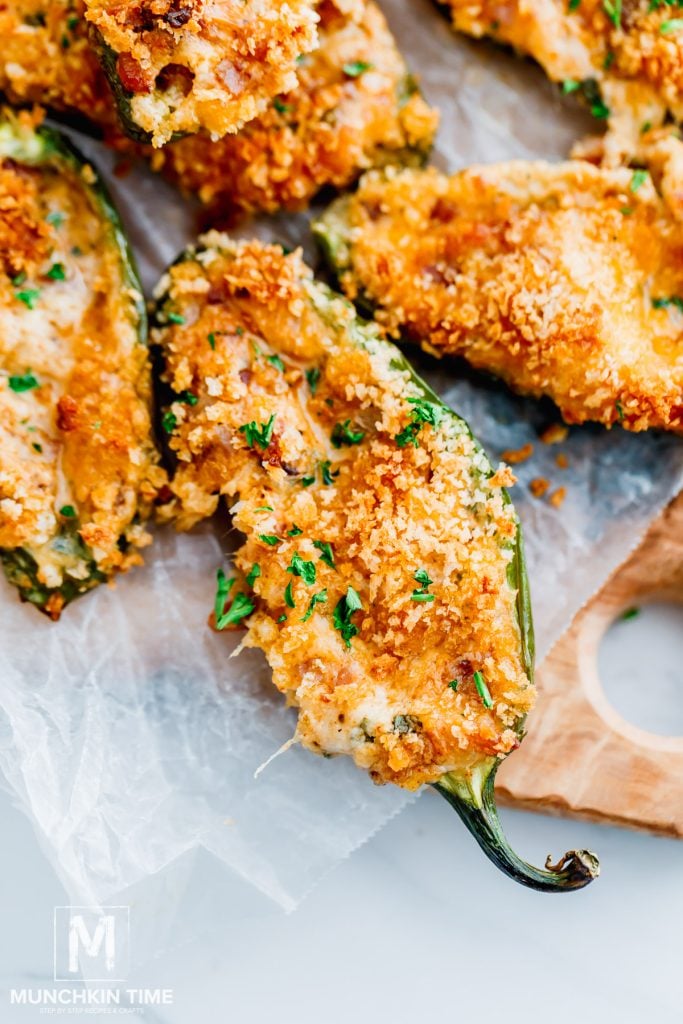 Jalapeno poppers with bacon is a classic appetizer that makes an appearance at everything from Christmas parties and New Year's Eve parties to game days and Barbecues. You can't go wrong with these little bites of heaven.
This jalapeno poppers recipe is made with fresh jalapeno peppers but we remove the seeds so they're only mildly spicy. We fill it with a mixture of 2 kinds of cheese, spices, and salty bacon bits and then, we coat them in breadcrumbs and bake until golden and crispy on the outside and gooey and cheesy on the inside.
Because we're not deep frying them, they're even lighter than they normally are, but just as irresistible.
Serve them to your guests and watch how quickly they disappear!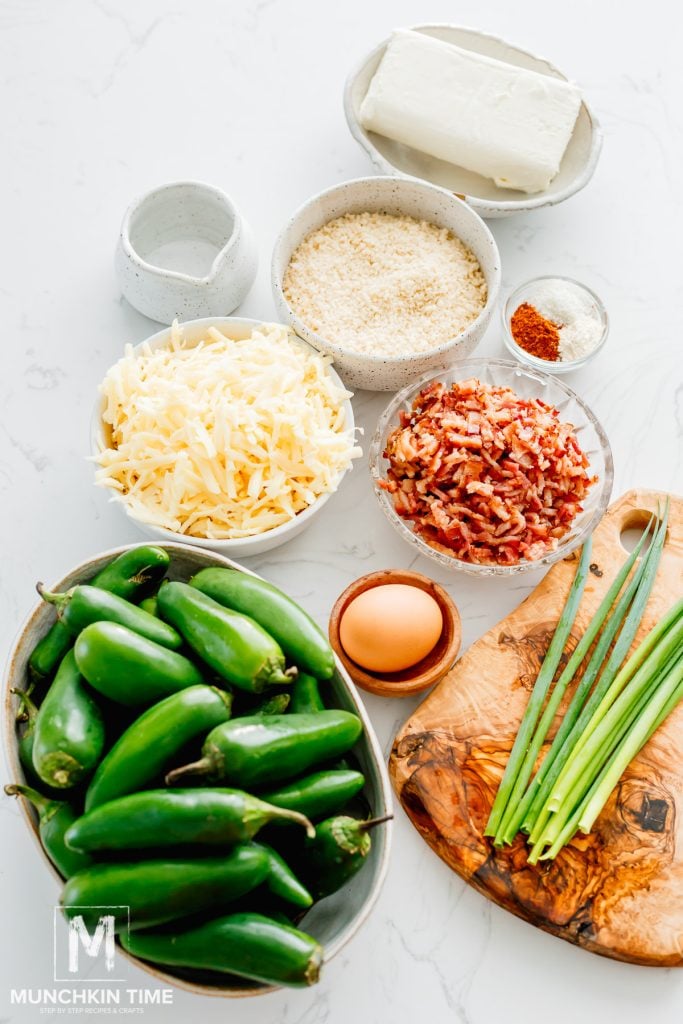 Ingredients for Jalapeno Poppers
Jalapenos: You'll need about 20 medium jalapenos. When cut in half, it'll end up being 40 jalapeno poppers. Wash them and remove the seeds.
Cheese: We're using both room-temperature cream cheese and Monterey Jack cheese for that creamy filling.
Seasoning: Chili powder, garlic powder, and sea salt.
Chopped Green Onion: Brings a fresh sharp flavor to the cheesy filling.
Cooked Bacon: A quick and easy way to cook the bacon is to lay them in a single layer on a lined baking sheet and bake them in a preheated 400-degree oven for 10 minutes. Then, chop them up.
Egg and Water: Whisked egg and water is the first step of the dredging process. It's what helps the breadcrumbs to stick to the poppers.
Breadcrumbs: Use Panko breadcrumbs or regular breadcrumbs, it's up to you.
Fresh parsley: An optional garnish for serving.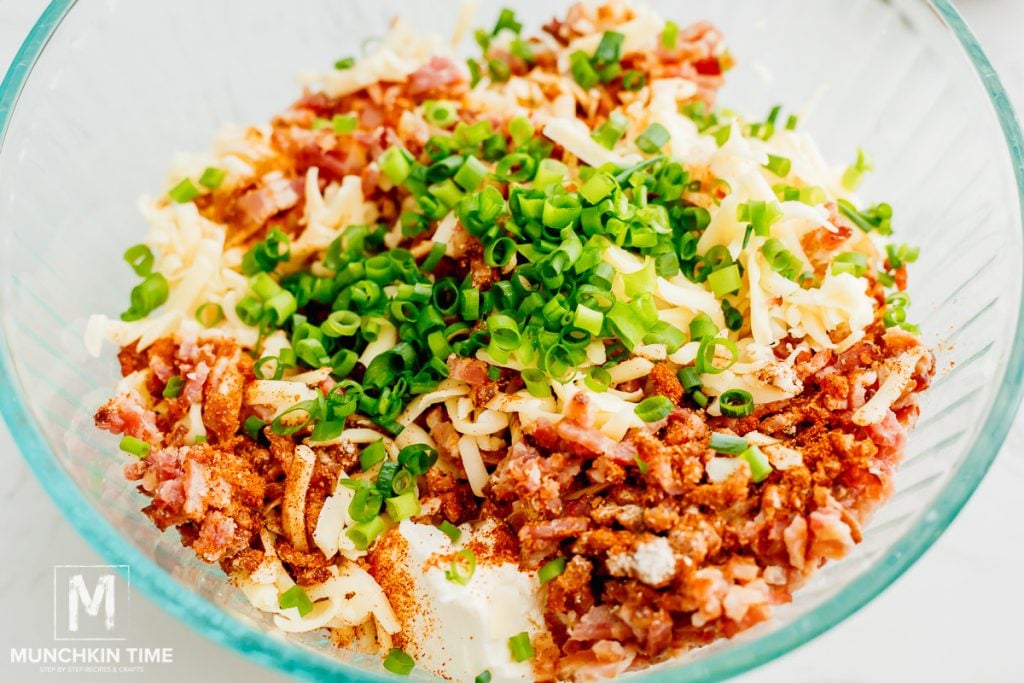 How to Make Jalapeno Poppers
Step 1: In a large mixing bowl, combine the softened cream cheese, Monterey Jack cheese, chili powder, garlic powder, salt, green onion, and bacon. Mix together until well combined.
Step 2: Take one of the jalapeno halves and fill it with the cream cheese mixture. Set it aside and fill the remaining halves until you have no more mixture left.
Step 3: Add the whisked egg and water to a bowl and the breadcrumbs to a separate bowl. Dip each popper filling side down into the egg mixture and then into the breadcrumb mixture. Once the tops are coated, lay them down on the prepared baking sheet and repeat with the rest.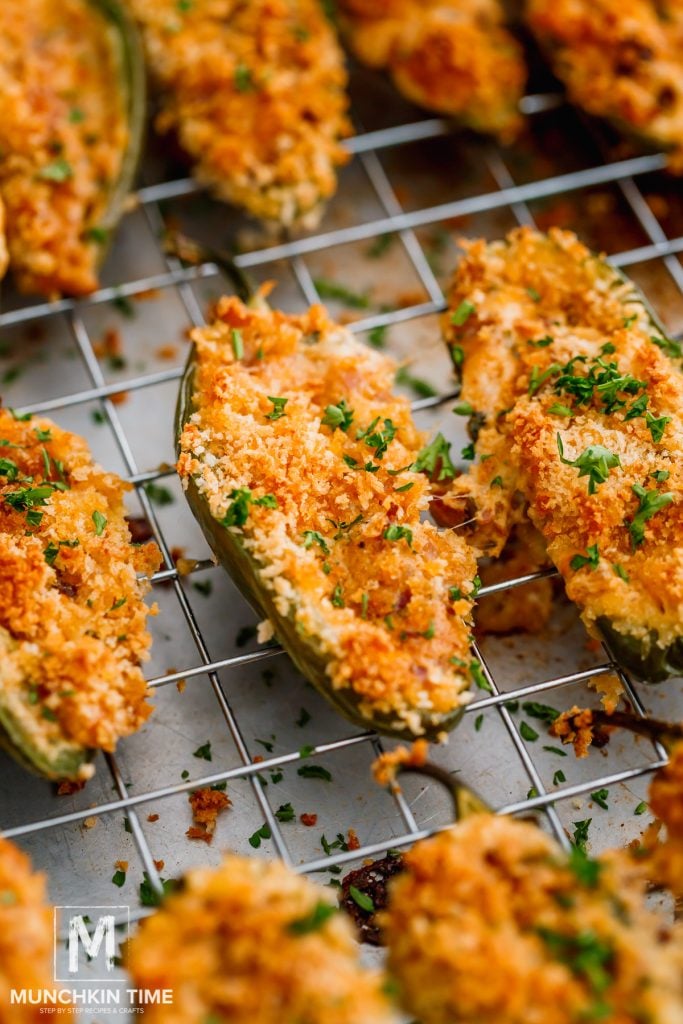 Step 4: Arrange them on a baking sheet in a single layer. Be careful not to overcrowd the baking sheet. Bake in a preheated 425-degree oven for 15 minutes until the top is golden brown and the cheese has melted.
Step 5: If you want it a little darker and crispier on top, place it under the broiler for a couple of minutes. Garnish with fresh chopped parsley if desired, and serve!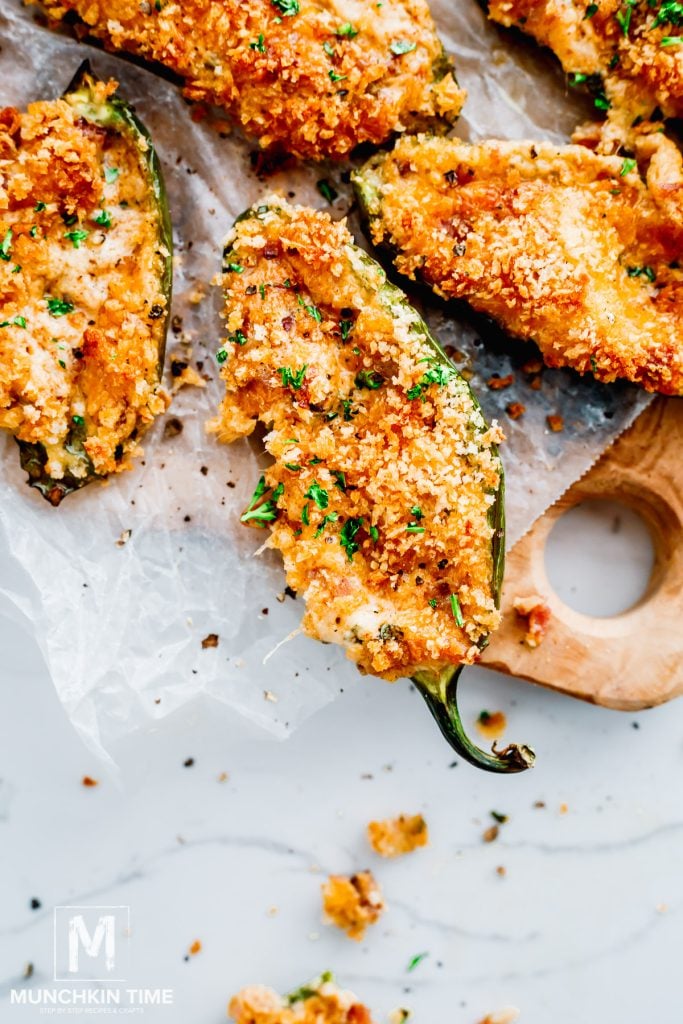 Recipe Tips
WEAR GLOVES! When you're cutting the jalapenos and removing the seeds. The seeds are what carry the spice and if you have open wounds on your hands they'll burn. If you rub your eyes by mistake, they'll burn. So, take precautions and use latex gloves while you work.
Slice them in half lengthwise so you have plenty of room to hold the filling. Keep the stems on if you can. It's for no other reason than for presentation purposes. It also makes it easier to hold.
If you like a lot of spice, feel free to leave a bit of that inner membrane inside, rather than scooping it all out. That's the stuff that holds the seeds.
Do not overstuff the peppers. We all know the filling is delicious but if we overstuff it, it'll all fall out!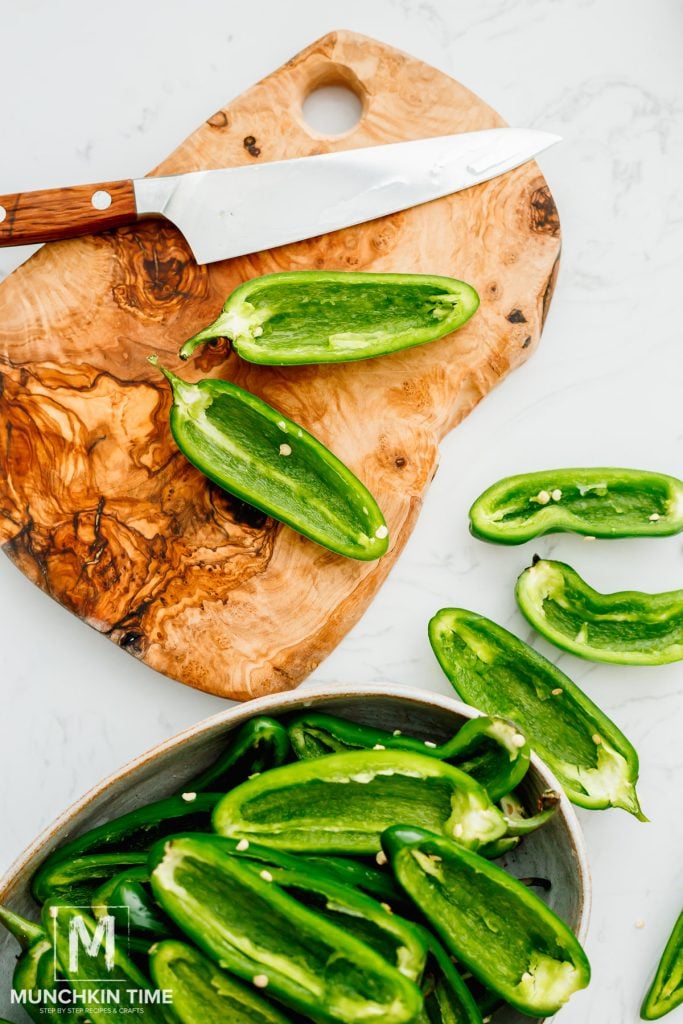 How long to bake jalapeno poppers?
You want to bake them long enough so that the peppers are tender yet still crispy, the breadcrumbs are golden brown, and the filling is melted and creamy. At 425F I like to bake them for 15 minutes. If you want it a bit darker, make sure to bake them on the top rack and add a couple of extra minutes under the broiler.

If your oven is at 400F, bake them for an extra 5 minutes. 20 minutes total.
What to serve with jalapeno poppers?
A cool creamy dipping sauce is always a good idea. Ranch dressing or blue cheese dressing are always my go-to choices. However, there is so much flavor in these little bites that you may not need anything at all.
Can I make these in the air fryer?
Definitely! Although, you'll need to work in batches because the air fryer basket won't hold all 40 pieces at once. Air fry them at 325F for about 10-12 minutes.

Each air fryer is different, so once 10 minutes is up, open the basket to check on them.
How to store leftovers?
They will get soggy the longer they sit, so I do recommend enjoying them the day they're made. If you do have any left, you can store them in an airtight container for up to 3 days. Reheat them in the air fryer or oven to get a little crispy texture back.
Can I freeze them?
You can! These can be made ahead of time and fully assembled before freezing them. Once you've assembled them all, store them in a freezer-safe container in a single layer. If you stack them, make sure to separate the layers with parchment paper so they don't freeze stuck together.

No need to thaw them first, you can bake them right from frozen. Just be sure to tack on a few extra minutes to the baking time.
Jalapeno Poppers
Jalapeno Poppers – everyone's favorite holiday appetizer, quick and easy with a creamy cheesy filling loaded with seasoning and crispy bacon.
Instructions
Preheat the oven to 425F and line baking sheet with parchment paper or baking wire. In a bowl combine cream cheese, Montreal Jack cheese, chili powder, garlic powder, salt, green onion and bacon. Give it a good mix.

Fill each jalapeno with the cream cheese mixture. Now, dip each jalapeno with filling side down in the egg mixture then breadcrumbs, then place breadcrumb side up onto the baking sheet.

Bake for 15 minutes or until the top is golden brown and cheese is melted. If you want broil on high for few minutes until desired golden color. Enjoy!
Notes
When YOU make Jalapeno Poppers please tag my name @munchkintimeblog on Instagram, we would LOVE to see your creation!
Hi! All content & images are copyright protected. Please do not use my images without prior permission. If you want to republish this recipe, please re-write the recipe in your own words, or simply link back to this post for the recipe. Thank you.
Nutrition
Calories:
75
kcal
Carbohydrates:
3
g
Protein:
3
g
Fat:
6
g
Saturated Fat:
3
g
Polyunsaturated Fat:
1
g
Monounsaturated Fat:
2
g
Trans Fat:
0.01
g
Cholesterol:
18
mg
Sodium:
166
mg
Potassium:
54
mg
Fiber:
0.4
g
Sugar:
1
g
Vitamin A:
315
IU
Vitamin C:
9
mg
Calcium:
56
mg
Iron:
0.3
mg
Q. Do YOU like this Jalapeno Poppers Recipe?
Let us know in the comments below, we would love to hear from you!
Thank YOU for YOUR Comment, Share & Recipe Review!