Cheese Potato Balls – Air Fryer Cheese Potato Balls are the perfect way to spice up your appetizer menu! These crispy little potato balls are made with fluffy mashed potatoes stuffed with 2 kinds of cheese and then rolled around in flamin' hot Cheetos!
When YOU make this Easy Potato Recipe please tag us on @munchkintimeblog on Instagram, we would LOVE to see your creation!
If I could eat appetizers as a meal every day, I probably would! I love anything that comes in smaller portions so I can try a little bit of everything. They're also great for kids to like to eat with their hands and take little bites!
Quinoa zucchini fritters, shrimp spring rolls, and cheesy potato bites are a few of my favorites, and now these cheese potato balls are in the running for first place favorite!
These little bites are air-fried until crispy on the outside, and melty and cheesy on the inside. Each bite is as good as it sounds and they are completely addictive!
If you're looking for a creative appetizer or a fun side dish that is easy to make, super flavorful, and one that everyone will love, these bite-sized snacks are it. They're great for year-round entertaining from summer gatherings to holiday parties and all the movie nights and game day parties in between.
They're not fried but instead made in the air fryer which makes them a little lighter and less greasy with super easy cleanup. Keep this recipe for air fryer potato balls close by, they're going to become your new favorite!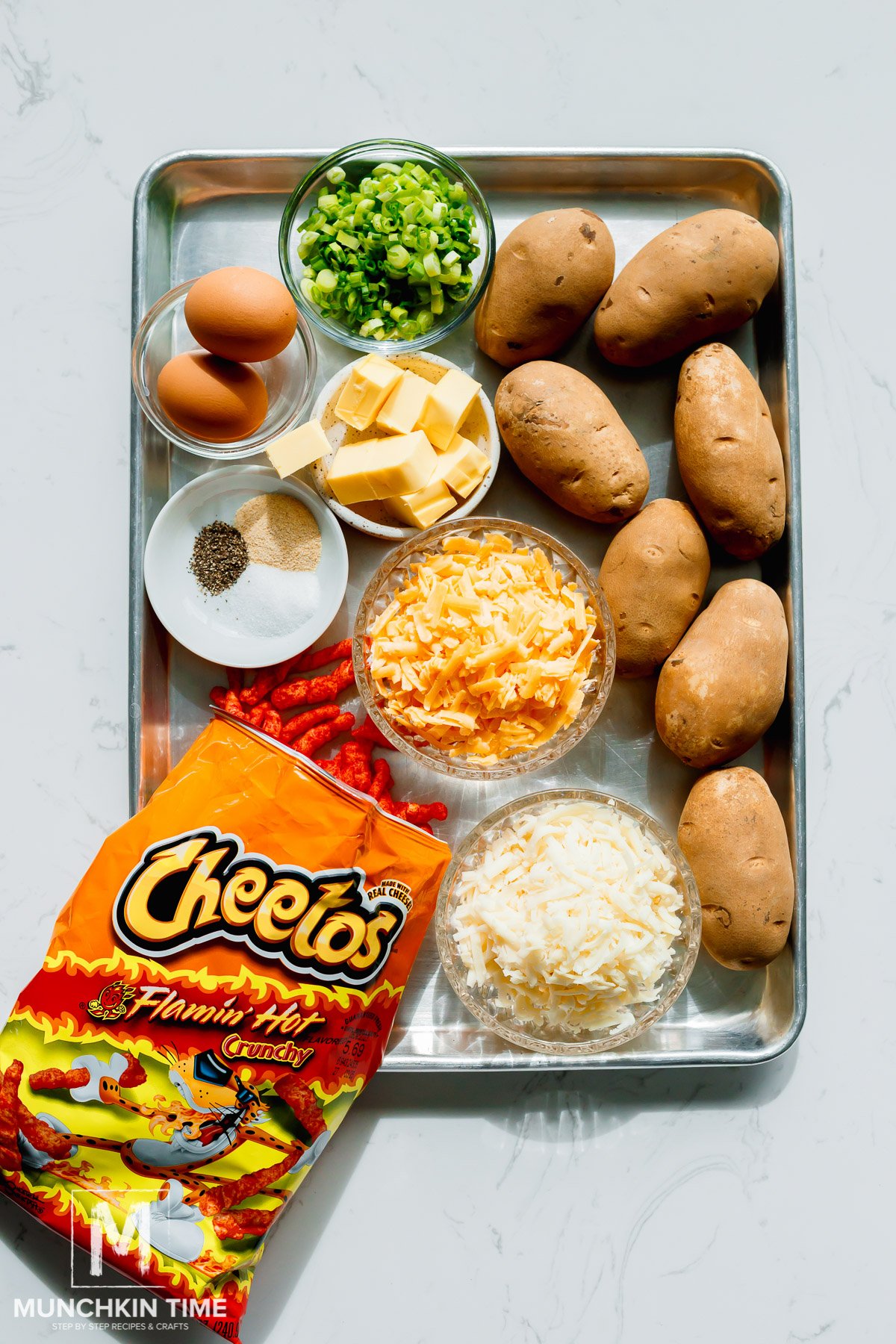 Ingredients Needed
Potatoes: We're making fresh mashed potatoes for this recipe, so you'll need about 7 potatoes, peeled and cut into chunks.
Sea Salt: Needed for salting the water to boil as well as seasoning the mashed potatoes.
Butter: I use unsalted butter in my mashed potatoes so I can control the amount of salt I'm adding, but you can use either. Adding butter to mashed potatoes gives them a richer texture and a great buttery flavor.
Cheeses: I love the combination of shredded sharp cheddar cheese and shredded mozzarella cheese. Both melt nicely and have a great cheese pull when bitten into!
Seasoning: Green Onion, garlic powder, sea salt, and black pepper give the mashed potato extra flavor!
Eggs: Whisked eggs coat the potato balls so the crunchy coating sticks well.
Flamin' Hot Cheetos: Crushed into crumbs. If you're not interested in the spicy coating, swap with regular breadcrumbs or Panko breadcrumbs instead.
Cooking Spray: Since we're adding them to the air fryer, the cooking spray helps give them a nice outer crust.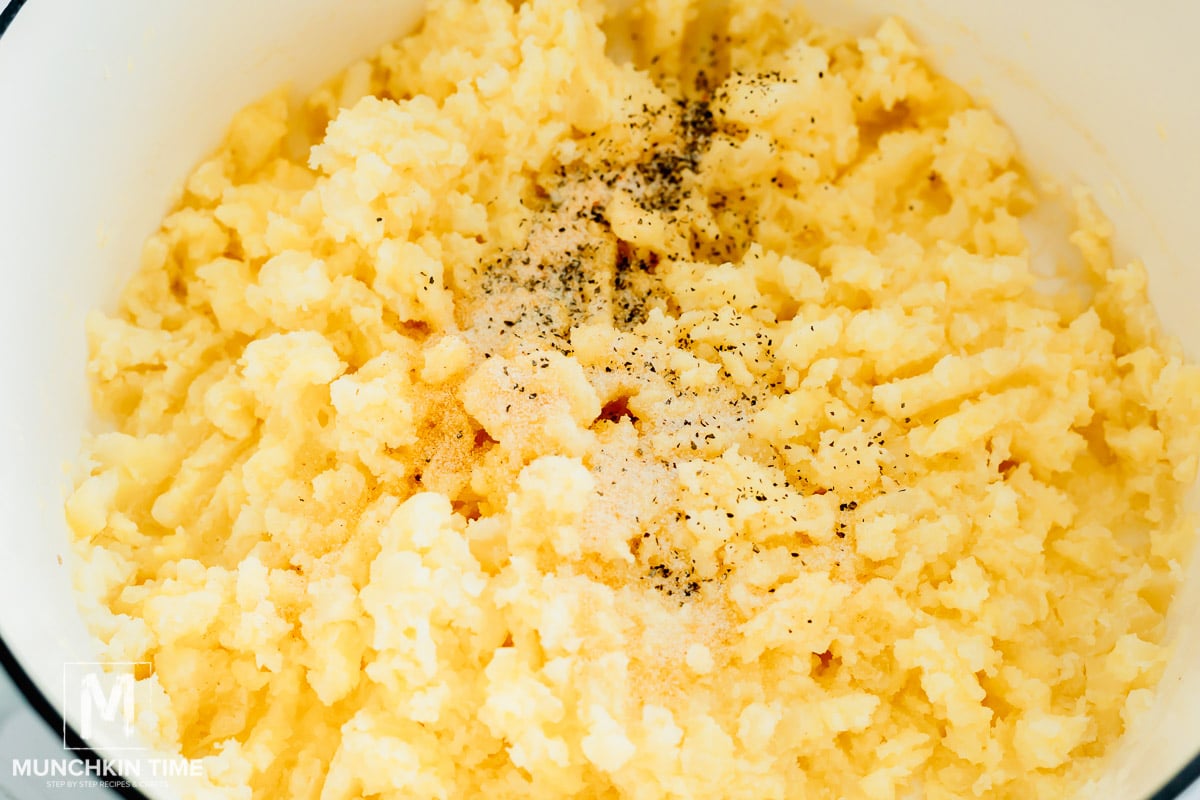 How to Make Potato Balls
Step 1: Boil potatoes in salted water for 20-30 minutes until the potatoes are cooked through and fork-tender. Drain them, and mash them with butter. Cool to room temperature.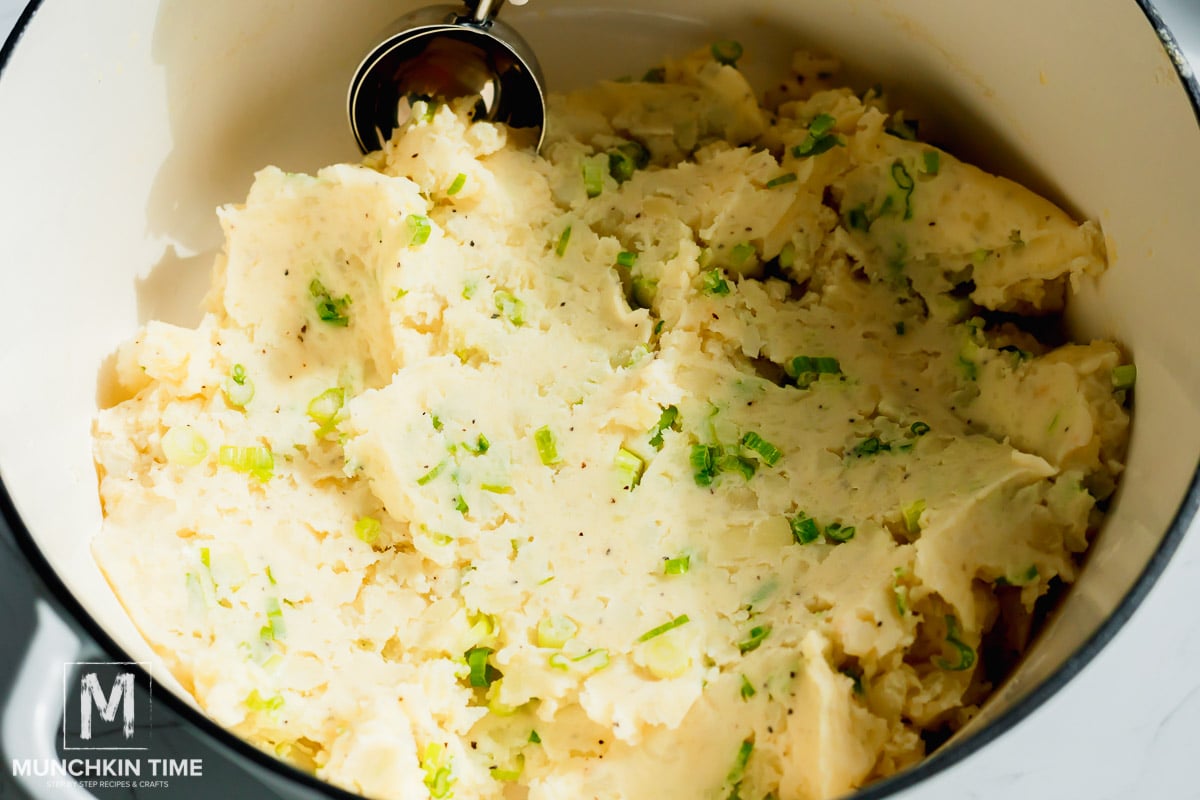 Step 2: Add green onion, salt, pepper, and garlic powder. Mix into the mashed potatoes until combined.
Step 3: In a small bowl, combine the two types of cheeses together.
Step 4: In a separate small bowl, whisk the eggs. And yet another bowl, the Flamin' Hot Cheeto crumbs.
Step 5: Use an ice cream scoop to scoop out the mashed potato mixture to form balls. Use your thumb to make an indent in the middle and add some of the grated cheese to the center. Cover it back up with surrounding mashed potato and roll it into a ball.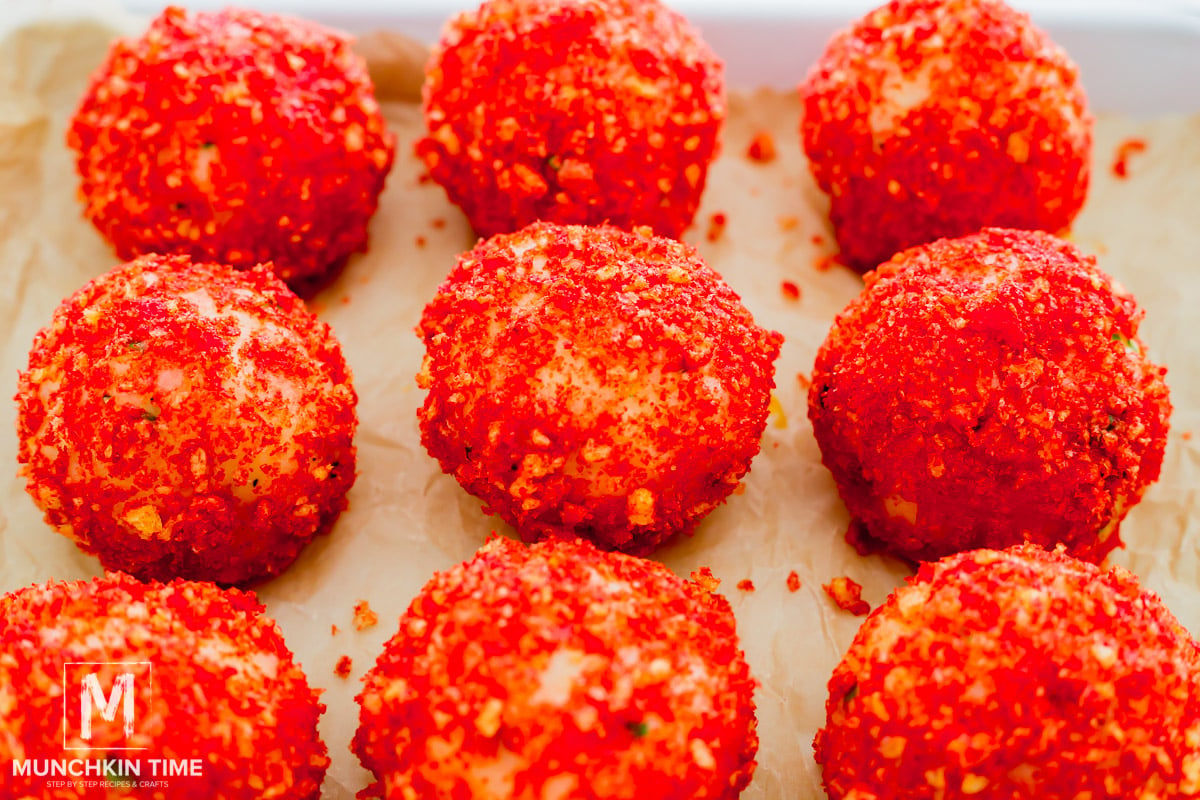 Step 6: Roll the potato balls into the egg coating. Allow any excess to drip off.
Step 7: Immediately roll the egg-coated ball into the Cheetos and place them onto a parchment-lined sheet. Chill in the freezer for 20-30 minutes.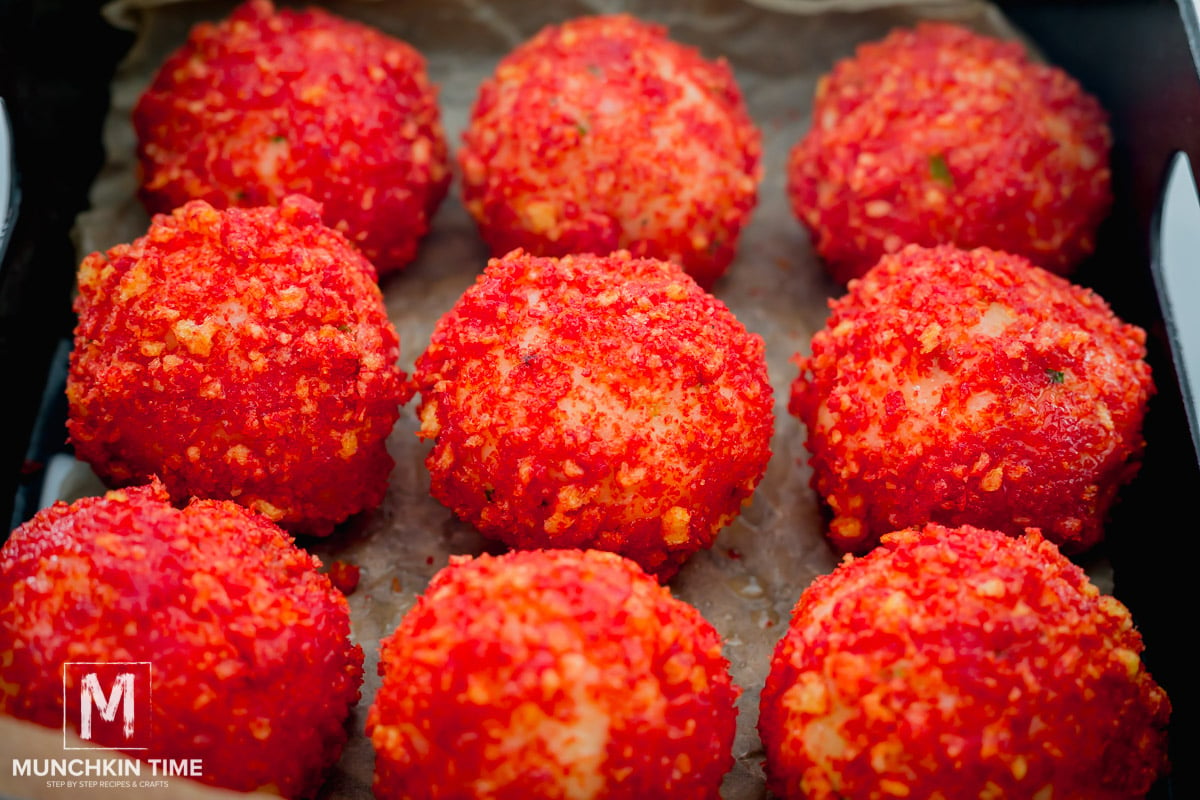 Step 8: Place the balls into the basket of the air fryer, arranging them in a single layer, leaving enough room between each one for the heat to circulate. You may need to work in batches.
Step 9: Spray the air fryer potato balls with cooking spray and air fry at 375 degrees F for 7-10 minutes, pausing to roll them over halfway.
Enjoy!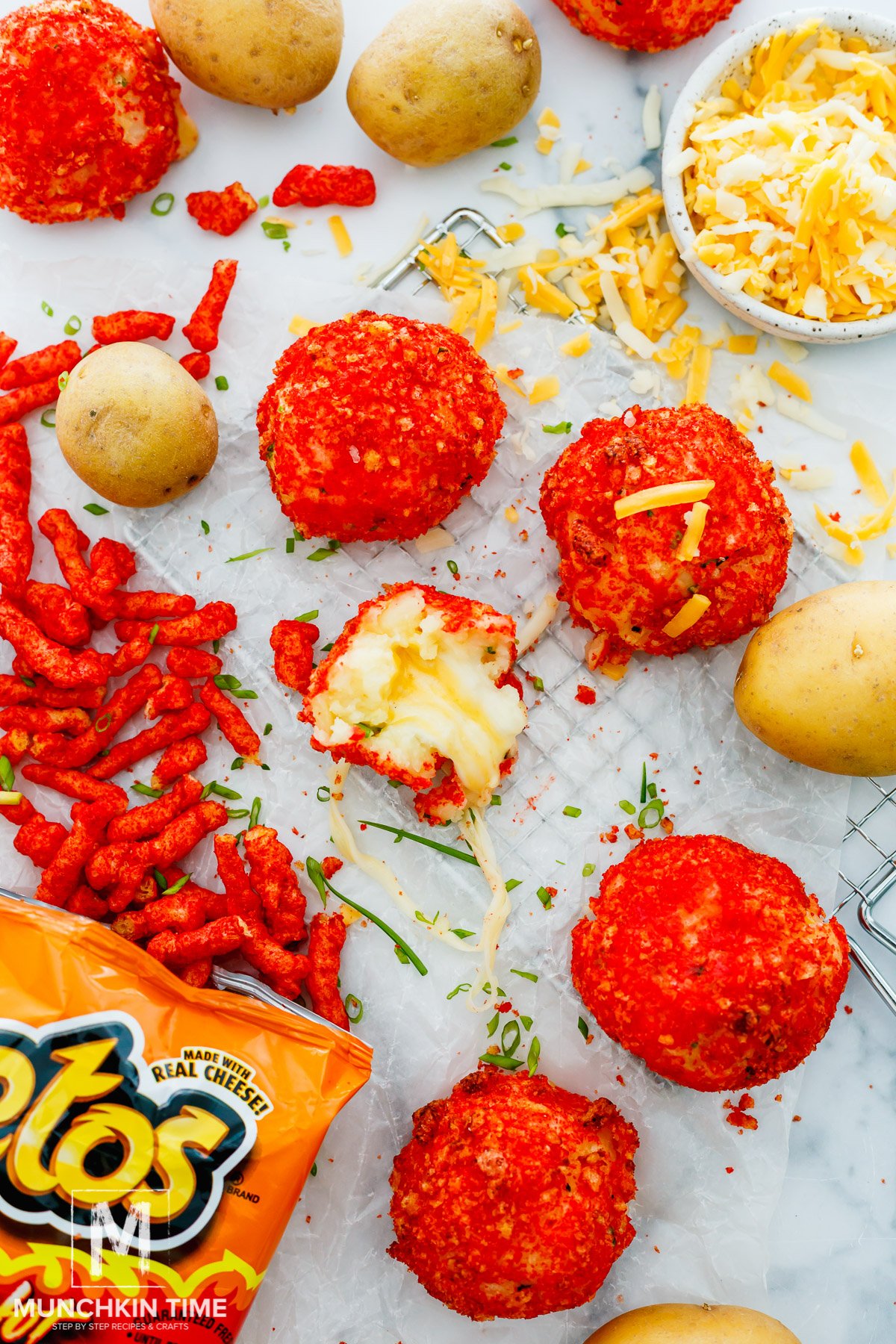 Recipe Tips for Potato Balls with Cheese
Don't skip salting the water! The salt brings water to a boil quicker and adds great flavor to the potatoes without ever tasting too salty.
Hot Cheetos can be replaced with takis, spicy Doritos, or any type of spicy chips!
Swap the cheese for your favorites. Or use just one or the other if you don't want a combination.
Use an ice cream scoop to scoop the mashed potatoes to make sure you're using the same amount for all of the air fryer mashed potato balls. This will help ensure they're all cooking evenly.
Feel free to use leftover mashed potatoes if you have some! Add a little extra flavor to them by adding in the listed seasoning.
What to Serve with Cheese Potato Balls
As an appetizer, these potato balls are great with a cool creamy dipping sauce like ranch or blue cheese.
As a side dish, you can serve them with Chicken Fried Steak and Gravy for a twist on your everyday potato side dishes!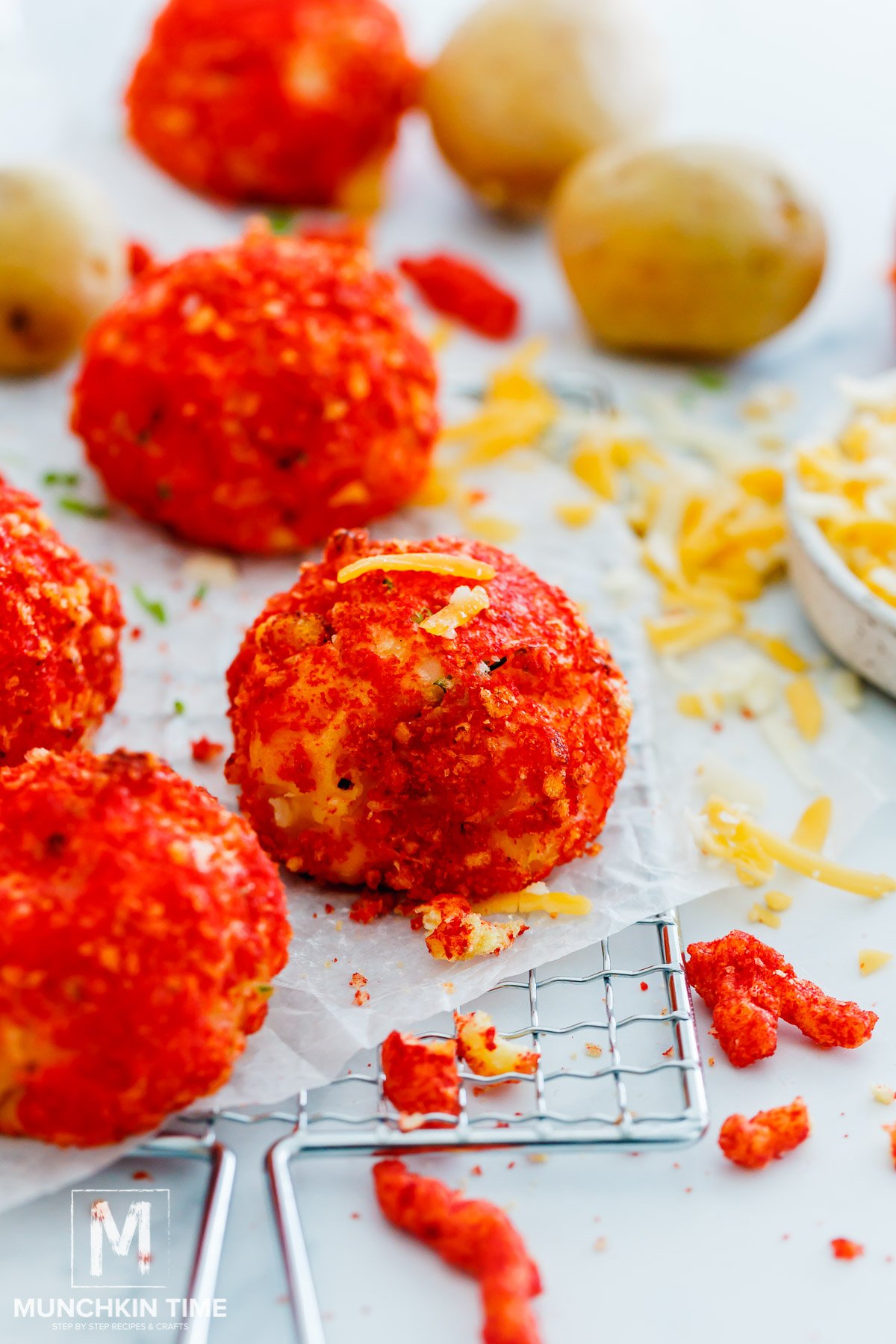 FAQs
What type of potatoes should I use?
This recipe isn't fussy since we're using them to mash the potatoes. Starchier potatoes will be a bit fluffier and waxier ones will be creamier. Russet potatoes, Yukon Gold potatoes, red potatoes, or your standard yellow potato are all great options.
Are cheese potato balls healthy?
They were up until you rolled them up in the flamin' Cheetos crumbs! They're not exactly unhealthy, but certainly not something you want to eat every day. My husband loves them, so I make them for him!
However, a once-in-a-while snack as part of an overall healthy lifestyle is okay in my books!
If you are wanting to skip the Cheetos coating, you can definitely use breadcrumbs instead.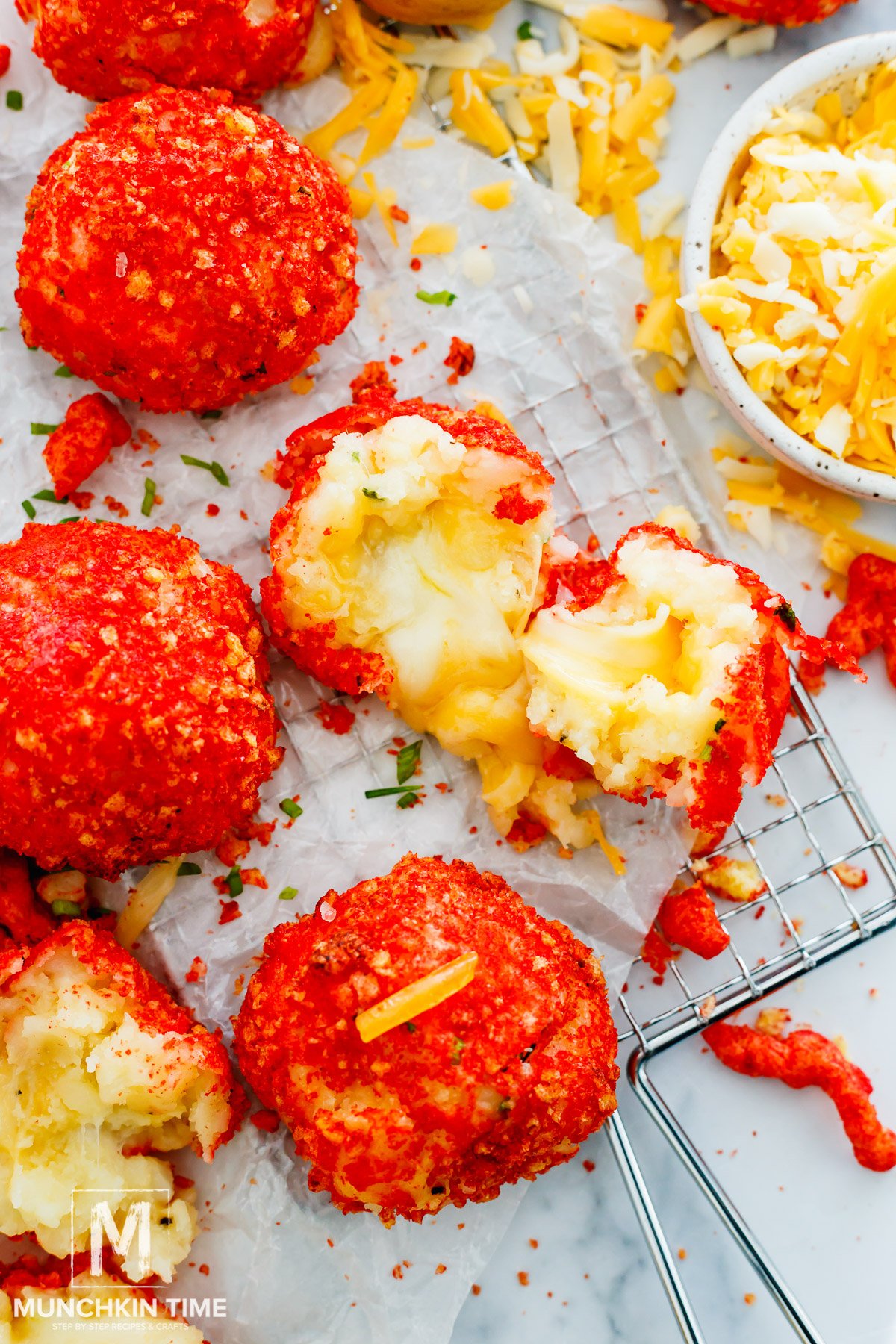 Can I freeze leftovers cheesy potato balls?
I don't recommend it. Freezing mashed potatoes can change their texture once they are thawed. They won't be the same again!
Cheese Potato Balls
Air Fried Cheese Potato Balls Recipe – made with fluffy mashed potatoes stuffed with 2 kinds of cheese & rolled in flamin' hot Cheetos!
Instructions
Add potatoes to the pot and fill it with water, season with salt and bring it to a boil. Reduce the heat to medium and boil potatoes for 20 minutes, or until potatoes are cooked thru. Drain the water, then add butter and mash potatoes with potato masher.

Cool potatoes, they have to be room temp. Add green onion, salt and pepper, garlic powder, mix. 

Mix 2 cheeses together in a bowl. Whisk eggs in small bowl. Place crushed flaming hot Cheetos in another bowl. Use ice cream scooper to scoop mashed potatoes. Press finger into the center of the potato ball and put cheese into the center, cover the sides and roll into a ball.

Roll potato ball in egg mixture. Then roll it in hot Cheetos or bread crumbs. Place onto a baking sheet lined with parchment paper, freeze for 20-30 minutes (it's a very important step, if you skip it the balls might fall flat after air frying, please don't skip this step).

Preheat the air fryer to 375F. Place cheese potato balls into the air fryer and spray with oil. Air fry for 10 min flip to the other side after 5 min. Enjoy!
Video
Notes
Hi! All content & images are copyright protected. Please do not use my images without prior permission. If you want to republish this recipe, please re-write the recipe in your own words, or simply link back to this post for the recipe. Thank you.
When 
YOU
 make this 
Potato Balls Recipe
 please tag us on @munchkintimeblog on Instagram, we would LOVE to see your creation! 
Nutrition
Calories:
112
kcal
Carbohydrates:
1
g
Protein:
5
g
Fat:
10
g
Saturated Fat:
6
g
Polyunsaturated Fat:
0.5
g
Monounsaturated Fat:
3
g
Trans Fat:
0.2
g
Cholesterol:
51
mg
Sodium:
318
mg
Potassium:
42
mg
Fiber:
0.2
g
Sugar:
0.3
g
Vitamin A:
373
IU
Vitamin C:
1
mg
Calcium:
107
mg
Iron:
0.3
mg
Q. Do YOU like this Cheesy Potato Balls Recipe?
Let us know in the comments below, we would love to hear from you!
Thank YOU for YOUR Comment, Share & Recipe Review!