Best Cake Pops Recipe – made entirely from scratch resulting in a mouthwatering bite thanks to the moist cake and dulce de leche cream but the addition of toasted walnuts brings them to another level!
Cake pops have become so trendy lately and for good reason! Who doesn't love any type of dessert on a stick?! They're portable and easy to serve and both kids and adults love them.
You can also use a variety of different cake flavors and decorations making them so versatile, but this Easter cake pops recipe happens to be one of the best!
It's called a nutty dolce de leche cake pop because we're not only using cake baked from scratch, but we're also making homemade dulce de leche!
There are a few moving parts to this recipe and it is still super easy! It's worth the extra bit of effort to present these beautiful pink cake pops on your holiday dessert table!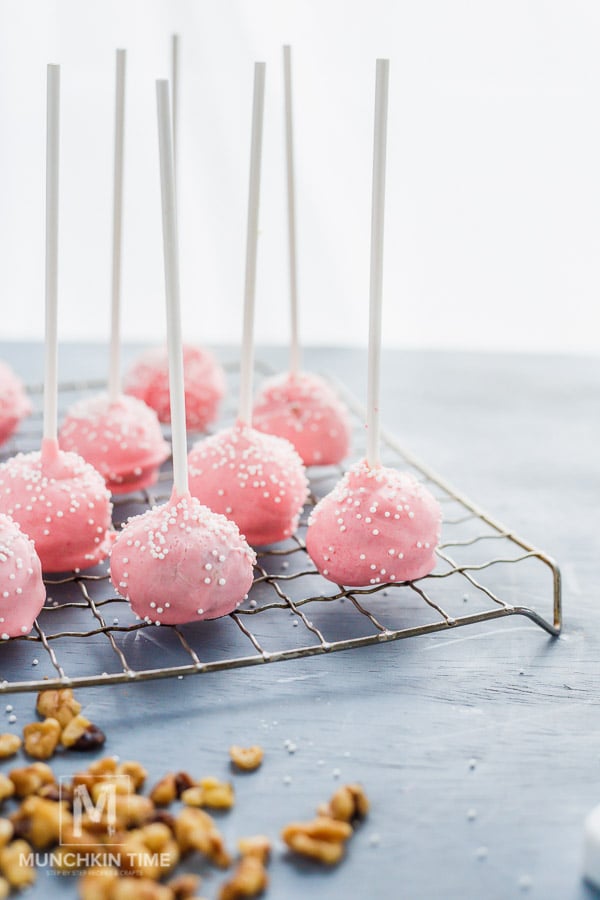 Ingredients
YOU

will need to make

Vanilla Cake Pops Recipe

:

I love taking the time to bake a cake from scratch and to cook down my can of sweetened condensed milk to turn it into dulce de leche. However, if you want a couple of shortcuts to save time, by all means, use store-bought dulce de leche and a boxed cake. The vanilla cake pops will still turn out great!
For the cake – Eggs, sugar, flour, and vanilla are all you need to make a simple cake from scratch. You'll notice we're not using any leavening agents and that's because we're not interested in making it light and fluffy. We just need to have something to crumble up for the inside of the cake pops.
Toasted Nuts – I usually use chopped walnuts but you can swap those with any nuts you prefer.
Cream cheese – Be sure to bring it to room temperature ahead of time.
Condensed milk – Cooked on low for 3 hours to caramelize (i.e. Dulce de Leche!).
Heavy cream – Used as part of the cream base that binds the cake crumbles together.
White chocolate candy melts – Melting wafers are easy to use and melt beautifully. They do come in different colors, which is an option as well. Otherwise, stick with white and use the food coloring.
Sprinkles – Use whatever decorative sprinkles you like! I love using white as a contrast to the pink cake pops, but gold, silver, and any pastel colors will work too!
Pink food coloring – Use either gel or liquid food coloring. The liquid is a bit cheaper, but you'll need more drops to get a vibrant color as the more concentrated gel coloring.
When YOU make Cake Pops Recipe would you take a picture and share it on Instagram by hash tagging #munchkinrecipes we would LOVE to see your creation! Thank you!

How to Make

Cake Pops
Making the Cake
Whisk all of the eggs on high using a stand mixer (or mixing bowl with a hand mixer) for about 5 minutes.
To your whipped and fluffy eggs, slowly add sugar and vanilla. Continue to whisk on high for another 5 minutes.
Add sifted flour into the egg mixture and stir it in using a spatula, until you no longer see the flour. Do not over mix, a gentle stir will do!
Pour the batter into a prepared 9" baking pan or 9×3" baking sheet. You'll want to wash the bowl of your stand mixer because you'll need it to make the cream. Bake the cake for 30 minutes until a toothpick inserted into the middle of the cake comes out clean.
Allow it to cool completely. While it's cooling, let's make the cream.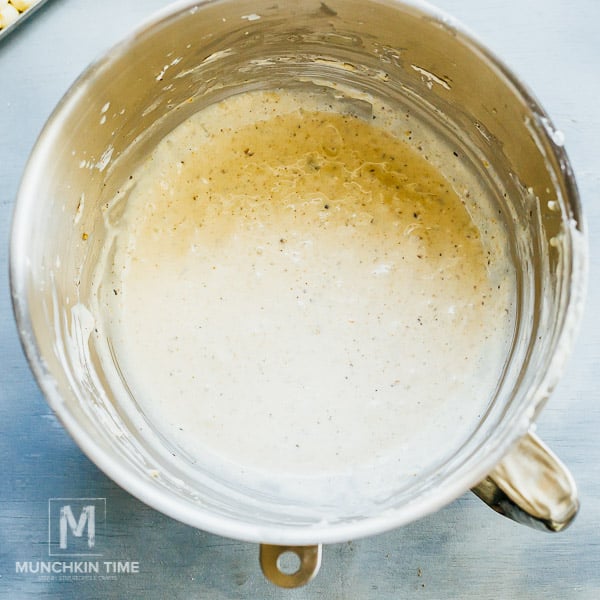 Making the Dulce de Leche Cream
To the bowl of the stand mixer, whisk the cream cheese until blended and creamy. Scrape the sides of the bowl as you go. Add the dulce de leche, chopped nuts, and heavy cream. Whisk on high to combine.

Assembling the

Cake Pops
Step 1: Once the cake has cooled, break it into clumps and add them to a food processor to make crumbs.
Step 2: Combine the cake crumbs and cream mixture and mix to combine.
Step 3: Scoop out the cake pop mixture using a cookie scoop and use your hands to roll it into a ball. Place it onto a parchment-lined baking sheet and repeat with the remaining mixture.
Step 4: Place melting chocolate in a microwave-safe bowl and heat for 30 seconds. Take a stick and dip one end of it into the melting chocolate and stick that end into the cake pop. This will help the cake pop stay on the stick! Repeat with each cake pop
.
Step 5: Place the baking sheet with the cake pops into the freezer for about 20 minutes. While they are solidifying bring a little water to a boil in a small saucepan and add the chocolate to melt.
Step 6: Turn off the heat and add a few drops of food coloring. The amount depends on the color you're after.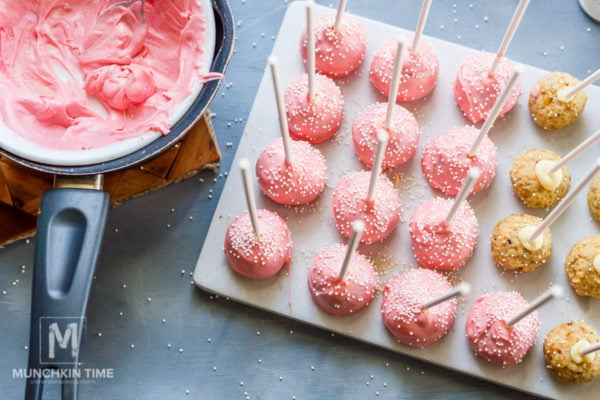 Step 7: Coat each cake pop with the melted chocolate and place them stick side up on a clean piece of parchment paper. Sprinkle each one with sprinkles and allow them to harden. Enjoy!
Recipe

Tips
Easy dipping. Pour melted chocolate into a tall thin glass or a measuring cup. It makes it easier to dip the cake pops.
Uniform size. Using a cookie scoop to scoop out the dough helps to make each ball an even size. You don't want them too big and too heavy or they end up sliding down the sticks.
No sticks? No problem! You can completely omit the sticks and just make truffles!
Allow cake to cool completely. Make sure the cake is completely cooled before making the crumbs and adding them to the cream mixture. Otherwise, it will heat the cream mixture and make it too runny.
Work quickly! You may want to work with only about 5 cake pops at a time, leaving the rest in the fridge or freezer. You want to dip them in the chocolate before the chocolate hardens. Once you've done 5, reassess and see if you need to melt your chocolate again before working with the next batch.
For an adorable presentation, instead of placing the cake pops on parchment paper to wait for the chocolate coating to dry, place them stick side down into a mason jar full of rice. This will help keep them from falling, it'll keep the balls nice and round and if you tie a ribbon onto the jar it is just so cute!
Just the right color. It's much easier to darken the color than it is to lighten it. So start with a few drops of food coloring at first, then add some more until you reach your desired vibrancy.
More Delicious Dessert Recipes

:
Chocolate Cake "Spartak" Recipe
Carrot Cake Recipe From Scratch
Nutty Dulce de Leche Cake Pops Recipe
Nutty Dulce de Leche Easter Cake Pops Recipe - the most delicious cake pops YOU will ever make! You will love how moist these cake pops are inside, filled with roasted walnuts and Dulce de Leche Cream.
Ingredients
Cake Pops Cream
8

oz

cream cheese

room temperature

1

can

dulce de leche

or condensed milk, cooked on low heat for 3 hours

1/3

cup

heavy cream

1

cup

walnuts or any other nuts

toasted & chopped into small pieces

White candy dipping chocolate

Sprinkles

pink coloring
Instructions
How to Make Cake:
Preheat oven to 350.

Using a stand mixer, on high speed whisk 5 eggs until fluffy, about 5 minutes. Slowly add 1 cup of sugar & 1 teaspoon of vanilla, whisk on high for another 5 minutes.

Sift 1 cup of flour into the egg mixture, using a spatula stir in flour until you no longer see the flour (try not to over mix).

When baking this cake you can use 9" inch baking pan or a regular 9 by 13 inch baking sheet. Pour the batter into a greased baking pan. Bake for 30 minutes, or until tooth pick comes out clean when inserted in the middle of the cake. Let it cool.
How to Make Cream:
In the stand mixer, whisk 8 oz. of cream cheese, scrapping bowl few times. Add 1 can of Dulce de Leche, 1 cup of toasted walnuts and 1/3 cup of heavy cream, whisk on high until combined.
How to make Cake Pops:
Break the cake into big pieces, transfer them into a food processor, I used my Ninja blender it has 3 blades, pulse until the cake breaks into little crumbs (or use hands and crumble the cake into tiny pieces).

Place the cake crumbs into the cream mixture. Mix until combined.

Using a small cookie scoop & your hands, roll the cake mixture into same size balls. Place them on parchment paper, which I forgot to do.

Melt a little amount of chocolate in the microwave for about 30 seconds. Dip each cake pop stick into the chocolate then stick it inside the cake pop. Freeze for about 20 minutes.

Add a little water into a small sauce pan, place a bowl over the top, bring the water to a boil, add chocolate and stir until all chocolate is melted.

Turn off the heat, add food coloring. Cover each cake pop with melted chocolate, place them on parchment paper then sprinkle some sprinkles. Let the chocolate harden. Enjoy.
Notes
Hi! All content & images are copyright protected. Please do not use my images without prior permission. If you want to republish this recipe, please re-write the recipe in your own words, or simply link back to this post for the recipe. Thank you.
Nutrition
Calories:
65
kcal
Carbohydrates:
8
g
Protein:
1
g
Fat:
3
g
Saturated Fat:
2
g
Polyunsaturated Fat:
1
g
Monounsaturated Fat:
1
g
Trans Fat:
1
g
Cholesterol:
28
mg
Sodium:
26
mg
Potassium:
21
mg
Fiber:
1
g
Sugar:
5
g
Vitamin A:
135
IU
Vitamin C:
1
mg
Calcium:
10
mg
Iron:
1
mg
Q. Do YOU like this Easy Vanilla Cake Pops Recipe?
Let me know in the comments below, I would love to hear from you!
Don't miss another DELICIOUS RECIPE subscribe to Munchkintime <—- HERE.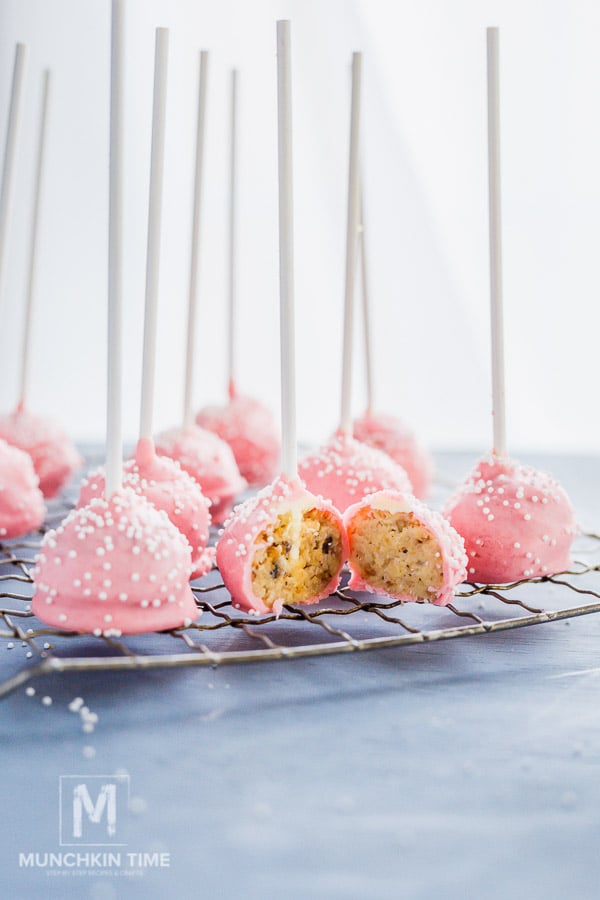 Thank YOU for YOUR Comment, Share & Recipe Review!
Quote of the Day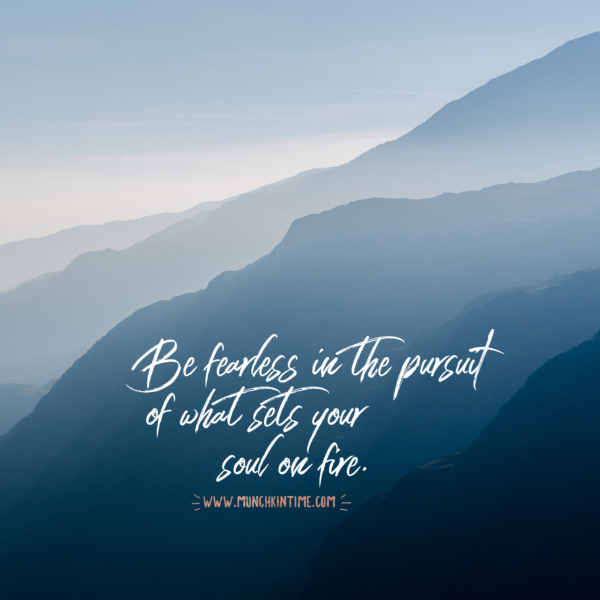 Have a crazy awesome day!
Ciao!!!
This post was updated April 29, 2022. The recipe is same beyond delicious!