This incredibly delicious pork stir fry recipe is so good! When served with Ramen noodles or rice, it's one of my favorite Asian-inspired dinner ideas to make throughout the week. It's a skillet meal that combines beautiful textures and colors with sweet, savory, and slightly spicy flavors.
When YOU make this Pork Recipe, take a picture & tag your Food Creation on Instagram using @MunchkinTimeBlog, we would love to see your creation!
This sweet chili pork recipe is a KEEPER!
My friend Lily, from LilyArdor.com shared this pork recipe with me, it is a DELICIOUS one skillet meal.
Loaded with a rainbow of crispy-tender veggies like mushrooms, bell pepper, bean sprouts, broccoli, carrot, and green onion, not only is it tasty but super fresh and healthy!
Pork is a great source of protein and is very flavorful meat with sweet and smoky elements. So, pork loin with sweet red chili sauce is a great pairing.
One thing I love about stir fry recipes is that they're pretty flexible with what veggies you can use. It's a great way to avoid waste and use whatever veggies you've got in the fridge.

Recipe Ingredients Needed to Make Pork Stir Fry
Boneless pork loin: As you may have realized by now, I always look for organic meat when possible. If you can't find a pork loin, you can use a filet or leg of pork instead. Pork tenderloin is also doable, but I'd stick with the loin.
Sesame oil: You'll use it to brown the pork cubes giving them delicious caramelized edges as well as saute the veggies.
Soy sauce & hot water: This combination is what the pork gets cooked in before it's combined with the rest of the ingredients.
Garlic cloves: This aromatic is used as the first layer of the flavor of the sauce, just before adding the chili sauce. A delicious savory-sweet combination.
Sweet red chili sauce: I get mine at Costco in a really big bottle, because I use it on everything! It's a light red, sticky sauce and you'll see flecks of red pepper flakes in it. It's a sweet heat.
Veggies: Red bell pepper, broccoli, carrots, sliced mushrooms, bean sprouts, and green onions. They're cooked until tender yet still crispy for a variety of crunchy textures.
Sriracha sauce: A few splashes are totally optional for extra heat.
Ramen noodles: Cooked Ramen noodles are great with this pork stir fry. They're light and cook quickly.

How to Make Pork Stir Fry
Step 1: Heat sesame oil in a large skillet over medium-high heat. Add the pork and brown the cubes on all sides for about 10 minutes.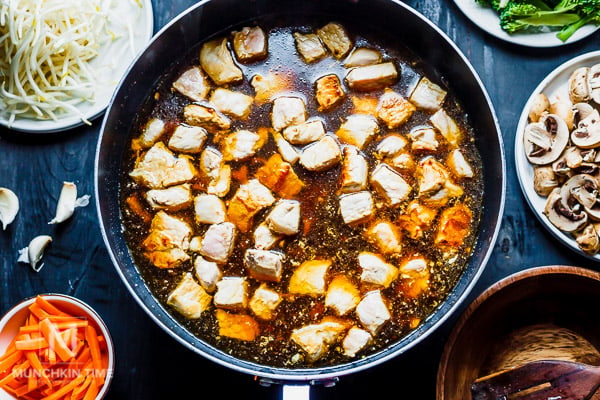 Step 2: Pour in soy sauce and hot water and bring it to a boil. Cover and cook on low for about 50 minutes until the pork is cooked all the way through and nice and tender. Stir occasionally.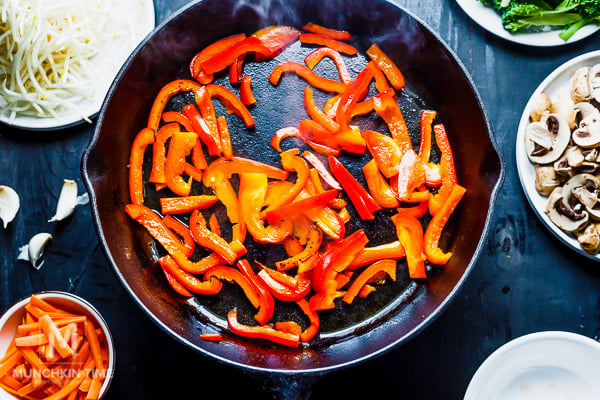 Step 3: In a separate skillet on high heat, splash a little bit more of the sesame oil and cook the bell pepper strips to cook for 3-4 minutes until nicely browned and slightly charred. You don't want them soggy, so check on them at the 3-minute mark. Remove them from the skillet and set aside.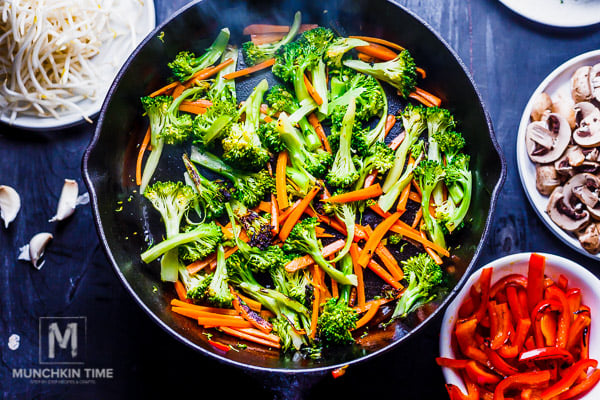 Step 4: Add another splash of oil into the same skillet and cook the broccoli and carrots over high heat for about 3-4 minutes until browned. Remove them and set them aside with the bell peppers.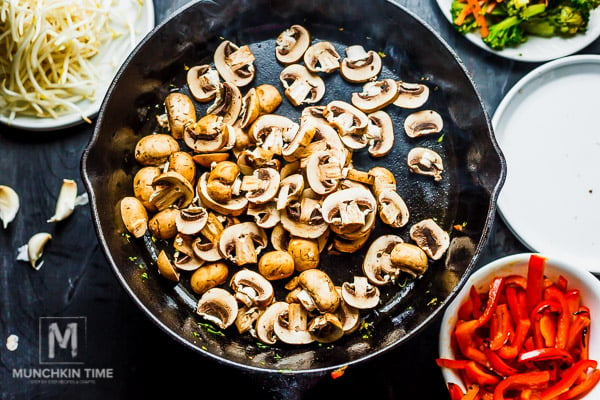 Step 5: Finally, add one more splash of oil to cook the mushrooms for 3 minutes, stirring occasionally. Remove them to join the other veggies.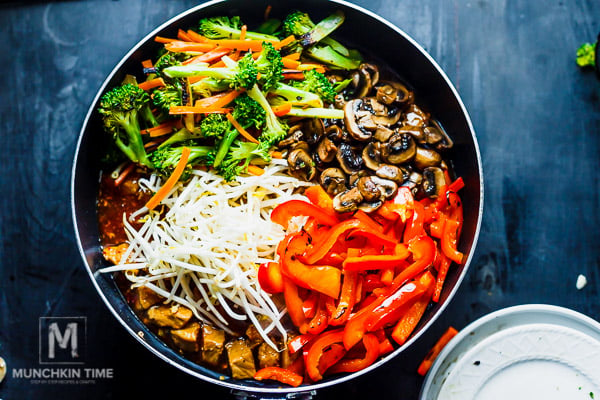 Step 6: Once the pork is done cooking, add chopped garlic cloves and cook for 1 minute. Stir in the sweet red chili sauce and toss in all of the veggies and cooked noodles and stir everything to coat. Cook for 1 minute to make sure everything is heated through.
Step 7: Bring it to a boil, then turn off the heat and sprinkle green onions on top. If you want more heat add a dash or two of sriracha sauce and enjoy!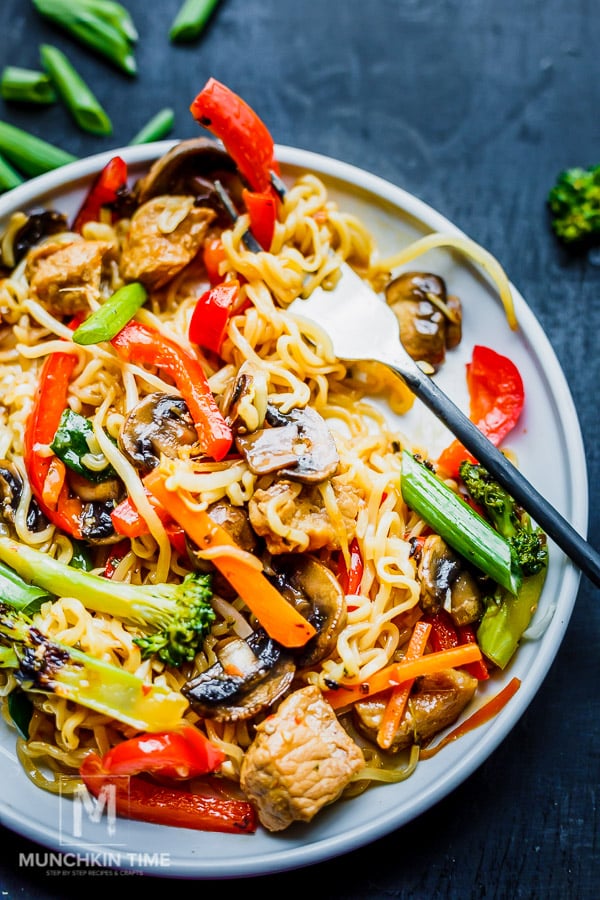 Recipe Tips
Have all your veggies prepped, sliced, diced, and ready to go. Stir fry moves quickly and you want to make sure that your veggies are ready and waiting for their turn in the skillet.
Follow the directions carefully. The reason we don't add all the veggies in at once is that they don't all cook evenly. Mushrooms contain a lot of water too, so it's best to keep them separate.
I like to use red bell pepper because it's the sweetest of the bell peppers, but you can use orange or yellow too. Green is fine, but it's a much more savory taste, which can alter the flavor of the whole dish.
Use different veggies like little baby corn, sugar snap peas, or cauliflower florets.
If you prefer a thicker sauce to coat your veggies and noodles, make a cornstarch slurry with 1 Tablespoon of cornstarch and ½ cup of water. Stir it into the sauce before adding the veggies. Add more chili sauce to adjust the taste to your desire.
FAQs
What are Ramen noodles?
Ramen means "pulled noodles." You'll usually see them dried in a package and will loosen when submerged in hot water. They are inexpensive and usually come with their own flavor packs, but because we don't need them, you can keep that aside for something else.
Can I use a different pasta?
Absolutely! I do love that Ramen noodles are long, curly and great for slurping, but if you can't find Ramen noodles, feel free to use regular spaghetti, angel hair pasta, or whatever other pasta is your favorite.
What to serve with a pork stir fry?
If noodles aren't your thing at all, feel free to serve pork stir fry with white rice, brown rice, quinoa, or cauliflower rice for something low-carb.
Can I use a different protein in this stir fry recipe?
Sure you can! Swap out the pork cubes for strips of chicken breast, beef, and shrimp, or for a vegetarian option, tofu! You won't need to cook the shrimp or tofu long at all.
Check Out More DELICIOUS Dinner Recipes
Cheesy Hot Beef Sandwich Recipe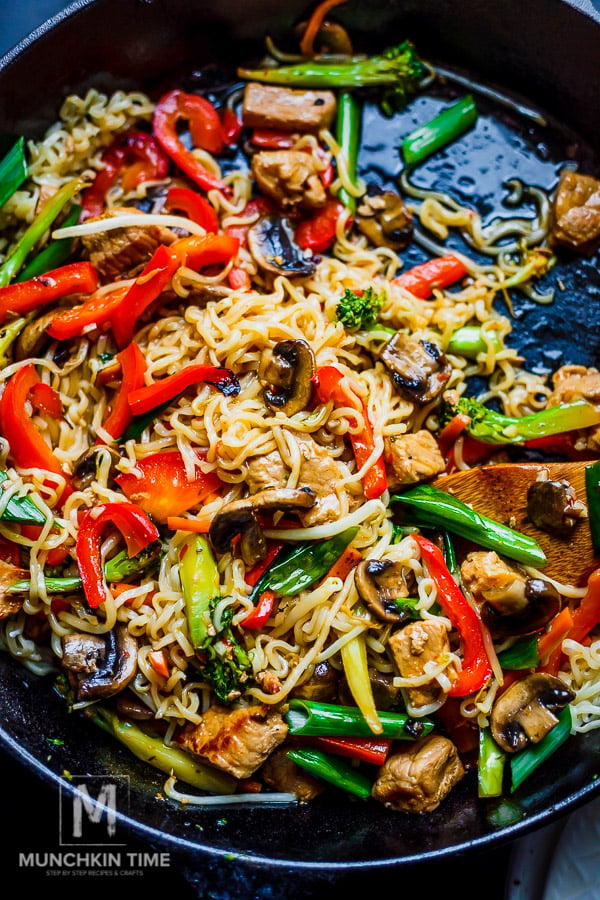 Sweet Chili Pork Stir Fry Recipe
Incredibly delicious Sweet Chili Pork Stir Fry Recipe! Served with Ramen noodles, it's one of my favorite Asian-inspired dinner ideas.
Ingredients
1

lb

boneless pork loin

cut into cubes

2

tablespoons

sesame

+ more for roasting vegetables

1/4

cup

soy sauce

2

cups

hot water

3-4

garlic cloves

finely chopped

1

cup

sweet red chili sauce

I got mine from Costco

1

red bell pepper

cut into long strips

1

bunch

broccoli

cut into pieces (about 2 cups)

1

carrot

cut into 2 inches long strips

8

oz.

mushrooms

sliced

6

oz.

bean sprouts

green onion

cut into long strips

few squeezes of sriracha sauce

100% optional

cooked ramen noodles or any pasta of your choice

or cooked rice
Instructions
Using a skillet, on a medium/high heat, heat 2 tablespoons of sesame oil. Add pork and brown the meat for about 10 minutes.

Pour 1/4 cup of soy sauce over the meat, along with 2 cups of hot water. Bring it to a boil, cover and cook on low heat for about 50 minutes, or until tender texture, stirring few times.

While pork is cooking, lets cook YOUR veggies. In a different skillet on a high heat, splash a little bit of sesame oil, add bell pepper strips, roast until browned about 3-4 minutes (make sure they don't turn soggy).

Remove bell pepper from the skillet and set aside. Now, add another splash of sesame oil into the same skillet, then add broccoli and carrots, and roast them on high heat for about 3-4 minutes, or until browned.

Remove from the skillet and set aside. Splash the skillet with a sesame oil, add mushrooms and roast for about 3 minutes, stirring few times. Remove and set aside.

When the pork is done cooking, add 3-4 finely chopped garlic cloves and cook for about 1 min. Stir in 1 cup of sweet red chili sauce. Add roasted bell pepper, broccoli, mushrooms, carrot, cooked pasta and bean sprouts, stir to coat. Bring it to a boil, turn off the heat and sprinkle green onion over the top. Sprinkle some sriracha sauce for an extra hot flavor. Enjoy! 😀
Notes
Hi! All content & images are copyright protected. Please do not use my images without prior permission. If you want to republish this recipe, please re-write the recipe in your own words, or simply link back to this post for the recipe. Thank you.
Nutrition
Calories:
276
kcal
Carbohydrates:
20
g
Protein:
36
g
Fat:
8
g
Saturated Fat:
2
g
Polyunsaturated Fat:
2
g
Monounsaturated Fat:
3
g
Cholesterol:
71
mg
Sodium:
934
mg
Potassium:
1318
mg
Fiber:
7
g
Sugar:
8
g
Vitamin A:
4436
IU
Vitamin C:
182
mg
Calcium:
137
mg
Iron:
4
mg
Q. – Do YOU like this Easy Pork Stir Fry Recipe?
Let us know in the comments below, I would love to hear from you!
Thank YOU for YOUR Comment, Share & Recipe Review!