Corned Beef Recipe – made with flavorful, fall-apart tender brisket simmering in a beer broth then served with tender cabbage, and cooked baby potatoes and carrots finished with melted butter and fresh parsley.
When YOU make Easy Corned Beef Recipe please tag us on @munchkintimeblog on Instagram, we would LOVE to see your creation!

A true comfort classic meal that everyone will love!
Learning how to make corned beef for a traditional corned beef and cabbage meal is so easy! It's the perfect way to celebrate St. Patrick's day but easy enough to have for Sunday dinner any time throughout the year.
Despite how easy it is to make, it does take some time to cook low and slow but trust me it's worth it! First, we cook the meat on the stovetop, then keep it warm while we cook the veggies.
We bring everything together at the end for a beautiful classic corned beef and cabbage recipe that will rival anything you've had before!
What is Corned Beef?
Corned beef refers to the way the beef brisket is prepared. It's brined using a dry salt brine (or a liquid brine) that coats the meat in pink curing salt along with pickling spices.
This gives it incredible flavor, tender texture, and that unmistakable pink hue!
What is the Best Cut of Corned Beef?
You want to aim to use flat-cut brisket. It usually comes with a layer of fat that adds flavor while it cooks, but is easily removable, leaving behind lean, tender slices of meat.
Using round brisket (or pointed) will give you more marbling within the meat, which will add flavor, but can't be removed.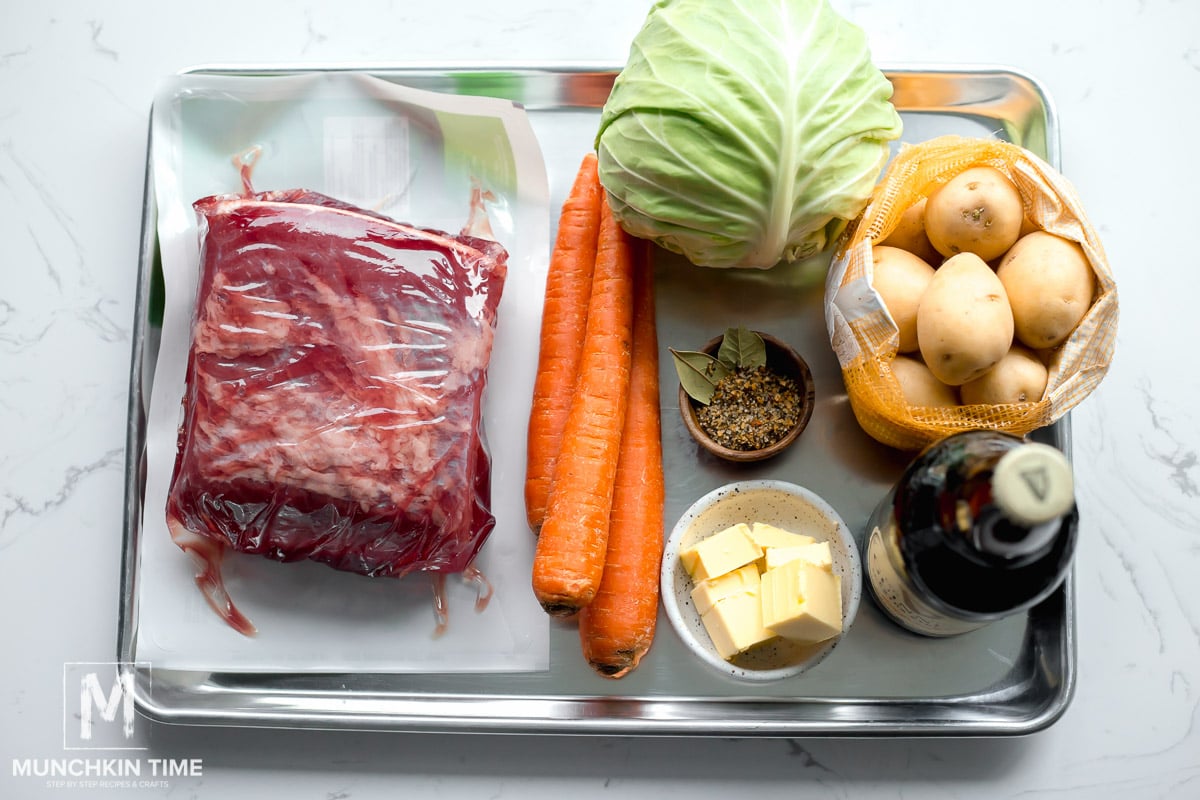 Ingredients for Corned Beef Recipe
Corned beef brisket: It comes in a package marinated in brine so you'll need to rinse it before cooking. Otherwise, it will be very salty.
Montreal steak spice: Most corned beef brisket comes with its own seasoning packet. I prefer to use Montreal steak spice, but you can decide which you prefer.
Bay leaves: For an aromatic flavor to the broth. You'll remove these before serving.
Guinness beer: A popular Irish stout beer that adds a ton of flavor that will permeate the meat and if you didn't know, has health benefits too!
Veggies: Baby potatoes, carrots cut into chunky pieces, small cabbage cut into 4 pieces. Peel your carrots and potatoes for a more polished, less rustic look.
Sea salt or to taste: Be very careful with this! Corned beef brisket is high in sodium as is, so be mindful of how much salt you're adding.
Butter: For serving. So good, don't skip this part!
Parsley: For garnish, finely chopped.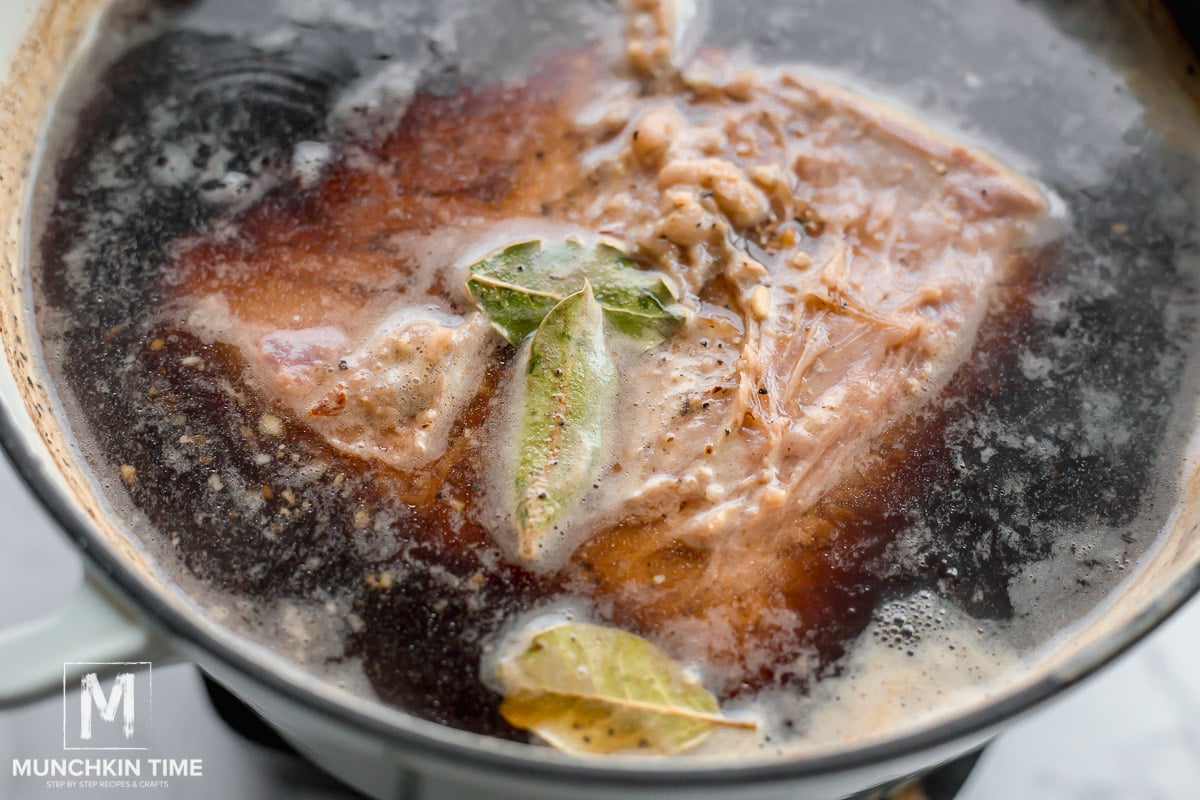 How to Make Corned Beef
Step 1: Add corned beef, bay leaves, and Montreal steak spice into a Dutch oven or heavy-bottom stock pot. Pour in the beer and add enough water to cover the meat.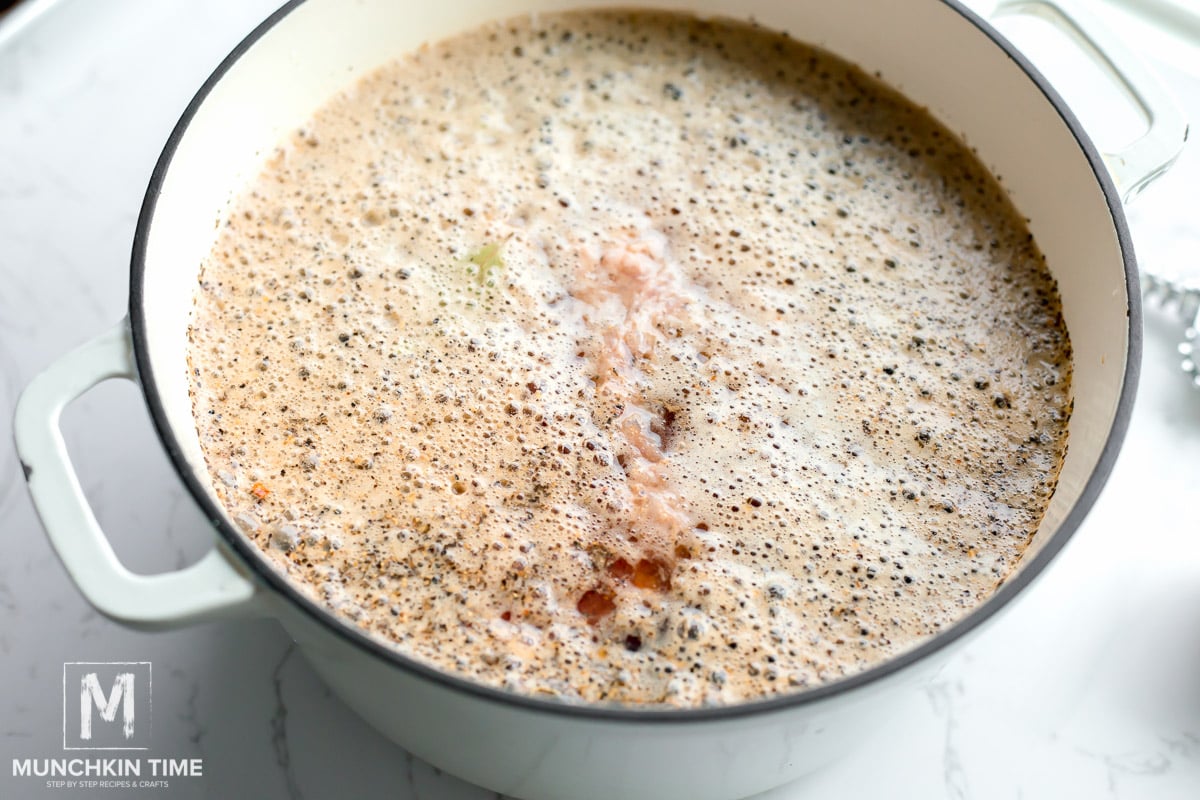 Step 2: Bring it to a boil then reduce the heat. You'll see a layer of foam start to form at the top, use a spoon to gently remove it. Then, cover with a lid and let that simmer for 2 ½ – 3 hours.
Step 3: Once the meat has cooked, remove it from the pot and place it on a baking sheet. Tent it with foil and place it in the oven at 225 degrees to keep it warm.
Step 4: To the same pot, add the potatoes, carrots, and cabbage and increase the heat to bring them to a boil. Then, reduce the heat and simmer for about 25 minutes until the veggies are tender and cooked through.
Step 5: Remove the corned beef from the oven and place it on a cutting board. Allow it to rest for a few minutes, then cut against the grain into slices.
Step 6: Place veggies onto a serving platter or baking dish, then top with slices of beef. Add a few pats of butter and place it back into the oven for a few seconds for the butter to melt. You can also melt the butter ahead of time and pour it over everything at once.
Garnish with fresh chopped parsley and enjoy!
Recipe Tips
Be patient! Low and slow is the way to go. You don't want to cook it too fast otherwise your corned beef could end up chewy and tough. It should be tender and melt-in-your-mouth!
Again, avoid too much salt. The brisket is brined in rock salt which gives it all the salt it needs. So much so that you have to rinse it first. So, be mindful of how much extra salt you're putting in there.
Slice against the grain. This means cutting against the long fibers of the meat. Shortening them will give each bite a tender texture.
Let the meat rest. Doing this for a few minutes before slicing will allow the juices to redistribute throughout the meat and settle a bit. If you slice it too soon, the juices will run out and leave your meat dry.
No beer? Simply swap it with beef broth. In this case, you'll want to definitely use the seasoning packet.
FAQs
Can I cook the vegetables at the same time as the meat?
No, the reason for the difference in cook time is that the meat cooks for over 2 hours. If you were to cook the veggies that long they would turn to mush.
What to serve it with?
This corned beef recipe is complete with proteins, veggies, and carbs, however, if you want to switch it up a bit you could serve it over mashed potatoes instead.
A side salad on the table and a basket of sliced bread are also great ideas. After all, you'll want to have something to soak up all of the leftover juices on your plate!
How can I tell when corned beef is cooked?
You don't want it to overcook, so test it at the 2 ½ hour mark. Use a digital thermometer to see whether the meat is a minimum of 145 degrees F. When it is, it's ready!
What can I do with leftovers?
You can reheat it as is and enjoy this meal all over again or use the meat to make brisket sandwiches! Topped with horseradish or Dijon mustard, there's nothing better!
Check Out More DELICIOUS Dinner Recipes
New York Strip Steak Grill Recipe
Cheesy Hot Beef Sandwich Recipe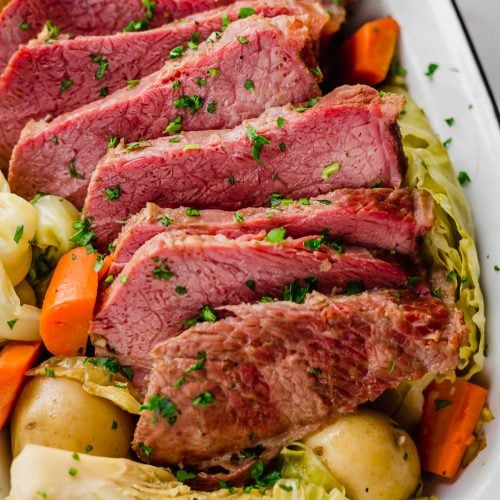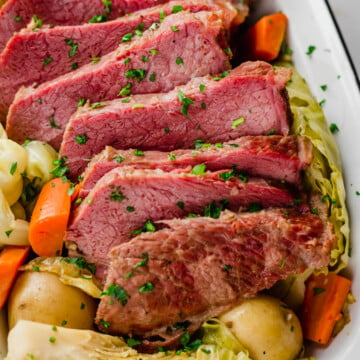 corned beef recipe
Corned Beef Recipe - made with fall-apart tender brisket simmering in a SECRET broth, finished with melted butter & fresh parsley.
Ingredients
2.5

lb

corned beef brisket

it comes in a package marinated in brine, rinse before cooking it

1

tablespoon

montreal steak spice

22

oz

Guinness beer

1

lb

baby potatoes

3

carrots

cut into chunky pieces

1

small

cabbage

cut into 4 pieces

1

teaspoon

salt

or to taste

4

tablespoons

butter

for serving

1

tablespoon

parsley

for garnish, finely chopped
Instructions
Into a dutch oven add coned beef, bay leaves and Montreal steak spice. Pour in beer and add enough water to cover the meat.

Bring it to a boil, then reduce the heat, cover and simmer for 2 1/2 -3 hours.

Next, remove the meat from the pot and cover with foil paper & place it into the oven at 225F to keep warm. Add potatoes, carrots and cabbage to the pot and bring it to a boil. Reduce the heat and simmer until vegetables are cooked thru, about 20-25 minutes, more if needed. Transfer onto a plate.

Slice corned beef into slices and place it over the vegetables, add sliced butter over the top and place it into the oven for few seconds so the butter melts. Or melt the butter and pour it over corned beef and vegetables. Garnish with chopped parsley and enjoy!
Video
Notes
Hi! All content & images are copyright protected. Please do not use my images without prior permission. If you want to republish this recipe, please re-write the recipe in your own words, or simply link back to this post for the recipe. Thank you.
Nutrition
Calories:
579
kcal
Carbohydrates:
26
g
Protein:
32
g
Fat:
36
g
Saturated Fat:
14
g
Polyunsaturated Fat:
1
g
Monounsaturated Fat:
16
g
Trans Fat:
0.3
g
Cholesterol:
122
mg
Sodium:
2795
mg
Potassium:
1186
mg
Fiber:
6
g
Sugar:
6
g
Vitamin A:
5506
IU
Vitamin C:
112
mg
Calcium:
84
mg
Iron:
5
mg
Q. – Do YOU like this Easy Corned Beef Recipe?
Let us know in the comments below, I would love to hear from you!
Thank YOU for YOUR Comment, Share & Recipe Review!