35-minute Buckwheat banana muffins are moist, fluffy, and so tasty! They're made in 35 minutes using basic pantry staples and are ideal for breakfast on the go, a hearty after-school snack, and my kids love having them in their lunch boxes for school!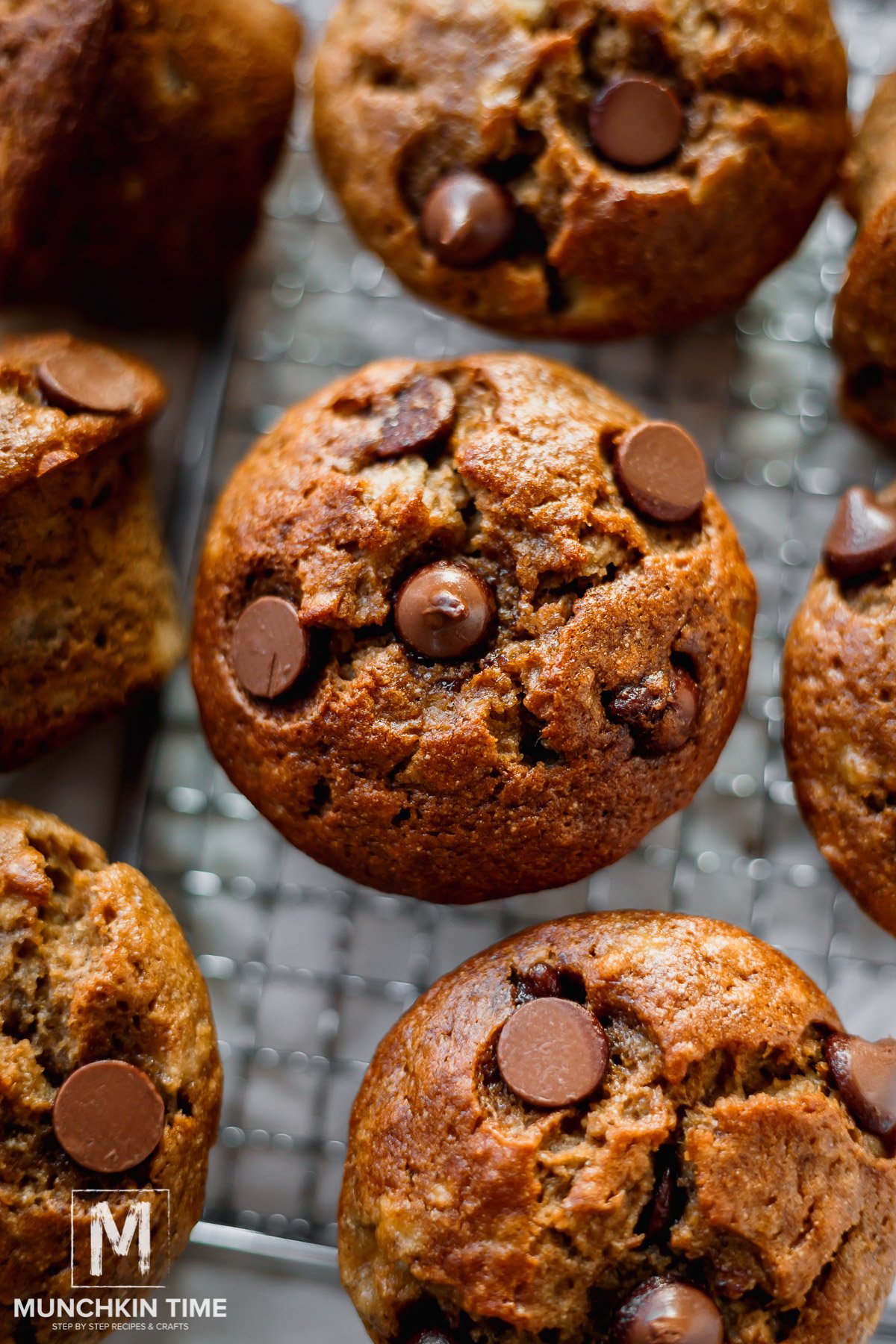 This is one of the first recipes I think of when I see my bananas sitting on the counter starting to turn brown. My dairy-free banana muffins are the other.
And because this is a Buckwheat Banana Muffins it's always best to use ripe bananas. In fact, the riper the better!
Not only do they add sweetness, but they provide tons of moisture too. The same way pumpkin does in pumpkin muffins.
I love any kind of banana chocolate chip muffins and so do my kids, so adding loads of chocolate chips to mine is a no-brainer! You can add whatever add-in you like! Nuts, raisins, or keep it simple and add nothing at all. Enjoy!
You'll want to bake up a bit batch and freeze some for later. Trust me, this is the kind of muffin you end up craving when they're gone!
What is Buckwheat?
It's actually not wheat at all! I know, a bit of a confusing name. It is a grain, so it can be used much the same way as quinoa or rice used as a whole grain or ground into flour.
It's naturally gluten-free and used in a ton of gluten-free recipes but this isn't one of them!
We're combining buckwheat flour with all-purpose flour (which has gluten) because, if we were to use buckwheat flour on its own, buckwheat muffins can be a bit intense.
It's got great flavor but if you're not an avid buckwheat eater, you may find it to be too strong.
I like to use both flours to give it a good balance of a mild buckwheat flavor and also a lighter fluffier muffin.

Ingredients for Buckwheat Banana Muffins
Flours: As mentioned above we're using both buckwheat flour and all-purpose flour to create the structure for these muffins. It's important to measure both correctly using the spoon and level method or a kitchen scale!
Baking soda: A leavening agent that will react so nicely to the acid in the buttermilk helping these babies to rise!
Sea salt: Brings out the flavor in all the ingredients making these muffins even tastier.
Packed brown sugar: Using brown sugar helps with moisture and sweetness while delivering a delicious caramelized, molasses flavor.
Ripened bananas: Peeled and mashed. See below for notes on how to ripen bananas quickly!
Olive oil: The fat needed for amazing texture. It keeps the muffins from drying out.
Buttermilk: A delicious tangy milk that will help add moisture and richness. It also has the acid needed to react with the baking soda.
Vanilla extract: A delicious warm flavor that enhances the overall taste of these muffins.
Eggs: Used for binding the ingredients as it bakes so they don't fall apart on you!
Milk chocolate chips: 100% options, but highly recommended! If you're a chocolate lover like I am, you'll love my

double chocolate chip muffins

too!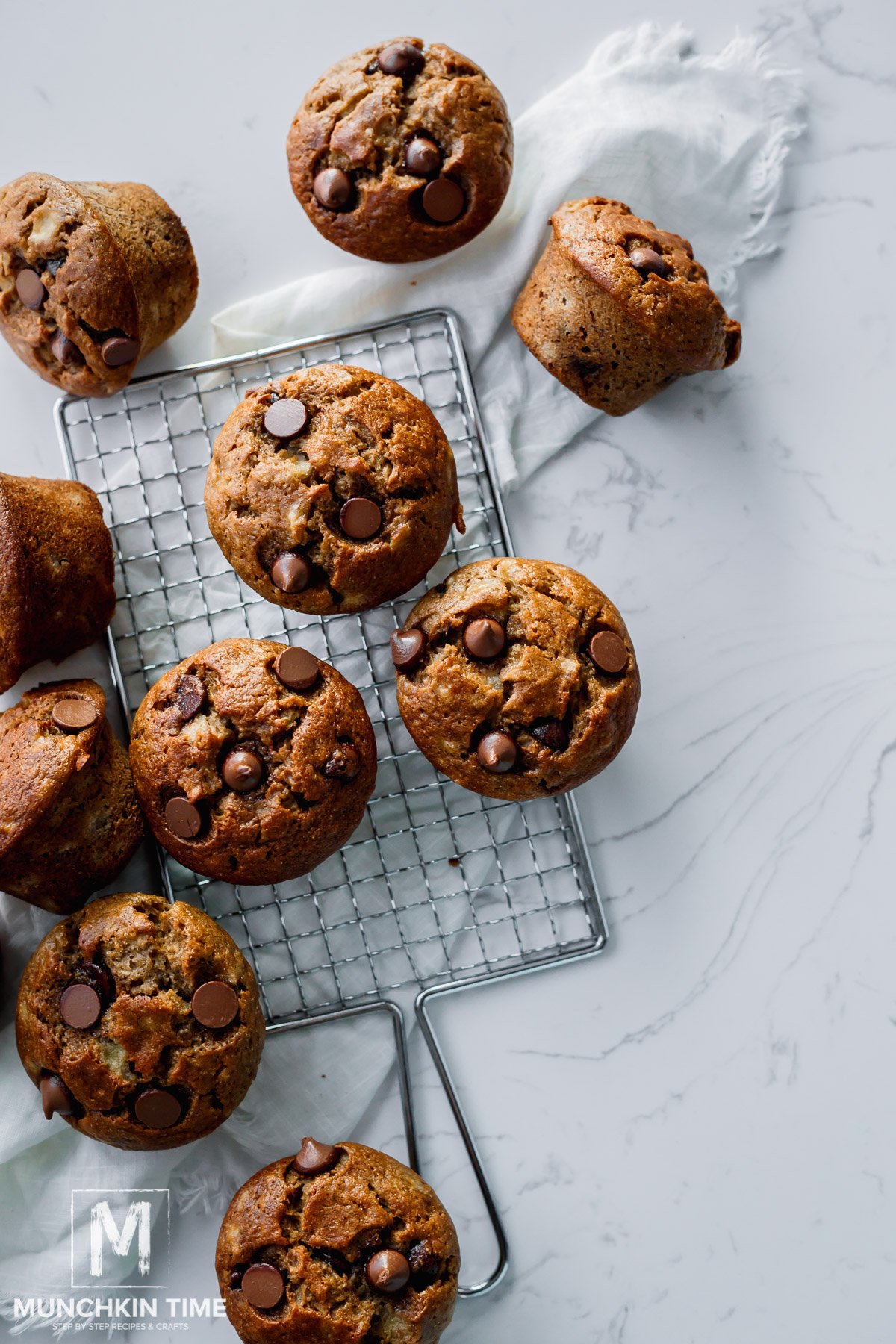 How to Quickly Ripen Bananas
It's not always the case that we have bananas turning brown on our kitchen counters. Sometimes we get a craving for Buckwheat Banana Muffins and so we run to the store to pick up what we need.
Turns out, the bananas are nowhere near ripe, but we still want these muffins! Here are a couple of ways to get your bananas ready for this recipe.
If you're able to wait a couple of days, you could place your bananas in a brown paper bag along with an apple. Close it up and just leave it on the counter for a couple of days. Apples naturally give off a gas called ethylene which helps ripen the fruit around it quickly.
Or, if you can't wait, you can ripen them in the oven in minutes. Preheat the oven to 350 degrees. Place the whole bananas (peels included) on a parchment-lined baking sheet and bake for 10 minutes. The peels will be dark brown/black when they're ready. Allow them to cool to the touch, then cut a slit down the middle. The insides will be mushy and ready to use!

How to Make Banana Muffins
Step 1: In a large mixing bowl, whisk together the two types of flour, brown sugar, baking soda, and salt.
Step 2: In a separate bowl, combine the mashed banana, oil, buttermilk, eggs, and vanilla. Give it a good whisk.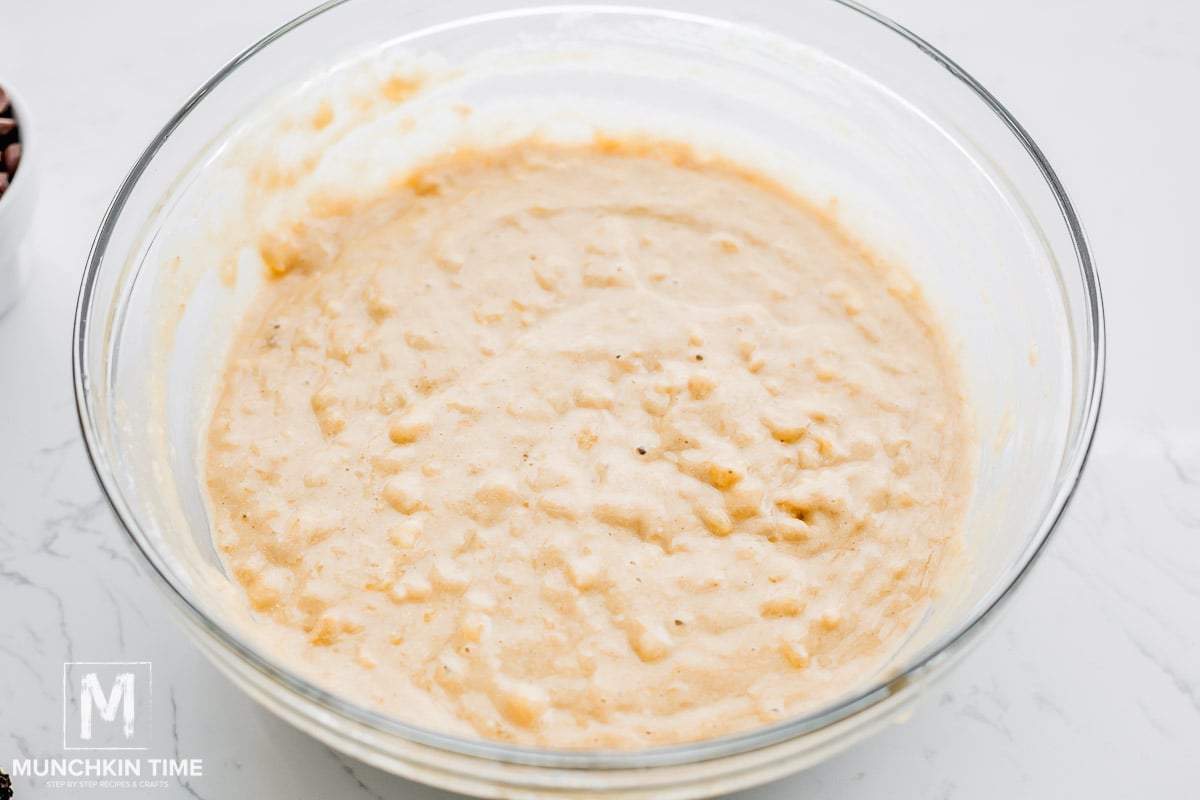 Step 3: Pour the wet ingredients into the dry ingredients and whisk to combine. If you're using any mix-ins, now is the time to fold them in.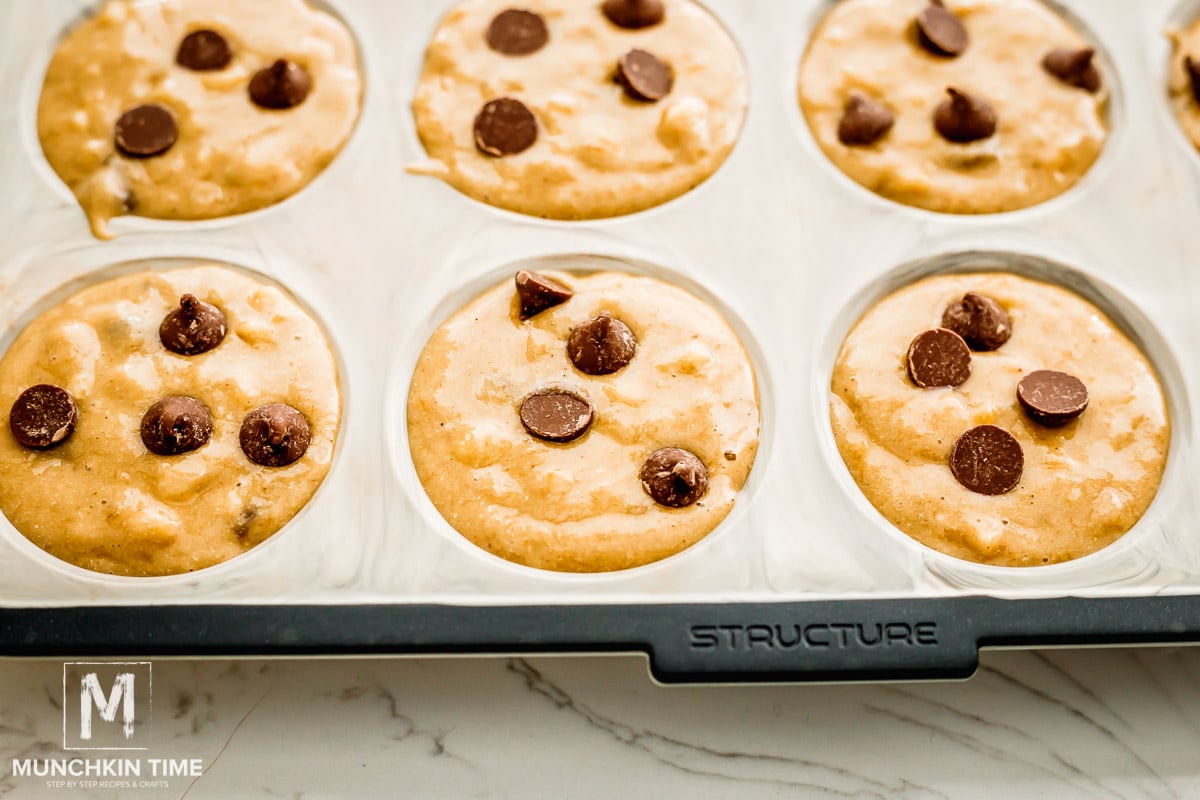 Step 4: Using an ice cream scoop, evenly divide the batter into 12 prepared muffin cups. You can sprinkle a few extra chocolate chips on top so that they show.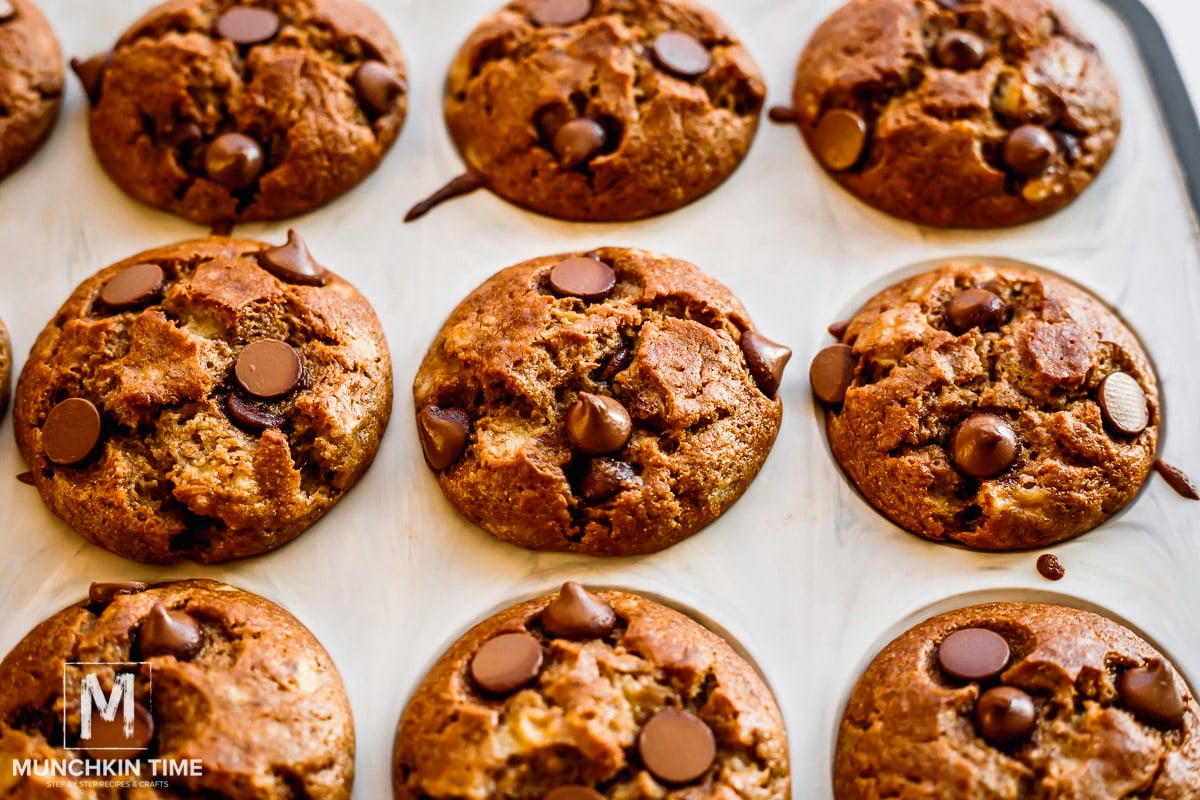 Step 5: Bake in a preheated 350-degree oven for 25-30 minutes or until a toothpick inserted into the center of one of the muffins comes out clean. Allow them to cool for a few minutes then dig in!
Enjoy warm with a pat of butter, a slathering of nut butter, or your favorite jams. They're even delicious on their own with a cup of coffee in the morning!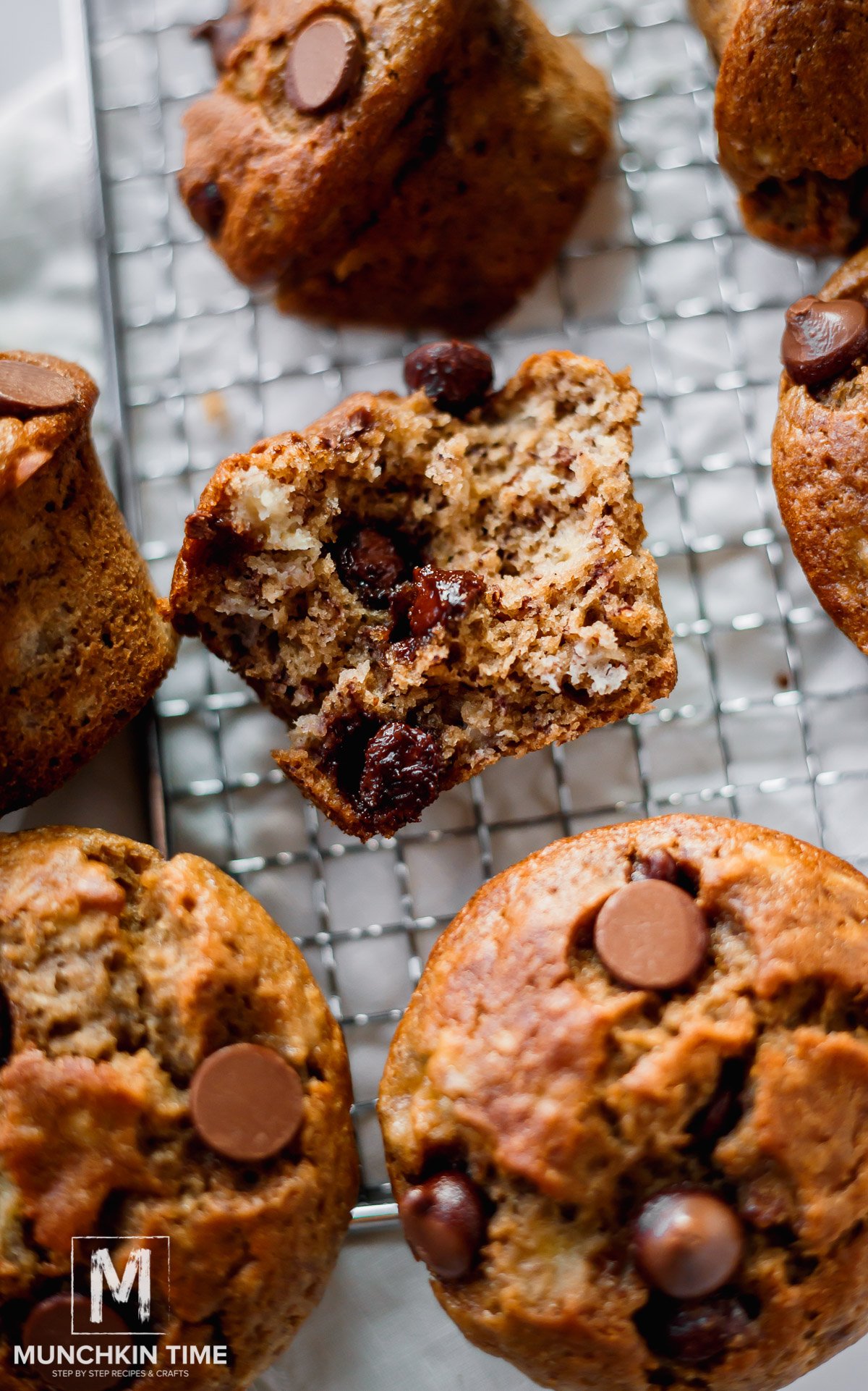 Baking Tips
Make sure to grease your muffin tin ahead of time. Use baking spray or a bit of butter. Paper liners are also a good idea. This just helps with easy removal from the pan. Getting them stuck is no fun!
I like to use an ice cream scoop to divide the batter into the cups. This way I know all of my muffins will be the same size and it helps them all bake evenly.
Keep muffins stored in an airtight container to lock in moisture. They'll be good on the counter for a couple of days, or in the fridge for a little while longer.
Once completely cooled, transfer some to a freezer-friendly zip-top bag or container and keep them frozen for up to 3 months.
Check Out these DELICIOUS Recipes:

Quick Breakfast Burrito Recipe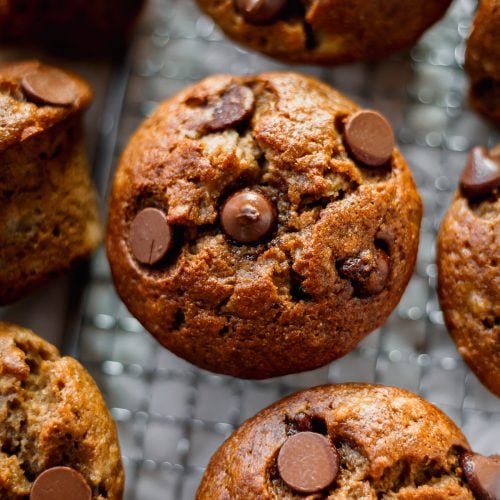 Buckwheat Banana Muffins
Quick Buckwheat banana muffins are moist, fluffy, and so tasty! This banana muffin recipe - made in 35 minutes using basic pantry staples.
Ingredients
Mix In
1

cup

milk chocolate chips
Instructions
Preheat oven to 350F. In a mixing bowl, combine dry ingredients and give a good whisk.

Using a different bowl, combine wet ingredients and give it a good whisk.

Pour wet ingredients into dry ingredients and whisk until everything is combined. Using spatula fold in 1 cup of chocolate chips.

Evenly divide the batter between 12 muffin cups using an ice cream scoop. You can sprinkle a few extra chocolate chips on top so that they show. Bake for 25-30 minutes or until toothpick comes out clean when inserted into the muffin. Enjoy!
Video
Notes
Hi! All content & images are copyright protected. Please do not use my images without prior permission. If you want to republish this recipe, please re-write the recipe in your own words, or simply link back to this post for the recipe. Thank you.
Nutrition
Calories:
286
kcal
Carbohydrates:
45
g
Protein:
3
g
Fat:
11
g
Saturated Fat:
5
g
Polyunsaturated Fat:
1
g
Monounsaturated Fat:
4
g
Trans Fat:
0.003
g
Cholesterol:
28
mg
Sodium:
303
mg
Potassium:
279
mg
Fiber:
2
g
Sugar:
28
g
Vitamin A:
69
IU
Vitamin C:
3
mg
Calcium:
38
mg
Iron:
1
mg
When YOU make this Buckwheat Banana Muffins Recipe, take a picture & DM me your Food Creation on Instagram @MunchkinTimeBlog or hashtag #munchkintimeblog . We would love to see YOUR creation!
Q. Do YOU like these Buckwheat Banana Muffins?
Let me know in the comments below, I would love to hear from you!
Thank YOU for YOUR Comment, Share & Recipe Review!
Have a wonderful day!