Moist, fluffy, and loaded with pumpkin flavor, these pumpkin muffins with streusel topping are always on my must-bake list when the cooler weather hits! Made with pure pumpkin, cinnamon, and a streusel topping, they are the best!
Pumpkin streusel muffins are one of my favorite fall bakes! They're infused with pumpkin and cinnamon giving us all the flavors we love this time of year!
The streusel topping gives it a sweet crunch with cinnamon sugar topping along with the option of adding a bit of cardamom in there. Then, we're adding a simple glaze on top to finish off these decadent muffins. Whether you're enjoying them for breakfast, brunch, snack, or dessert, they'll be in high demand this season.
I love that they're an easy grab-n-go breakfast in the morning, and the perfect afternoon snack my kids look forward to. Not to mention the aroma of freshly baked pumpkin muffins is a huge bonus!
Making a batch of these muffins is the perfect kitchen activity to get your kids involved in. They are easy to make ahead and freeze so I double the batch and keep some for later on!
When YOU make this Pumpkin Muffins Recipe, take a picture & DM me your Food Creation on Instagram @MunchkinTimeBlog or hashtag #munchkintimeblog . We would love to see YOUR creation!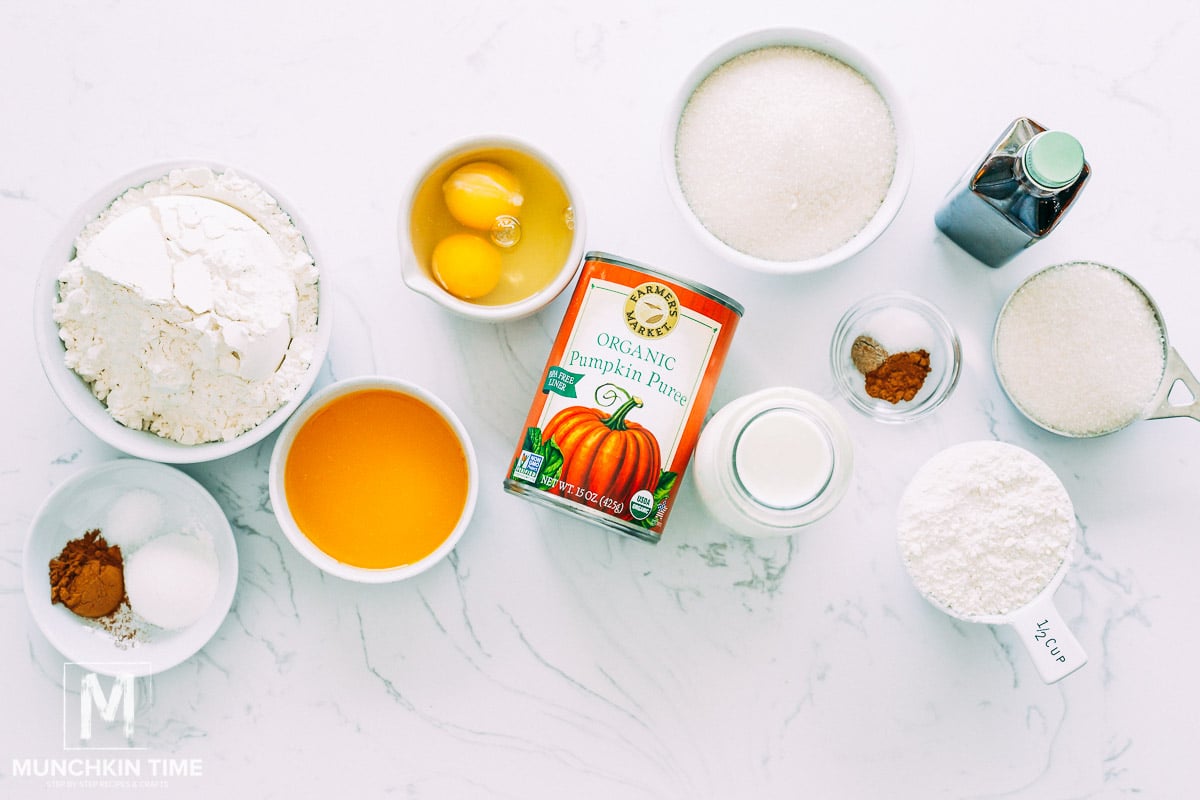 Ingredients

Needed for

Pumpkin Muffins With Streusel Topping
Dry ingredients: Flour, baking powder, sea salt, and cinnamon.
Wet ingredients: Milk, eggs, sugar, butter, vanilla extract, and pumpkin puree.
Streusel for pumpkin muffins: Flour, sugar, cinnamon, cardamom (optional) salt, and butter.
For the glaze: Powdered sugar and milk.
Ingredient notes: All you'll need to make the best pumpkin muffins with streusel topping are basic baking staples you probably already have in your pantry. If not, they can easily be found in your local grocery store.
Make sure your butter is cold! It will help to turn your streusel into coarse crumbs rather than a paste. As well, make sure you're using pure pumpkin purée. It can be from a can or homemade, as long as you're not mistakenly using pumpkin pie filling!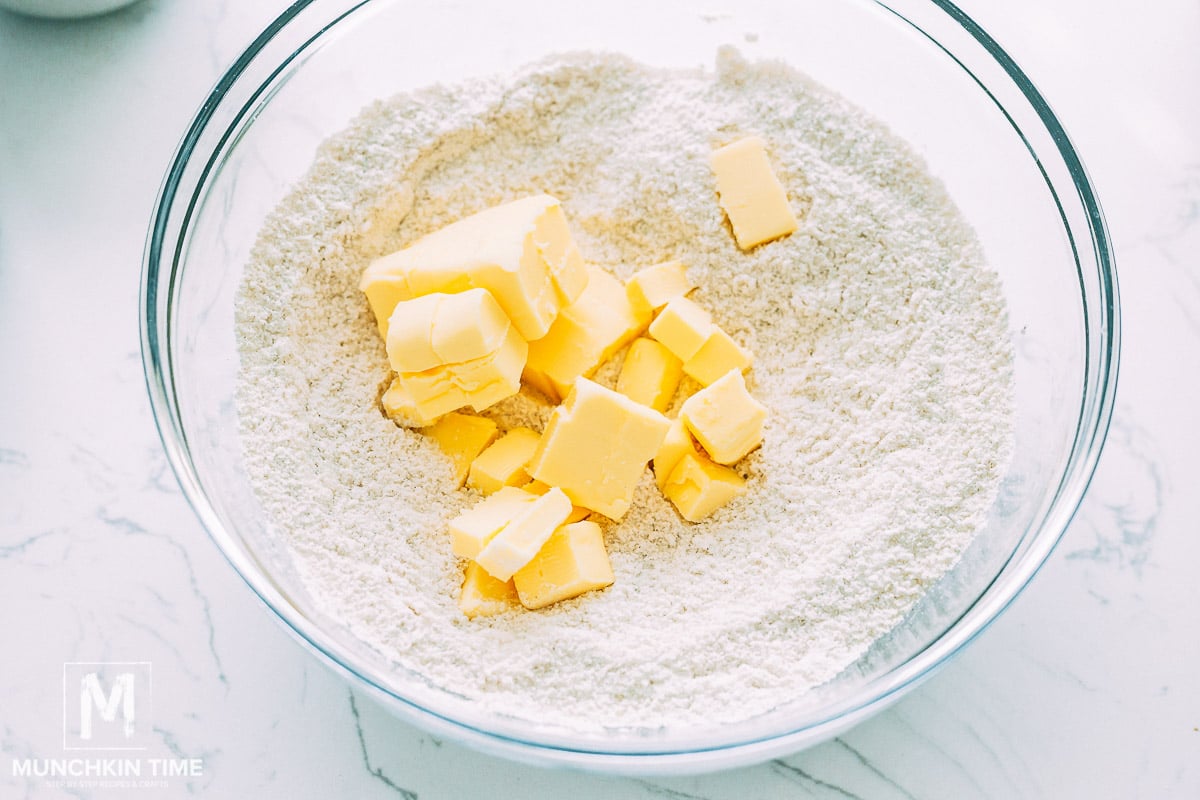 How to Make
Pumpkin Muffins
Step 1: Make the streusel topping first and set it aside while you make the muffins. This way it's ready to go when you need it. Whisk the streusel ingredients, except the butter, into a bowl. Once combined, add in the cold butter cubes and use your hands to mix everything together until crumbles appear. It'll look like a streusel!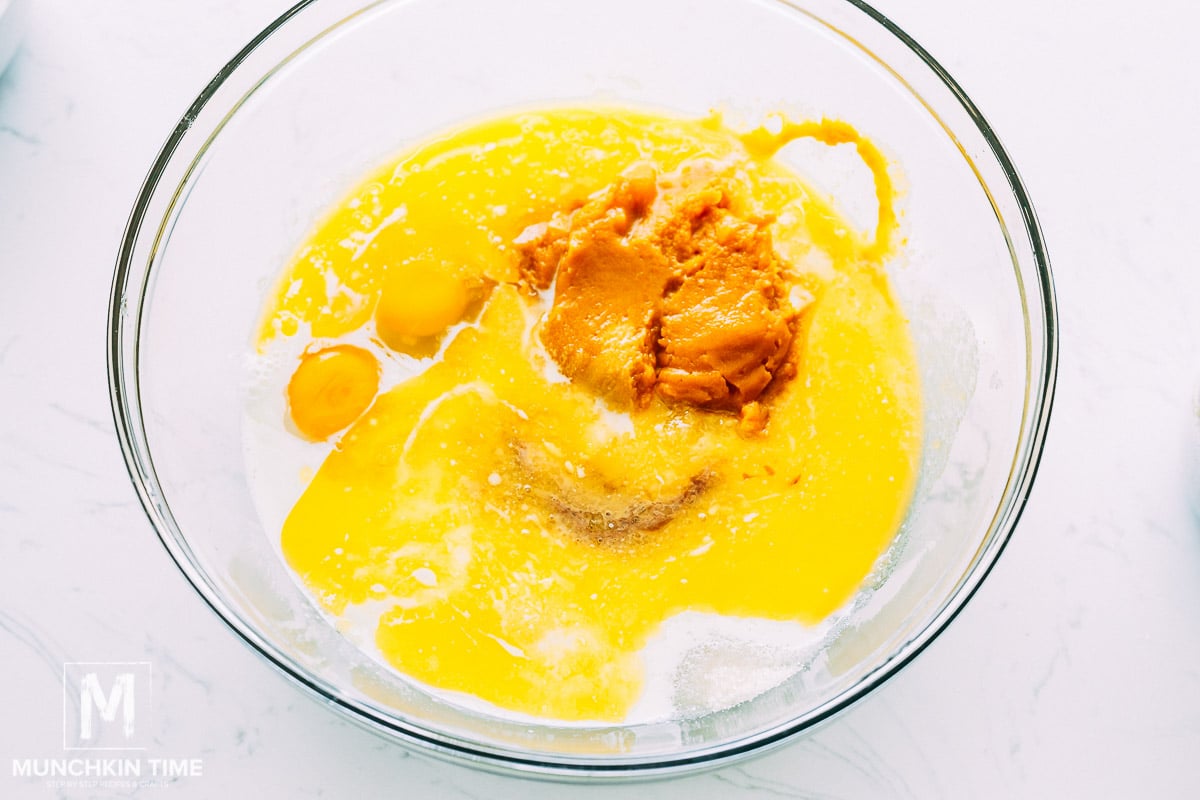 Step 2: In one large mixing bowl, whisk together the dry ingredients. In a separate medium mixing bowl, whisk together the wet ingredients.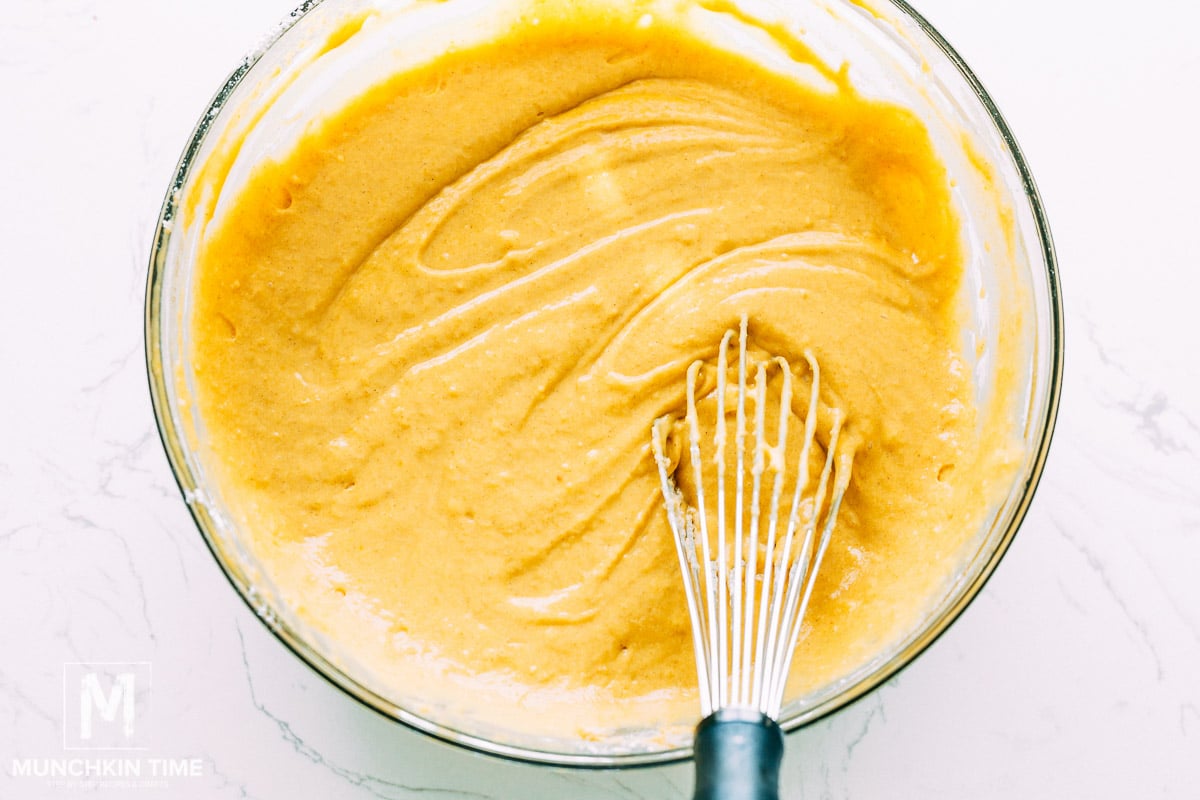 Step 3: Add the wet mixture to the dry ingredients and, without over-mixing, whisk until everything is combined.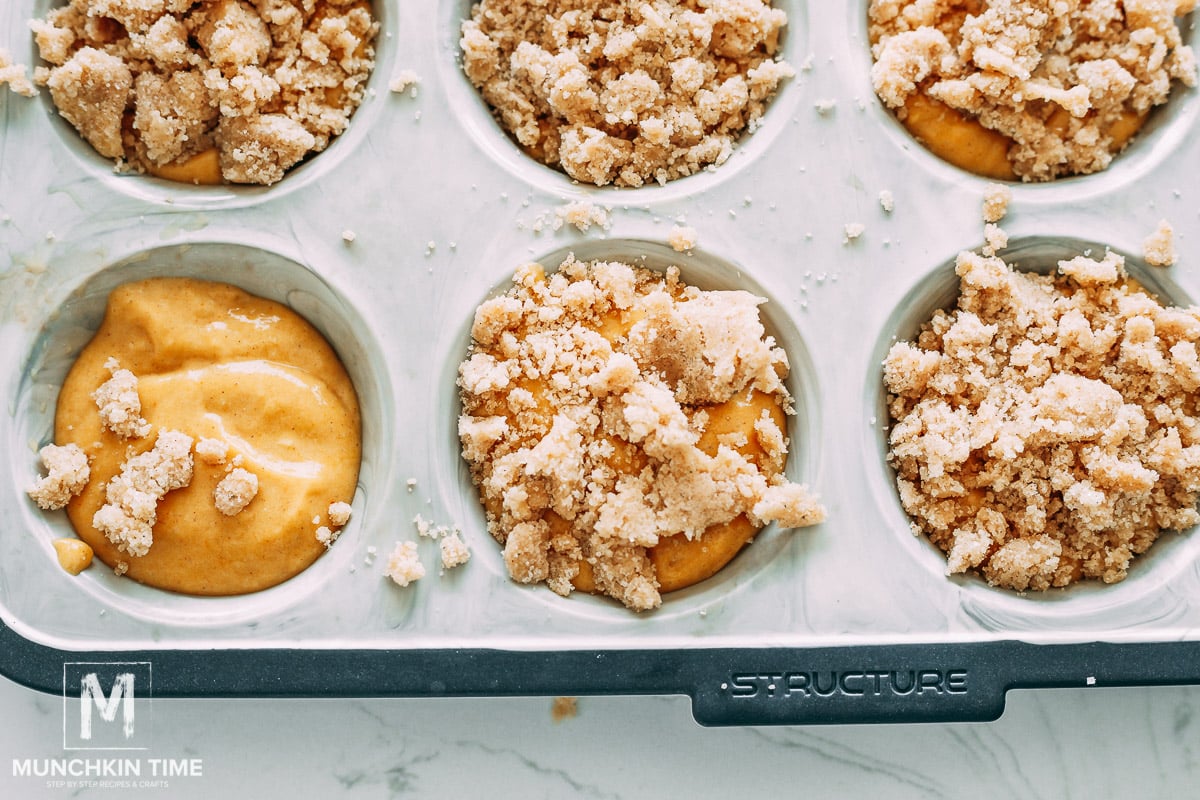 Step 4: Using a cookie scoop if you have one, or just a regular spoon, divide the batter evenly between the prepared muffin cups. I like to line it with paper liners if I have some, but greasing it with oil or cooking spray works too.
Step 5: Sprinkle even amounts of the streusel on top then bake in a preheated 400-degree F oven for 20-25 minutes. Insert a toothpick into the center of the muffins once the baking time is up. If it comes out clean, they're ready.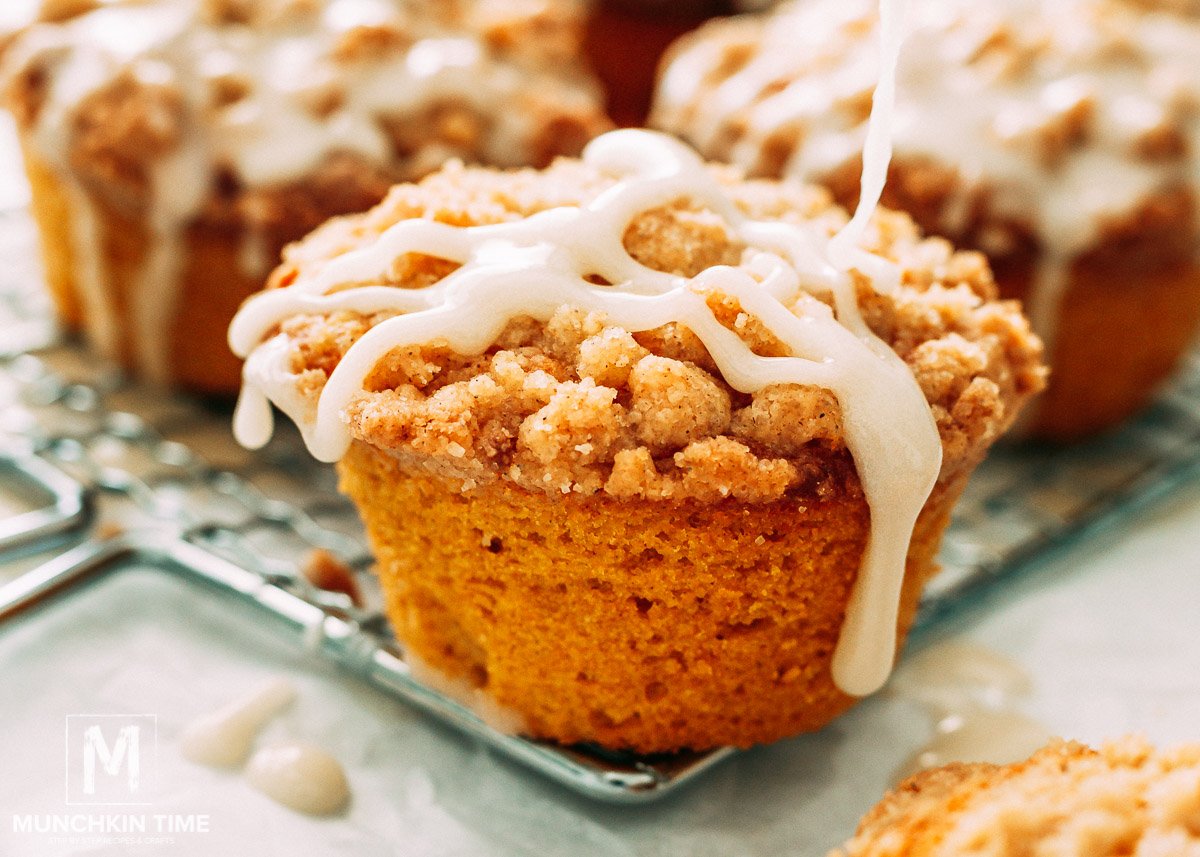 Step 6: Once they're out of the oven, allow them to sit and cool for a few minutes. In the meantime make the glaze. Combine the powdered sugar and milk and whisk. Drizzle on top of each of the muffins and enjoy!
Baking Recipe Tips
Adding oats. A true streusel topping typically has oats in it, so truth be told this is more of a crumble topping! If you want to add old-fashioned rolled oats, you can.
Measure flour correctly. As with any baking recipe, it's important to measure the right amount of ingredients, especially flour. If you use too much your muffins will be dense and heavy. Use the spoon and level method (or a kitchen scale if you have one), instead of scooping out the flour directly from the bag.
Do not over mix the muffin batter. This is another surefire way to end up with dense muffins. We want light and fluffy muffins!
The streusel topping and the glaze are totally optional. Feel free to skip them if you prefer.
Use a cookie scoop. You want the muffins to be relatively even in size so that they bake evenly. If you have some that are too big or too small you run the risk of over-baking some and under-baking others!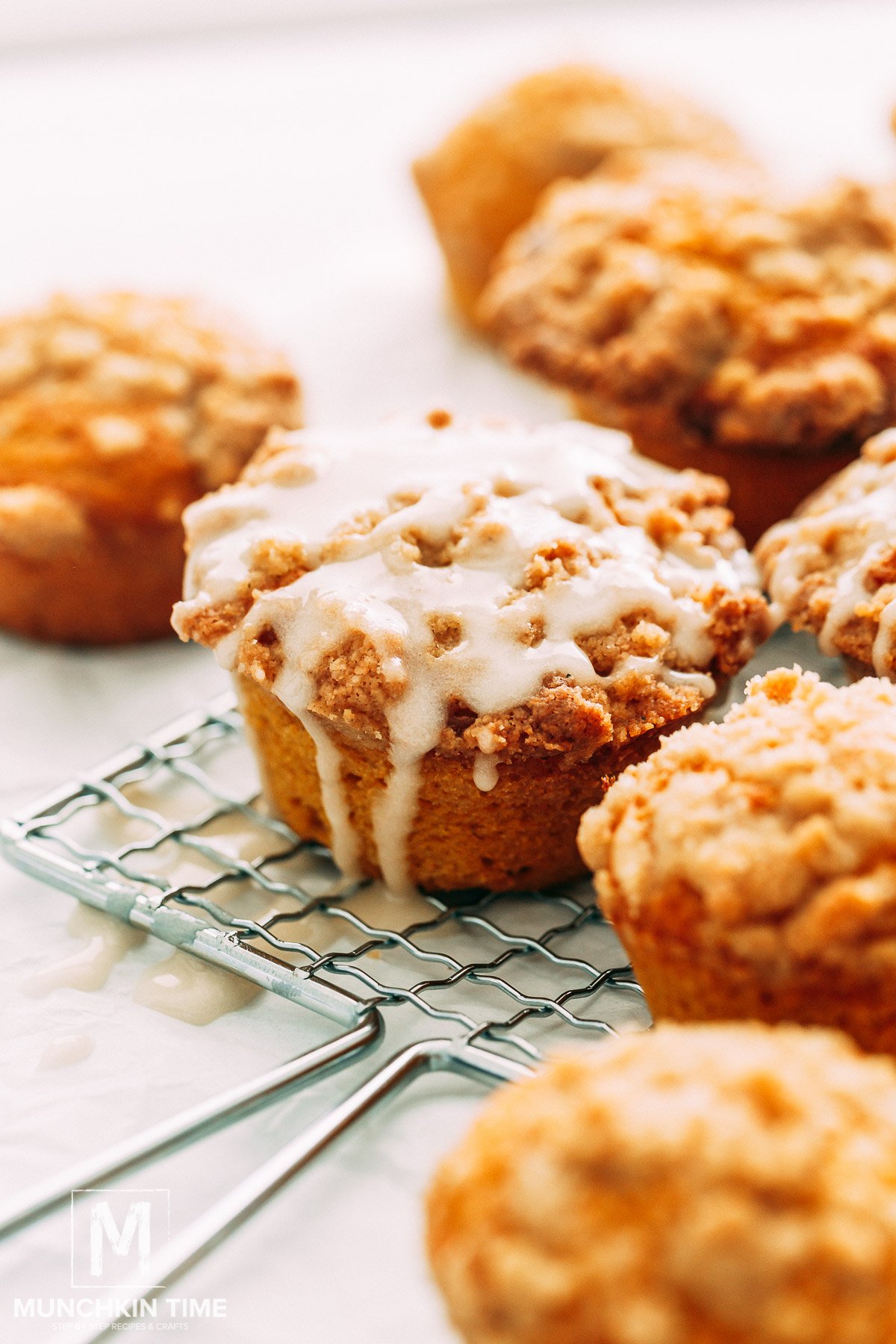 Are there additional mix-ins I can use in Pumpkin Muffins With Streusel Topping?
Sure! There are plenty of ways to ramp up the flavor and texture of these muffins. You can add pumpkin seeds, raisins, cranberries, walnuts, chocolate chips, or pecans to the muffin batter. You can also add chopped nuts to the streusel for added crunch.
How to store pumpkin muffins?
These muffins will keep on the counter for a couple of days when kept covered in an airtight container. If you don't cover them, they will dry out. Transfer them to the fridge to extend the freshness for a couple of extra days.
Do muffins freeze well?
They do! If you know ahead of time that you'll be freezing them, don't add the glaze yet. It's a simple glaze that can be made in seconds when you need it. Transfer completely cooled muffins to a freezer bag or freezer-friendly container and keep frozen for up to 1 month. Thaw in the fridge overnight and pop them in the microwave to warm up.
Check Out these DELICIOUS Recipes:

Quick Breakfast Burrito Recipe
Cheesy Hot Beef Sandwich Recipe
Pumpkin Muffins with Streusel Topping
Moist, fluffy, and loaded with pumpkin flavor, these pumpkin muffins with streusel topping are always on my must-bake list when the cooler weather hits!
Ingredients
Instructions
How to Make Streusel Topping
In a bowl whisk together all ingredients except butter. Next add cold butter cubes and using hand mix it with flour mixture until it looks like a streusel.
How to make pumpkin muffins
Preheat the oven to 400F. Grease 12-muffin tin with oil or line it with paper liners. In one mixing bowl whisk all dry ingredients. Using a different bowl whisk all wet ingredients.

Add wet mixture into dry mixture and mix with a whisk until everything is combined, be careful not to over mix.

Divide the batter evenly between muffin cups using a cookie scoop. Evenly divide the streusel among the muffins. Bake for 20-25 minutes or until toothpick comes out clean when inserted into the center of the muffins.

Drizzle the muffins with white glaze. Serve warm or cool. Enjoy!
How to make white glaze
Mix everything together with a whisk. Use right of way.
Video
Notes
If you like add 1 cup of toasted pecans or 1 cup of white or milk chocolate chips to the batter before baking. 
Hi! All content & images are copyright protected. Please do not use my images without prior permission. If you want to republish this recipe, please re-write the recipe in your own words, or simply link back to this post for the recipe. Thank you.
Nutrition
Calories:
248
kcal
Carbohydrates:
39
g
Protein:
3
g
Fat:
9
g
Saturated Fat:
6
g
Polyunsaturated Fat:
0.5
g
Monounsaturated Fat:
2
g
Trans Fat:
0.3
g
Cholesterol:
42
mg
Sodium:
209
mg
Potassium:
147
mg
Fiber:
1
g
Sugar:
24
g
Vitamin A:
2423
IU
Vitamin C:
1
mg
Calcium:
60
mg
Iron:
1
mg
Q. Do YOU like this Pumpkin Muffins With Streusel Topping?
Let me know in the comments below, I would love to hear from you!
Thank YOU for YOUR Comment, Share & Recipe Review!
Have a wonderful day!