Almond Butter Cookie Recipe – This simple cookie recipe is going to knock your socks off! Made with almond butter, sugar, and an egg, these almond butter cookies are crispy, nutty, and perfectly sweet!
When YOU make this Almond Cookies Recipe please tag us @munchkintimeblog on Instagram, we would LOVE to see your creation!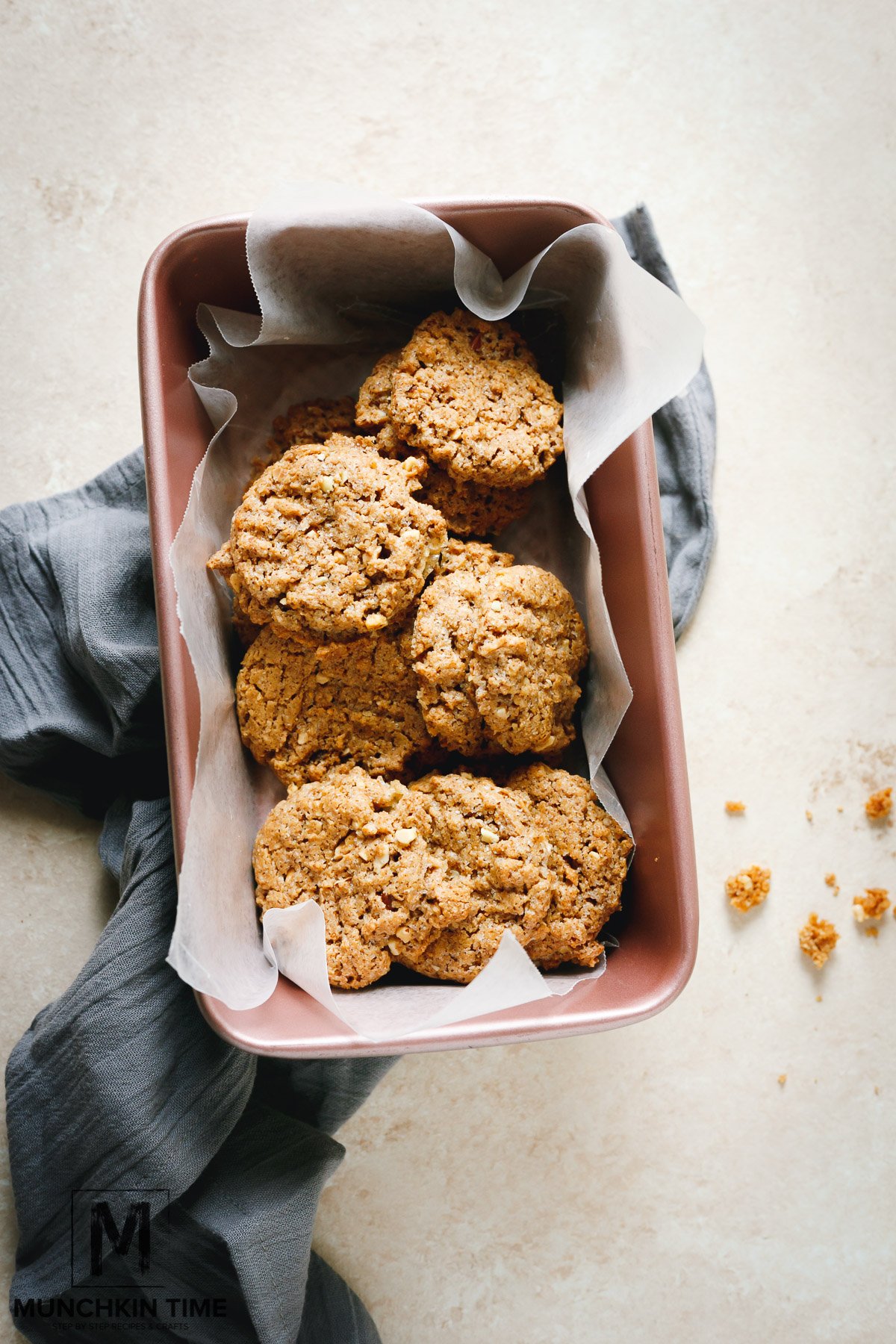 There's nothing I love more on a cold weather weekend than spending time in the kitchen baking cookies. Not too much time though, I have to save some of my energy for playing outside with my girls!
That's why these almond butter cookies are just the thing! They're super easy to make with 3 ingredients and no chill time. The entire batch is ready in under 20 minutes without needing any electric mixers, and they're always prepared in a jiff.
I feel good knowing they're high in protein, gluten-free, and dairy-free, and I can whip them up in minutes using what I already have in my kitchen.
These almond butter cookies are amazing! Nutty and slightly crispy, with just the right level of sweetness to satisfy all your cookie cravings.
I can't wait for you to try them!
Ingredients Needed for Gluten-Free Almond Butter Cookies
Almond butter: If using all-natural almond butter you may notice it separates from the oil. Make sure to stir it before adding it to the mixture. I like to use chunky just for added texture, but you can use smooth if you prefer.
Egg: Lightly whisk the egg. You'll only need one, but it's super important as it is what holds everything together in the shape of a cookie!
Sugar: Organic sugar will add sweetness and give the cookie a slightly crisp texture. If you want a bit of extra caramel flavor and added moisture, use brown sugar.
How to Make Almond Butter Cookies
Easily double or even triple the batch of cookies for a crowd! Because this almond butter cookie recipe is flourless there is no need to worry about properly measuring flour for the best results.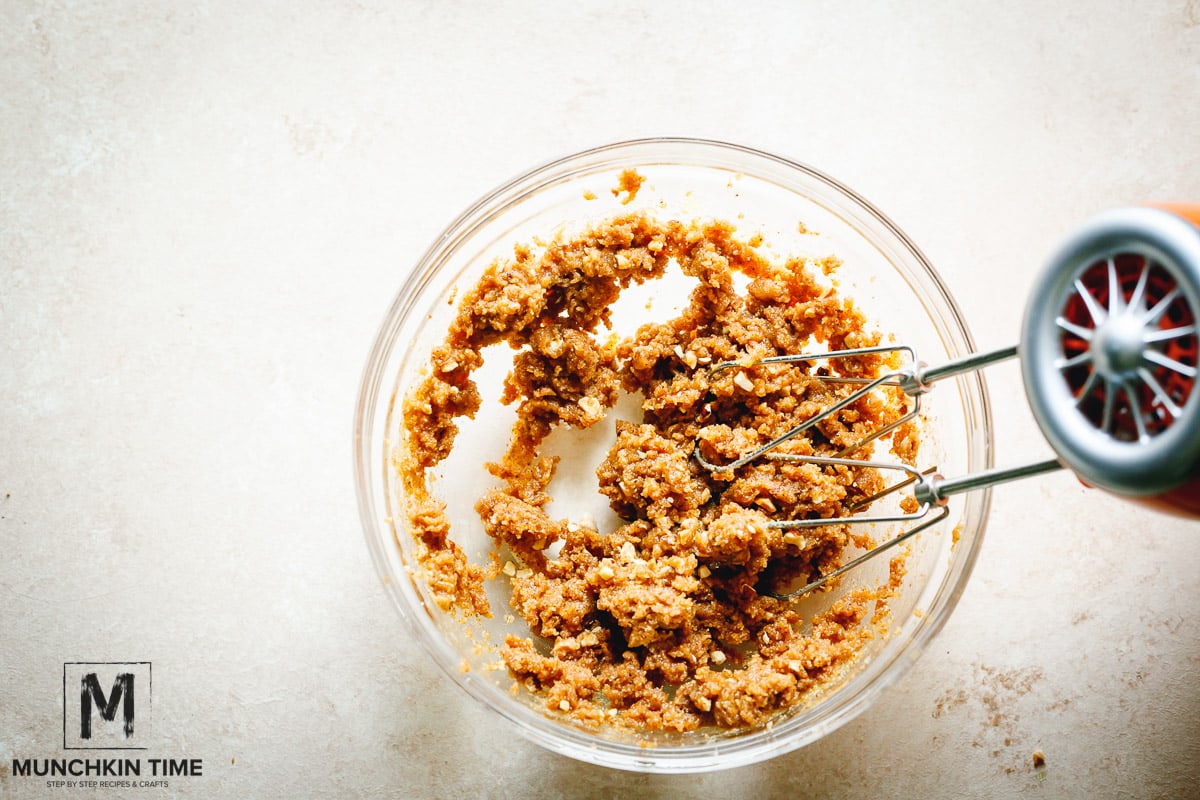 Step 1: In a mixing bowl, combine all 3 ingredients until well blended. Although you don't technically need a hand mixer, I usually do use one anyway. Makes life a little easier.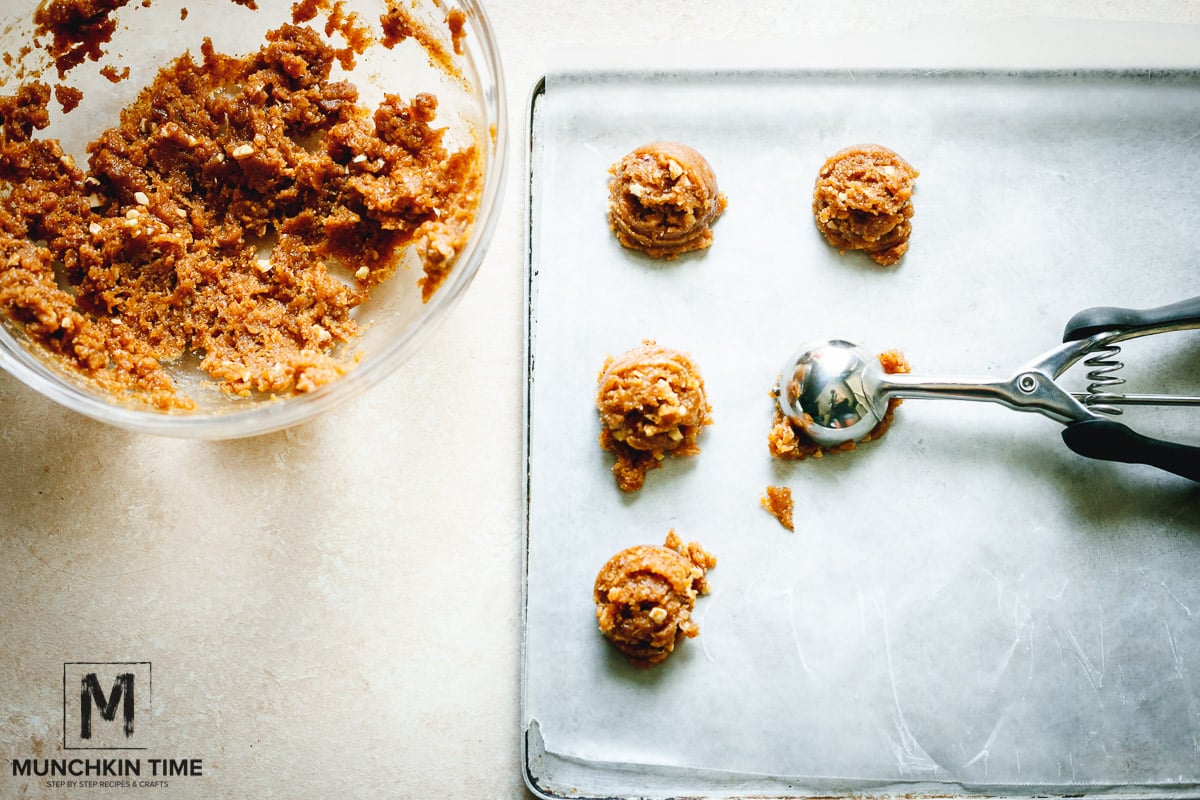 Step 2: Using a small ice cream scoop or cookie scoop, scoop about 2 Tablespoons of the cookie dough and drop it onto a parchment-lined baking sheet.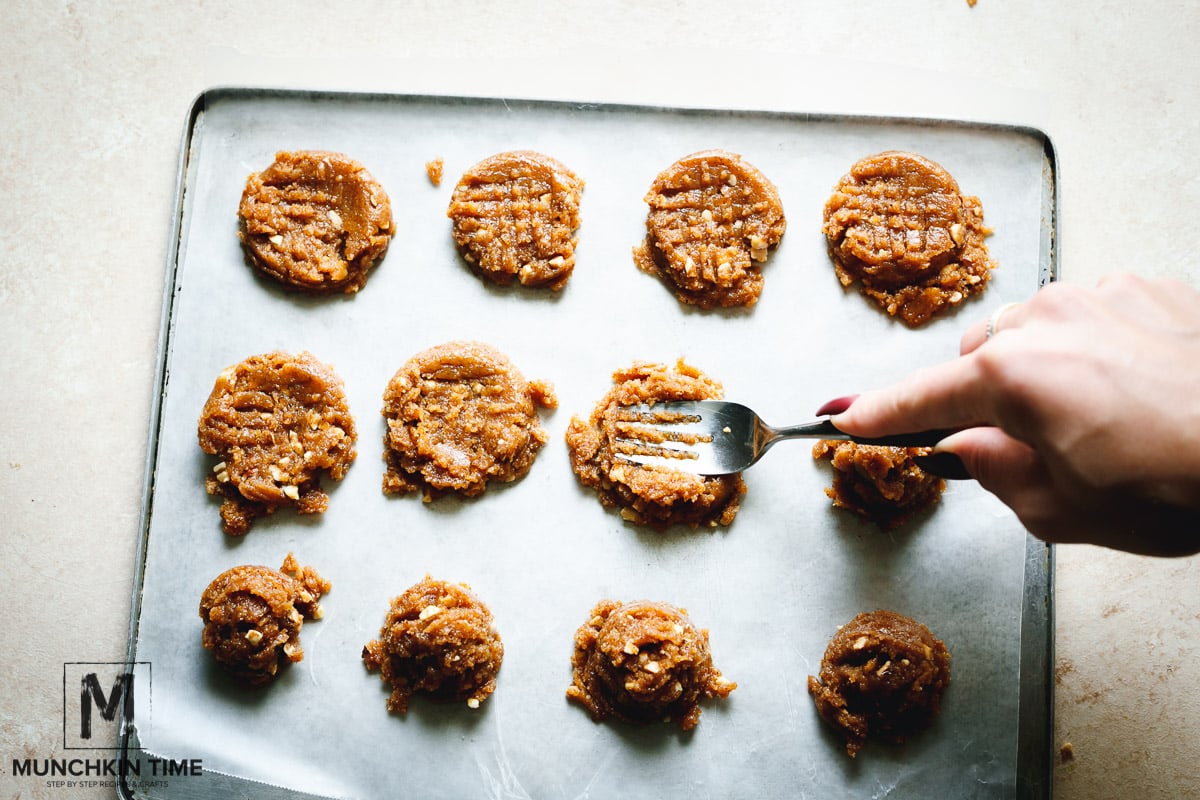 Step 3: Bake in a preheated 375F oven for about 10-12 minutes until the middle of the cookies is set.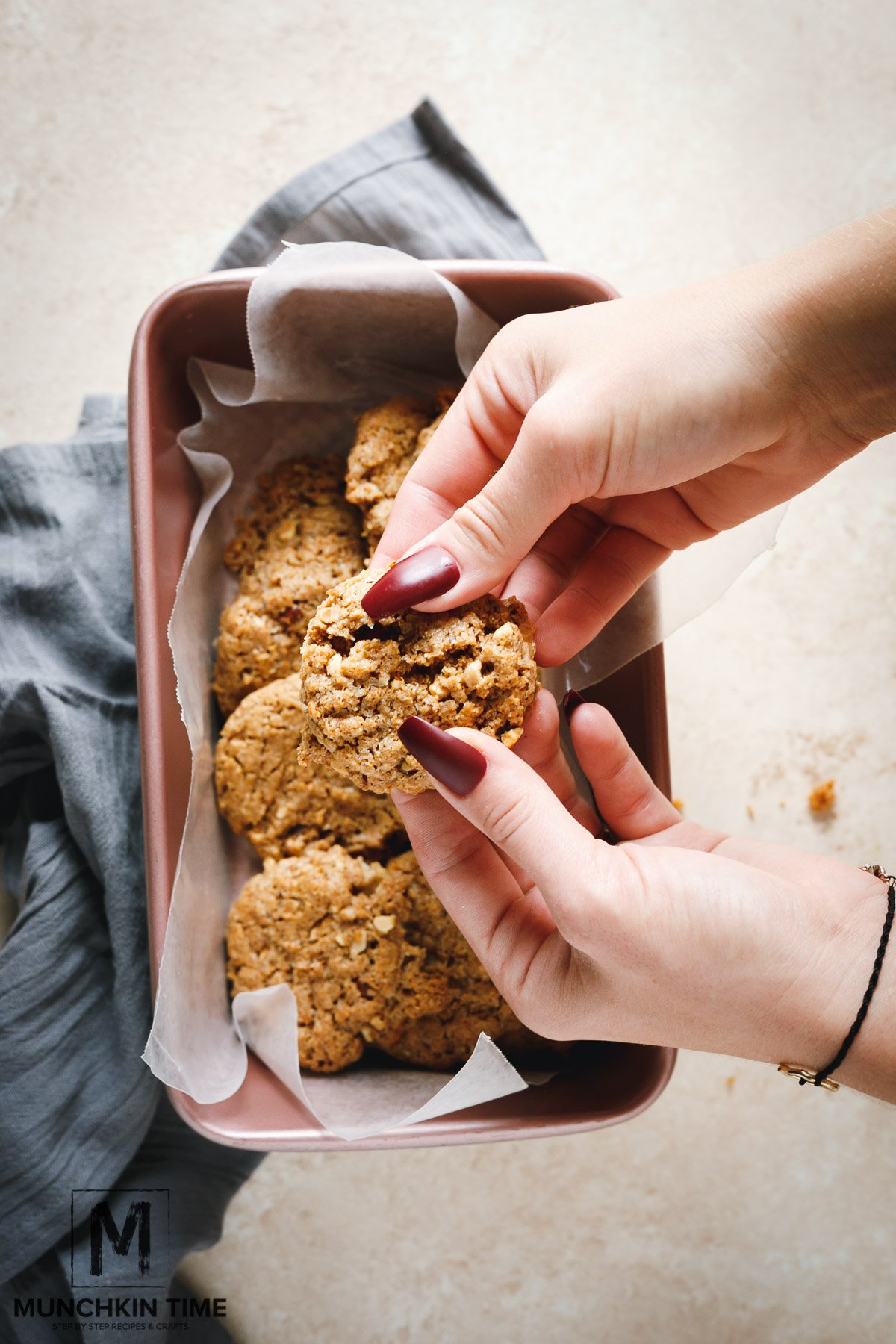 Step 4: Once out of the oven, transfer the cookies to a wire rack to cool. You may notice they are still a bit soft. That's ok. They will continue to bake as they cool. Enjoy!
Baking Tips & Suggestions
Bring all your ingredients to room temperature. It helps the cookie dough to bake evenly, but it also prevents the cold egg from solidifying the nut butter. You want everything at room temperature so that it blends and creams easily.
You can use a different sweetener if you prefer. Monk fruit extract is one plenty of readers use when they're looking for an alternative to sugar. It's a 1:1 replacement so no need to worry about conversions.
Use a different nut or seed butter for a twist. Peanut butter is the common one but you can also try using cashew butter, sunflower butter, or pumpkin seed butter. Tahini or pureed canned chickpeas are also worth trying!
Some extras or mix-ins to add are things like chocolate chips, raising, or any dried fruit. You can also add some extra flavor like a bit of vanilla or maple syrup.
Do these cookies need to be refrigerated?
They don't! They can be kept at room temperature in an airtight container for up to 1 week. This means they ship well too! Keep these in mind during the holidays and package them up as gifts.
If you still have some left, you can keep them in the fridge to extend their freshness a little while longer.
What type of almond butter is best?
Normally I keep all-natural almond butter at home. However, for a recipe like this with so few ingredients, you may find using regular almond butter does a better job of holding the structure of the cookie. It also makes the cookies crispier.
Just like the difference between commercial regular peanut butter and all-natural. The texture is different, so the consistency of the cookie will be different.
I also happen to like a crumbly cookie, so I use crunchy almond butter, but if you don't, stick with the smooth kind.
It's really up to you!
Can I freeze almond butter cookies?
Yes! This is when doubling the batch comes in handy! Eat some and freeze some. Transfer them to a freezer-safe container or freezer bag and keep them frozen for up to 6 months. Thaw in the fridge overnight and enjoy!
How do I make my almond butter cookies thicker?
There are a couple of ways. We don't use a leavening agent but that doesn't mean you can't add one in. If you'd like to use baking soda to give these cookies a bit of a rise, by all means.
Otherwise, you can decide to chill the dough first before baking. That way they will spread less when in the oven.
Best Ever Almond Butter Cookies
Best Ever Almond Butter Cookies Using Only 3 Ingredients. They are INCREDIBLY delicious!!!
Ingredients
1

cup

almond butter

chunky

1

egg

1/2

cup

sugar
Instructions
First, preheat the oven to 375F and line baking sheet with parchment papper. After, combine all ingredietns in the mixing bowl.

Mix with hand mixer until everything is combined. Scoop about 2 tablespoon of cookie dough onto a baking sheet (I used small ice cream scoop). Press down with a fork.

Bake for about 10-12 minutes or until the center set. Cool on a wire rack. Enjoy!
Notes
All content & images are copyright protected. Please do not use my images without prior permission. If you want to republish Almond Cookies Recipe, please re-write the recipe in your own words, or simply link back to this post for the recipe. Thank you.
Nutrition
Calories:
165
kcal
Carbohydrates:
12
g
Protein:
5
g
Fat:
12
g
Saturated Fat:
1
g
Polyunsaturated Fat:
3
g
Monounsaturated Fat:
7
g
Trans Fat:
0.002
g
Cholesterol:
14
mg
Sodium:
7
mg
Potassium:
161
mg
Fiber:
2
g
Sugar:
9
g
Vitamin A:
20
IU
Calcium:
74
mg
Iron:
1
mg
Q. Do YOU like this Easy Cookie Recipe?
Please let me know in the comments below I would love to hear from you!
Thank YOU for YOUR Comment, Share & Recipe Review!
Quote of the Day
Have an amazing day!