This shrimp stock recipe is an easy one-pot recipe meant to enhance the flavor of all your seafood soups, bisques, risottos, and more! Make some now and freeze it for later or use it tonight!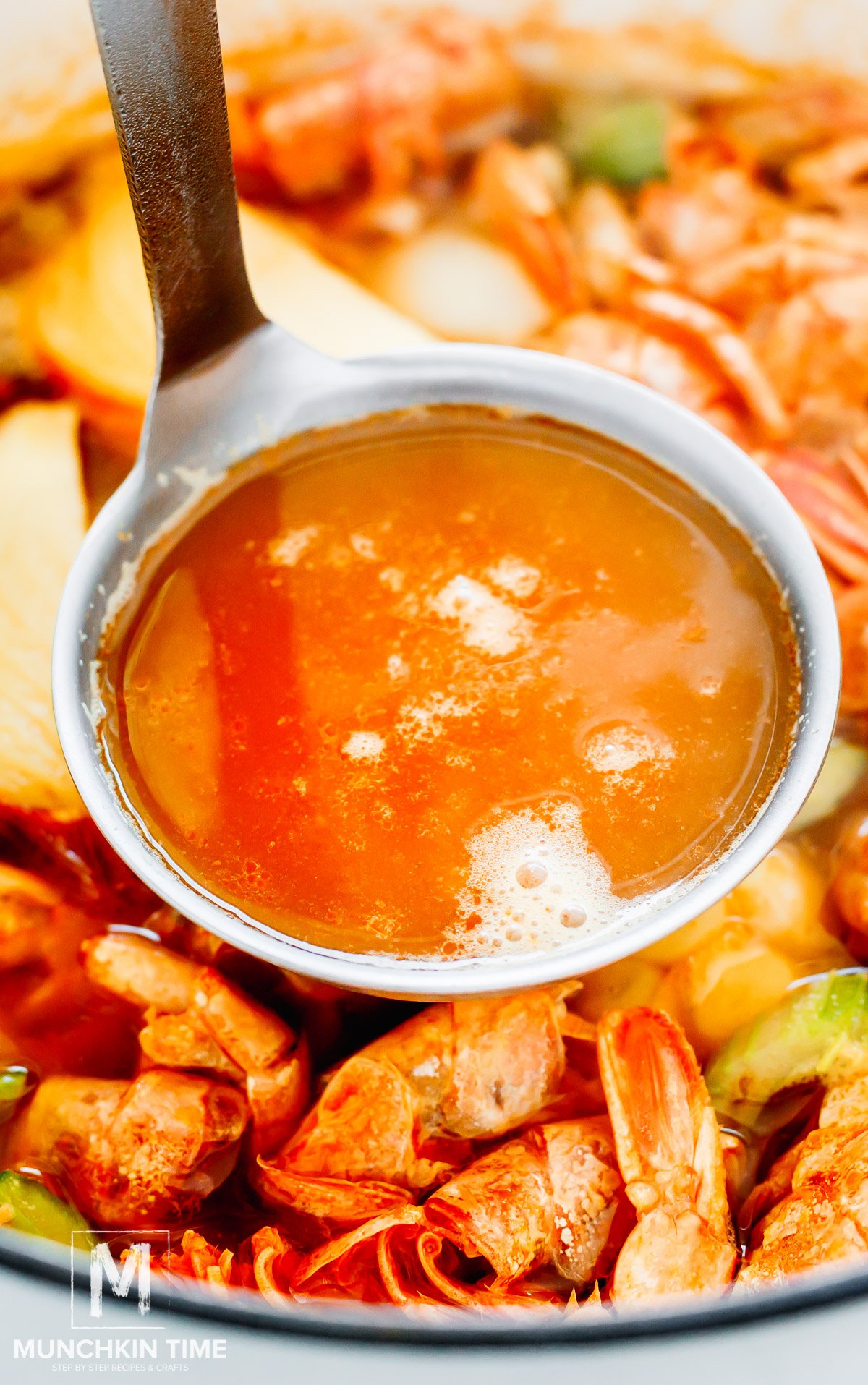 The next time you make a shrimp dish like spicy garlic shrimp or honey garlic shrimp don't even think about tossing those shells! If you've known about this little secret and have some stocked in your freezer already, now's the time to whip them out.
You're going to want to learn to make this absolutely delicious shrimp shell stock from scratch because it is so much healthier and fresher tasting than anything store-bought.
Making homemade shrimp stock is a great way to avoid waste because we use all of the parts of the shrimp to maximum capacity and maximum flavor.
It's made with basic pantry staples that you probably already have on hand, including the shells, veggies, aromatics, and seasoning like turmeric! It doesn't have a strong fishy flavor, but a beautiful stock with an intense flavor that is a tasty addition to all kinds of recipes.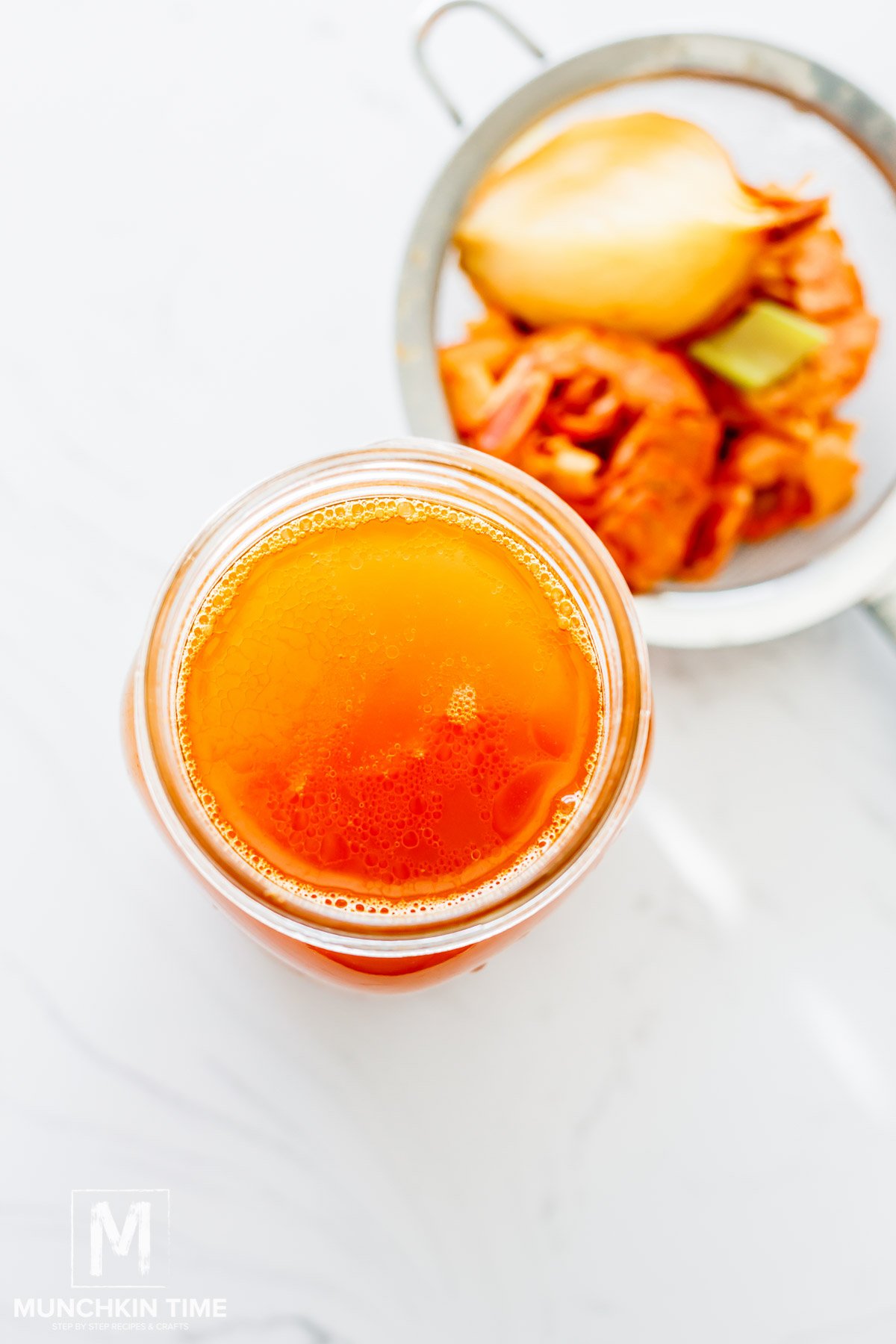 Shrimp Stock vs Seafood Stock
Although they are similar they are not the same! Shrimp stock is a type of seafood stock (because shrimp is seafood), however, seafood stock is usually made with a combination of seafood and fish for layers of flavor!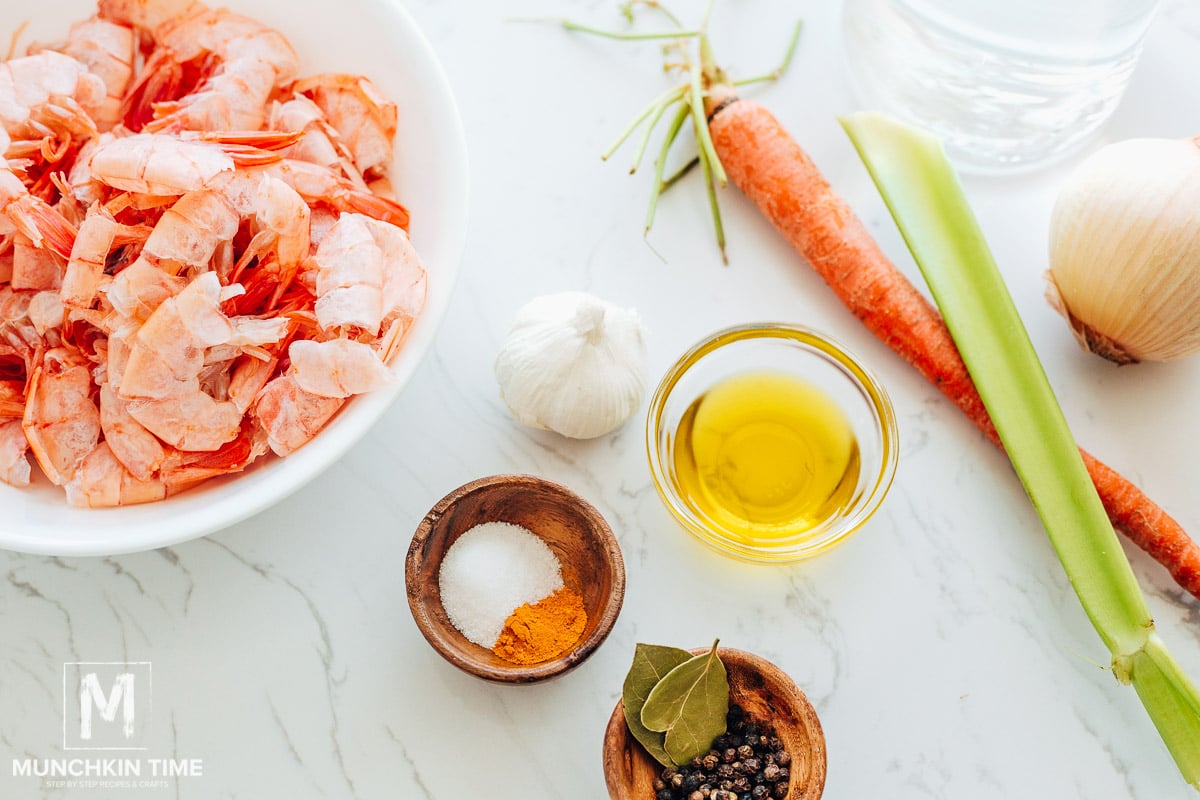 Ingredients Needed
I love the recipe just the way it is, but you can get creative with stocks and broths by adding your favorite seasonings or even adjusting the amount used. Use this as a guide and then tweak it to your liking!
Olive oil: We need a bit of olive oil to sauté the shrimp shells beforehand. We do this to bring out the flavor even more.
Jumbo shrimp shells: We need enough shells from about 2 lbs of shrimp, washed and peeled from wild-caught shrimp.
Onion & garlic: The aromatics that always add incredible flavor to any stock recipe! Onion and garlic are a dynamic pair.
Carrot & celery: Adding sliced veggies is also meant to flavor the stock. I use carrots and celery as they're common in the base of all kinds of soups, gravies, stocks, and broths.
Seasoning: Bay leaves, peppercorns, turmeric, and sea salt. I usually add turmeric to stocks as it gives them a nice color and an earthy flavor.
Water: We can't make a stock without it!

How to Make Shrimp Stock
Step 1: First, we sauté the shells for about 3-5 minutes in a pot over medium heat.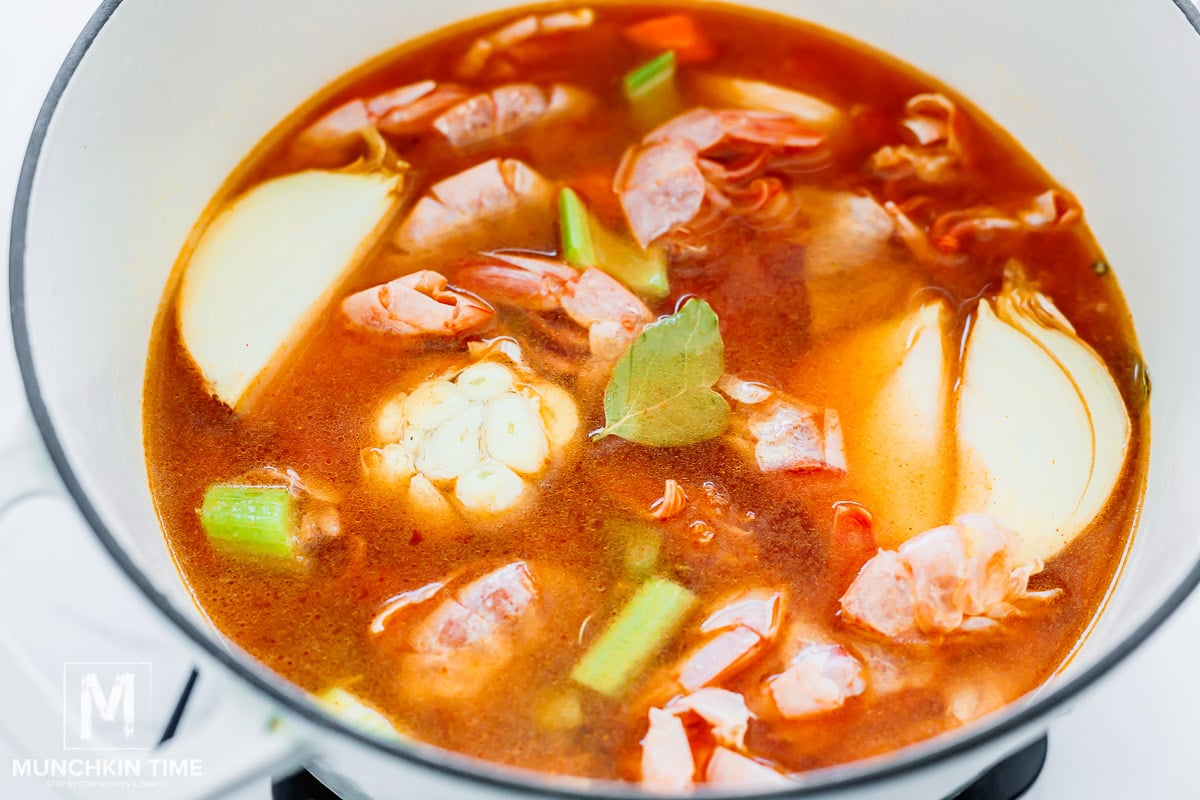 Step 2: Toss in everything else! Bring everything to a boil then reduce the heat and simmer for about 30-40 minutes, stirring occasionally.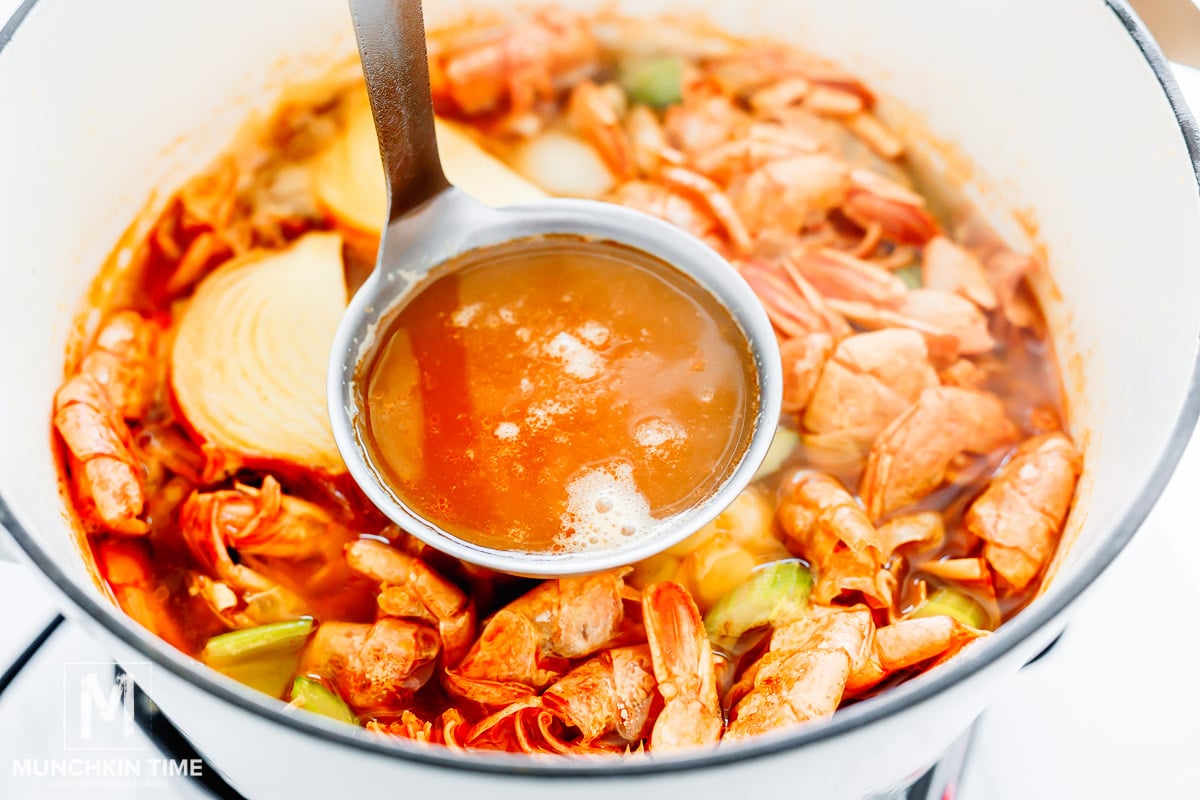 Step 3: Once it's had a chance to cook and the water has been infused with all kinds of deliciousness, your stock is ready.
Step 4: Use a fine mesh sieve and strain the shrimp stock. Discard the shells and aromatics or use the shells as compost.
Step 5: Transfer the stock to a mason jar and allow it to cool completely before putting the lid on.
Shrimp Stock Recipe Tips
Use fresh or frozen shells. This recipe works with either one! You're going to sauté them first anyway, and they won't take long to thaw out during that process.
For a more herbaceous broth, use fresh sprigs of rosemary or thyme. Chives and oregano are also great.
If you have shrimp heads, add those in for a burst of extra flavor!
Easily double the recipe and keep some frozen for later.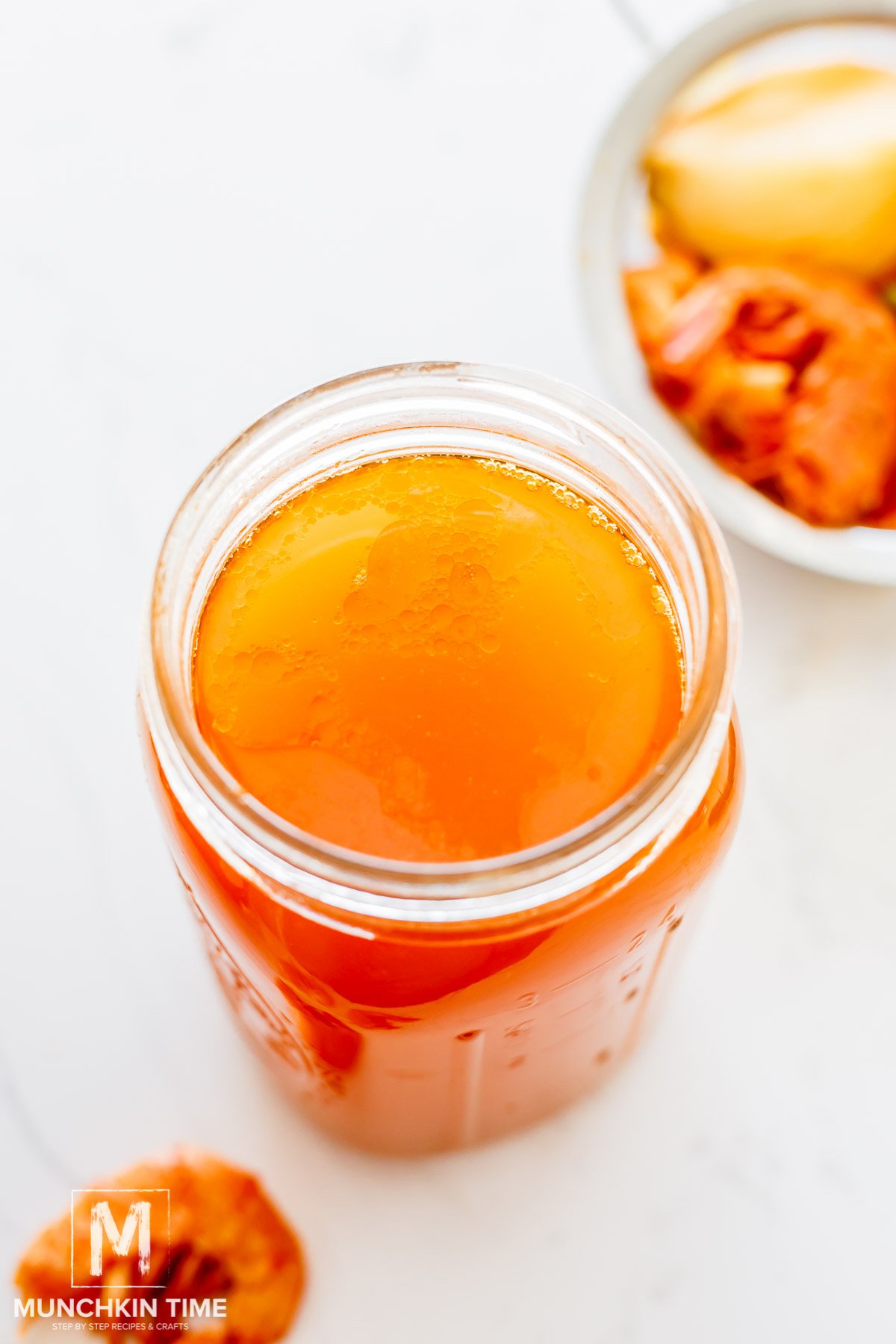 FAQs
How long can I keep shrimp stock in the fridge?
When stored properly in an airtight jar, it will stay fresh for up to 3 days in the refrigerator.
Can I freeze shrimp stock?
Yes! This is a great freezer-friendly recipe. I don't suggest freezing it in glass, so what I like to do is pour it into a freezer bag. I lay it flat to save room in my freezer and keep it frozen for up to 2 months.
What is a substitute for shrimp stock?
If you have a shrimp allergy, or if your family doesn't love the taste of shrimp you can definitely substitute it for other things. Clam juice is one, crab stock, fish stock, or even chicken or beef stock can be used. Depending on what you're making of course!
How can I use this shrimp stock?
Use it in a creamy risotto, or creamy shrimp bisque. If you love jambalaya or gumbo, use this stock for sure!
Why do we sauté the shrimp first?
It's almost like browning meat before fully cooking it. The caramelization process adds so much more flavor and this step should not be missed!
More Delicious Recipes:
When YOU make this Shrimp Stock Recipe, tag us on Instagram @MunchkinTimeBlog & hashtag #munchkinrecipes . We would love to see YOUR creation!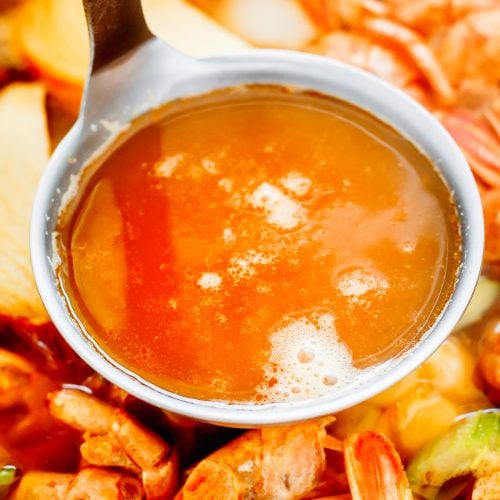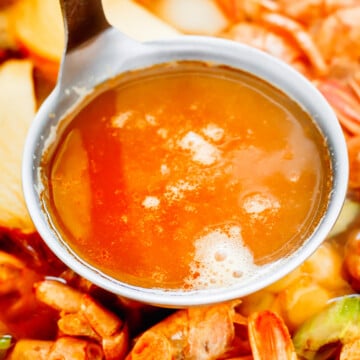 Shrimp Stock Recipe
This shrimp stock recipe is an easy one-pot recipe meant to enhance the flavor of all your seafood soups, bisques, risottos, and more!
Ingredients
2

tablespoon

olive oil

jumbo shrimp shells

peeled from 2 lb of wild-caught jumbo shrimp & washed

1

onion

peel on, washed and cut into 4 pieces

1

carrot

peeled and sliced

1

celery

washed & sliced

1 1/2

teaspoon

peppercorns

1/2

teaspoon

turmeric

I always like to add turmeric when making stock or broth

sea salt

to taste

1

head

garlic

washed & sliced at the top,

6

cups

water
Instructions
In a pot, heat olive oil over medium heat. Add shrimp shells and saute for 3-5 minutes stirring few times.

Next add the rest of the ingredients and bring it to a boil, then simmer on low heat for 30-40 minutes, stirring few times.

After, using a fine-mesh sieve, strain shrimp stock and discard shells and aromatics. Use in recipes like this Creamy Shrimp Bisque.

Or store in mason jar inside the fridge for up to 3 days or freeze for up to 2 months.
Video
Notes
Hi! All content & images are copyright protected. Please do not use my images without prior permission. If you want to republish this recipe, please re-write the recipe in your own words, or simply link back to this post for the recipe. Thank you.
Nutrition
Calories:
77
kcal
Carbohydrates:
6
g
Protein:
1
g
Fat:
6
g
Saturated Fat:
1
g
Polyunsaturated Fat:
1
g
Monounsaturated Fat:
4
g
Sodium:
31
mg
Potassium:
137
mg
Fiber:
1
g
Sugar:
2
g
Vitamin A:
2085
IU
Vitamin C:
4
mg
Calcium:
38
mg
Iron:
0.5
mg
Q. DO YOU like this Easy Shrimp Stock Recipe?
Let me know in the comments below, I would love to hear from you!
Thank YOU for YOUR Comment, Share & Recipe Review!
Happy Cooking!