Pecan Christmas cookies are crispy on the outside, buttery and chewy on the inside, and have loads of brown sugar, vanilla, and nutty pecan flavor. This one-bowl recipe will become a family favorite in no time thanks to this easy, classic cookie recipe!
When YOU make this Pecan Cookies Recipe please tag us @munchkintimeblog on Instagram, we would LOVE to see your creation!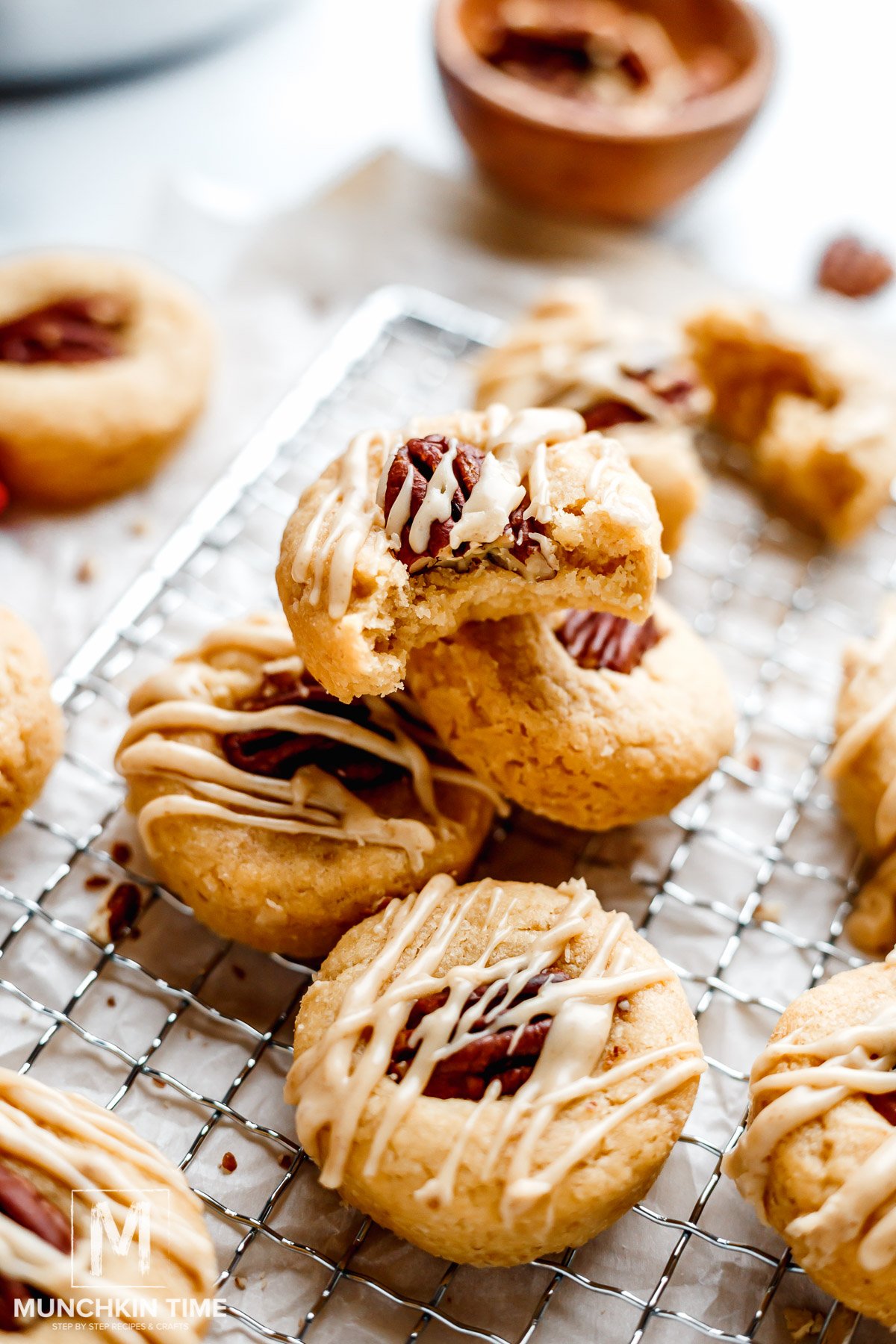 Pecan cookies are a classic Christmas cookie that will always have a special spot on our holiday cookie tray! They're buttery, melt-in-your-mouth cookies that have the delicious sweetness of both white and brown sugar, a caramelized flavor, with a nutty crunch from the pecans on top.
These butter pecan cookies are bursting with flavor and the glaze on top just takes them to another level.
We sometimes even double the batch of these Christmas cookies with a glaze and freeze one for later on. The other we'll keep around for serving guests, holiday parties, cookie exchanges, and of course, a late-night snack when the cravings hit!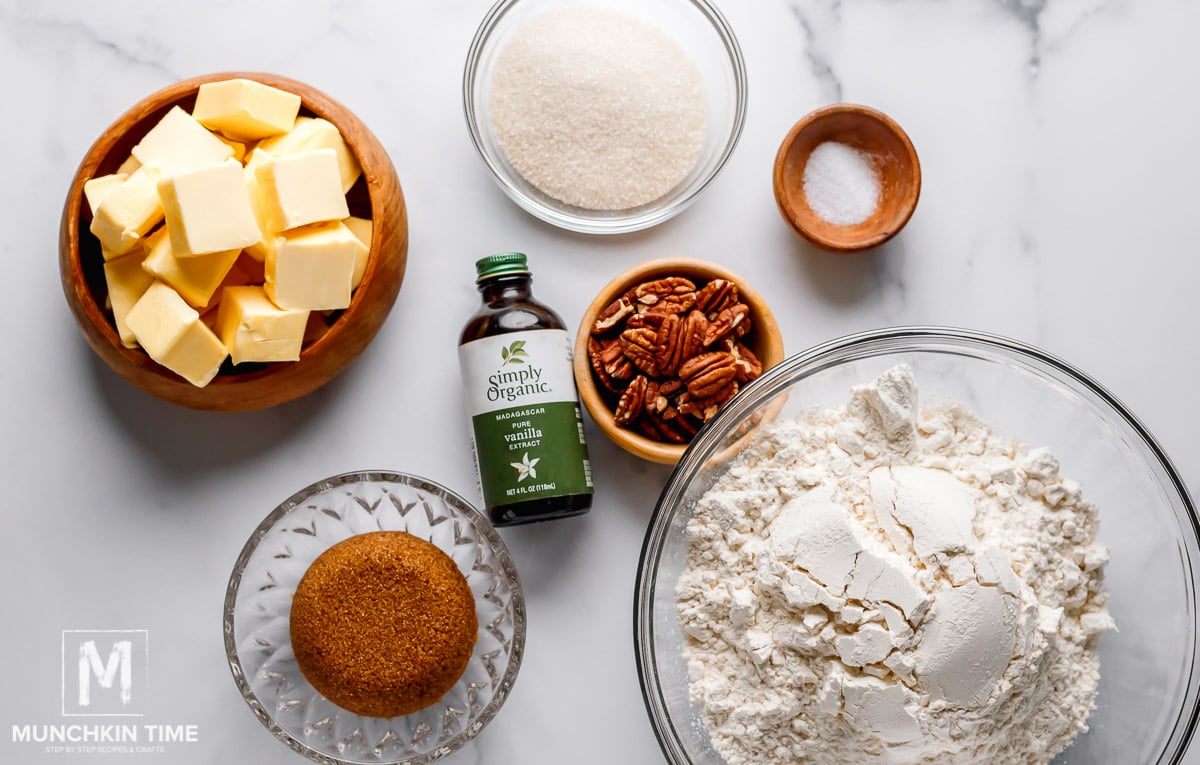 Ingredients for Pecan Cookies
Butter: Leave the butter out well enough in advance so that it is soft enough to become creamy and fluffy. Bring it to room temperature for about 1 hour before using it.
White granulated sugar: We're using both white and brown sugar for sweetness. The white sugar has less moisture and balances out the brown sugar.
Brown sugar: Provides a yummy caramelized sweetness and that delicious brown sugary flavor that pairs well with vanilla and pecans.
Vanilla extract: A warm flavor extract that enhances the all-around taste of these pecan cookies.
All-purpose flour: Gives the cookies their structure. It's the main component of the dry ingredients and with all baking recipes, it's important to measure it properly.
Pinch of salt: Another flavor enhancer. Salt brings out the flavor in everything!
Pecans: This recipe doesn't include pecans in the cookie itself but instead is used as a garnish. One pecan per cookie is adorable!
For the glaze: Brown sugar, milk, butter, powdered sugar, and vanilla.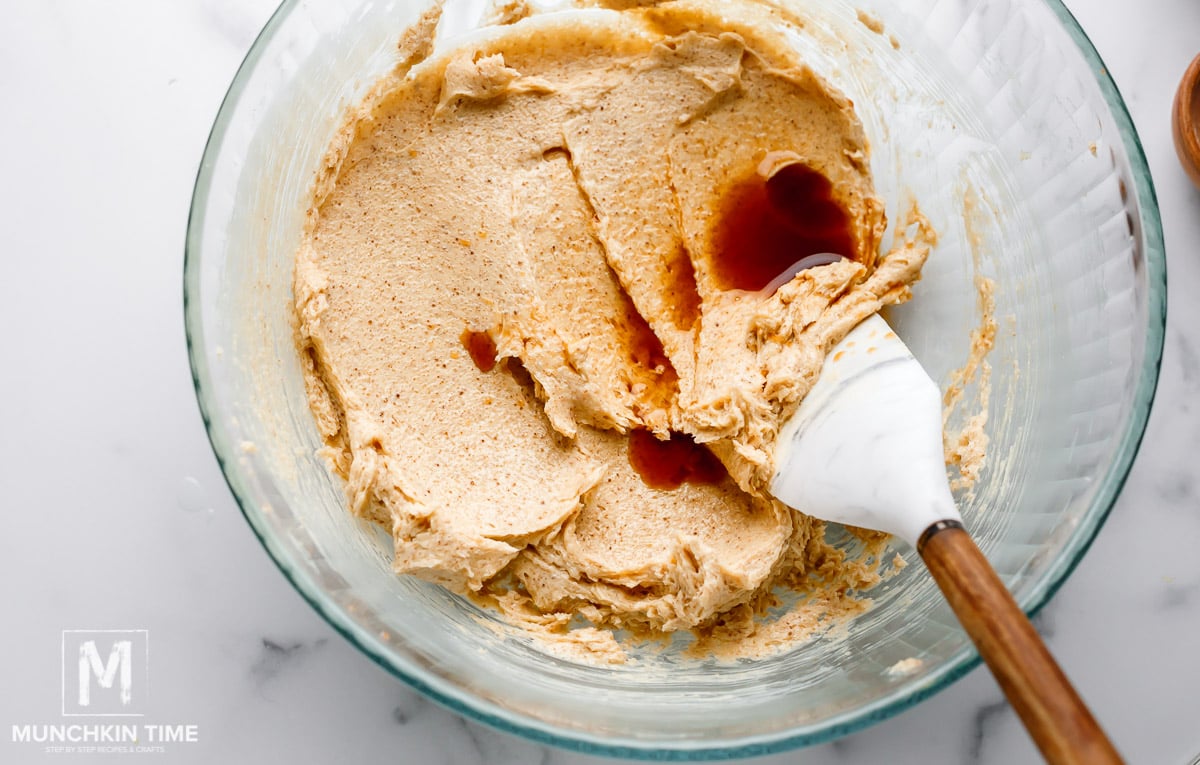 How to Make Pecan Cookies
Step 1: Beat the butter and sugar in a large bowl using an electric mixer. Cream until fluffy and then add the vanilla.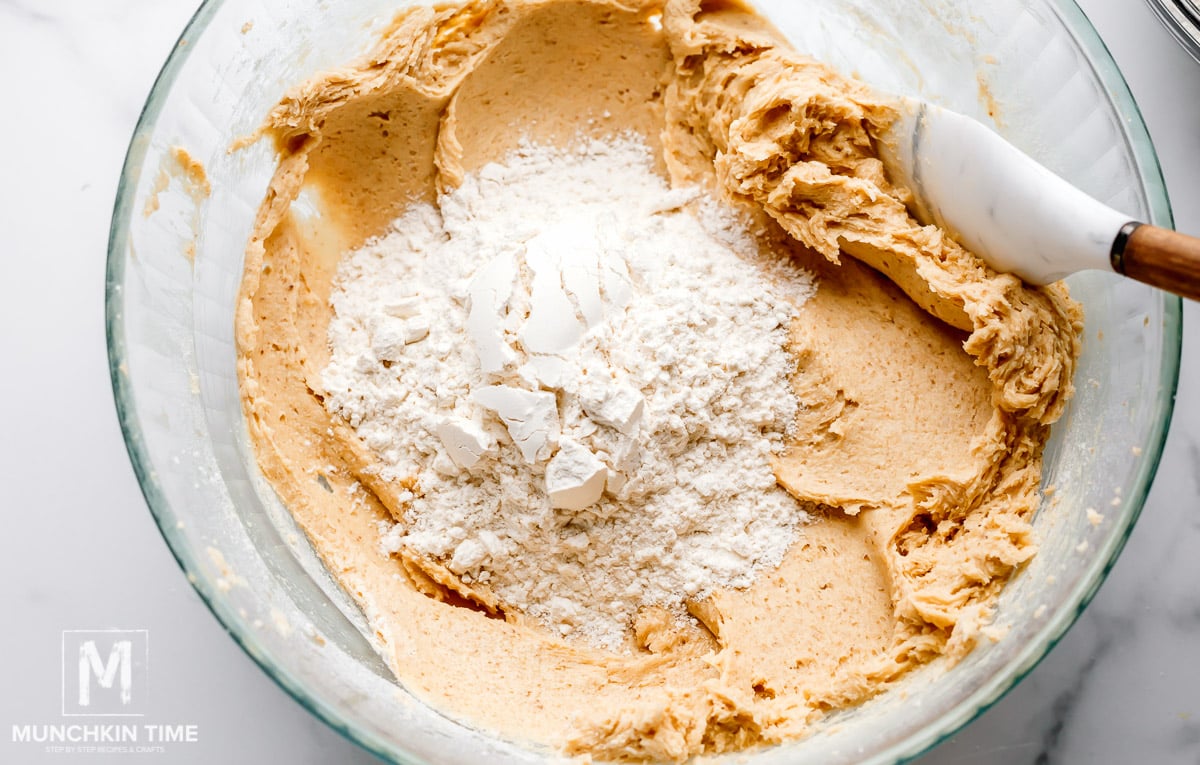 Step 2: Add the flour to the butter mixture one cup at a time. Then, add the salt and mix everything well to combine.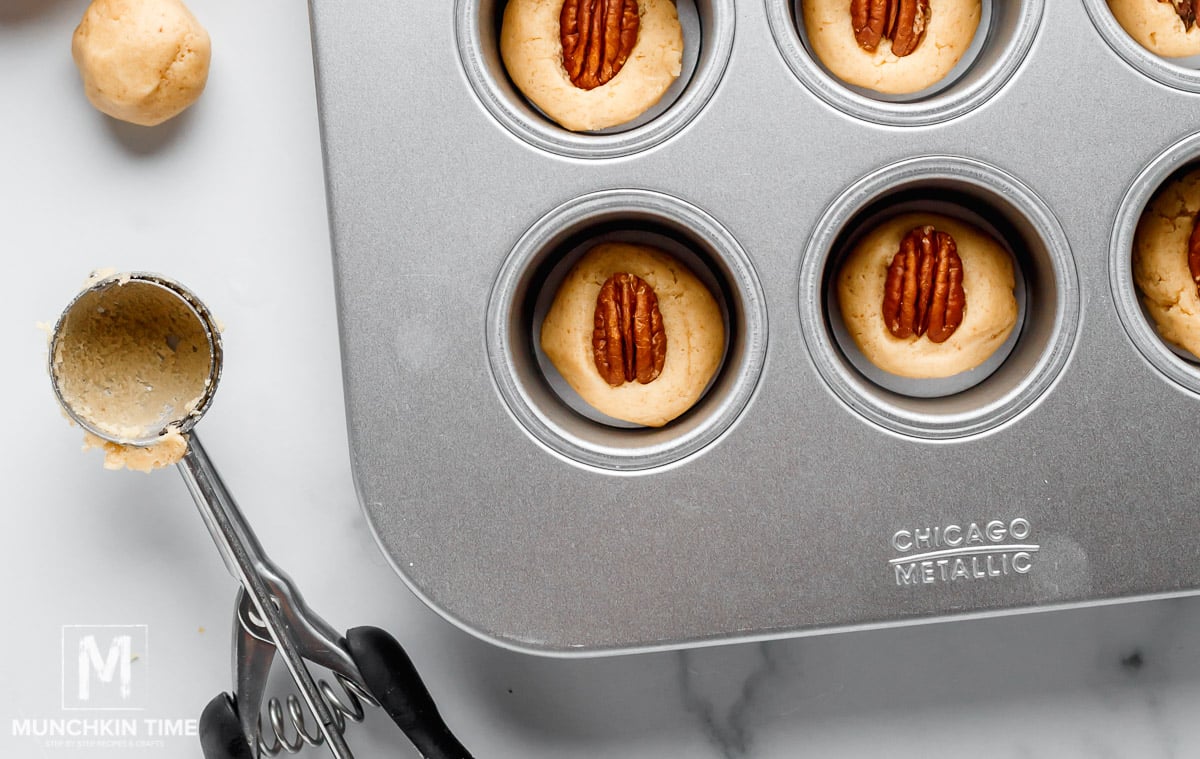 Step 3: Use a small ice cream scoop or cookie scoop to collect the dough. Roll them into 1-inch balls and place them onto a prepared baking sheet. You can also use a mini cheesecake pan or mini cupcake pan.
Step 4: Press 1 pecan on top of each of the dough balls and bake in a preheated 350-degree oven for 12-14 minutes. They should be light golden in color.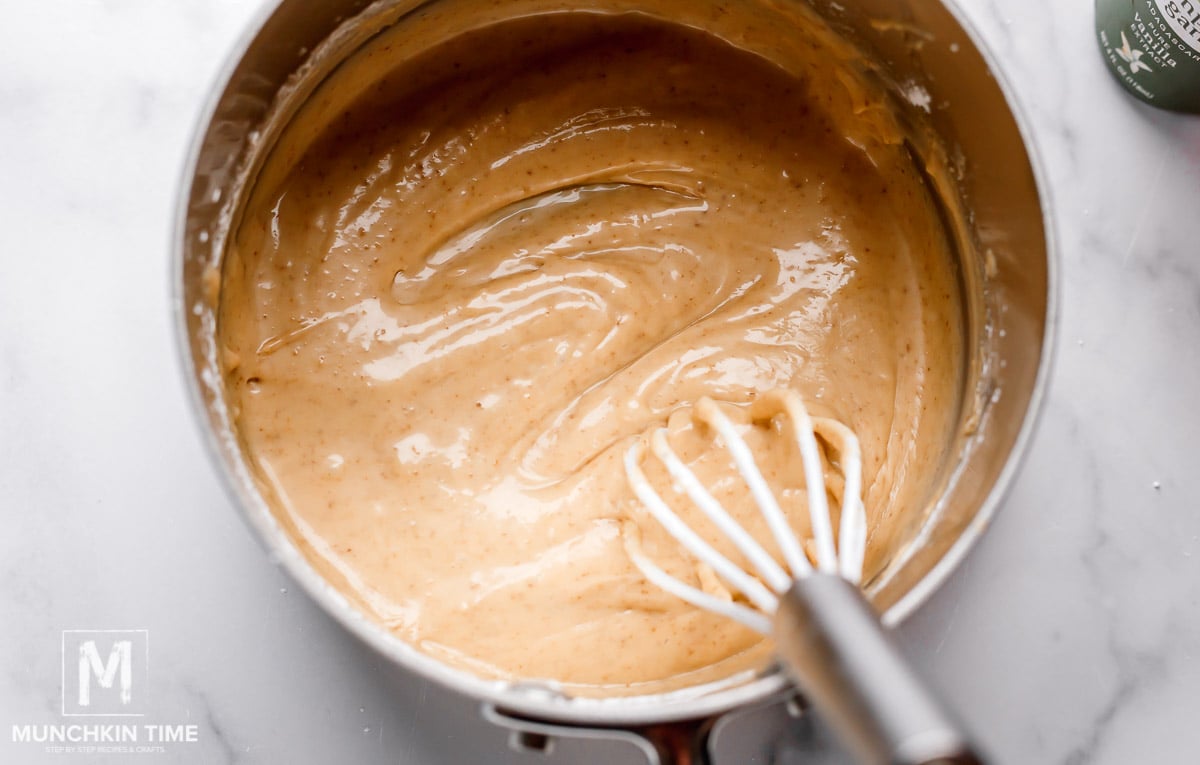 Step 5: While the pecan cookies are baking, make the glaze. Combine sugar, butter, and milk, in a saucepan over medium heat. Bring it to a boil and cook for 1 minute, stirring continuously. Remove it from the heat and let it continue cooking while it sits for 5 minutes. Add the powdered sugar and vanilla and mix the glaze until smooth.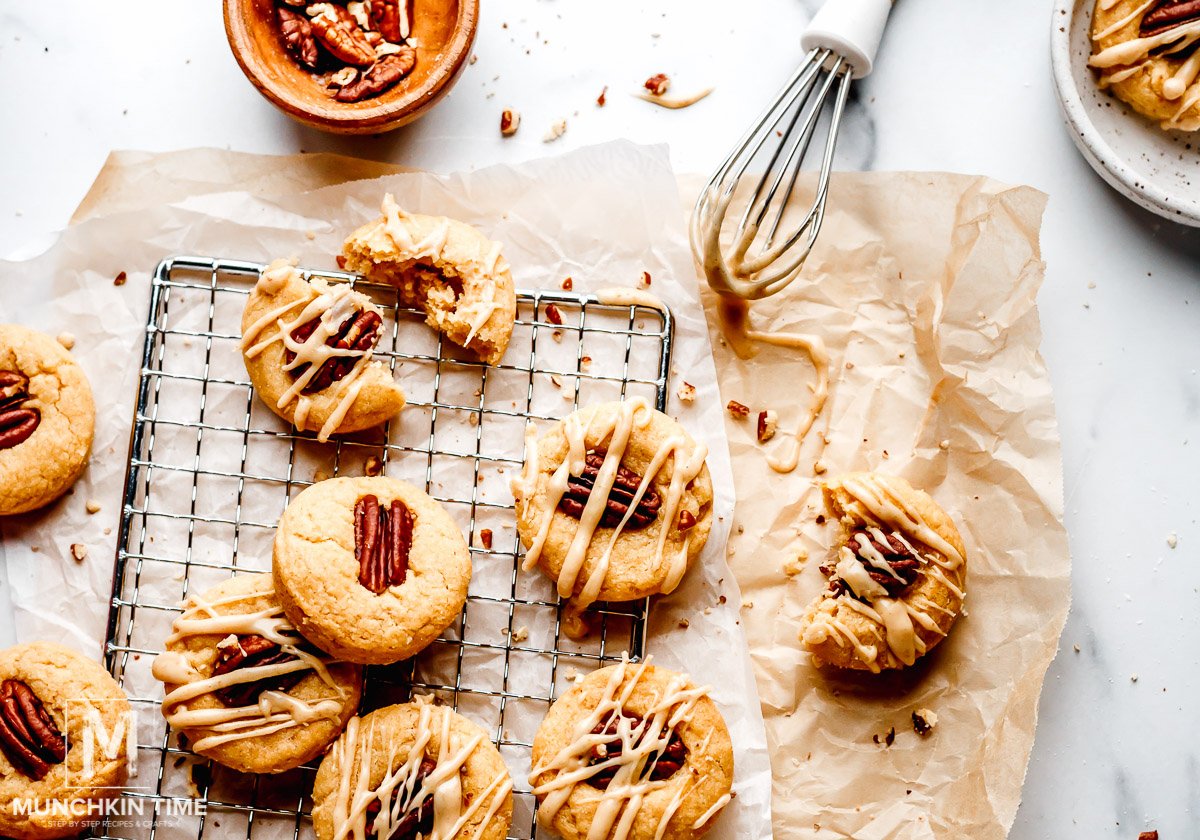 Step 6: Once cookies are ready, you can drizzle them with a glaze right away, or wait until they've cooled a bit. They're amazing either way!
Enjoy them with a cup of tea or coffee or a refreshing glass of milk. A cup of hot chocolate for those chilly days in front of the fire is sometimes just the thing!
Recipe Tips
You can make this recipe using a stand mixer with a paddle attachment if you prefer.
Using a cookie or ice cream scoop ensures that all cookies will be the same size. This helps them to bake evenly.
If you want a thinner glaze, add more milk 1 Tablespoon at a time. If you want it thicker, add more powdered sugar instead.
Allowing the cookies to cool first before glazing will keep the glaze from getting too runny. However, if you want it that way, glaze them immediately.
Make these cookies nut free by completely omitting the pecan on top. Since there are no nuts in the cookie dough, you can replace it with your own garnish!
To add more nuts to your cookies, you can add chopped pecans to the batter. Toasted pecans are even better!
To level up the flavor of these cookies, brown your butter first before combining it with the sugars.
Roll the cookie dough balls in granulated sugar before baking for a bit of extra crystallization on the outside.
Best Way to Measure Flour
Using the wrong amount of flour really can make or break a recipe! It can ruin the texture by making the cookies too heavy or dense if you use too much, or the cookies can spread too thin if you use too little.
The best way to measure flour is to use a kitchen scale. It's accurate and basically foolproof.
If you don't have a scale, the next best way is to use the spoon and level method. This means using a spoon to scoop out flour little by little and add it to the measuring cup.
This is instead of using the measuring cup to scoop out the flour and pack too much in at a time. Then, you'll use the back of a knife (the smooth straight edge) to scrape off any excess.
This way, you'll ensure not to pack the flour in so much that you leave no room for air.
How to store homemade pecan cookies?
No need to refrigerate them! They'll stay fresh when covered in an airtight container on the counter for up to 7 days.
Can I make the cookie dough and freeze it ahead of time?
You can! You can either keep them in the fridge for a few days until you're ready to bake them or freeze them for up to 3 months. If you're baking them straight from the fridge you can bring them to room temperature for about half an hour before putting them in the oven.
You can also bake them straight from frozen, just adding on a few extra minutes.
I like to flash-freeze the dough balls until they're solid then transfer them to a freezer bag or container. That way they don't all freeze together in a big lump so I can take out what I need when I need it and keep the rest right where they are.
Check Out these DELICIOUS Dinner Recipes:
New York Strip Steak Grill Recipe
Cheesy Hot Beef Sandwich Recipe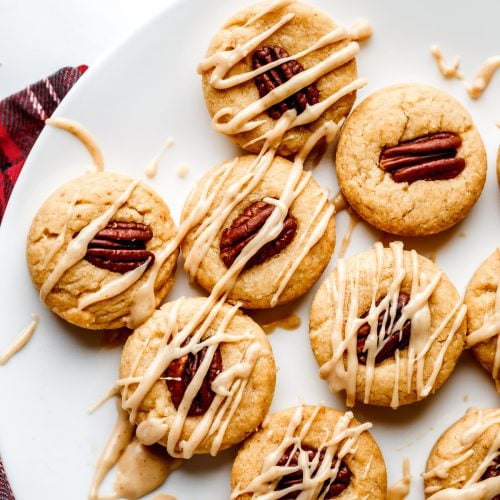 Pecan Cookies
These butter pecan cookies are bursting with flavor and the glaze on top just takes them to another level.
Instructions
How to make Pecan Cookies
Preheat the oven to 350F. Using hand mixer beat butter with sugar until fluffy texture.

Next add flour one cup at a time flour with salt and mix well.

BAKE for 12-14 minutes or until light golden color. Drizzle glaze over the top and enjoy!
How to make Cookie Glaze
Using a sauce pan combine sugar, butter and milk over medium heat.

Bring to a boil and cook stirring for 1 minute.

Remove from the heat. Let cook for 5 minutes. Add powdered sugar and vanilla, mix until smooth glaze. If needed add more milk or powdered sugar for a smooth texture.
Notes
Hi! All content & images are copyright protected. Please do not use my images without prior permission. If you want to republish this recipe, please re-write the recipe in your own words, or simply link back to this post for the recipe. Thank you.
Nutrition
Calories:
549
kcal
Carbohydrates:
61
g
Protein:
5
g
Fat:
32
g
Saturated Fat:
20
g
Polyunsaturated Fat:
1
g
Monounsaturated Fat:
8
g
Trans Fat:
1
g
Cholesterol:
84
mg
Sodium:
305
mg
Potassium:
78
mg
Fiber:
1
g
Sugar:
29
g
Vitamin A:
979
IU
Calcium:
30
mg
Iron:
2
mg
Do YOU like this Pecan Cookies Recipe?
Let me know in the comments below, we would love to hear from you!
Thank YOU for YOUR Comment, Share & Recipe Review!
Happy Cooking!