This easy egg salad recipe is a creative twist on an old-fashioned egg salad. It's so quick it comes together in as much time as it takes to boil some eggs! Super fast, incredibly delicious, and is always the first thing to go when serving a crowd!
If this is your first time hearing about crab egg salad, you might be wondering if it's an egg salad with crab in it or if it's a crab salad with eggs? Well, it's both and it's neither! Technically it's a jazzed-up version of a classic egg salad, but in my humble opinion when the two come together, it becomes its own entity, it is just that good!
This dish is full of the classic flavors and textures of the best egg salad recipe from the hard-boiled eggs, mayo, chives, and a light seasoning of salt and pepper, but the addition of the faux crab just puts it over the top. All you do is toss all the ingredients together, and you're all set!
As you can imagine, it's a salad that comes together quickly, so it's one I fall back on time and time again. Whether I'm hosting Thanksgiving or Christmas dinner or I need a hearty school lunch idea, it's a no fuss, super simple crab egg salad recipe that's always a hit with everyone. I usually make more than I need and keep some on the side, because it's a totally crave-able salad I enjoy throughout the week. In fact, the longer it sits, the better it gets!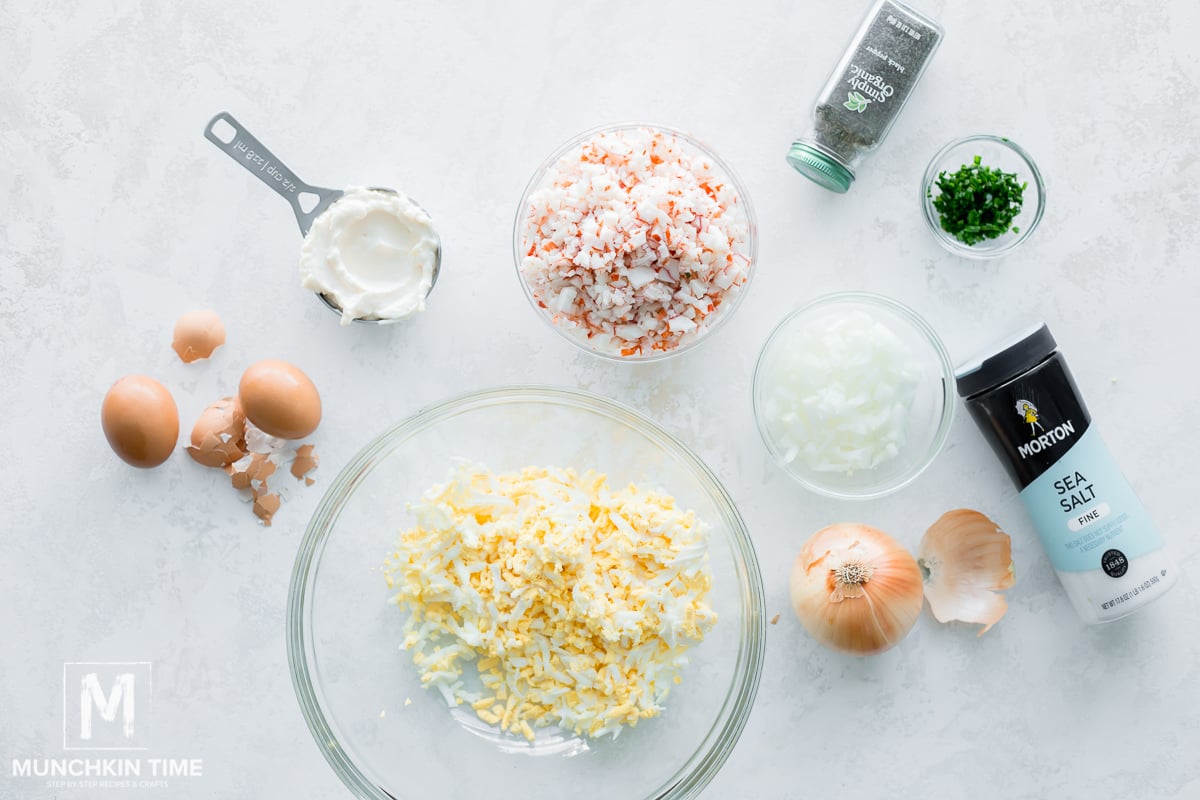 Ingredients
Imitation Crab Sticks

–

These come in a package usually where you'd find the smoked fish in your local grocery store.

Eggs

–

You'll need about 6 hard-boiled eggs for this recipe, but feel free to cook more than you need and keep the rest in your fridge for a healthy snack.

Onion

–

I use white onion for this recipe because I love the flavor it imparts into the salad. If you're not a fan of raw onion, you might want to try red onion as it has a bit of a sweeter, less pungent flavor.

Mayo

–

The creamy base of this salad. Acts as a salad dressing, as an egg salad doesn't have a typical dressing.

Salt & pepper

–

A light seasoning is all this dish needs since everything else combined is so flavorful.

Greens

–

I like to use chopped chives, but you can use whatever you prefer. Dill, parsley, you name it.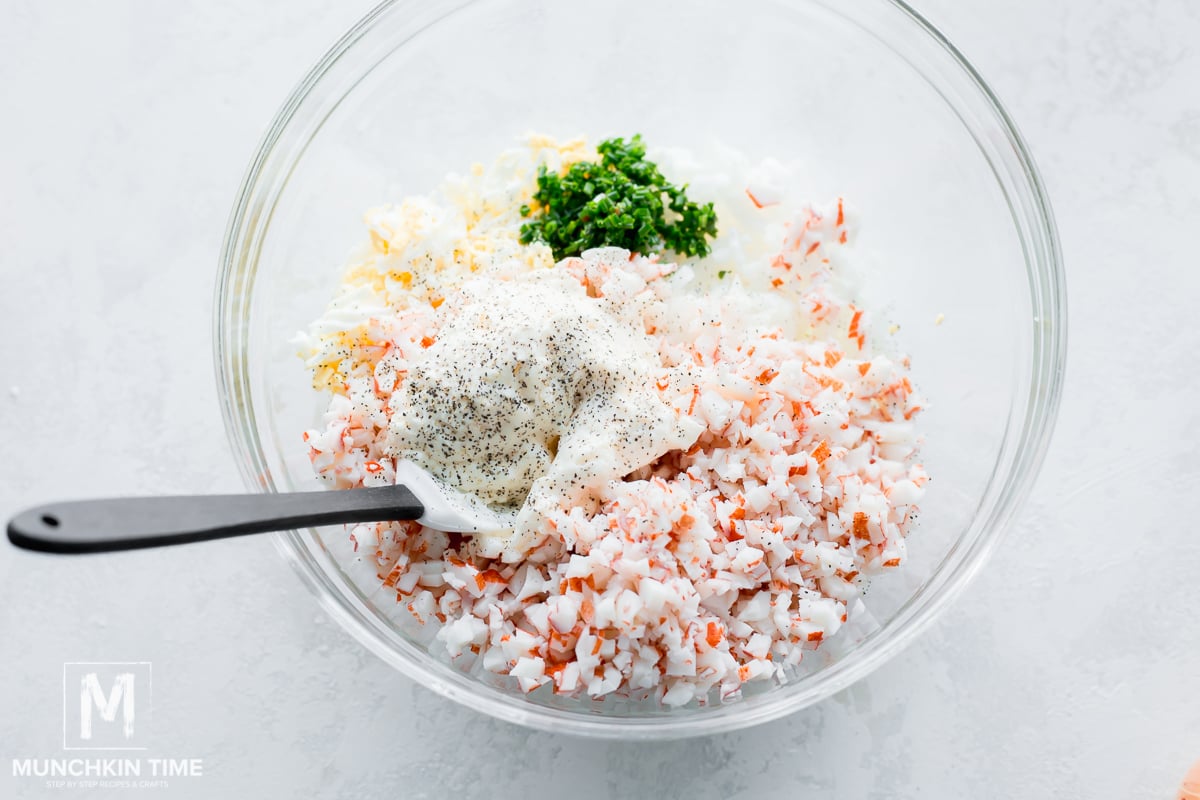 How to hard boil Eggs
Place eggs in a pot and fill with water to just cover the eggs.

Boil water and eggs over medium-high heat.

As soon as the eggs come to a boil, cover with a lid and remove the pot from the heat.

Let it sit for 10-12 minutes (depending on your preference of how hard you like your eggs).

Drain and run under cool water. Allow them to cool completely before cracking them.
TIP: The fresher your eggs, the easier they'll be to peel. To help with this, some readers have found success in adding a bit of vinegar to their water.

How to Make Egg Salad
Combine all ingredients in a bowl and mix, season with salt and pepper to taste and enjoy with crackers or cucumbers.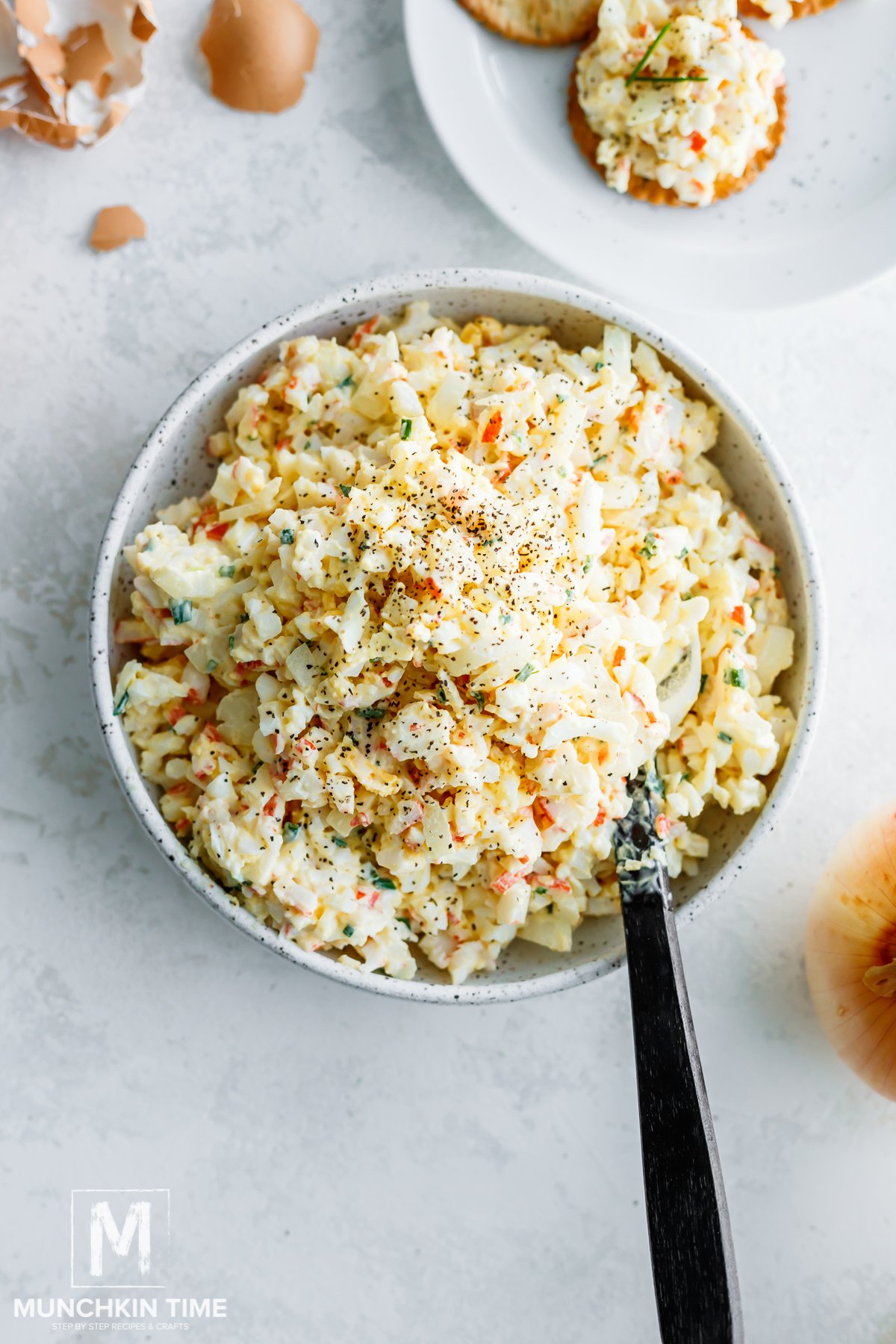 Tips & Variations
Chop both your crab sticks and eggs into uniform sizes, that way neither one overpowers the other making it a more pleasing bite.

For a slight kick, add about a 1 tsp of horseradish sauce.

If you like some heat add a few dabs of your favorite hot sauce.

Toss in some extra diced veggies, peas, corn, celery, green pepper, etc.

You can add a bit more seasoning if you'd like. Old bay is a popular choice, as is a squirt of lemon juice.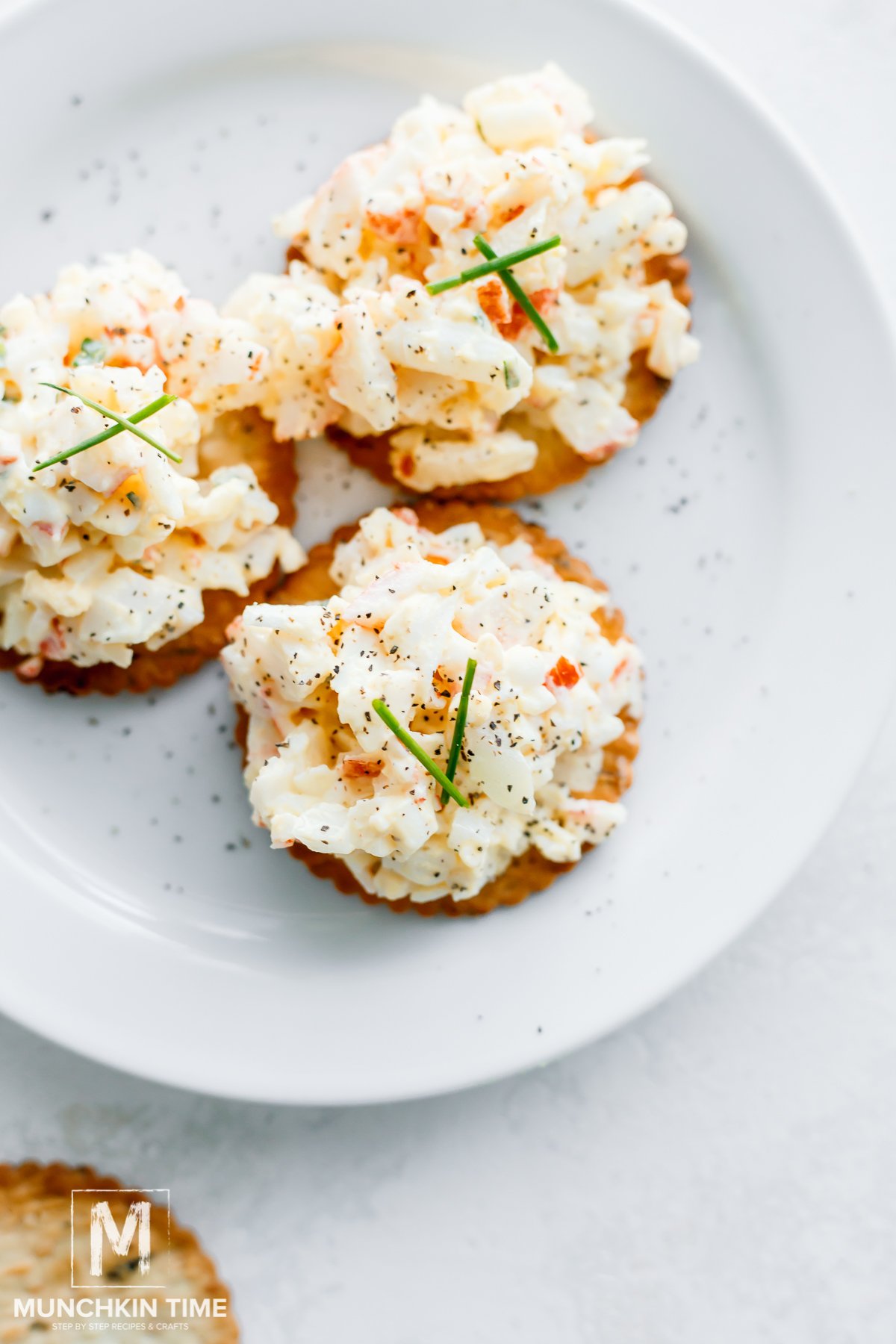 Are crab meat sticks real crab?
No they are not, and that's kind of the beauty of what makes it so accessible! It's budget-friendly and super convenient and you don't have to worry about buying fresh crab!
They're processed meat made from parts of white fish that get stripped of its "fishy" smell, then ground down to a paste, along with fillers like starch, gums, sugars, and other additives in an effort to mimic the texture of the real crab.
Of course, if you happen to get your hands on fresh crab one day, by all means, use it, but this recipe is meant for quick and easy access to a delicious salad to serve a crowd or enjoy any time the mood strikes.
Then again, if you're into the real crab, you've got to try my garlic butter Dungeness crab recipe or my oven-roasted Dungeness crab!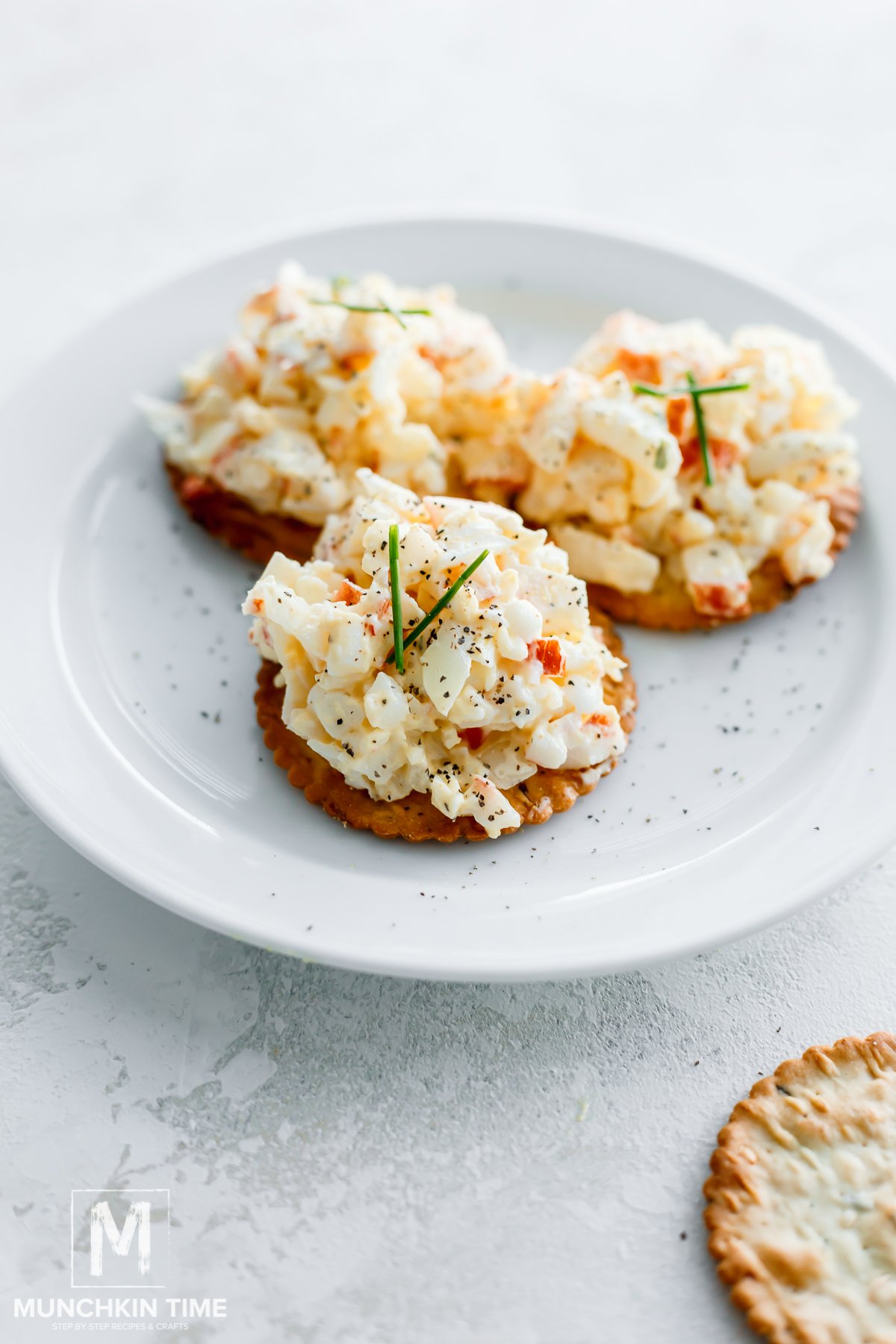 How to Serve this Imitation Crab Salad Recipe
Serve it on the side of your Thanksgiving turkey, weeknight chicken wings or a nice juicy hamburger on the weekend.
Layer it between a bagel, croissant, or your favorite sandwich bread.
Spread it out in a wrap with a bit of lettuce and you've got yourself a lunch wrap!
A Must Try Holiday Recipes:
Did
YOU

like this

Egg Salad

?

Let me know in the comments below, we would love to hear from you!

Thank YOU for YOUR Comment, Share & Recipe Review!