English Muffin Recipe – quick and easy homemade English muffins right from scratch! They're soft, and chewy, and have those unmistakable pockets of air that provide the soft grooves and crispy edges to contain all kinds of tasty spreads!
When YOU make Homemade English Muffin Recipe please tag us on @munchkintimeblog on Instagram, we would LOVE to see your creation!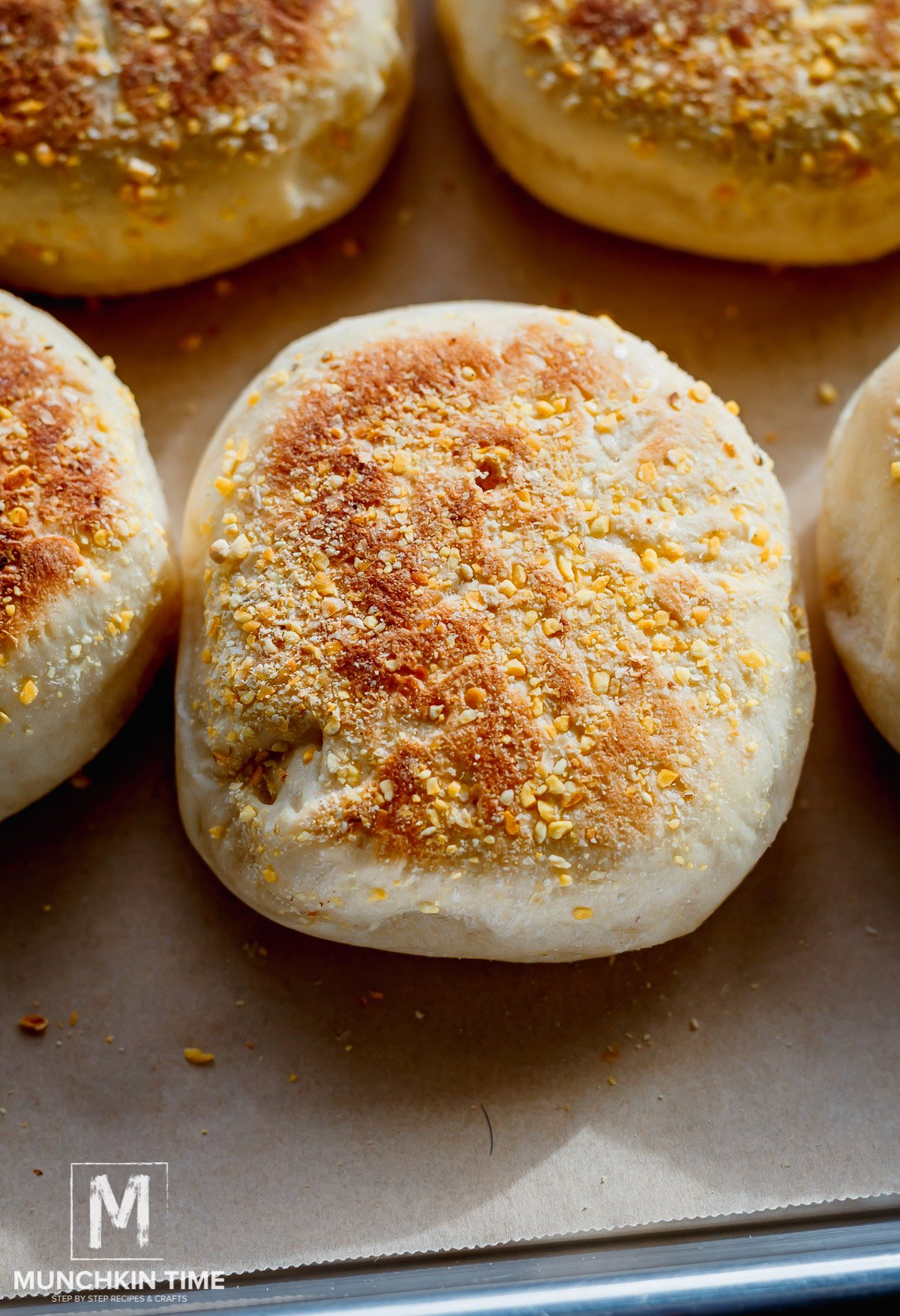 English muffins have always been a breakfast favorite, and now you can forget the store-bought bags of them.
Make them yourself anytime you want and enjoy them toasted with melted butter, and a slathering of jam, or use them to make the best eggs Benedict or an amazing egg and cheese breakfast sandwich.
Those little "nooks and crannies" that make English muffins what they are are made from longer rise times, but we're taking a shortcut to get ours out of the oven even faster. They're easy to make with just a few simple ingredients and incredibly delicious!
English Muffin Recipe Ingredients
All-purpose flour: Flour is used as the foundation of the entire English muffin and all-purpose flour is great for this. It's neutral in flavor and is sturdy enough to deliver bread that won't fall apart.
Yeast: Use either rapid-rise yeast or instant yeast. This way you won't have to proof it first. Make sure it's fresh yeast!
Salt: A bit of salt is added for flavor. We're using unsalted butter so this way we can control the amount used.
Milk: Make sure it's lukewarm milk. This warmth will help activate the yeast.
Unsalted butter, melted: I use unsalted just to be able to control the salt. Not all salted butter is created equal!
Sugar: Yeast feeds off sugar, so not only does it counteract the salt for a nice balance of flavors, it actually serves another purpose.
Cornmeal: This gives the outside of the English muffins that signature crispy texture. If we're making homemade English muffins might as well go all out!
Avocado spray: Used as a nonstick coating for the bowl that the dough rises in. You can use olive oil spray or whatever cooking spray you have on hand.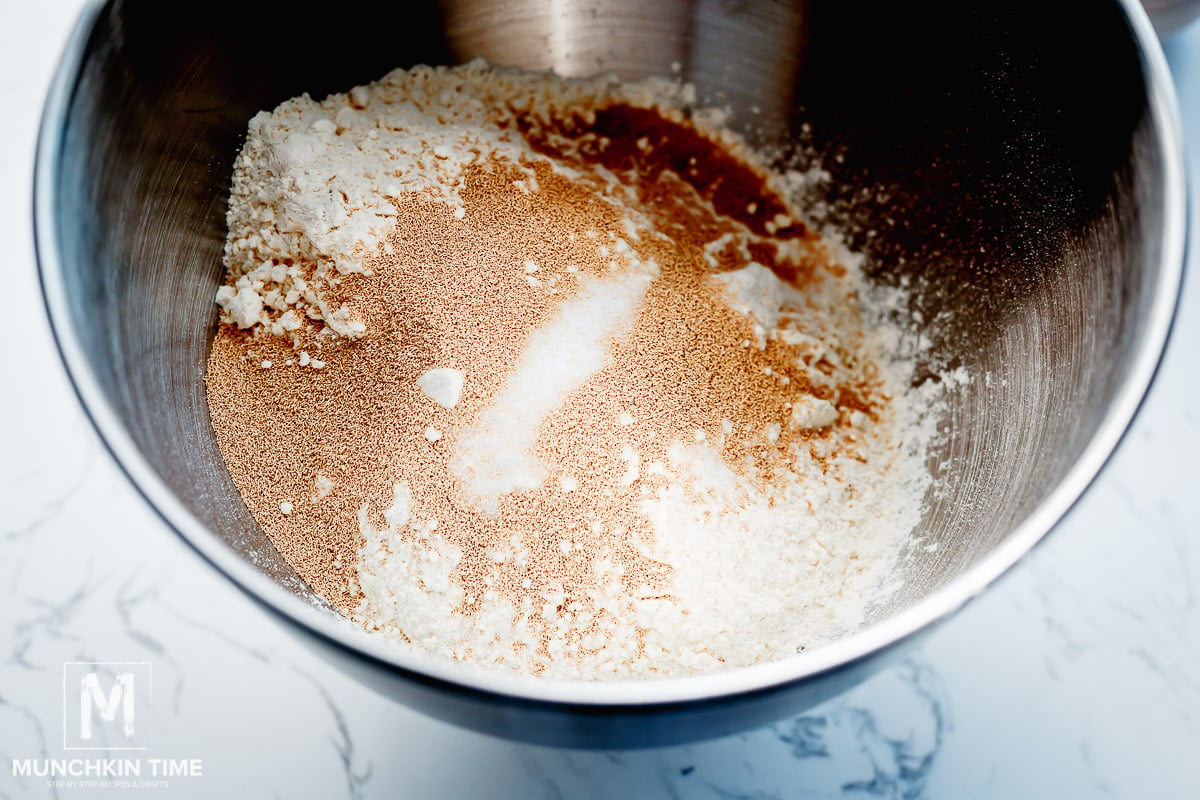 How to Make English Muffins
Step 1: In the bowl of a stand mixer, combine the flour, yeast, and salt. Whisk to combine.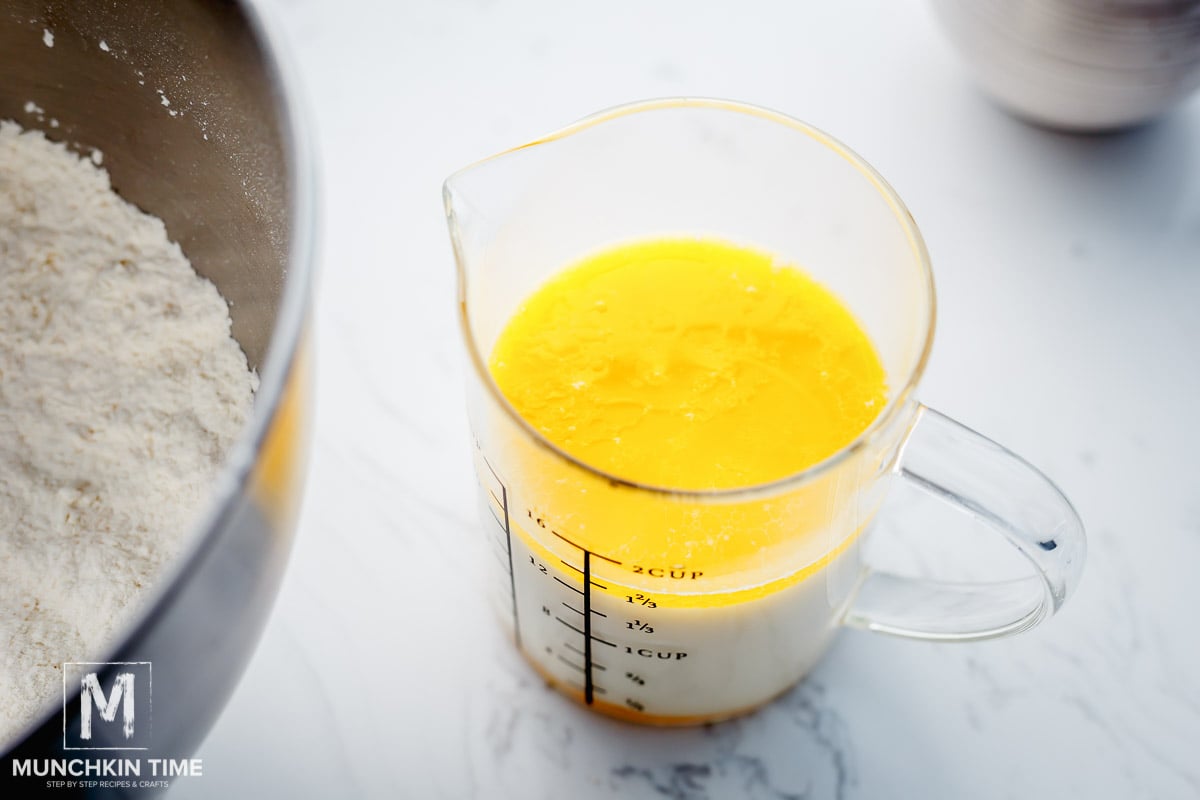 Step 2: In a large glass or jug whisk together the milk, butter, and sugar until the sugar dissolves.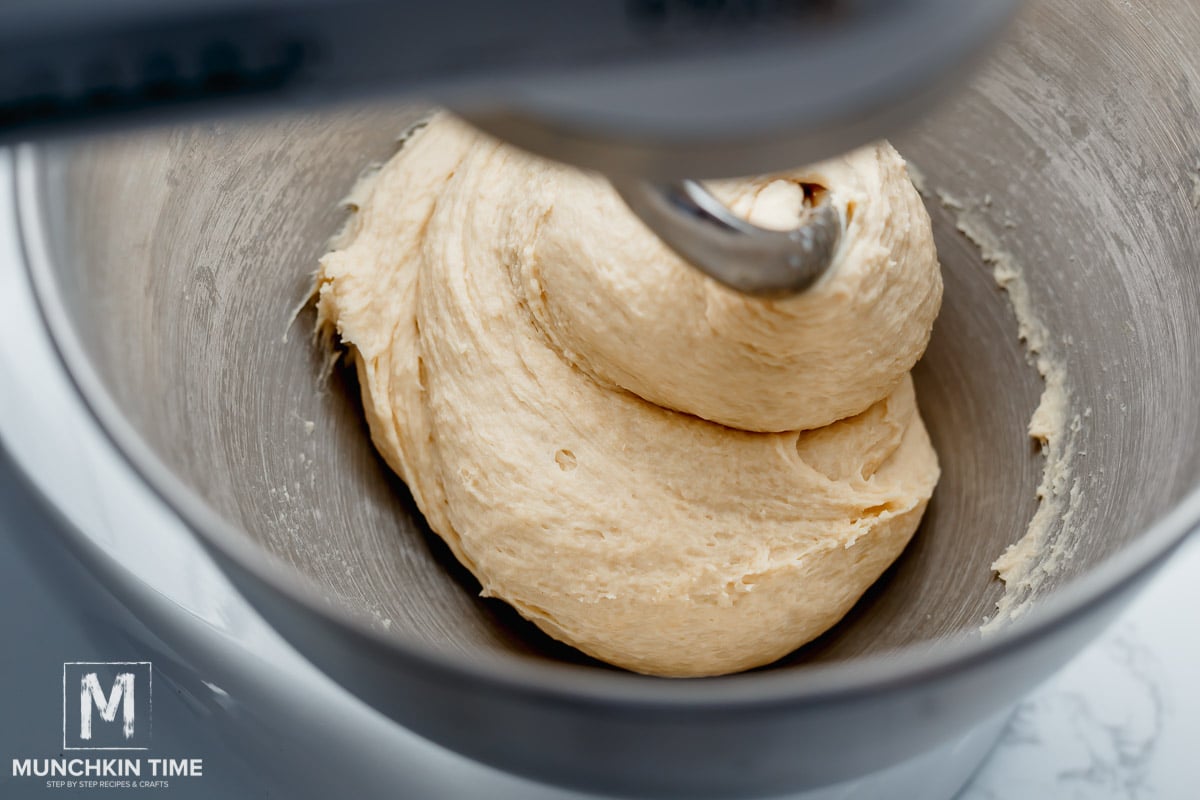 Step 3: Attach the dough hook to the stand mixer and turn it on low speed. Slowly pour in the milk mixture and mix the wet ingredients with the dry ingredients for about 2 minutes. Scrape down the sides of the bowl to make sure everything is incorporated.
Step 4: Increase the speed to medium-low and continue kneading for about 8-10 minutes until the dough has formed.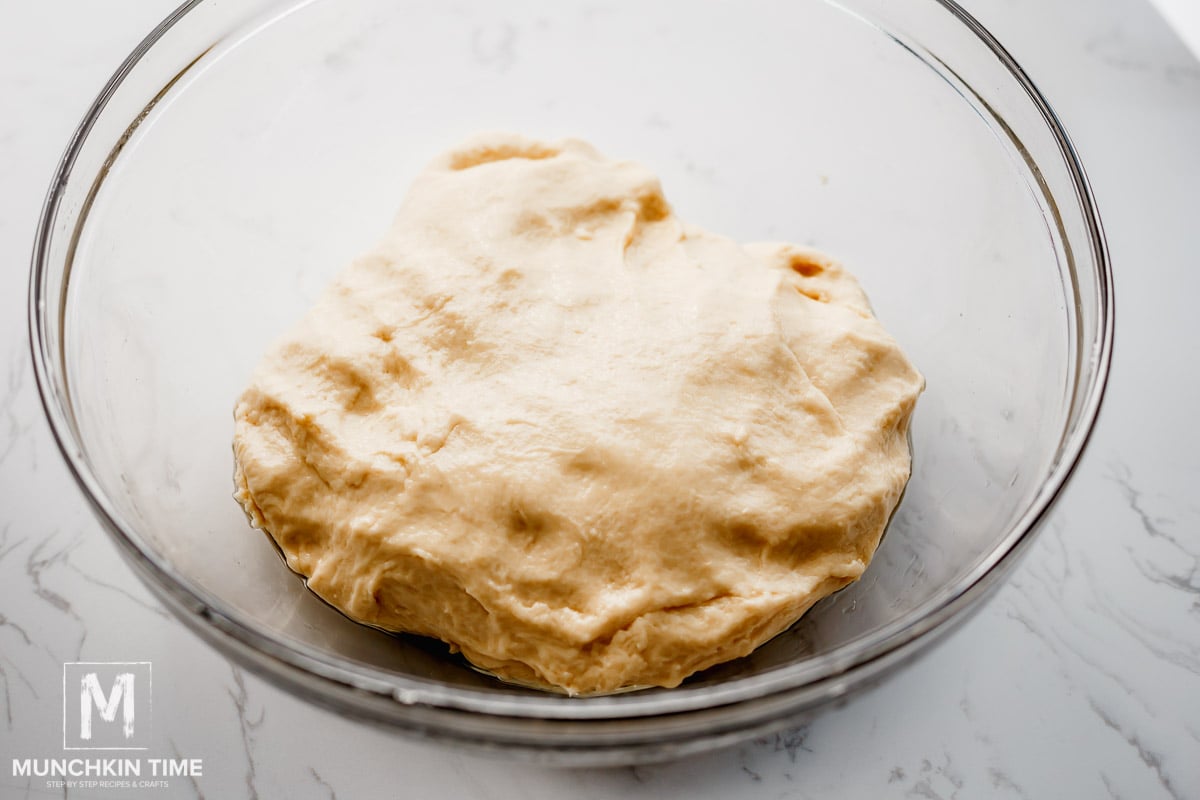 Step 5: Transfer the ball of dough to a greased bowl, cover it with a kitchen towel or plastic wrap, and allow it to rise in a warm area for 1-2 hours.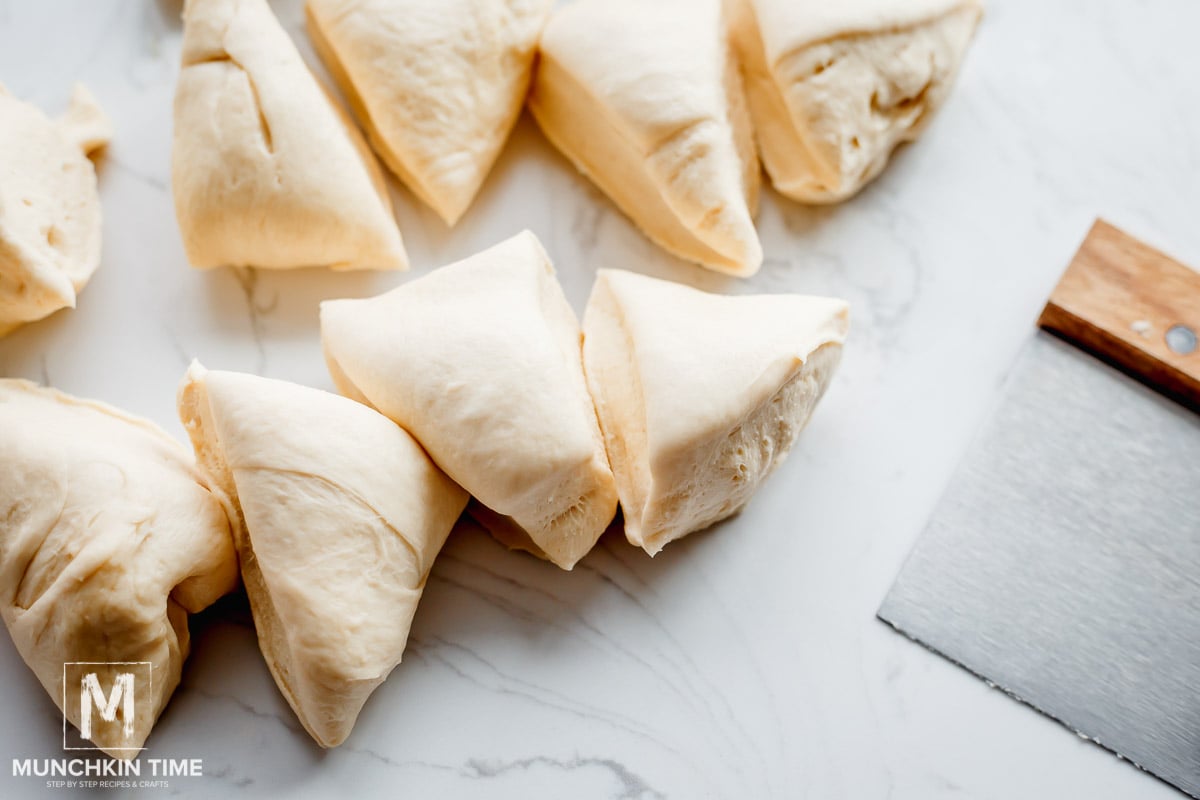 Step 6: Transfer the dough to a clean work surface and divide it in half. Divide each half into quarters and each quarter into 3 equal parts. There should be 12 pieces of dough in total.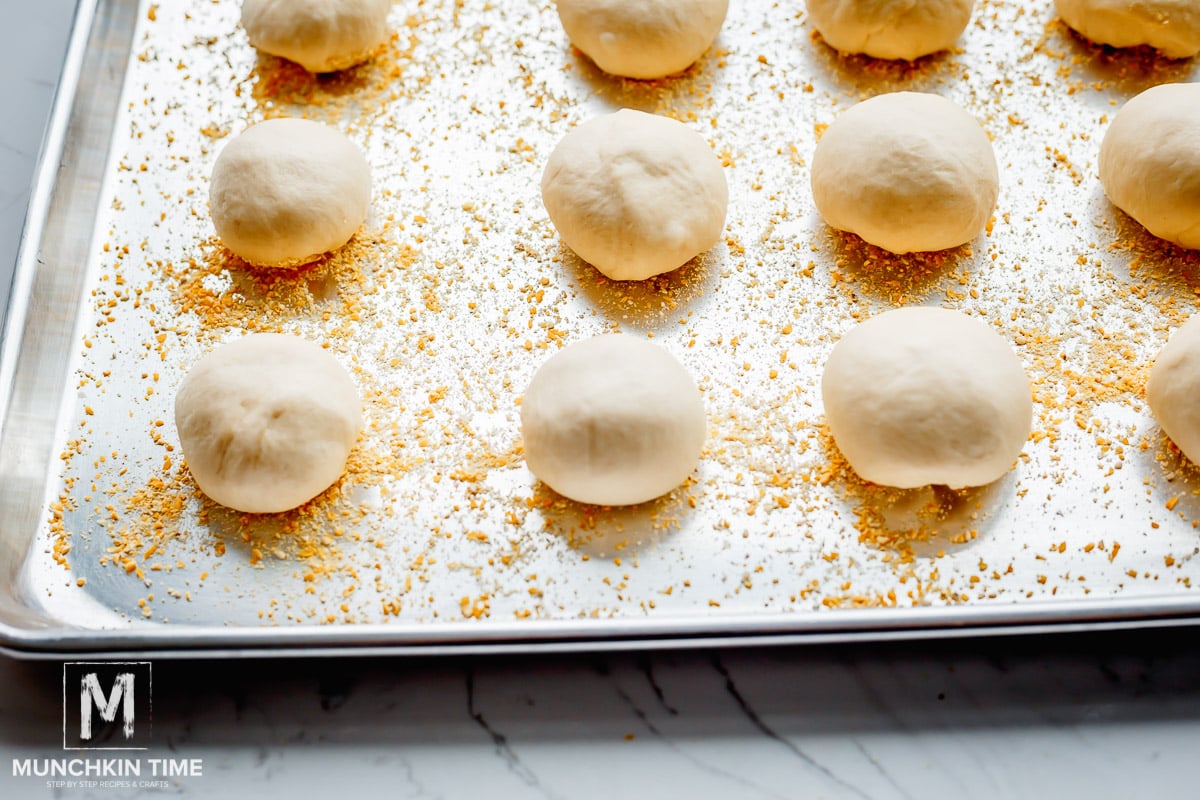 Step 7: Use your hand to stretch and smooth out each ball of dough. As you work, pinch the edges underneath so the top is smooth. Place each seam side down, 2" apart on a baking sheet sprinkled with cornmeal.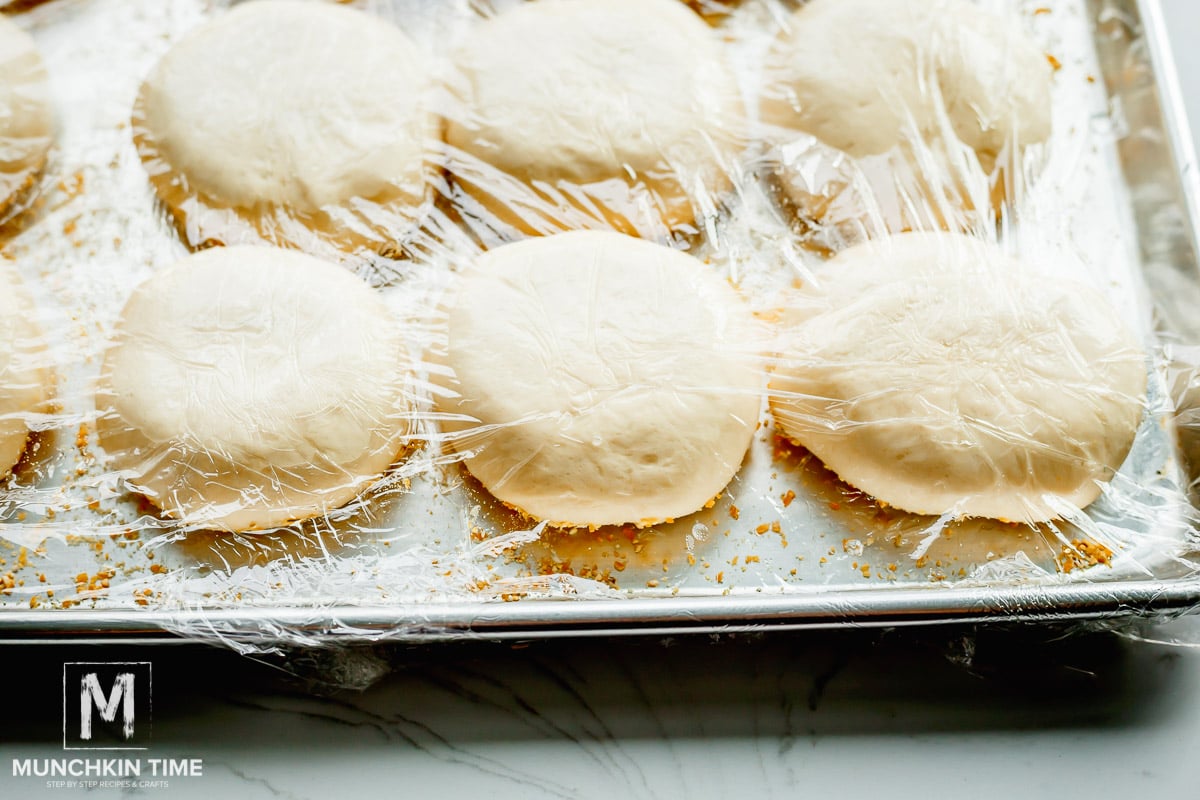 Step 8: Spray a piece of plastic wrap and place it over the dough balls, greased side down. Place a second baking sheet on top and press it down to flatten the balls. This will give it the disc shape once it's baked.
Step 9: Allow the dough to rise for 30 minutes, then remove the top baking sheet and let it rise for another 30 minutes. In the meantime, close to the end of the rise time, preheat the oven to 350F and move the rack to the middle-lower position.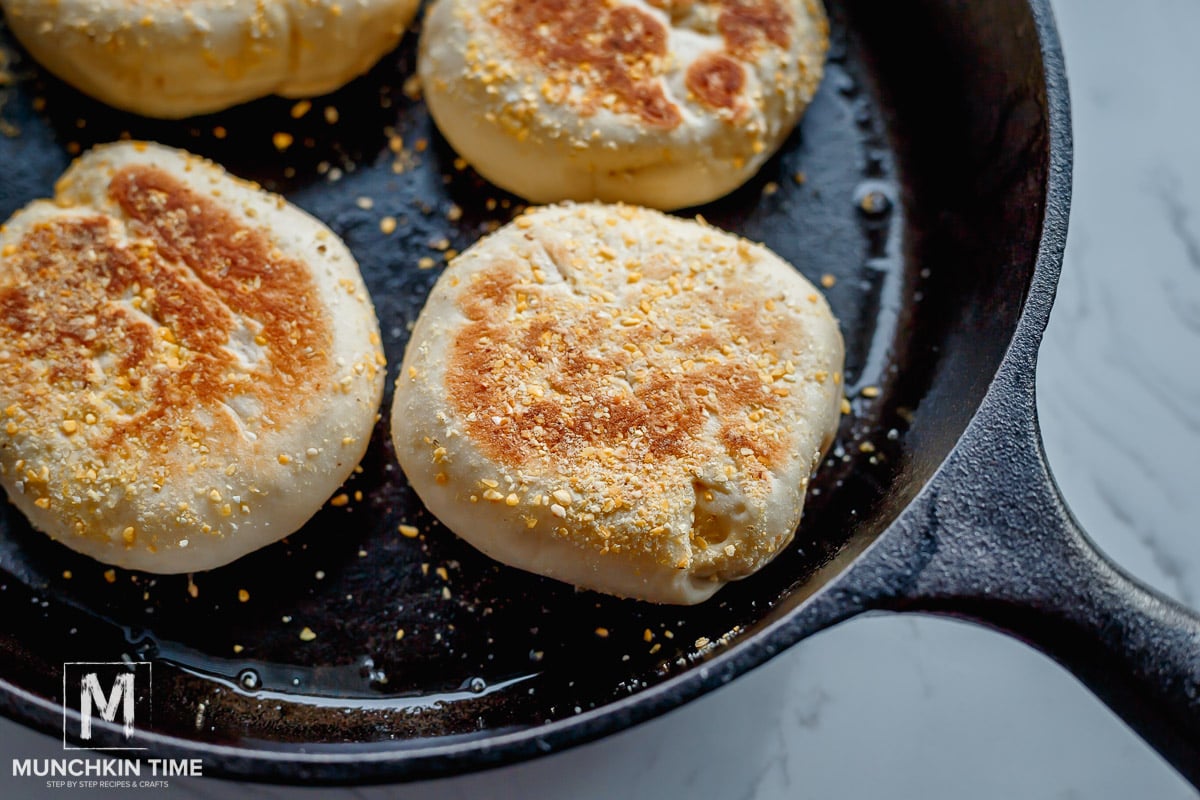 Step 10: Before we bake these buns, we're going to start them off on the stove in a preheated cast iron skillet over medium-low heat. This will help form the outer crust before heating the inside through baking. Sprinkle cornmeal over the muffins, and add 4 of them at a time to the skillet.
Step 11: Cook for 2-3 minutes per side until golden brown. Do not press down on the muffin tops. Do this with the remaining English muffins and then transfer them to a baking sheet.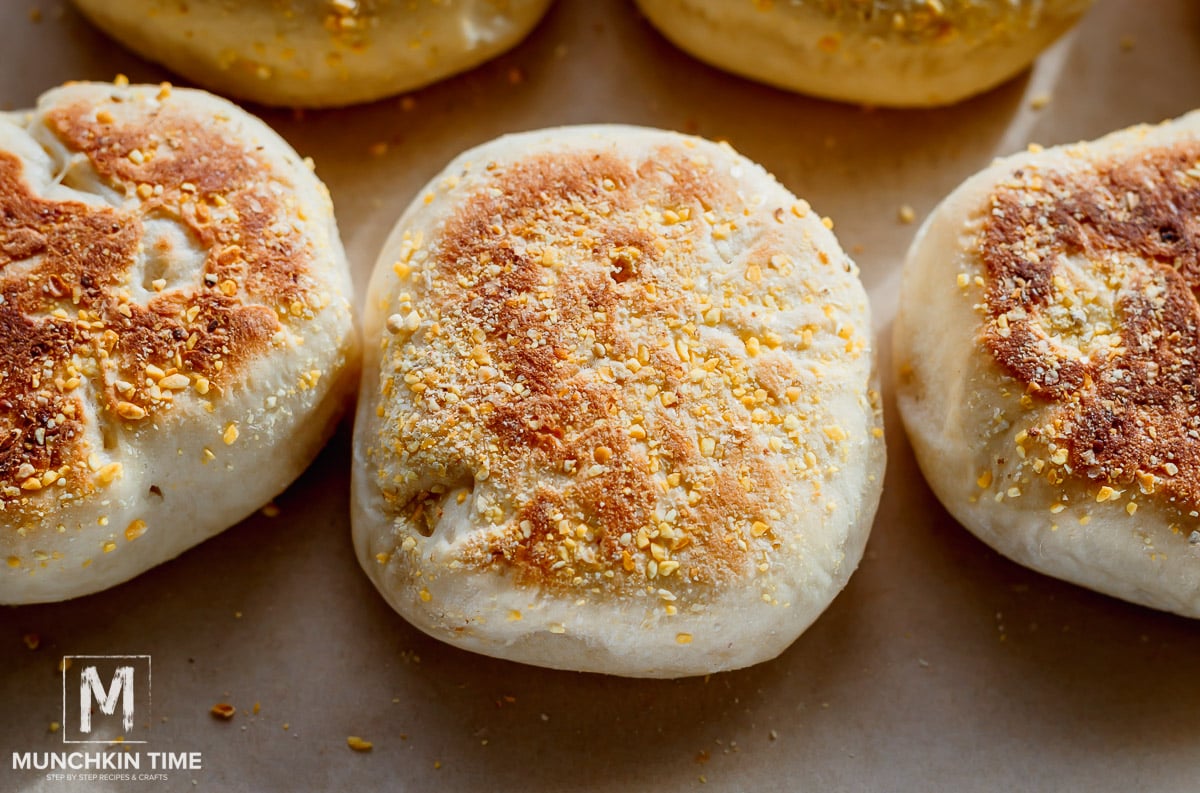 Step 12: Bake in the oven for 18-20 minutes until the muffins are cooked through. Let them cool, then slice them in half and enjoy them as is or topped with your favorite spreads!
Recipe Tips
Use a spatula to transfer the dough from the baking sheet to the skillet and back again. This helps to keep the shapes.
If you have an English muffin ring to form perfectly round muffins you can use them. If not, that's totally fine, your hands are all you need.
Let the dough rise in a warm, draft-free area. You can let it rise for the time directed but if you have a little extra time, keep it rising for a few extra hours for even more flavor and air pockets.
Ways to Serve English Muffins
English muffins are always best toasted! You can enjoy them simply with your favorite spreads, like butter, fruit preserves, Nutella, honey, or nut butter.
You can also use them for eggs Benedict, egg sandwiches, or mini pizzas.
Serve them with delicious sandwich fillings such as deli meats, egg salad, tuna salad, or chicken salad.
These versatile little bread muffins can be used in so many ways!
FAQs
Are English muffins really muffins?
No! They're bread through and through. When they were brought to North America from the UK, they were called "English muffins" as a way to differentiate them from classic American muffins.
Can I make these in advance?
Certainly. Instead of allowing them to rise at room temperature, let them rise overnight. Then continue as instructed.
Can you freeze English muffins?
These can be kept frozen for up to 3 months! Once baked and fully cooled, store them in a freezer-safe container or bag.
Allow them to thaw and then toast before serving.
What if I don't have cornmeal?
That's OK! Semolina works too. It's not absolutely necessary but it is a great way to get the unmistakable texture of traditional English muffins.
How many calories are in an English muffin?
There are 179 calories in 1 English muffin.
How long do English muffins last?
Keep them stored in an airtight container at room temperature for up to 5 days. They may start to dry out at that point, in which case you'll want to freeze them.
English Muffin Recipe
English Muffin Recipe - quick and easy homemade English muffins right from scratch! They're soft, chewy and taste amazing!!!
Ingredients
3 1/4

cups

all-purpose flour

if using weights 16 1/4 oz

1

tablespoon

instant yeast

or rapid-rise yeast

2

teaspoon

sea salt

1 1/2

cup

milk

luke warm, I am using whole raw milk

2

tablespoons

butter

melted, unsalted

1

tablespoon

sugar

5

tablespoons

cornmeal

avocado oil spray

for spraying the bowl
Instructions
How to Make English Muffins Dough
In a stand mixing bowl combine flour, yeast and salt, whisk until everything is combined.

In a big glass whisk together milk, butter and sugar. Mix until sugar dissolves.

Attach a dough hook and turn it on low speed, slowly pour in milk mixture into flour mixture. Mix for about 2 minutes, crapping down the bowl. After increase the speed to medium-low and knead the dough for 8-10 minutes.

Transfer the dough into a large bowl greased with oil (I like to use avocado oil spray for that), cover and let rise for 1-2 hours, in warm place.

After divide the dough into 12 pieces. Place each piece in your hand, stretch and pinch edges together, so the top is smooth. Place each ball seam side down onto a baking sheet sprinkled with 3 tablespoons of cornmeal, spacing them 2 inches apart from each other.

Cover with greased plastic wrap and add baking sheet on top, press it down, to flatten the balls. Let rise with the baking sheet on top for 30 minutes. Remove the baking sheet and let it rise for 30 more minutes, in a warm place.

Preheat the oven to 350F and place the rack on medium-low position. Using a skillet (I like to use my cast iron skillet when making these muffins) preheat it over medium-low heat. Sprinkle 2 tablespoons of cornmeal over the muffins (4 muffins at a time). Carefully add muffins to the skillet and let it cook for 2-3 minutes or until golden color, flip on the other and cook for another 2-3 minutes (make sure to not press on the muffin tops).

Transfer golden muffins onto a baking sheet and bake for 18-20 minutes, or until muffins are cooked thru. Let cool, cut in half and enjoy!
Notes
Hi! All content & images are copyright protected. Please do not use my images without prior permission. If you want to republish this recipe, please re-write the recipe in your own words, or simply link back to this post for the recipe. Thank you.
Nutrition
Calories:
179
kcal
Carbohydrates:
31
g
Protein:
5
g
Fat:
3
g
Saturated Fat:
2
g
Polyunsaturated Fat:
0.3
g
Monounsaturated Fat:
1
g
Trans Fat:
0.1
g
Cholesterol:
9
mg
Sodium:
415
mg
Potassium:
99
mg
Fiber:
1
g
Sugar:
3
g
Vitamin A:
108
IU
Vitamin C:
0.001
mg
Calcium:
44
mg
Iron:
2
mg
Q. – Do YOU like this English Muffin Recipe?
Let us know in the comments below, we would love to hear from you!
Thank YOU for YOUR Comment, Share & Recipe Review!