Best Pumpkin Spice Scones Recipe – super delicious as is and even better when topped with a white glaze and toasted hazelnuts. This pumpkin recipe screams fall flavor and when served with a hot cup of tea or coffee, you can't help but feel the cozy vibes!
I can honestly say, one bite of a homemade pumpkin scone made from scratch will make you forget all about the ones you get at Starbucks! So, save yourself some time in a lineup and a whole lot of money, and make these yourself. I promise they are so easy to make and even easier to eat!
This easy pumpkin scones recipe is made with pure pumpkin, pumpkin pie spice with a little extra cinnamon. It's got all of the comforting spices we love this time of year, making it the perfect fall treat! This recipe is a great kitchen activity on those chilly days too, the kids will love helping out.
We love them on Christmas morning, but because of how easy they are I make them a lot during the fall and winter months. When I know I'll be short on time, I make a double batch and then freeze some for later on. That way I can just thaw it overnight, grab it and go the next morning!
When YOU make this Pumpkin Scones Recipe, take a picture & DM me your Food Creation on Instagram @MunchkinTimeBlog or hashtag #munchkintimeblog . We would love to see YOUR creation!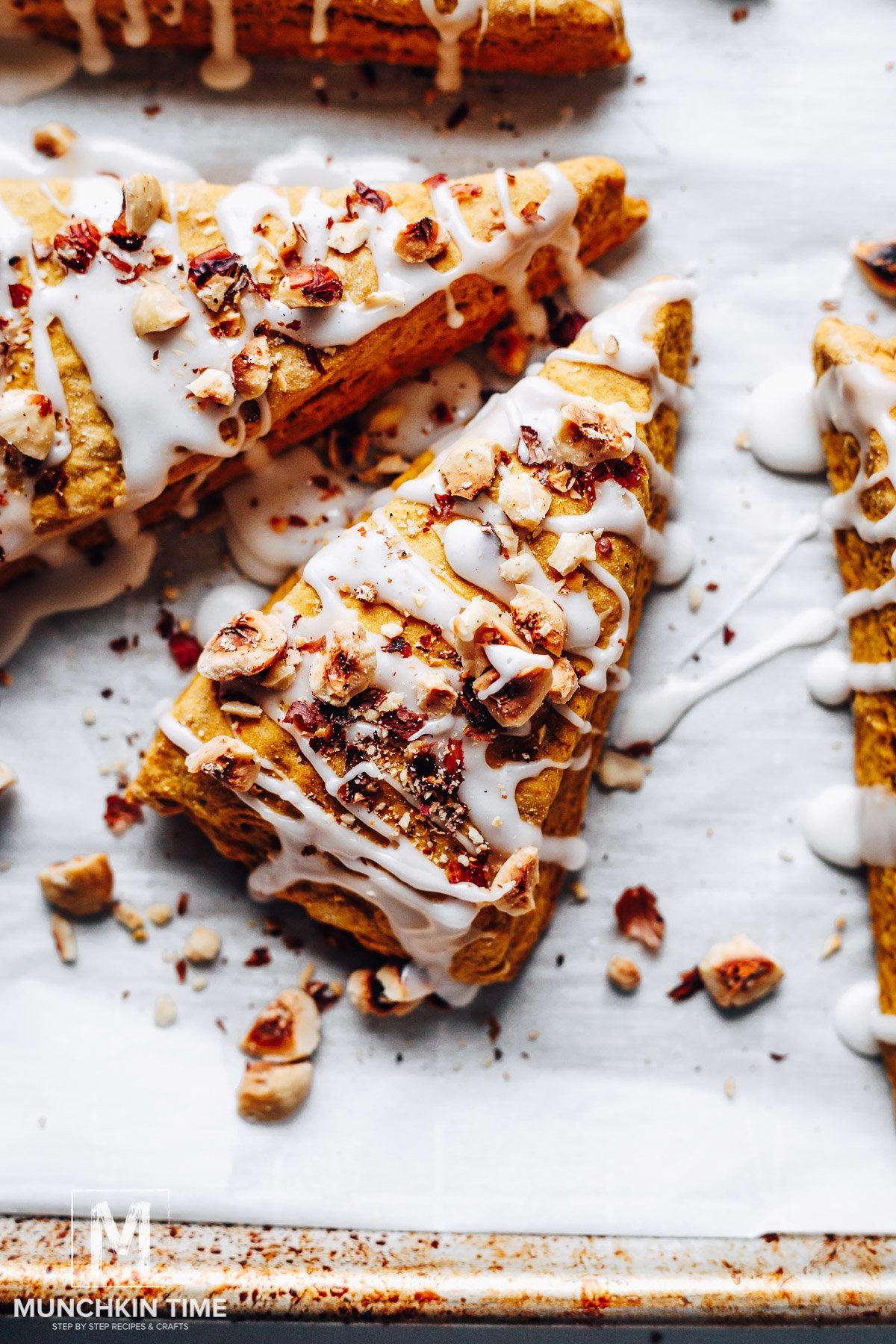 Ingredients

Needed for

Pumpkin Scones Recipe
All-purpose flour: A great flour to use for the structure of the scones. Traditionally, scones are a bit crumbly, but they shouldn't be overly dry or too dense. It's very important to measure your flour correctly so this doesn't happen.
Brown sugar: Adds sweetness to the recipe as well as a bit of moisture. I use brown sugar rather than white because I love the deeper caramelized flavor that just adds a little something special.
Baking powder & Baking soda: Leavening agents that help give the scones their poof! We want scones that have a nice rise, not ones that fall flat.
Pumpkin pie spice & Cinnamon: A delicious blend of cinnamon, nutmeg, ginger, cloves, and allspice. Plus extra cinnamon! If you want to make your own blend go ahead, if not it can be found at your local grocery store. Especially this time of the year.
Egg: Needed to bind the ingredients together so that the scones don't fall apart as soon as you pick them up!
Salt: Maximizes the flavor of each of the ingredients.
Pumpkin puree: Pure canned pumpkin (or fresh homemade pumpkin puree). Just be sure it's not the pumpkin pie filling that often gets mistaken for it.
Milk: Any milk will do. It's the main liquid component in this recipe and helps to form the dough.
Cubed butter: Adds flavor and helps get us the moist, flaky texture we love. Cold butter is best.
Vanilla extract: Another flavor enhancer that adds another layer of warmth and deliciousness.
For the glaze: Powdered sugar & milk. The amounts can be adjusted depending on the consistency you like your glaze to be.
Roasted hazelnuts: A toasty, nutty, crunchy garnish!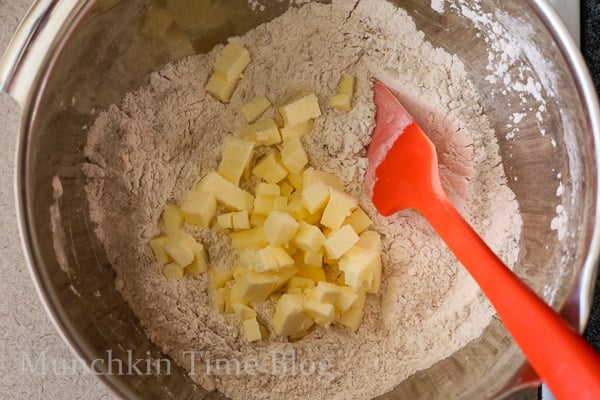 How to Make

Pumpkin Scones
I made these 3 times last week just because they are that good! The mouthwatering aroma coming from your kitchen from these freshly baked scones is a bonus!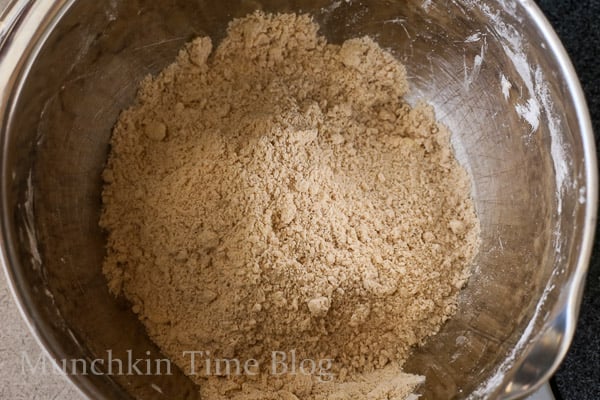 Step 1: In a large mixing bowl, combine the dry ingredients together. Add in the cubed butter and use your hands or a pastry cutter to mash in the flour until combined. You should start to see it crumble.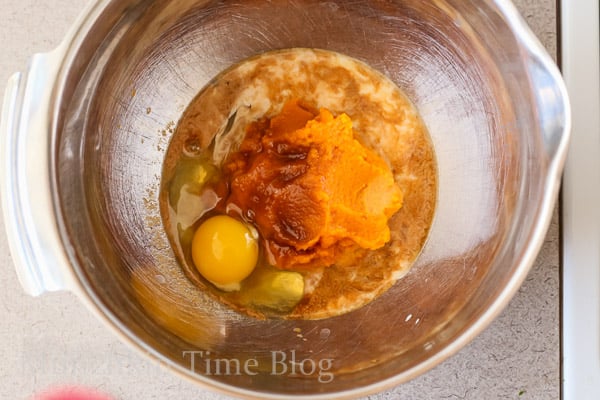 Step 2: In a separate bowl, whisk the wet ingredients together until combined. Then, add the wet mixture to the large bowl with the dry ingredients and use a wooden spoon to mix it until a dough forms. Do not over mix!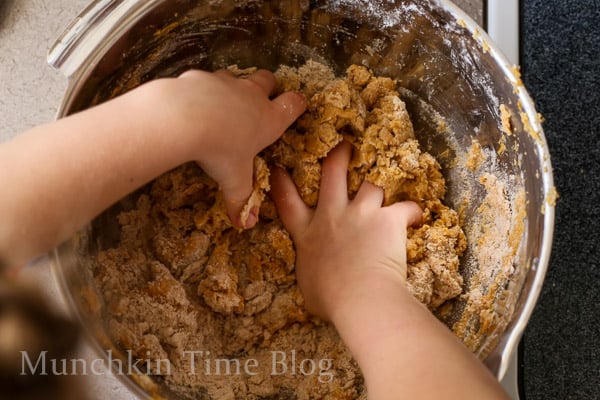 Step 3: Lightly flour a clean flat surface and transfer the ball of dough onto the flour. Knead the dough with your hands, about 3 times, until it comes together. Again, do not overwork it. Roll it into a circle (like a thick crust pizza) about 1 inch thick.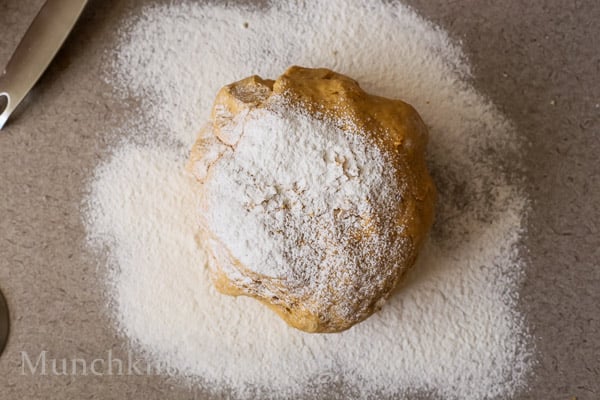 Step 4: Use a pizza cutter and slice the dough into triangles. Transfer the mini pumpkin scones onto a prepared baking sheet. Bake in a preheated 400-degree oven for 10-12 minutes. Due to the color of them, you won't notice when they are golden brown so check with a toothpick. If you insert it and it comes out clean, the scones are ready.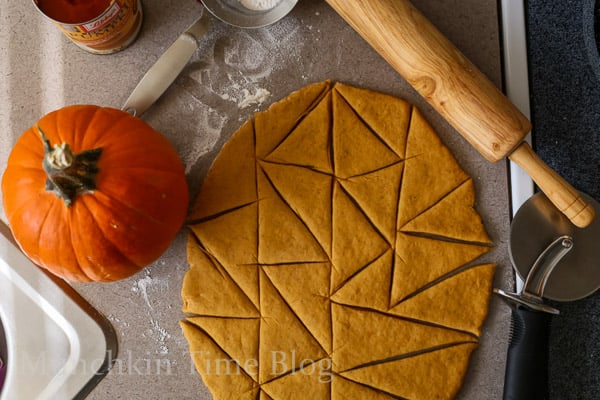 Step 5: While the scones are in the oven, make the glaze. In a small bowl, whisk together the confectioner's sugar and milk until smooth. For a thicker glaze, add more sugar, for a thinner glaze, add more milk.
Step 6: Once the scones have cooled for 10 minutes, drizzle the glaze over each one and allow it to set. Garnish with chopped roasted hazelnuts and enjoy!
Top Tip: Add a little maple syrup to the glaze, for a maple glaze twist!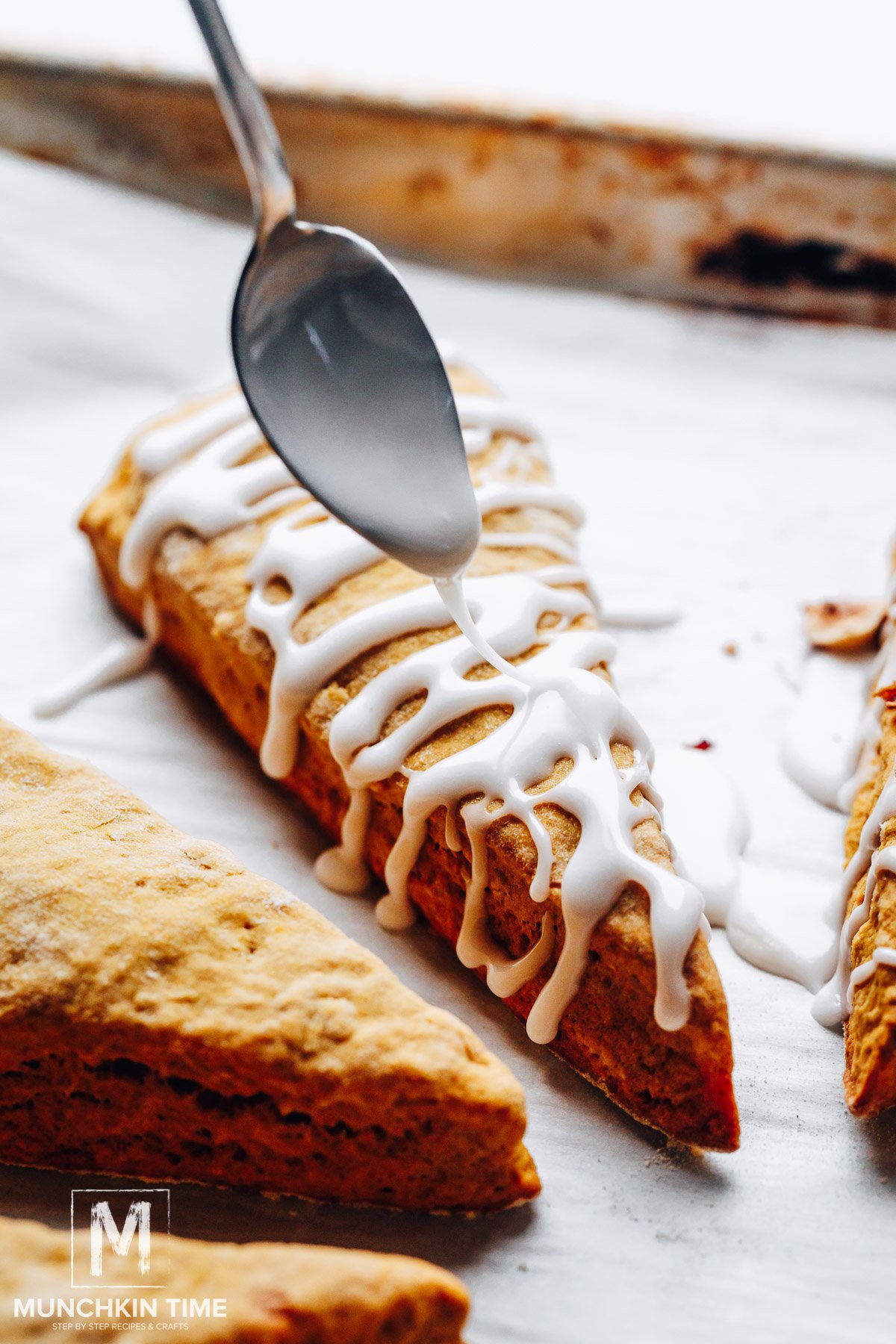 Favorite Spreads to Use on

Pumpkin Scones
These dreamy scones are perfect as is, especially with a sweet drizzle on top. However, if the glaze is not your thing, you can leave it plain or serve it with your favorite spread. Try any of these:
Maple butter

Warm honey

Honey butter

Apple butter

Pumpkin butter

Just butter!
How to

Roast Hazelnuts
You can do this in 2 different ways, in the oven or on the stove.
If using the oven, lay the nuts in a single layer on a foil-lined baking sheet and bake in a preheated 350-degree oven for 10-15 minutes. Once they are out of the oven, wrap them in a towel to create steam. Rub the skins off and use them as you like.
To use the skillet on the stove, toss the hazelnuts in and heat for 5-10 minutes until fragrant. Continue with the towel and rub off the skins as above.
I like to toast much more than I need for this pumpkin scone recipe because they freeze for up to 1 year and can be used as a topping for salads, desserts, oatmeal, yogurt, etc.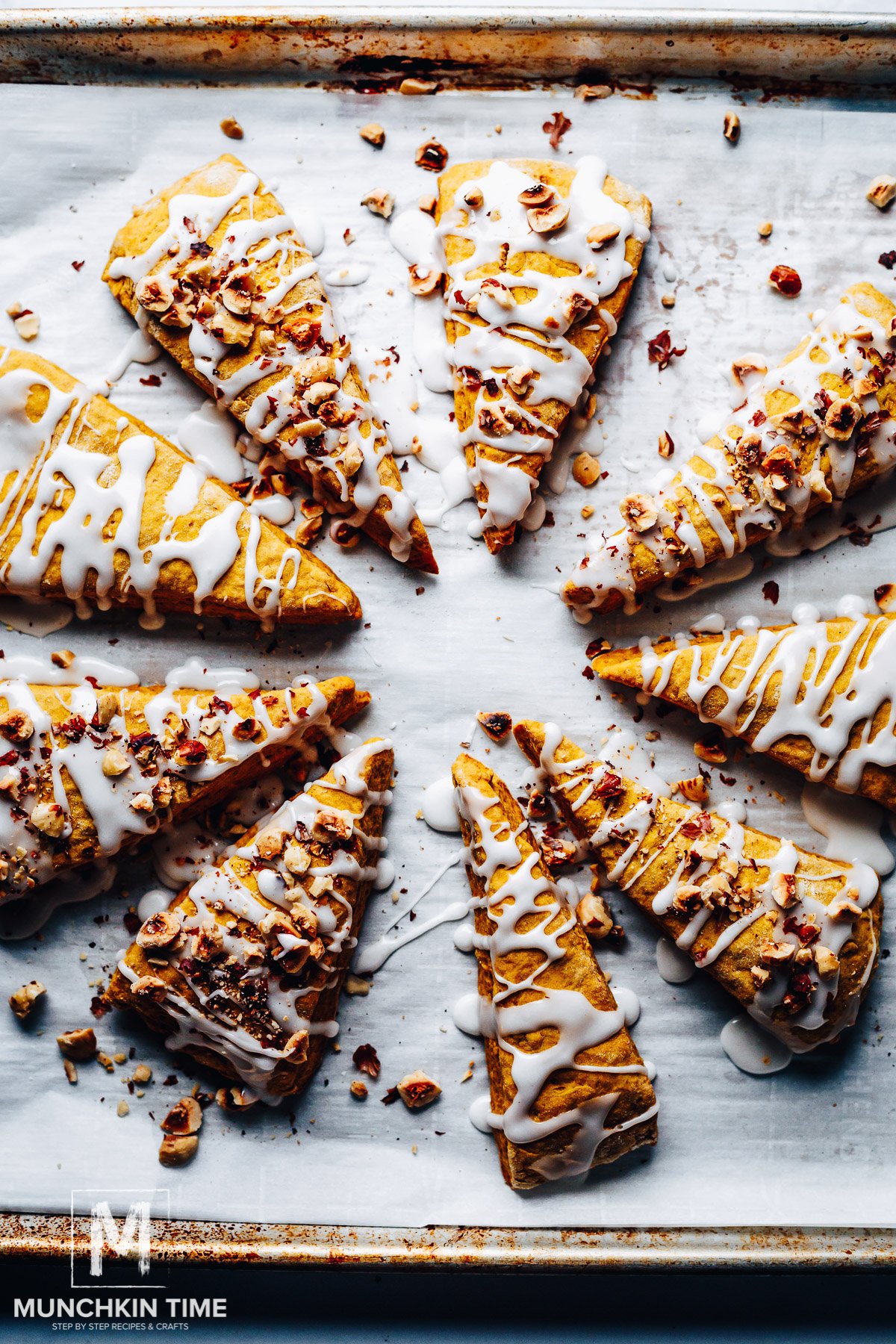 Does my butter have to be cold to make scones?

Yes. Ideally almost frozen, but cold butter just out of the fridge is just as good. The reason for this is that as it is in the oven it will slowly melt into the dough creating moisture, and beautiful flaky layers.
How to store scones?
They are best enjoyed the same day but you can keep them stored in an airtight container for up to 2 days if they're not all gobbled up by then. Either in the fridge or at room temperature.
You can also freeze them, once they have completely cooled. They will keep frozen for up to 3 months. Thaw in the fridge overnight then warm them up either in the microwave or in the oven on low.
A Must Try Holiday Recipes: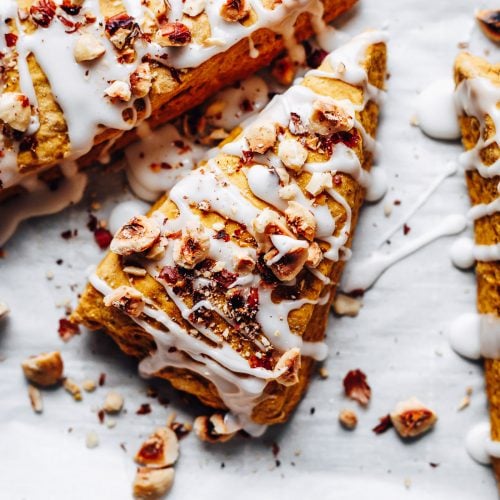 Pumpkin Scones Recipe
Pumpkin Scones Recipe - Soft and delicious, almost like Starbucks Pumpkin Scones but much better!!! Follow easy step by step recipe instructions to make this yummy goodness.
Instructions
Preheat oven to 400F. Prepare a baking sheet. In a mixing bowl combine flour, baking soda, baking powder, salt, sugar, cinnamon & pumpkin pie spice. Add cubed butter. Using hands mash the butter into flour mixture until combine.

In second bowl add pumpkin puree, egg, milk and vanilla extract. Give it a whisk until all ingredients combine. Add mixture to dry ingredients and mix it with a spoon until it forms a dough.

Sprinkle some flour on the table and knead the dough 3 times until it comes together. Roll the dough into circle, 1 inch thick. Using pizza cutter, slice the dough into triangles.

Place mini pumpkin scones onto prepared baking sheet and bake for 10-12 minutes or until the toothpick comes out clean when inserted inside the pumpkin scone.

While scones are baking lets prepare our glaze.
In a small bowl whisk confectioners sugar and milk until smooth.

Cool pumpkin scones for 10 minutes. Using whisker drizzle glaze on each scone and garnish with chopped roasted hazelnuts. Let the glaze turn hard before serving. Enjoy!
Video
Notes
Hi! All content & images are copyright protected. Please do not use my images without prior permission. If you want to republish this recipe, please re-write the recipe in your own words, or simply link back to this post for the recipe. Thank you.
Nutrition
Calories:
313
kcal
Carbohydrates:
52
g
Protein:
4
g
Fat:
10
g
Saturated Fat:
6
g
Cholesterol:
42
mg
Sodium:
208
mg
Potassium:
118
mg
Fiber:
1
g
Sugar:
32
g
Vitamin A:
2221
IU
Vitamin C:
1
mg
Calcium:
49
mg
Iron:
2
mg
Q. Do YOU like this Easy Pumpkin Scones Recipe?
Let me know in the comments below, I would love to hear from you!


Thank YOU for YOUR Comment, Share & Recipe Review!
Quote of the Day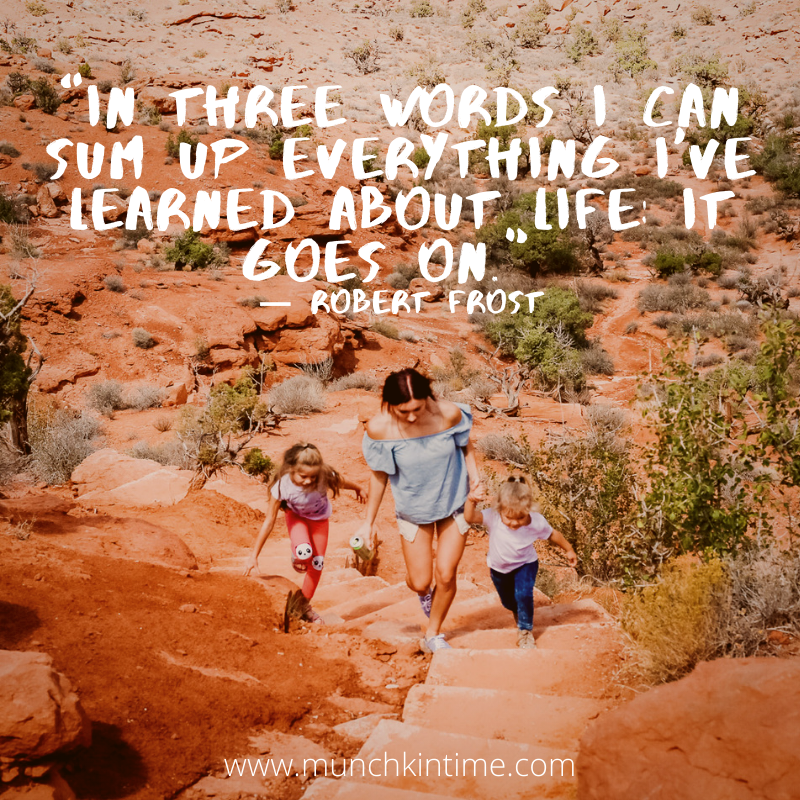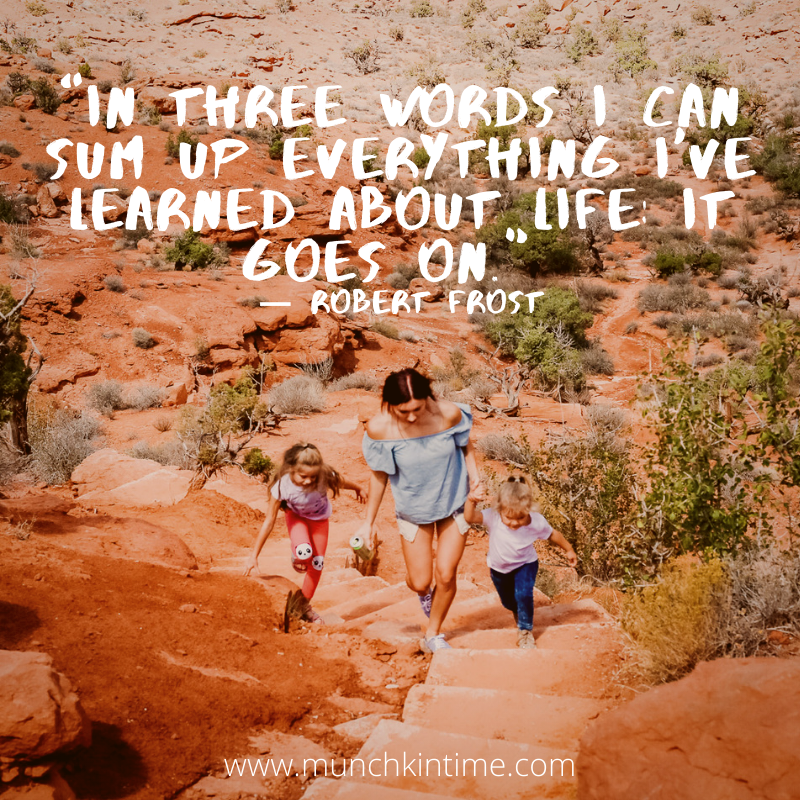 Happy Cooking!
This recipe was updated on September 17, 2022.