Chicken stir fry with rice noodles is a simple and delicious one-skillet dish that is better than any take-out. It's a healthy 30-minute dinner loaded with juicy chicken strips, tender-crisp veggies, and a sweet and savory sauce that brings it over the top!
Is there anything better than a one-skillet dinner that comes together in 30 minutes and is one you know everyone will love? No, I don't think there is! This dish ranks right up there with my beef lo mein, chicken stir fry, and easy chicken chow mein in flavor and the fact that they are all so easy to make for a quick dinner after school, or after a weekend full of activities.
Chicken stir fry with noodles is a restaurant-style dish made of rice noodles and tender-crisp veggies stir-fried in a thick sweet, sour, slightly salty sauce that coats every bite. This simple recipe is made with just a few ingredients but is packed with flavor.
Chicken Stir Fry is a Restaurant-Style Dish
Skip the take-out because this Asian-inspired ginger chicken stir fry is cheaper and healthier to make in your own kitchen. What I love about that is that I can control what's in it and customize it to how my family enjoys it and you can too!
Switch up the veggies, use different meat, add a little heat, and of course, swap the noodles for rice. There is no right way to make this dish but I do think this recipe is perfect as is. The bonus for making it from scratch is that it's cost-effective, plus you're avoiding the heavy sodium making this a much healthier version!
What is Chicken Stir Fry with Rice Noodles?
Stir fry is a method used in Chinese cooking. It's not so much about the ingredients but about how they are cooked. It's generally made with small diced or sliced vegetables along with some type of meat like chicken, beef, pork, or shrimp, and sometimes it's kept vegetarian. It can be served over a bed or rice or noodles or tossed along with them in a bit of oil over high heat.
They get tossed around quickly in a delicious sauce with a variety of flavors and in the end, it's a very simple dish with a ton of flavor.
The sauce can vary from sweet and spicy, sweet and sticky, sweet and sour, salty and spicy…you get the idea. There is always such a nice balance of different flavors in a stir fry sauce.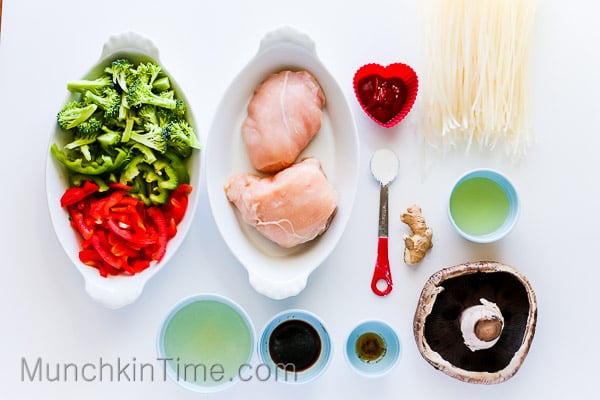 Ingredients Needed to make Stir Fry
If you don't already have these ingredients in your kitchen to make chicken stir fry with rice noodles , all of them can be found at your local grocery store or Asian food market.
Noodles – Traditional rice noodles are great because they are nice and thin, but thicker egg noodles are also great. Keep in mind egg noodles are not gluten-free.
Olive oil – A little olive oil goes a long way to brown the chicken initially, followed by the veggies.
Chicken – Skinless, boneless breasts are cut into strips for quicker cook time. It's lean meat that soaks up all of that yummy saucy flavor.
Bell pepper – Use a combination of green and red bell pepper. It makes a beautiful color combination but the difference between the savory green and sweet red pepper is a nice balance of flavors.
Broccoli – A sturdy vegetable that holds up nicely when cooked in a stir fry. It absorbs the sauce and becomes a crisp-tender delicious bite.
Mushrooms – I use shiitake mushrooms because they are highly nutritious (as are all mushrooms) and have a great texture and mild flavor but Potbelly mushrooms are a great alternative.
Ginger – A bit of freshly grated ginger adds a fresh zest to this dish. It really has a sharpness that brightens up the dish and is a very popular ingredient in a lot of Chinese cuisines.
Chicken stock – This is the liquid base of the sauce. The only other ingredient that has added salt is the soy sauce and ketchup, which is more sweet tasting anyway, so if you want to use regular chicken stock that works. If you'd rather use low sodium, that works too.
Soy sauce – A salty, slightly bitter, savory sauce that imparts deep wonderful flavor into many sauces and dishes. A very traditional ingredient in many Asian dishes, you'll never run out of ways to use soy sauce. Use regular (NOT low sodium) as the salt is needed for flavor.
Ketchup – Adds a bit of sweetness with a subtle tomato flavor. It will also add a nice color to the sauce.
Cornstarch

– A thickening agent will help to coat the stir fry and not have the sauce too runny.

Sesame oil – A drizzling at the end gives this chicken broccoli stir fry the ultimate finish. A nutty toasted flavor that puts it over the top!
If you make 30-Minute Rice Noodle Chicken Stir Fry Recipe PLEASE tag @munchkintimeblog on Instagram, I would LOVE to see your creation ???? Thank you!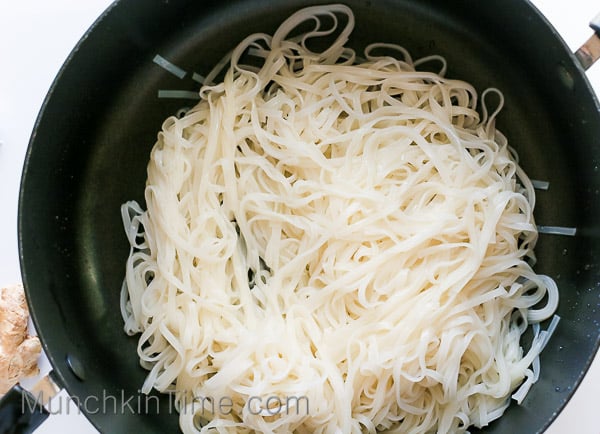 How to Make

Chicken Stir Fry
Stir fry moves quickly! Prepare all of your ingredients ahead of time. Cut the chicken strips, chop the veggies and have everything you need right in front of you. It makes for a much easier and more efficient way to cook!
Step 1: First, cook rice noodles until al dente (barely). They don't take long at all to cook, so in about 2 minutes, they should be done. Drain the water and stir in a bit of olive oil and set the noodles aside.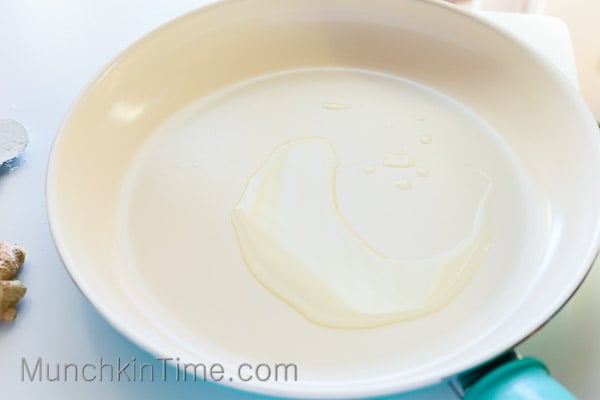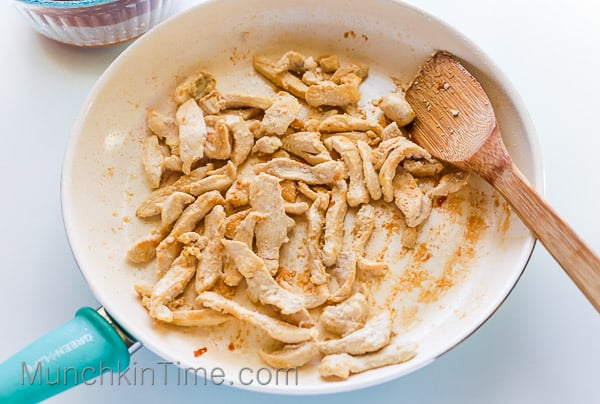 Step 2: Heat 2 Tbsp of olive oil over high heat in a large skillet and add chicken strips. Stir-frying requires you to constantly stir and move the ingredients around, so you'll do this with the chicken as it cooks for about 3 minutes. Remove from the skillet and set aside on a plate.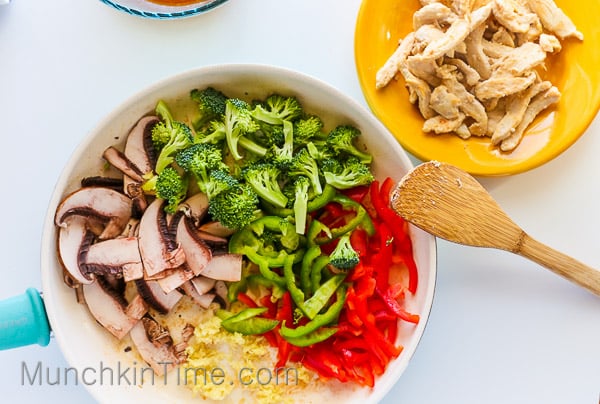 Step 3: Reduce the heat to medium and add the bell peppers, broccoli, mushrooms, and ginger to the same skillet and stir fry (keep stirring!) for another 3 minutes.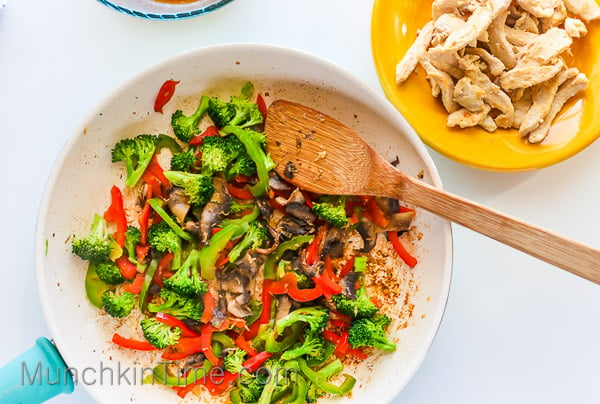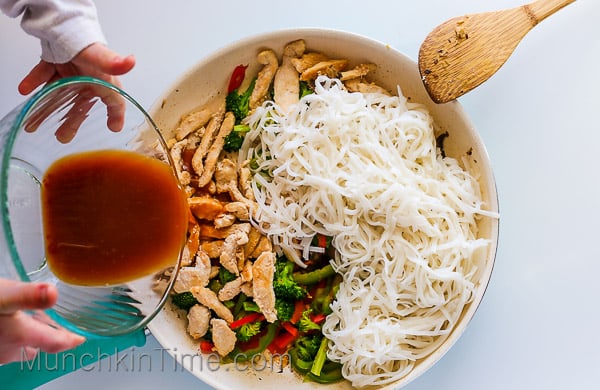 Step 5: Now, return cooked chicken and noodles back into the skillet and add the sauce mixture. Stir fry for 3 more minutes until the chicken is cooked through and the sauce and penetrated its flavors.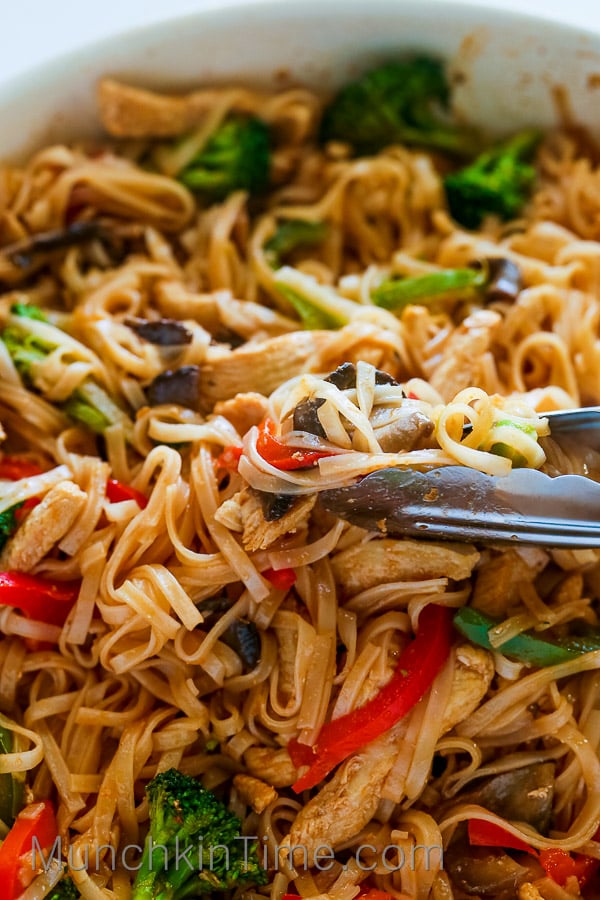 Serve with a drizzling of sesame, grab a fork and dig in!
Is stir fry gluten-free?
Yes, it is! You just need to make sure the ingredients used in the sauce are all certified gluten-free because gluten is pretty sneaky. It can be found hidden in things you would never think of. Rice noodles are gluten-free, as is chicken and the veggies are too. If you know your sauce ingredients are certified, then it is absolutely gluten-free.
Can I make stir fry vegetarian?
Absolutely! Vegetable stir fry is a very popular dish as well as replacing the meat protein with tofu, tempeh, or scrambled egg, making it a great, filling, and satisfying vegetarian option. You can also omit the protein and up the veggies by adding more mushrooms, broccoli, cabbage, or any other hearty vegetable you prefer.
Can I use frozen vegetables?
You can! They come with a bit of water so you'll need to account for that when thickening up the sauce, but otherwise, they will work wonderfully. No need to thaw ahead of time, just add them in frozen!
Tips for Success
Stir fry happens quickly! PREPARE all ingredient, it can help you keep it a true 30-minute dish and not allowing things to be overcooked. There's nothing worse than mushy stir fry. Crisp-tender is what you want!
Cooking chicken. It won't take long at all to cook when it's cut into thin strips, so it will continue cooking as it cooks in the sauce at the end. This way you don't overcook it.
Remember to add a little olive oil to the noodles once they've been drained. It helps keep them from clumping together as they cool.
Variations
This dish is super flexible and you can make it just the way you like it. Everyone has different tastes, so you are more than welcome to use my recipe as a jumping-off point. I will say, that to me, this version is THE BEST!
Swap the chicken with any other meat. Beef, pork like this

sweet red chili pork stir fry

, and shrimp all work.

Keep it vegetarian and toss in some cubes of tofu or slices of tempeh.

Up the veggies, if that's what you'd prefer. More mushrooms, more broccoli or swap them for different veggies altogether. Snow peas work, bean sprouts, water chestnuts, carrots, or baby corn are also delicious.
Like a little heat? Throw in a few red pepper flakes or a dash of hot sauce or sriracha into the sauce mixture. If you're using something else with a little sweetness it can definitely replace the ketchup, if needed.
If you've got leftover noodles or rice that you don't want to go to waste, by all means, use it. In fact, day-old cold rice is great for stir fry!
If you're not a fan of ketchup or would prefer to substitute, think about using honey, plum sauce, or sweet and sour sauce instead. Even a sweet chili sauce might work!!
A Must Try Holiday Recipes:
30-Minute Chicken Rice Noodle Stir-Fry Recipe
30-Minute Chicken Rice Noodle Stir-Fry Recipe - best stir fry recipe made in no time.
Ingredients
12

oz

rice noodles or egg noodles

3

tablespoons

olive oil

2

skinless boneless chicken breasts

sliced into bite-size strips

1/2

red and green bell pepper

sliced

1

cup

broccoli

chopped

4

oz

shiitake mushroom

sliced

1

tablespoon

peeled and shredded fresh ginger

1/2

cup

chicken stock

2

tablespoons

soy sauce

2

tablespoons

ketchup

1

teaspoon

cornstarch

few drizzles of Asian sesame oil
Instructions
Fill pot with water add salt and bring it to a boil. Place noodles into the pot and cook them on medium heat until barely tender, about 2 minutes. Drain the water and stir in 1 tablespoon of olive oil. Set aside.

In a large skillet, heat 2 tablespoons of olive oil over high heat, carefully add chicken and stir-fry on high heat, constantly stirring for about 3 minutes. Remove chicken from the skillet on to the plate and set aside.

Combine bell peppers, broccoli, mushrooms, and ginger in the same skillet and stir-fry on medium heat for 3 minutes.

Using a mixing bowl and a spoon, whisk chicken stock, soy sauce, ketchup and cornstarch.

Return chicken to the skillet, add noodles and chicken broth mixture and stir-fry for 3 minutes or until chicken is cooked through. When serving drizzle sesame oil. Grab a fork and enjoy!
Video
Notes
When 

YOU

make this

Stir Fry Recipe

please tag my name @munchkintimeblog and hashtag #munchkinrecipes on Instagram, we would LOVE to see your creation!
All content & images are copyright protected. Please do not use my images without prior permission. If you want to republish This Recipe, please re-write the recipe in your own words, or simply link back to this post for the recipe. Thank you.
Nutrition
Calories:
201
kcal
Carbohydrates:
7
g
Protein:
15
g
Fat:
13
g
Saturated Fat:
2
g
Polyunsaturated Fat:
1
g
Monounsaturated Fat:
8
g
Trans Fat:
1
g
Cholesterol:
37
mg
Sodium:
690
mg
Potassium:
441
mg
Fiber:
1
g
Sugar:
3
g
Vitamin A:
198
IU
Vitamin C:
21
mg
Calcium:
18
mg
Iron:
1
mg
Did
YOU

like this

chicken stir fry with rice noodles

?

Let me know in the comments below, we would love to hear from you!

Thank YOU for YOUR Comment, Share & Recipe Review!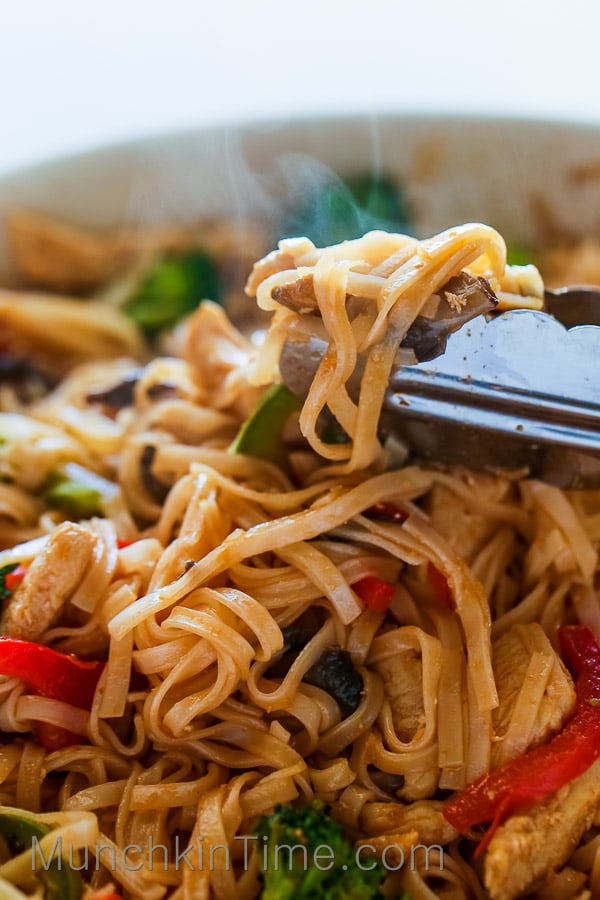 Thank you for stopping by!
Quote Of The Day
P.S – I shared this stir fry recipe at Natasha's Kitchen, you guys must visit her amazing food blog with more than 1,000 drooling step by step recipes and amazing screen licking food photography. Her blog is one of my favorite food blogs!
Have a wonderful day!
This recipe was updated August 22, 2021.