30 Minute Beef Lo Mein Recipe – quick lo mein dish, bursting with delicious flavor. It's made with tender flank steak, rice noodles, crunchy veggies, and aromatics, all smothered in a thick, sweet, savory, and slightly spicy lo mein sauce.
This 30-minute Beef Lo Mein Recipe is exactly what you need when you're craving your favorite Chinese takeout but don't want to leave the house! Making a restaurant-style dinner from scratch is so easy to do and always ends up tasting even better!
A splash of sriracha sauce to boost the flavor is the best way to take it to another level. It's my man's favorite and I know you're going to love it too!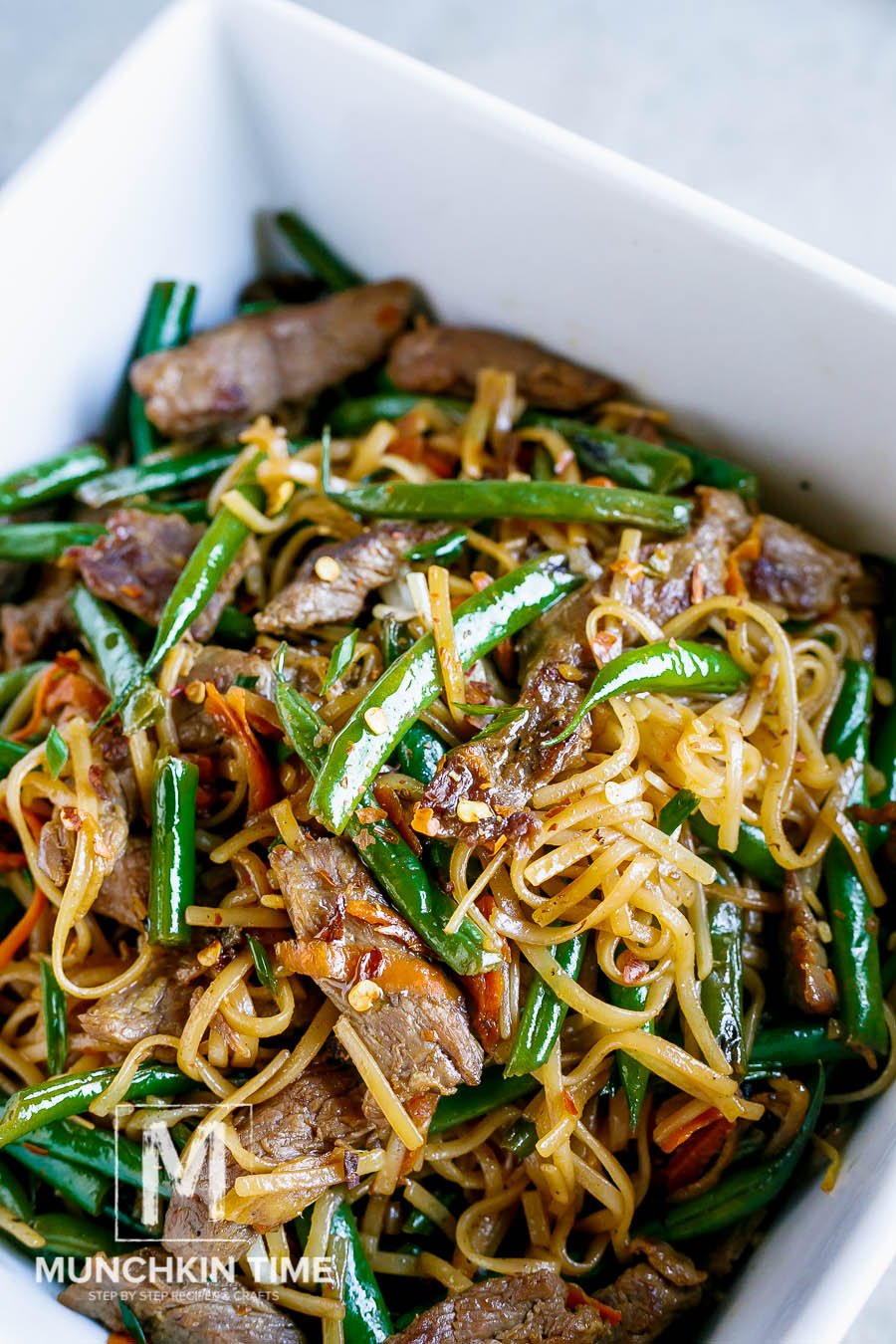 What is

Lo Mein

?
If you've ever been to a Chinese restaurant, you've probably seen the person next to you order it, or maybe you've read it on the menu but weren't sure what it was. Well, allow me to introduce you to your new favorite stir fry noodle dish!
That's essentially what it is, stir-fried noodles, cooked with veggies and most often some sort of protein. Chicken, pork, shrimp, or beef are popular but then again you could have a vegetarian version and omit any meat.
They're soft noodles tossed in a thick velvety sauce oozing with Asian-inspired flavors that just make your mouth water.
We are making a homemade version that is super flexible. It's a great way to load it up with veggies and limit the sodium, but also use whatever leftover veggies you have in the fridge. Toss them in to bulk it up!

What's in this

Beef Lo Mein Recipe

?
Beef – Flank steak is my favorite to use for this. It's cost-effective, it's a thinner cut of beef. Cut them into bite-sized strips, slicing against the grain.
Olive oil – A neutral oil that can stand up to high heat. Used to sear the strips of beef to make sure it's cooked through.
Noodles – Rice noodles or egg noodles are classic in Asian noodle dishes. You can sometimes find them at your local supermarket and if not, supermarkets specifically geared to Asian cooking should have them. If not, use spaghetti! It works too.
Veggies – Trimmed and cut green beans and grated carrots give this dish beautiful color, crunch, and added flavor.
Aromatics – Garlic and ginger are always a great pairing with soy sauce and brown sugar. It gives the sweetness a nice balance and adds a little zing!
For the Lo Mein Sauce – Low sodium soy sauce, brown sugar, red pepper flakes, black pepper, and sesame oil. The perfect blends of incredible flavors.
When YOU make this Beef Lo Mein Recipe, take a picture & DM me your Food Creation on Instagram @MunchkinTimeBlog or hashtag #munchkinrecipes. We would love to see YOUR creation!!

What Does it Mean to

Slice Steak Against The Grain

?
Some cuts of meat are much more fibrous and tough than others. Flank steak (which is a cut of beef but not actually steak!) is quite lean without much fat which means it can be a bit tough if not treated properly.
Cutting against the grain means slicing the beef crosswise along the fibrous tissues. You'll see lines running down the cut of meat. Slice perpendicular to them.
This helps to shorten the fibers which makes the beef nice and tender and easier to chew.

How to Make

Lo Mein
As with any stir fry, this recipe moves fast! The idea is to cook everything quickly at high heat, toss it around to mix, and then enjoy! Make sure to have everything chopped, sliced, and ready to go.
Step 1: Cook the noodles according to the package directions. Drain and set aside.

Step 2: In a mixing bowl, whisk together the soy sauce, brown sugar, grated ginger, red pepper flakes, black pepper, and sesame oil (in other words, make the sauce!). Set it aside.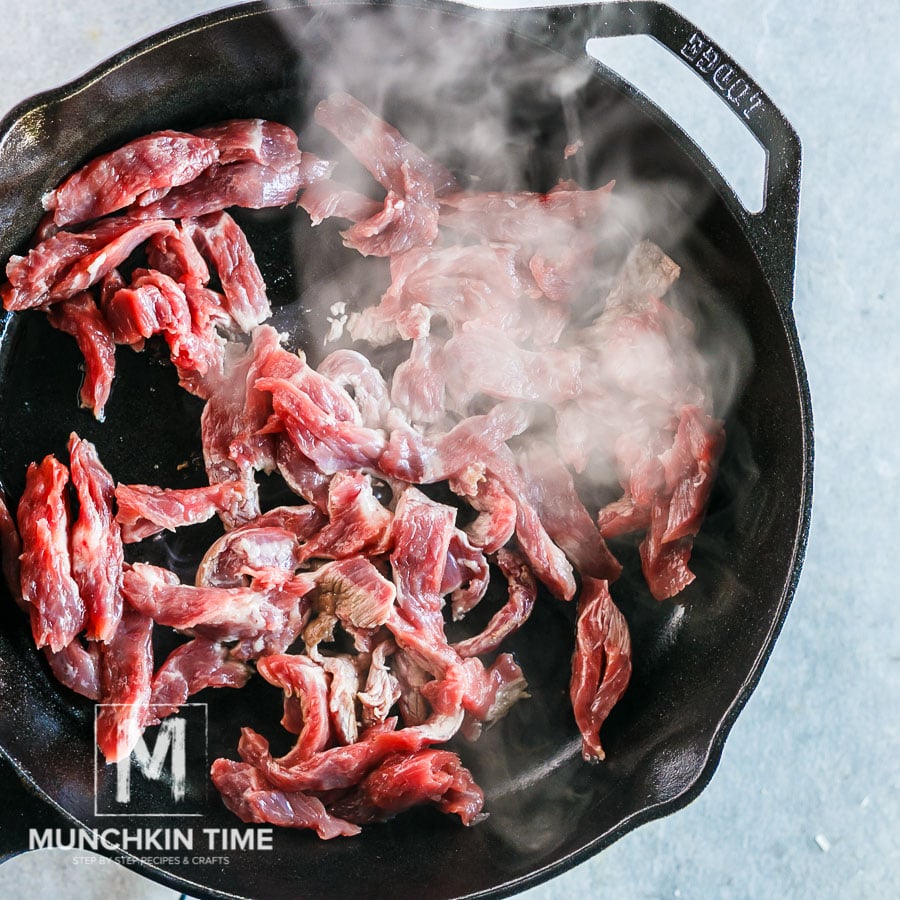 Step 2: Heat olive oil in a large skillet. Add the flank steak strips and cook until the meat is cooked through and no longer brown.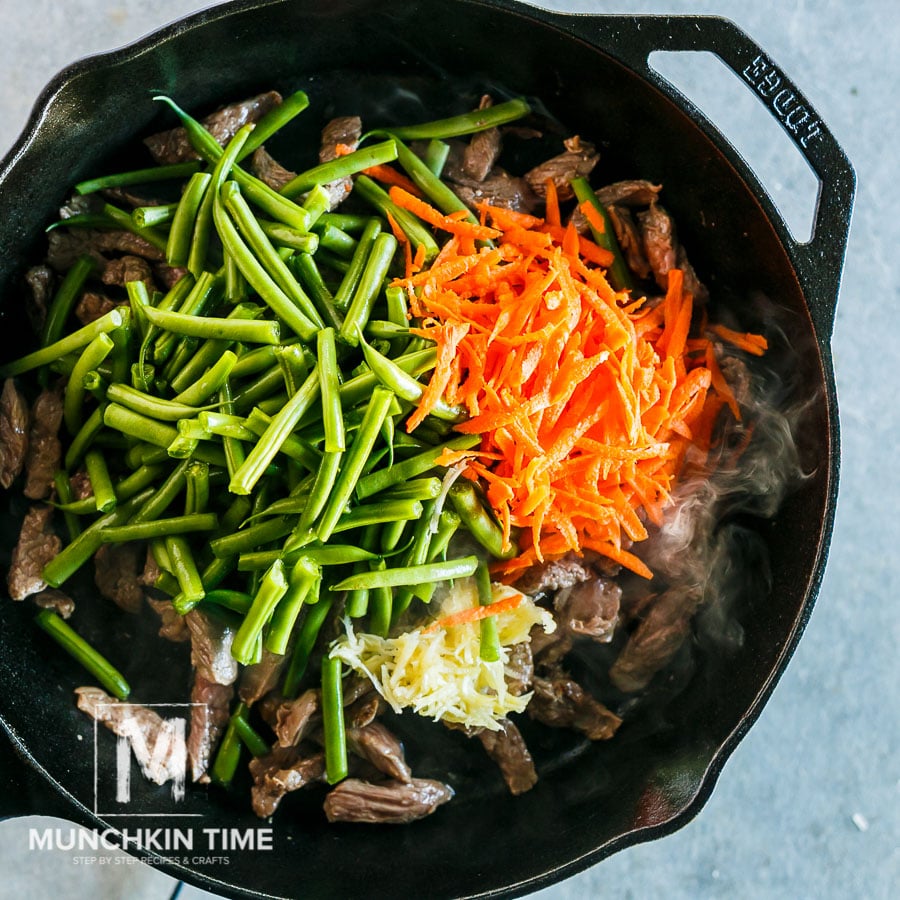 Step 3: Toss in the minced garlic, carrots, and green beans. Stir constantly, moving everything around, and cook for 3 minutes.
Step 4: Add the cooked noodles to the skillet, grab the sauce you mixed earlier and give it another whisk, in case anything has settled, and pour it over top of everything.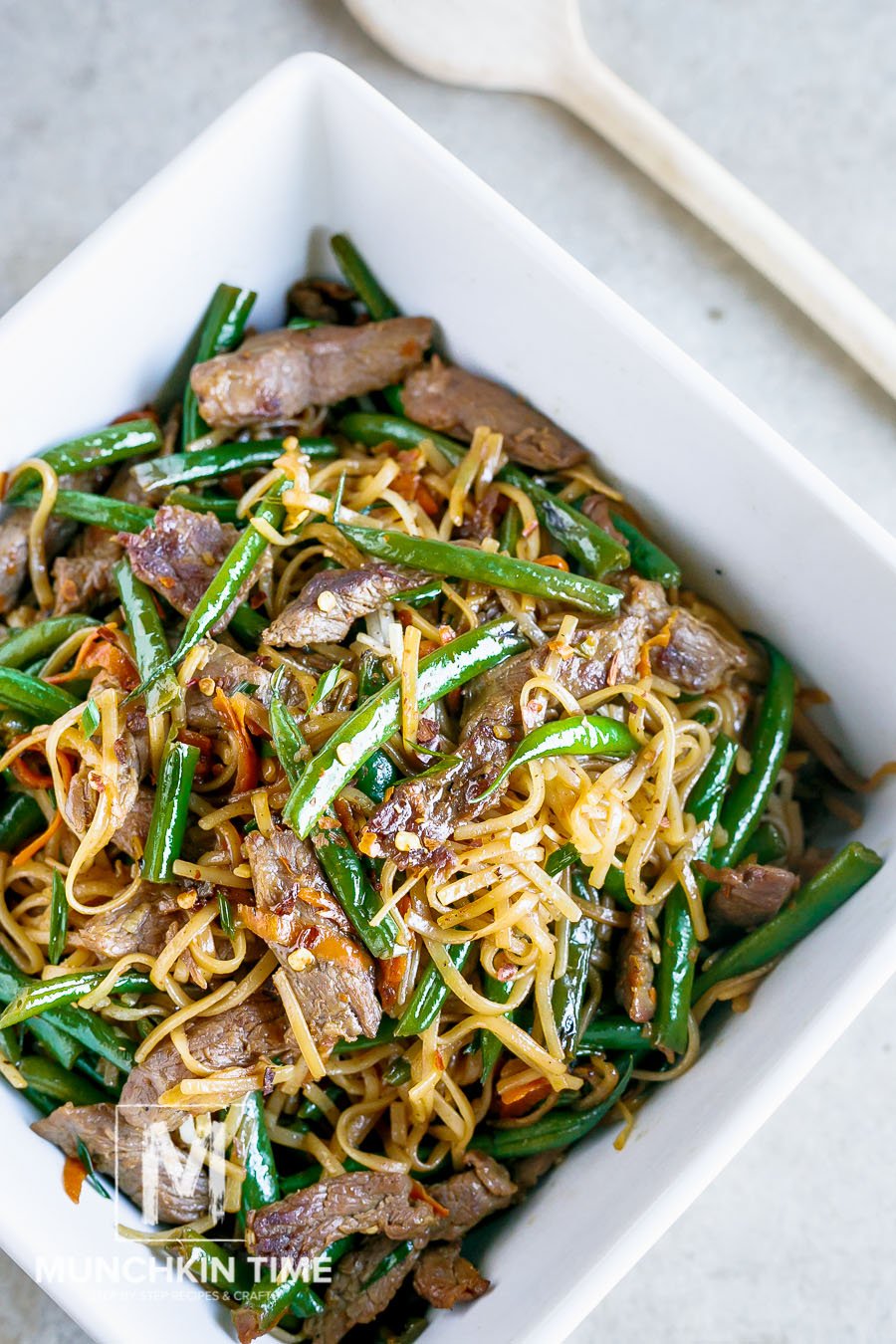 Step 5: Mix and toss everything together, making sure each of the ingredients are coated with that delicious sauce and everything has heated through.

Serve with an extra drizzle of sesame oil for an even more authentic flavor!
What's the

Difference

Between

Lo Mein

and

Chow Mein

?
The main difference is in the texture of the noodles and what happens to them as they cook. Lo Mein noodles are soft and added in towards the end of the stir fry. They remain nice and soft as they are coated in the sauce and mixed together with the other items.

Chow mein, on the other hand, cooks the noodles first, then tosses them in the pan to crisp up first before adding the other ingredients. This makes them a little crispy with more of a bite!
Cooking

Recipe

Tips
Like I mentioned earlier, be prepared! You don't want to have some of your items in the skillet being overcooked waiting for you to chop up your veggies.
Freeze flank steak for 30-40 minutes, it makes it easier to cut/slice.
You can easily double this recipe for more, as long as your skillet is large enough! If you're using a small skillet you may want to halve the recipe or cook in two batches. You don't want to overcrowd the pan.
If you don't like your noodles super soft, cook them to al dente. They will continue cooking in the heat and sauce anyway.
Don't skip the sesame oil! That signature toasted nutty flavor is essential to Chinese cuisine!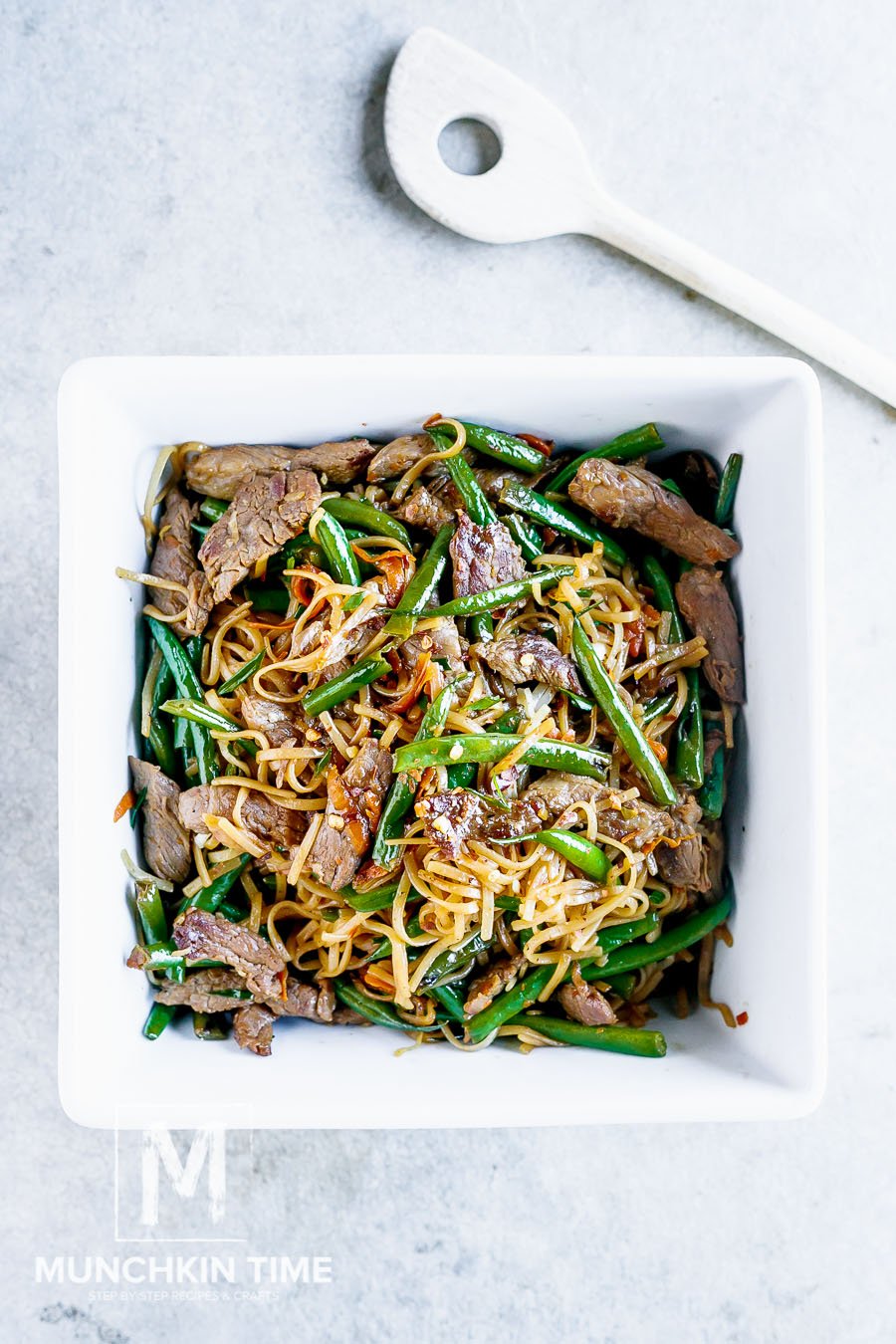 Delicious

Lo Mein Substitutions

and

Variations
There are so many ways to make this recipe your own! Below are some yummy add-ins or ways you can tweak this recipe to your liking.
Use different meat: Pork, chicken, or shrimp would be a great way to make this an entirely different dish!
Load it up with veggies: Toss in some snow peas, broccoli, mushrooms, cabbage, water chestnuts, cauliflower florets, bell peppers, and whatever else you've got in the fridge.
More umami flavor: A drizzle of hoisin sauce or oyster sauce will do it!
Vegetarian: Completely omit the meat and add more veggies or replace it with cubes of tofu.
How to Store

Beef Lo Mein Leftovers
Keep any leftover beef lo mein stored in an airtight container for up to 4 days in the fridge. To reheat single servings the microwave works just fine. If you're reheating lots for dinner the next day, use a skillet over low heat to warm everything through.
If it's a bit dry, add a splash of water to the pan to loosen things up again!
Check Out These Delicious Steak Recipes
New York Strip Steak Grill Recipe
Cheesy Hot Beef Sandwich Recipe
Easy Baked Beef Chimichanga Recipe
Cheese Steak Chimichangas Recipe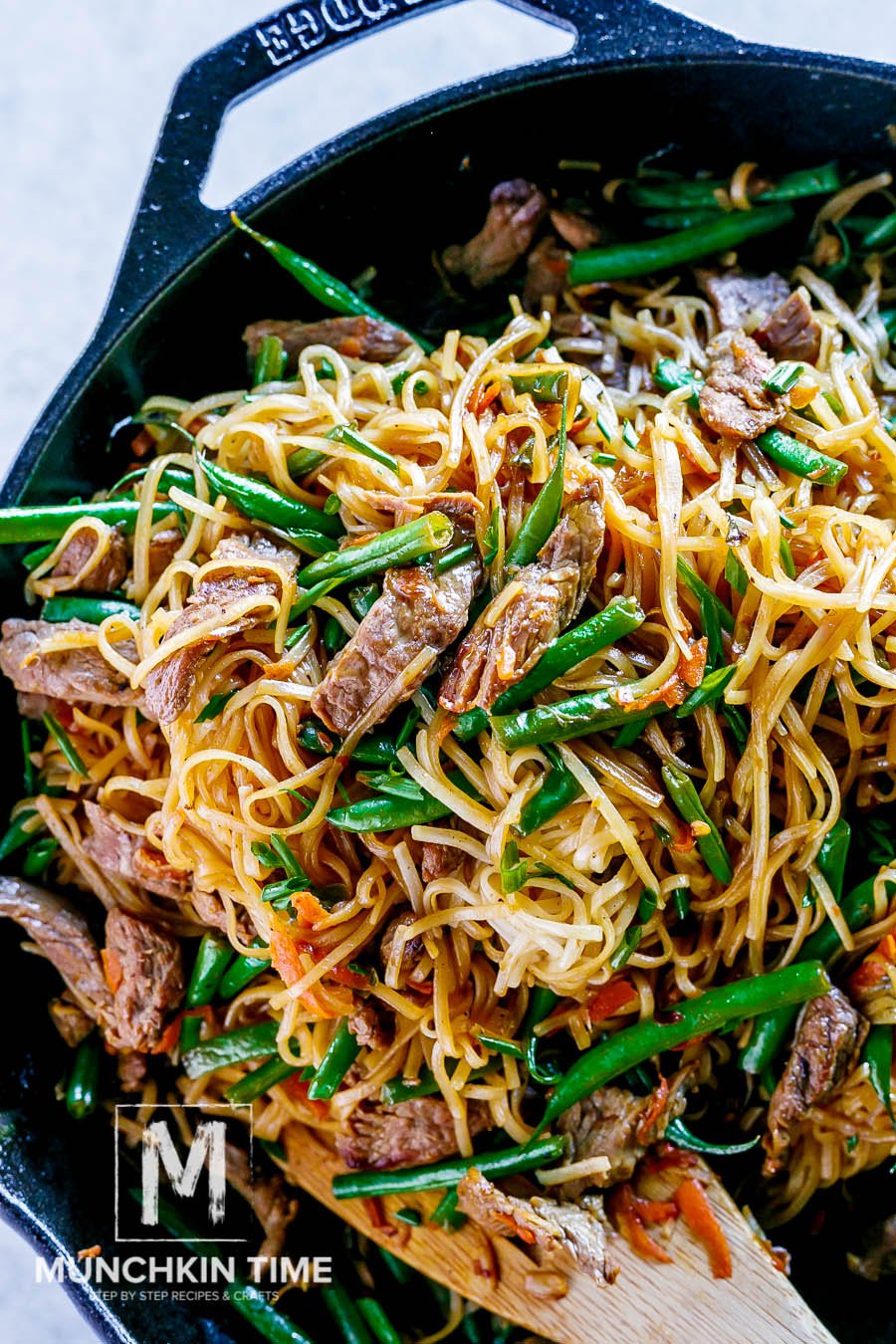 30 Minute Beef Lo Mein Recipe (Video Inside)
30 Minute Beef Lo Mein Recipe - this dinner meal is bursting with delicious flavor. Made of Flank steak, crunchy green beans, grated carrot and amazing sauce to complete this Chinese dish.
Ingredients
12

oz.

flank steak

cut against the grain then sliced into bite size strips

12

oz.

rice noddles

2 1/2

cup

green beans

trimmed and cut

1

carrot

grated

3

garlic cloves

minced

1

teaspoon

ginger

peeled & grated

1/2

cup

low-sodium soy sauce

1/2

cup

brown sugar

1/4

red pepper flakes

1/4

black pepper

2

tablespoons

extra virgin olive oil

1

tablespoon

sesame oil
Instructions
Cook rice noodles following the instructions on the bag.

In the skillet, heat up 2 tablespoons of olive oil, add 12. oz flank steak strips and cook until meat is cooked thru. Add 3 minced garlic cloves, 1 grated carrot, and 2 1/2 cup green beans, stir and cook for about 3 minutes.

While everything is cooking, in a mixing bowl whisk together 1/2 cup low sodium soy sauce, 1/2 cup brown sugar, 1 teaspoon grated ginger, 1/4 teaspoon red pepper flakes, 1/4 teaspoon black pepper, and 1 tablespoon sesame oil.

Add cooked rice noodles to the skillet and pour the sauce over the top, stir. Heat everything thru, turn off the heat. Serve with a extra drizzle of the sesame oil. Enjoy!
Video
Notes
Freeze flank steak for 30-40 minutes, it makes it easier to cut/slice.
Hi! All content & images are copyright protected. Please do not use my images without prior permission. If you want to republish this recipe, please re-write the recipe in your own words, or simply link back to this post for the recipe. Thank you.
Nutrition
Calories:
362
kcal
Carbohydrates:
37
g
Protein:
21
g
Fat:
15
g
Saturated Fat:
3
g
Cholesterol:
51
mg
Sodium:
1131
mg
Potassium:
587
mg
Fiber:
3
g
Sugar:
30
g
Vitamin A:
3022
IU
Vitamin C:
10
mg
Calcium:
81
mg
Iron:
3
mg
Q. Do you like this Easy Steak Recipe?
Let me know in the comments below, I would love to hear from you!
—>Click Here for more Dinner Ideas <—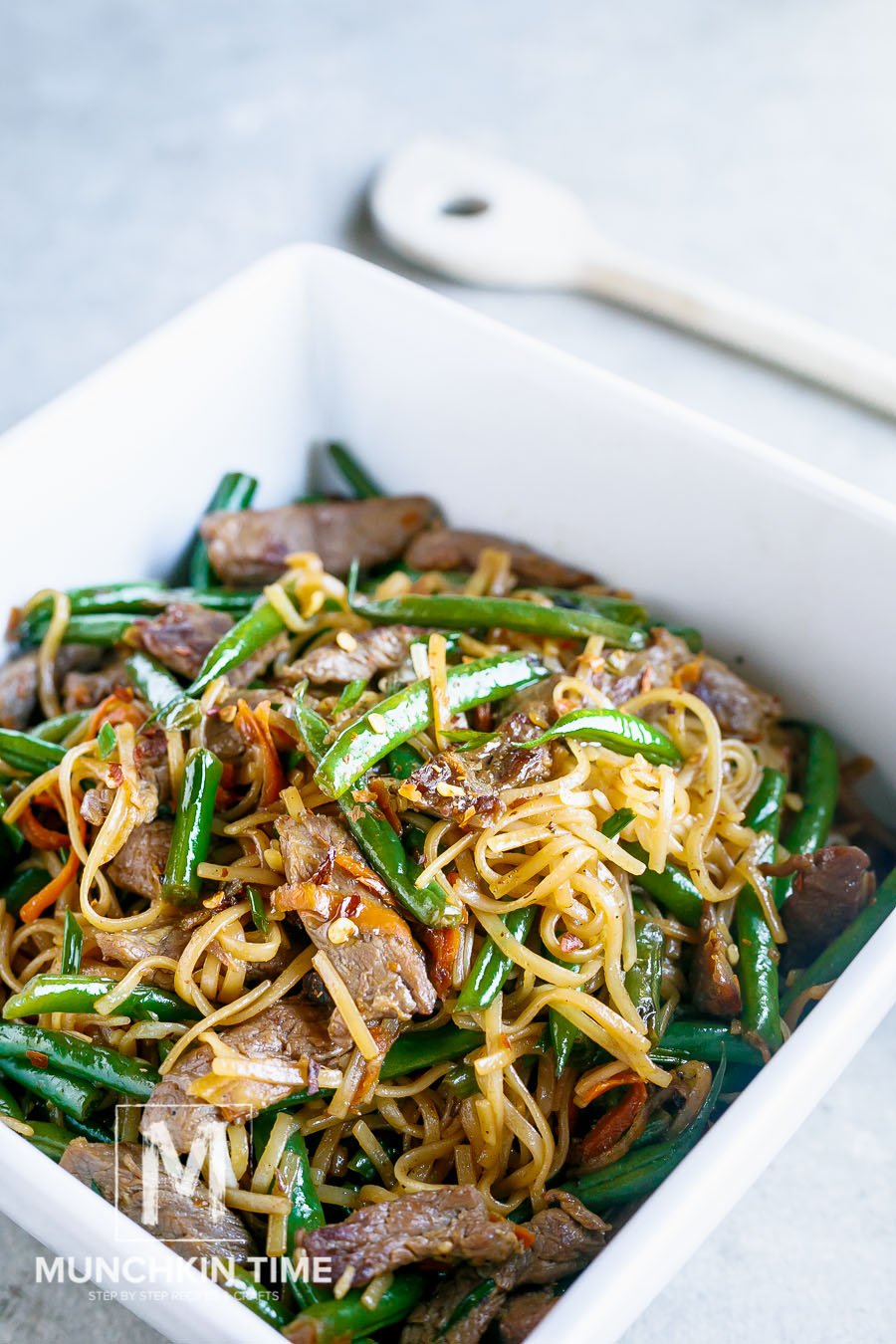 Thank YOU for YOUR Comment, Share & Recipe Review!
Quote of the Day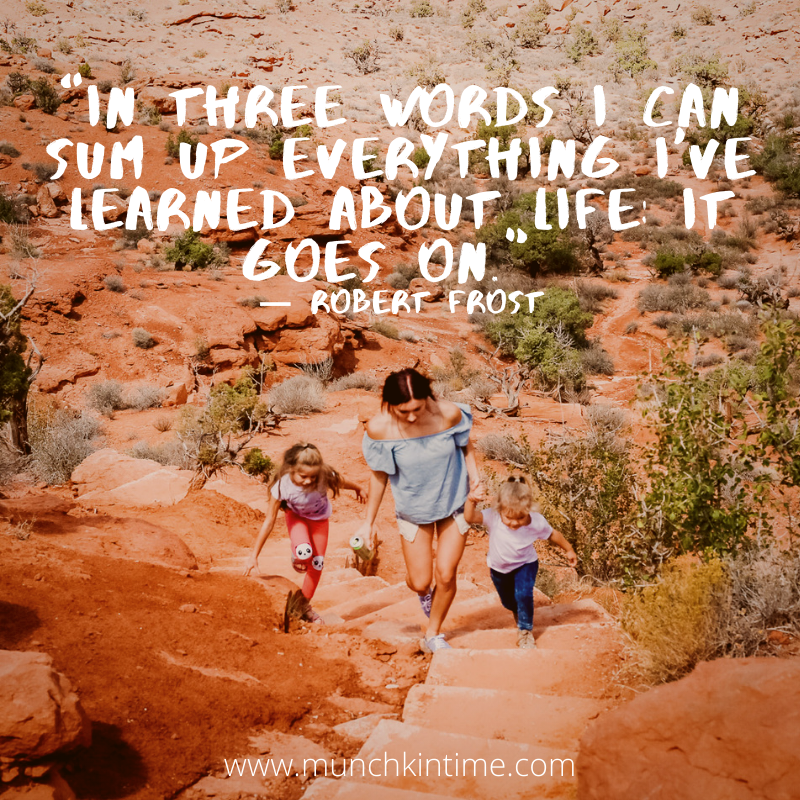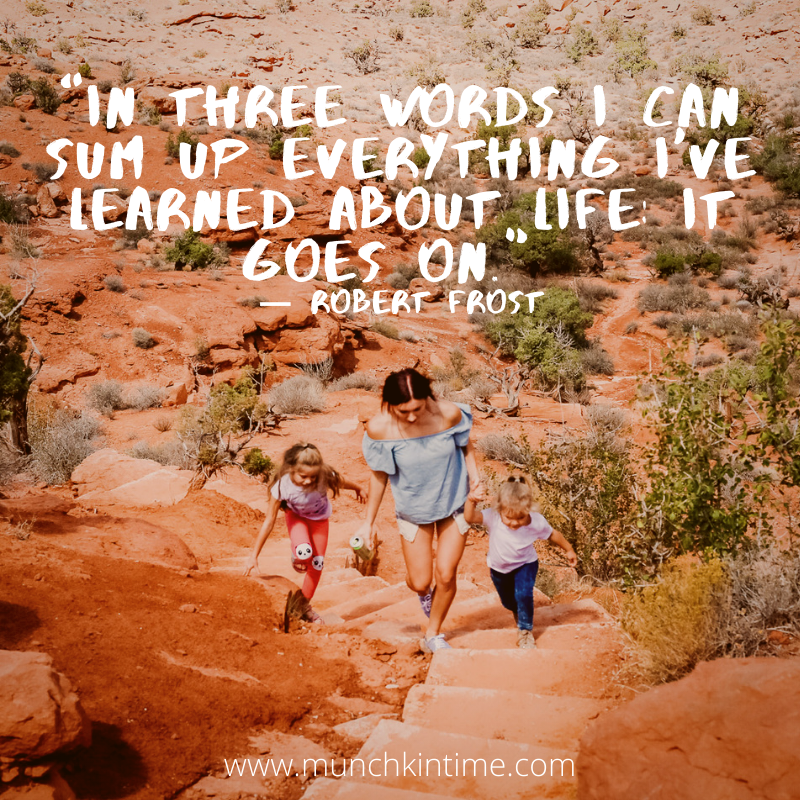 Happy Cooking!
This post was updated April 27, 2022. The recipe is still the same delicious!