How to Cook a Turkey in a Bag – a great way to ensure a tender juicy turkey without any stress! It's so easy to prepare with just a turkey, butter, and the bag.
When YOU make this Turkey Recipe please tag us @munchkintimeblog on Instagram, we would LOVE to see your creation!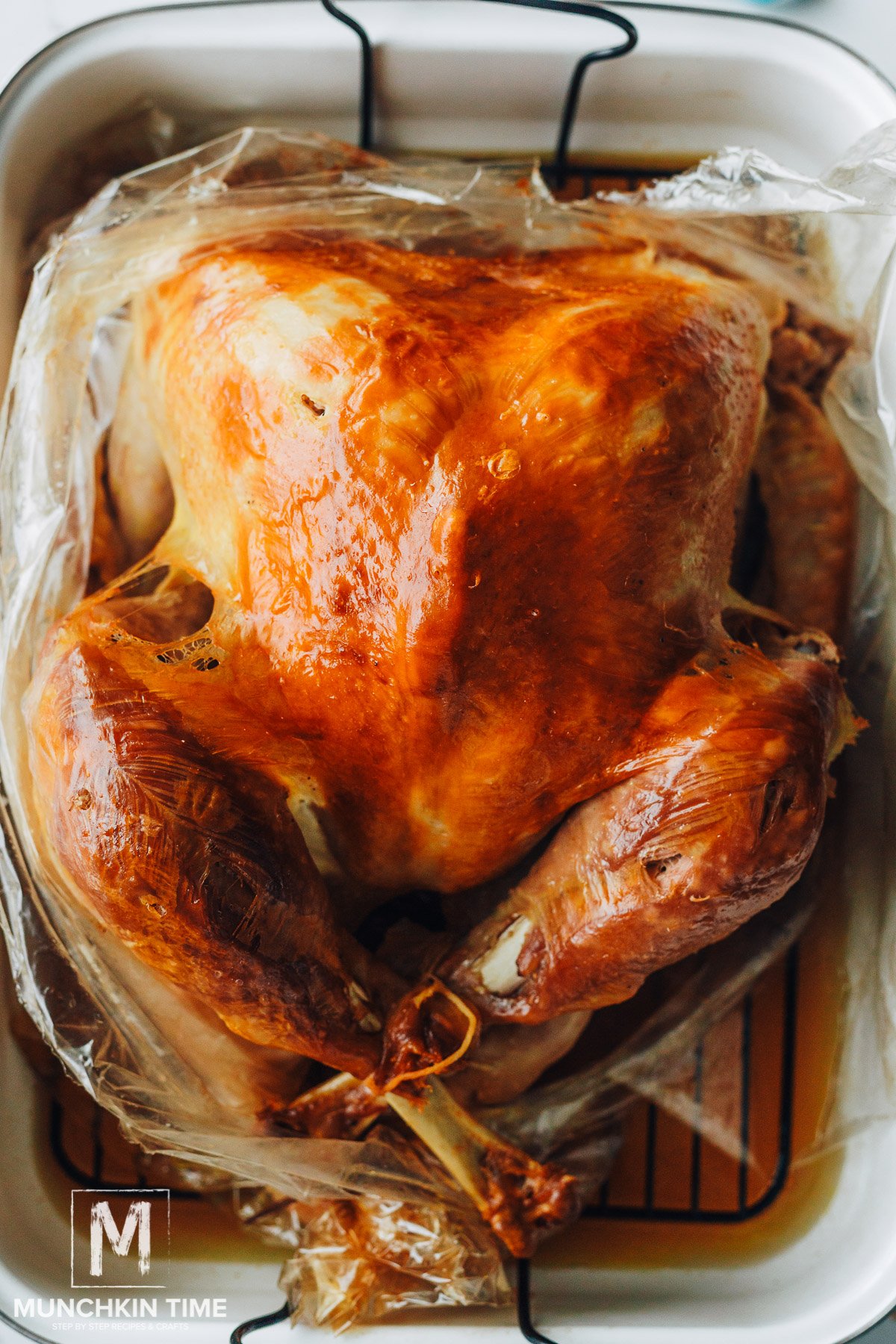 When you want to impress your guests whether you're a first-time host, or a 5th-time host, cooking a turkey in an oven bag the way my mom did is the recipe you didn't know you needed!
This foolproof method requires just a turkey, some butter, and a bag! You'll need a roasting pan and any extra seasoning you desire but otherwise, that's it. Talk about easy entertaining with perfect results every time.
Maybe your mom or grandmother used to make it this way too and if you've wondered about this method, I'm reminding you that this turkey in a bag recipe is tried, tested, and worth using again and again. Easy to do and hard to screw up!
Serve it with your favorite holiday side dishes and enjoy every single bite of a succulent turkey for a memorable family dinner!
Just 2 Ingredients Needed
18 lb turkey: I highly recommend planning ahead and using brine for your turkey. I have the best

turkey brine recipe

right here.
Butter, melted: This will help with moisture, and additional flavor, and help to get the skin nice and golden, and crispy. If desired use salted butter.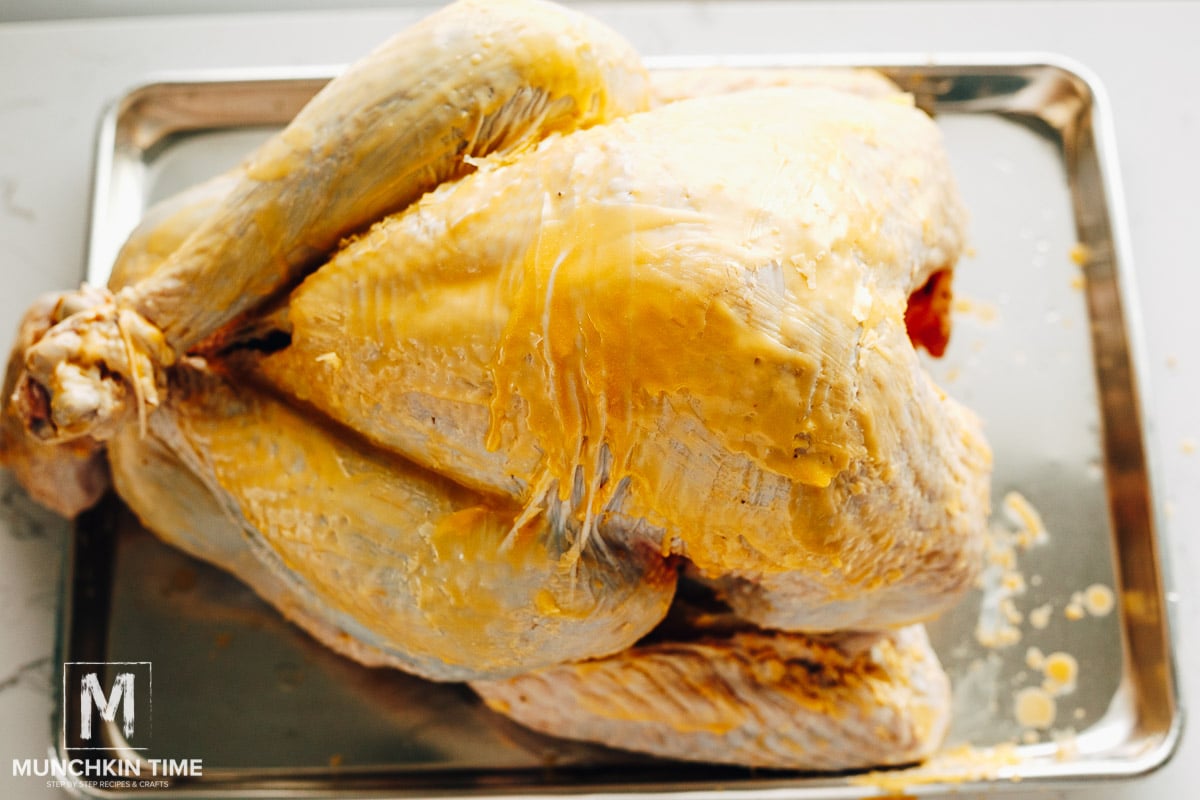 Best Way To Cook Turkey in an Oven Bag
Step 1: Preheat the oven to 350F. Start with a fresh or thawed frozen turkey that has been removed from the brine. Pat dry with a paper towel, then truss the legs with twine to hold in the legs. Brush with melted butter all over.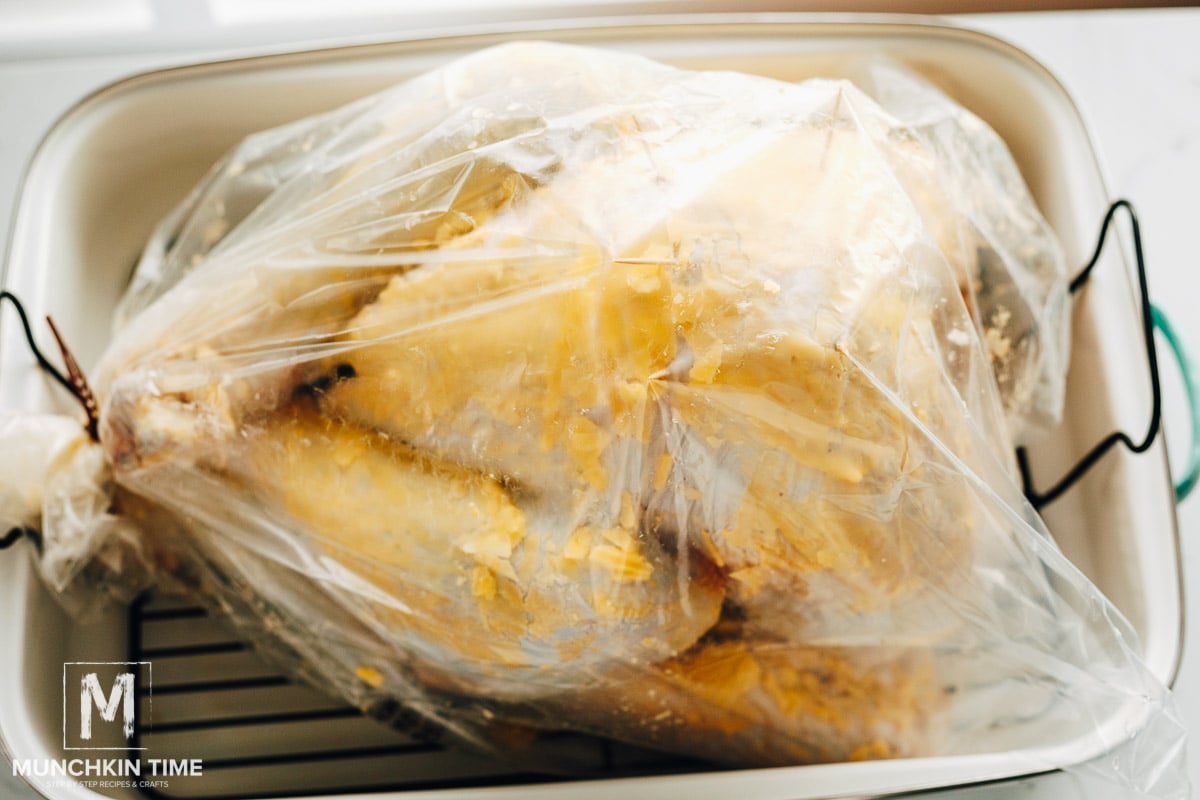 Step 2: Place the turkey in the bag. Before sealing the bag, place about 5-7 toothpicks spaced out overtop the turkey and the legs so that it helps to keep the bag from touching the skin and getting stuck.
Step 3: Seal the bag. Poke the bag in few spots using a knife.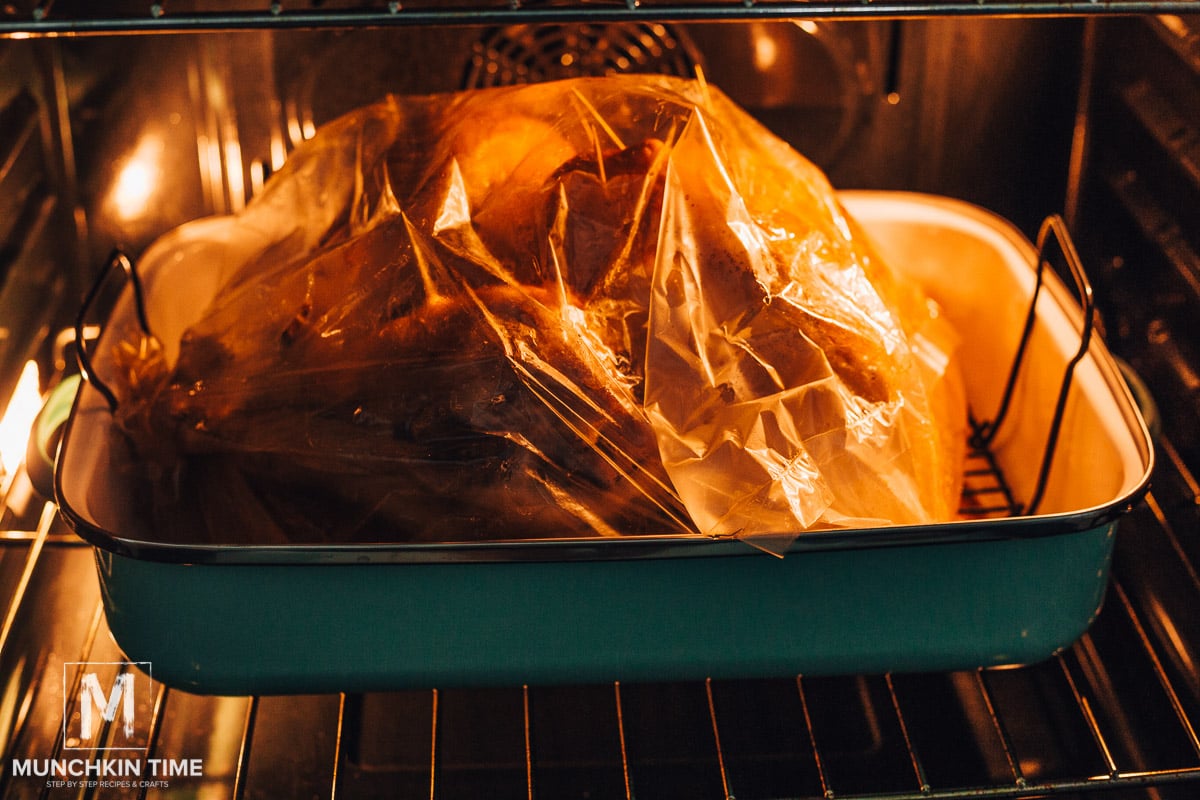 Step 4: Place the turkey in a bag on a rack inside a roasting pan and transfer it to a preheated oven.
Immediately turn the oven down to 325F and roast the turkey for about 4 ¼ – 4 ½ hours.
Step 5: When it's done the juices should run clear and the internal temperature should read 180 degrees F. Carefully open the bag and keep your face away from it. It'll be very hot as the steam is being let out.
Most oven bags come in a box with directions, so be sure to read the ones you've got! Just make sure you pick up one that says "oven safe."
Recipe Tips
Always pat the turkey dry. Even in a bag, the skin can crisp up and the best way to do that is to get rid of as much excess moisture on the skin as you can.
For a bit of extra flavor, you make a herb and garlic compound butter and melt that.
Cut slits in the oven bag to allow steam to escape. Just a few will do. This is to avoid the bag bursting.
If you don't have a rack for your roasting pan you can make one up by lining up some whole carrots and celery and even potatoes and placing the bag on top of them to elevate it.
To test whether the turkey is fully cooked, place the thermometer into the thigh meat. The juices should run clear, especially around the joints.
Once the turkey is done, rest it. You'll want to give the juices a chance to redistribute and settle so that they don't run out and dry out the turkey once you've cut into it.
How to Thaw a Turkey
If you have the extra time, I recommend thawing the turkey in the fridge.
4–12 pounds: 1 to 3 days (2.5 hours in cold water)

12–16 pounds: 3 to 4 days (7.5 – 10 hours in cold water)

16–20 pounds: 4 to 5 days (10 – 12 hours in cold water)
How Long to Cook Turkey In a Bag?
The turkey roasting temperature and time will be determined by the size of your bird. This recipe is for an 18-pound bird roasted at 325 degrees for over 4 hours.
See below for guidelines:
8 to 12 lb turkey – 325°F for 2¾ to 3 hours
12 to 14 lb turkey – 350°F for 2¾ to 3 hours (325°F for 3 to 3¾ hours)
15 to 16 lb turkey – 350°F for 3½ to 3¾ hours (325°F for 3¾ to 4 hours)
18 to 20 lb turkey – 350°F for 4 to 4¼ hours (325°F for 4¼ to 4½ hours)
21 to 22 lb turkey – 350°F for 4½ to 4¾ hours (325°F for 4¾ to 5 hours)
FAQs
Why do you start at one temperature and then lower it?
The reason for this is the initial temperature gives the outside of the turkey high heat which crisps up the skin first. When you lower the temperature right away, it gives the inside of the turkey a chance to catch up without burning the skin.
What can I use instead of toothpicks?
Some people prefer to add cooking spray and a Tablespoon of flour to the oven bag and give it a shake. This creates a nonstick surface and can even help with giving the skin some crispy texture.
Why should I use an oven bag to cook my bird?
Not only is it super easy to use, makes for easy clean-up and helps make your meat moist, juicy, and tender. It also cuts down the cooking time by about 1 hour!
What's the best way to remove the turkey from the bag?
There is a good chance you've cooked it to fall apart tender. There is so much moisture inside it that it could be more delicate than you're used to. It's best to prepare your serving platter ahead of time, and make sure it's ready to rest the bird.
That way you don't have to move it again once it's there. Use two forks on either end and gently lift the turkey out of the bag and transfer it to a nearby platter.
Carve as desired and enjoy!
Our GO-TO Thanksgiving Recipe Ideas:
Last Minute Turkey Cheese Platter
Best Turkey Stuffing Recipe Ever
Fresh Green Bean Recipe with Bacon and Shallots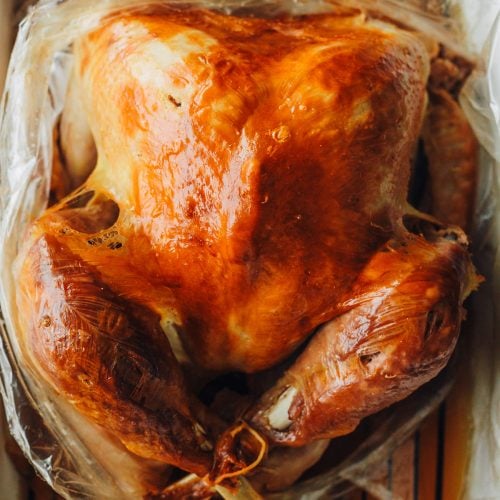 How to Cook a Turkey in a Bag
How to Cook a Turkey in a Bag - a great way to ensure a tender juicy turkey without any stress!
Ingredients
Instructions
Preheat the oven to 350F, once preheated drop the temperature to 325F. Pat the turkey dry with paper towel. Brush melted butter over turkey.

Place turkey in a bag, then using toothpick, place 5-7 toothpicks on top of the turkey and turkey legs so the bag doesn't touches the skin. It helps avoid the bag getting stuck to the skin.

Seal the bag and poke it in few spots using a knife. Place the turkey on a V rack in a heavy roasting pan, and into the oven it goes.

Bake turkey until it is cooked and the juices run clear, about 4¼ to 4½ hours. The meat thermometer should read at least 180 degrees F when inserted into the thigh meat.  
Video
Notes
All content & images are copyright protected. Please do not use my images without prior permission. If you want to republish this recipe, please re-write the recipe in your own words, or simply link back to this post for the recipe. Thank you.
Nutrition
Calories:
74296
kcal
Carbohydrates:
0.1
g
Protein:
1
g
Fat:
8240
g
Saturated Fat:
2459
g
Polyunsaturated Fat:
1889
g
Monounsaturated Fat:
3526
g
Trans Fat:
4
g
Cholesterol:
8572
mg
Sodium:
730
mg
Potassium:
27
mg
Sugar:
0.1
g
Vitamin A:
2836
IU
Calcium:
27
mg
Iron:
0.02
mg
Do YOU like this How to Cook a Turkey in a Bag Recipe?
Let me know in the comments below, we would love to hear from you!
Thank YOU for YOUR Comment, Share & Recipe Review!
Happy Cooking!