Mom's Best Turkey Brine Recipe – impress your guests this holiday season with the best turkey you've ever served! This easy turkey brine is made with a handful of ingredients including water, onions, garlic, and some seasoning to give your turkey added flavor and incredible moisture in every bite!
When YOU make this My Mom's Turkey Brine Recipe please tag us @munchkintimeblog on Instagram, we would LOVE to see your creation!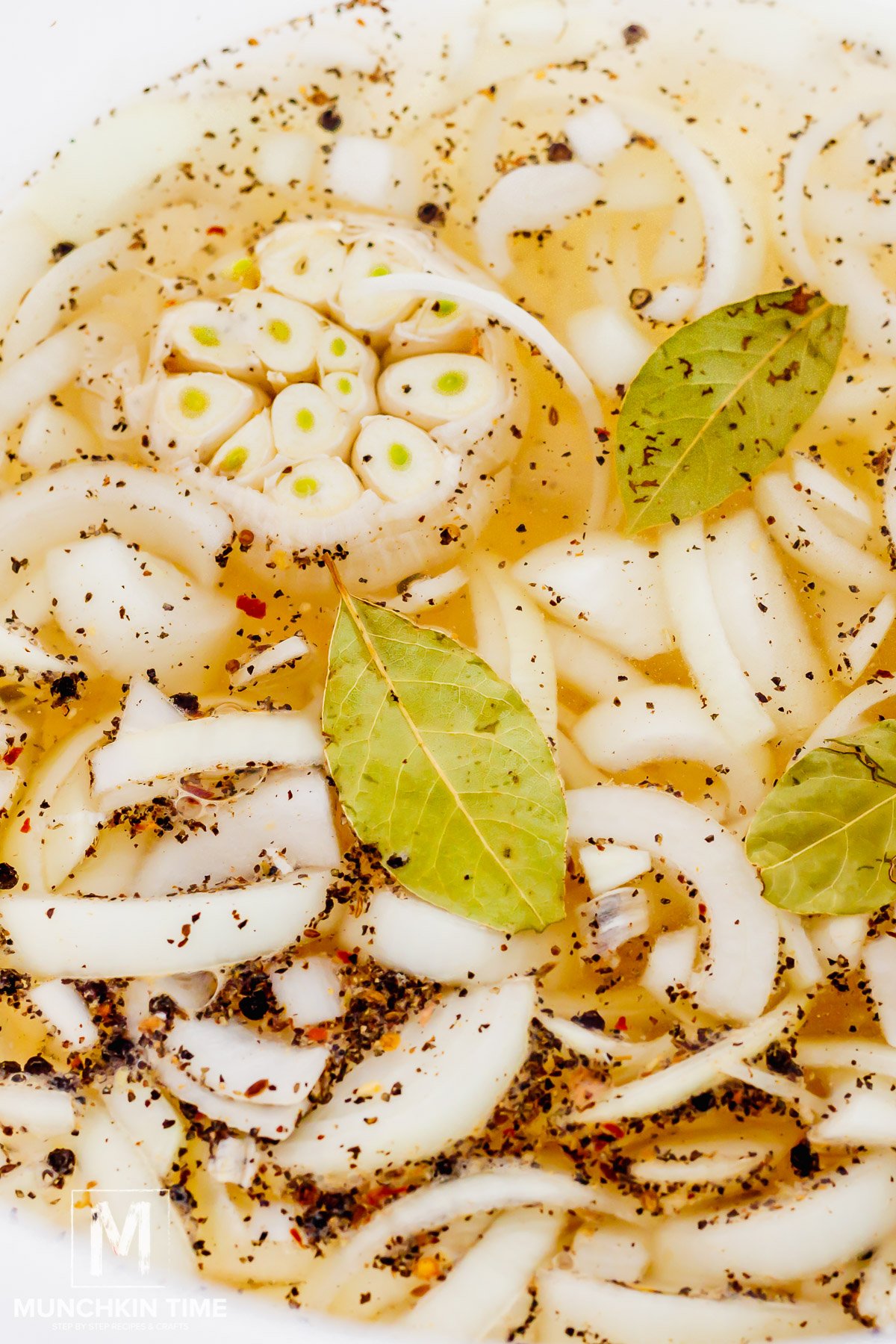 The great thing about learning how to brine a turkey is knowing that while they all serve the same purpose, there are many different ways to flavor your bird!
I've shared one of the easiest turkey brine recipes on my blog, but this right here is my mom's turkey brine recipe and it's one I use just as often! She always made the best turkey so there's obviously something to this!
It's made with water, aromatics, and simple seasoning that you most likely already have on hand, which makes this a great recipe for everyone. Combine the ingredients, dunk your turkey and let the brine do the rest. We don't even need to boil it first!
What is brining?
Bringing a turkey, or any kind of meat whether it's chicken, pork, beef, or fish, is done by submerging the meat in salt water. The added seasonings help penetrate flavor right down to the bone, but the salt is what draws the moisture into the meat.
It helps the turkey absorb the moisture and retain it so that when we naturally lose a bit of the moisture during the cooking process, we have enough extra that the meat stays nice and juicy.
Wet Brine vs Dry Brine
Dry brine is when you add a layer of salt to the outside of the turkey to basically form a crust and then allowing it to rest in the fridge for anywhere up to 72 hours. What this does is the salt draws out the moisture and releases it back into the meat.
It also helps to form a nice outer crust on the meat.
As you can imagine wet brine includes water! It's also a chance to use different seasonings and aromatics and while it's a subtle flavor, and less concentrated than a dry brine, it's still great for moisture and juiciness.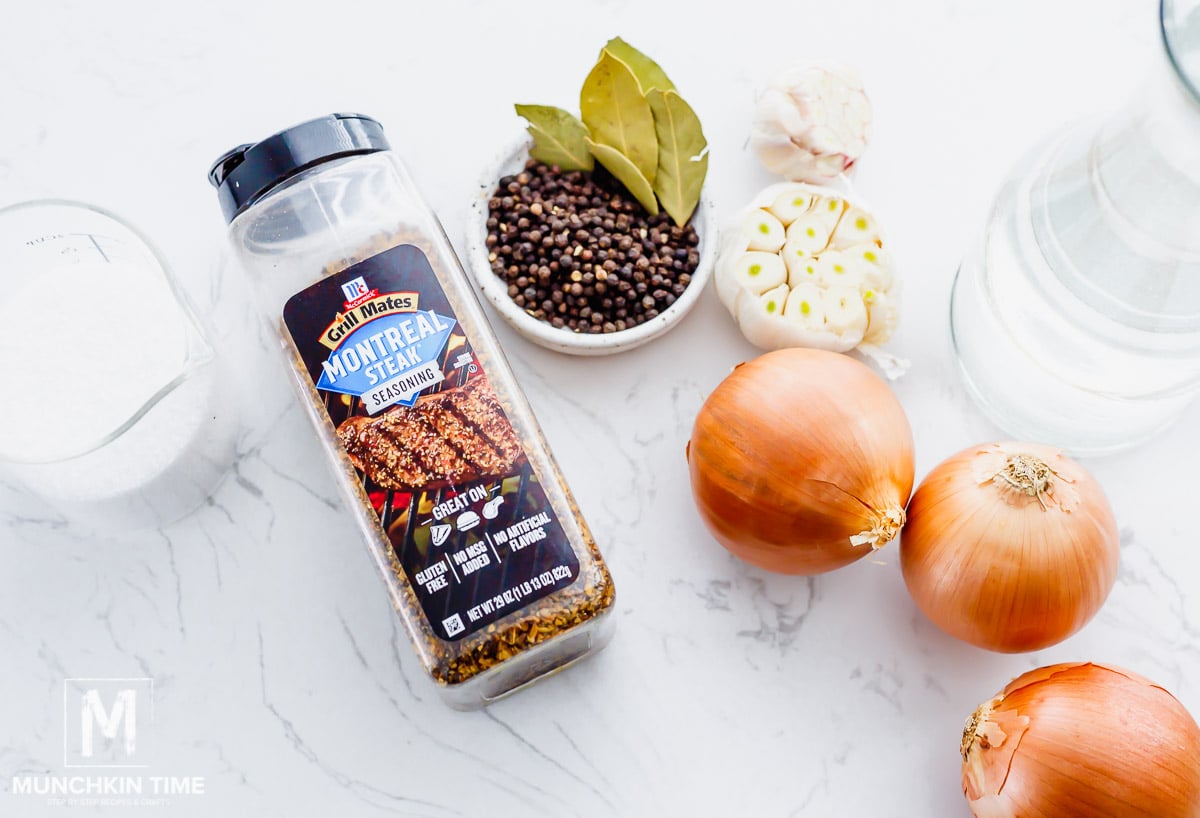 Turkey Brine Ingredients
Water & Kosher salt: The base of the brine is always highly concentrated salt water. You can adjust the level of salt to taste by adding some at first, and adding more to taste, if needed.
Montreal steak spice: This is a spice I always have on hand for seasoning all kinds of meat. It's a combination of herbs and spices that adds so much flavor to the brine.
Aromatics: We're adding sliced onions and whole garlic heads along with bay leaves and peppercorns. These are in most of our kitchens anyway, but if not they can be easily picked up at your local store. Since we discard the brine and use these things just for flavor, there's no need for chopping anything too small.
Turkey: I use an 18 lb turkey for this recipe. The amounts of each ingredient doesn't need to change based on the size of your turkey. It's the length of time that it sits in the brine that matters.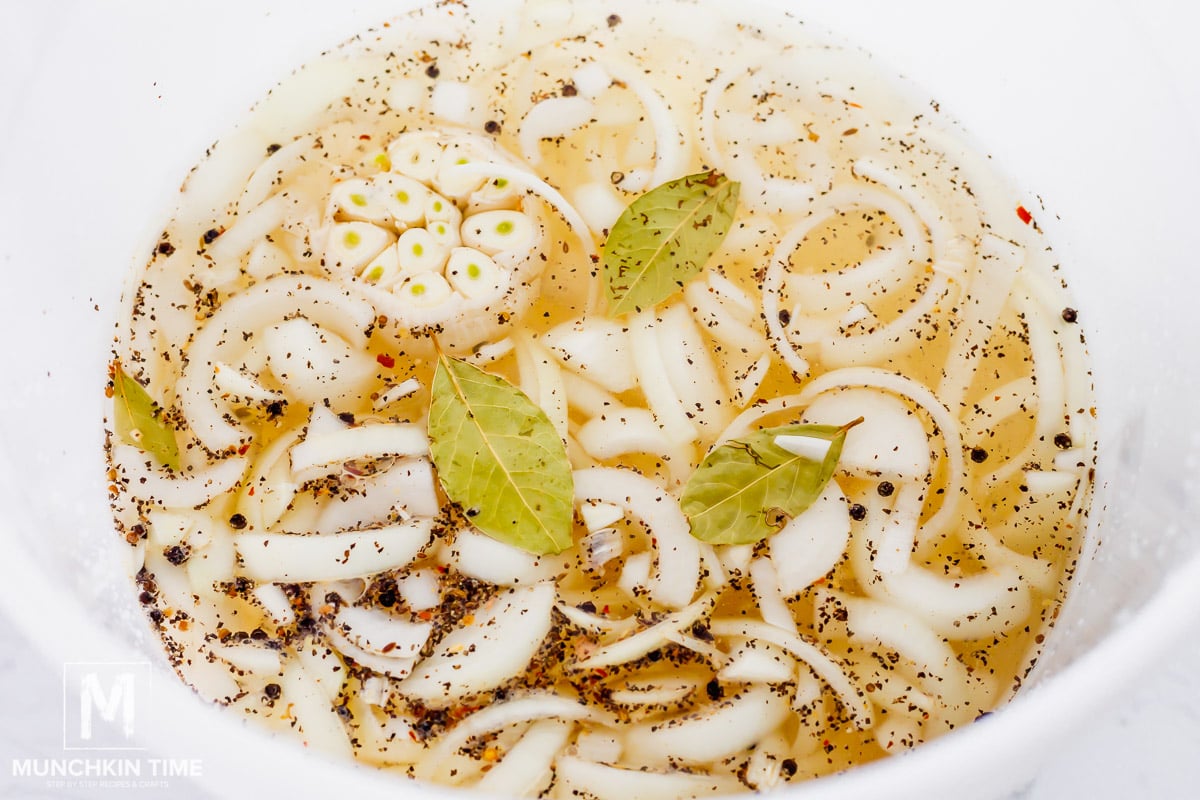 How to Make Turkey Brine
Step 1: Take your 5-gallon bucket and add the water, Montreal steak spice, onions, garlic, bay leaves, peppercorn, and salt. Do a little taste test and see if you need to add any more salt. Remember Kosher salt is different than table salt, so using the same amount of either one, usually means the kosher salt will be less salty.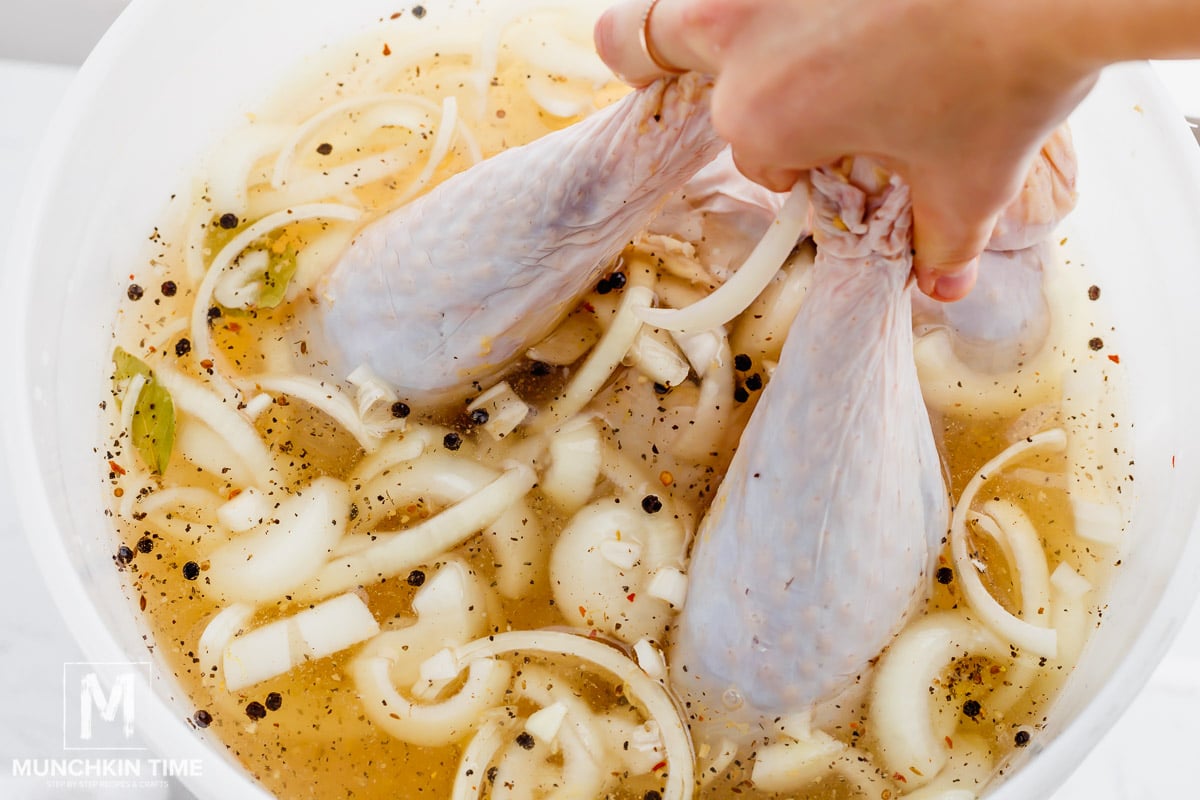 Step 2: Submerge the whole bird into the brine and make sure the water covers the entire turkey. Place the bucket in the fridge for 12 hours or overnight.
Step 3: Remove the turkey from the brine and pat it dry with paper towels. It is now ready to roast!
Expert Tips
Discard the brine. The brine is super salty and has become contaminated with raw meat so there's nothing you can do with it. In fact, it's not even safe to use, so be sure to discard it properly.
Use fresh or thawed turkey.

If I can help it, I will usually opt for an organic free-run turkey but I know that's not always possible. Either way, you want to make sure it is fresh or thawed from frozen.

Pat the turkey dry.

This help to get rid of any excess moisture left on the skin. Doing this will help crisp up the skin nicely. Otherwise, the water will create steam leaving the skin soft and soggy.

Rinse or not rinse.

This is a personal preference. Some people prefer to rinse the turkey underwater for a few minutes after brining it to get rid of excess salt. This is a good idea if you plan to season your bird with additional seasoning. If you're not, you may want to leave the turkey as is, and add little to no extra seasoning. It's up to you.
Can You Brine a Frozen Turkey?
Technically yes. The brine would help to thaw the turkey but it would take a day or so. It also means that your turkey may be even saltier because of the increase in the time it sits in the salt water.
How Long to Brine a Turkey?
This will depend on the size of your turkey. For my 18 lb turkey, I like to brine it for 24 hours. Some people say even longer than that, but I find 24 hours to be just enough.
If you have a larger turkey or aren't quite ready to roast it yet, you can leave it up to 18 hours. If you plan on doing it any longer than that, make sure you're keeping an eye on it. Once the meat starts to brine for too long, it can alter the texture and become way too salty.
Our GO-TO Thanksgiving Recipe Ideas:
Last Minute Turkey Cheese Platter
Best Turkey Stuffing Recipe Ever
Fresh Green Bean Recipe with Bacon and Shallots
Mom's Turkey Brine Recipe
Mom's Turkey Brine Recipe - impress your guests this holiday season with the best turkey you've ever served! This easy turkey brine is made with
Equipment
5 gallon Bucket

for turkey
Instructions
Into the 5-gallon bucket add all fo the ingredients, mix and try it to taste. If needed more salt add more salt.

Add fresh or thawed turkey. Make sure the water covers the whole turkey. Place the bucket in the refrigerator for 12 hours, best overnight.

Remove turkey from the brine and pat dry with paper towels, discard excess brine. Turkey is now ready for roasting.
Video
Notes
All content & images are copyright protected. Please do not use my images without prior permission. If you want to republish This Recipe, please re-write the recipe in your own words, or simply link back to this post for the recipe. Thank you.
Nutrition
Calories:
73774
kcal
Carbohydrates:
69
g
Protein:
10
g
Fat:
8150
g
Saturated Fat:
2401
g
Polyunsaturated Fat:
1887
g
Monounsaturated Fat:
3503
g
Cholesterol:
8328
mg
Sodium:
141874
mg
Potassium:
1137
mg
Fiber:
15
g
Sugar:
15
g
Vitamin A:
207
IU
Vitamin C:
42
mg
Calcium:
629
mg
Iron:
6
mg
Do YOU like this Turkey Brine Recipe?
Let me know in the comments below, we would love to hear from you!
Thank YOU for YOUR Comment, Share & Recipe Review!
Happy Cooking!