15 MUST TRY CHICKEN THIGH RECIPES – You can never have too many! Whether you're grilling, pan-frying, baking, or just want quick and easy recipes year-round, I've got you covered with flavorful recipes that everyone will love.
When YOU make these Chicken Thighs Recipe please tag us on @munchkintimeblog on Instagram, we would LOVE to see your creation!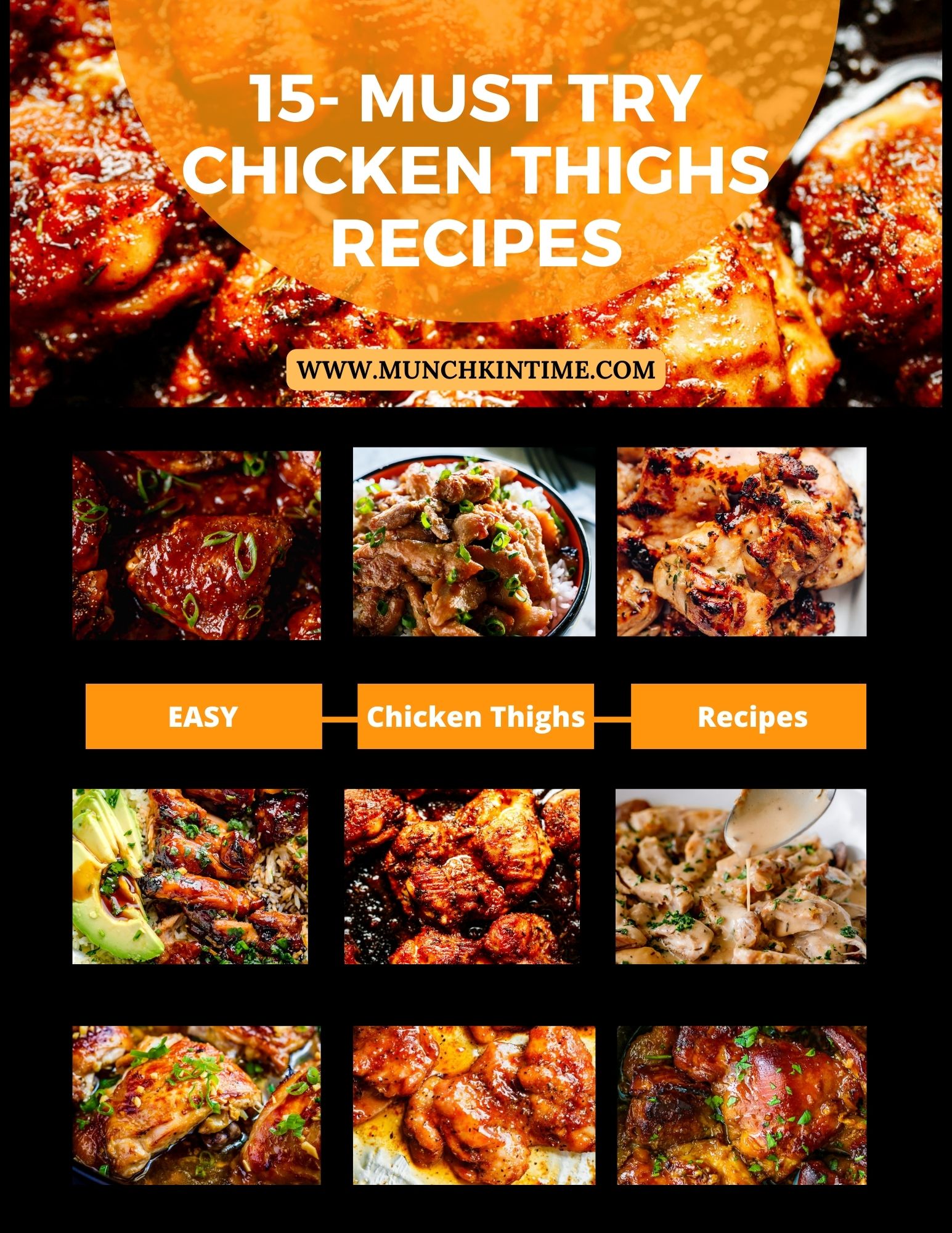 When it comes to discovering ways to make healthy eating easier, I always turn to simple recipes using lean protein.
We're a busy family with young kids, so I also need quick and easy recipes that can be made any day of the week, and of course, they have to be delicious.
Chicken thighs are one of my favorite cuts of meat to use because they're flavorful, inexpensive, and can be cooked in minutes. However, it's easy to fall into a chicken rut if you eat it quite often.
That's why I have put together this list for both of us. So we can all have quick and easy access to the best chicken thigh recipes in one spot!
So, to everyone who asks me the question, "what's the best recipe for chicken thighs?" the answer is, they all are, so go ahead and try them all!
Top 3 Reasons to Love Chicken Thighs
They're cost-effective! Unlike pricier chicken breasts, chicken thighs are much more budget-friendly. You can buy them in bulk or stock up when they're on sale, then freeze what you're not using.
Flavorful. Dark meat has a ton of flavor and has an easier time locking in moisture. Whether you are using bone-in and skin-on, or boneless and skinless, they are still harder to overcook than white meat.
Versatile. Chicken thighs can be cooked in all kinds of ways. I love to grill them in the summer and bake them in the winter! There isn't a time when thighs aren't on the menu in our home. Plus leftovers can be used in soups, wraps, salads, you name it!
Chicken thighs are juicy pieces of dark meat that cook to fall apart tender every time.
I'm sharing recipes with a wide variety of flavor profiles so there is something for everyone on this list!
Included below are my top 15 best chicken thighs recipes I've put together for you, including marinades, glazes, and sauces. Each recipe also includes expert tips, possible substitutions as well as ideas for delicious side dishes to pair it with.
Tips for Preparing Chicken Thighs
Trim the excess fat. A little is ok for flavor, but you want to get as much off as you can.
Pat them dry with a paper towel. This will help them to crisp up and absorb moisture so that the dry rubs and seasonings stick to them.
Plan ahead. If you know you'll need to (or want to in some cases) marinate your thighs hours beforehand, make sure to make the extra time.
Bring your meat to room temperature before grilling.
Last, always wait for your cooking surface to be hot before adding the meat unless otherwise directed. Placing cold meat on a hot surface will cause it to stick and possibly rip.
Baked Chicken Thigh Recipes
1. Best Oven Baked Chicken Thigh Recipe
An 3-ingredient recipe made with juicy chicken thighs and a sweet and tangy sauce made of brown sugar and Italian dressing mix. Baked in under 30 minutes, this is a kid-approved favorite for busy weeknights!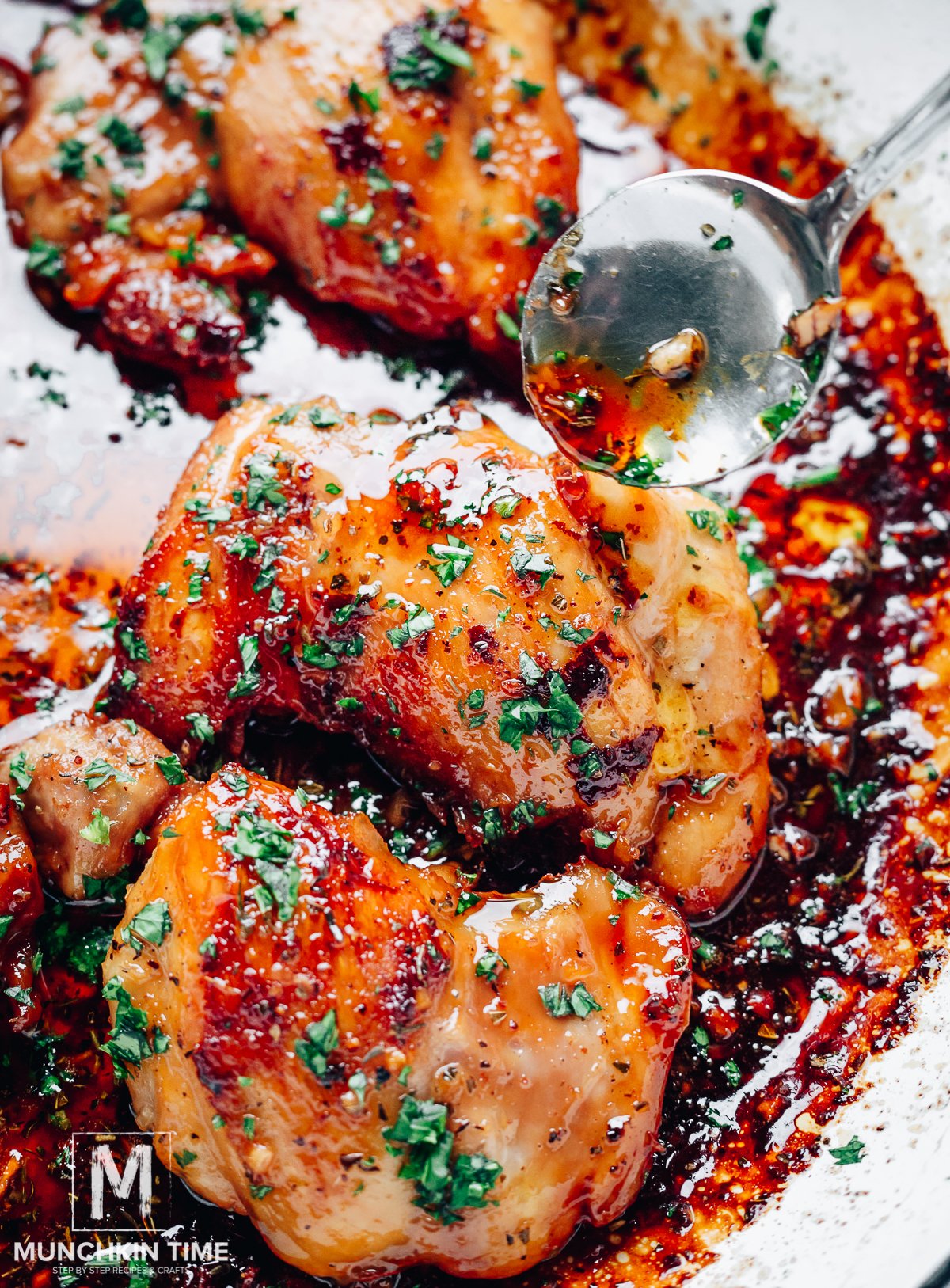 2. Baked Honey Garlic Chicken Thighs
Seared chicken thighs are baked until juicy and coated in a herb-infused honey garlic sauce. Make these with bone or boneless, either way, they're scrumptious and a must-try.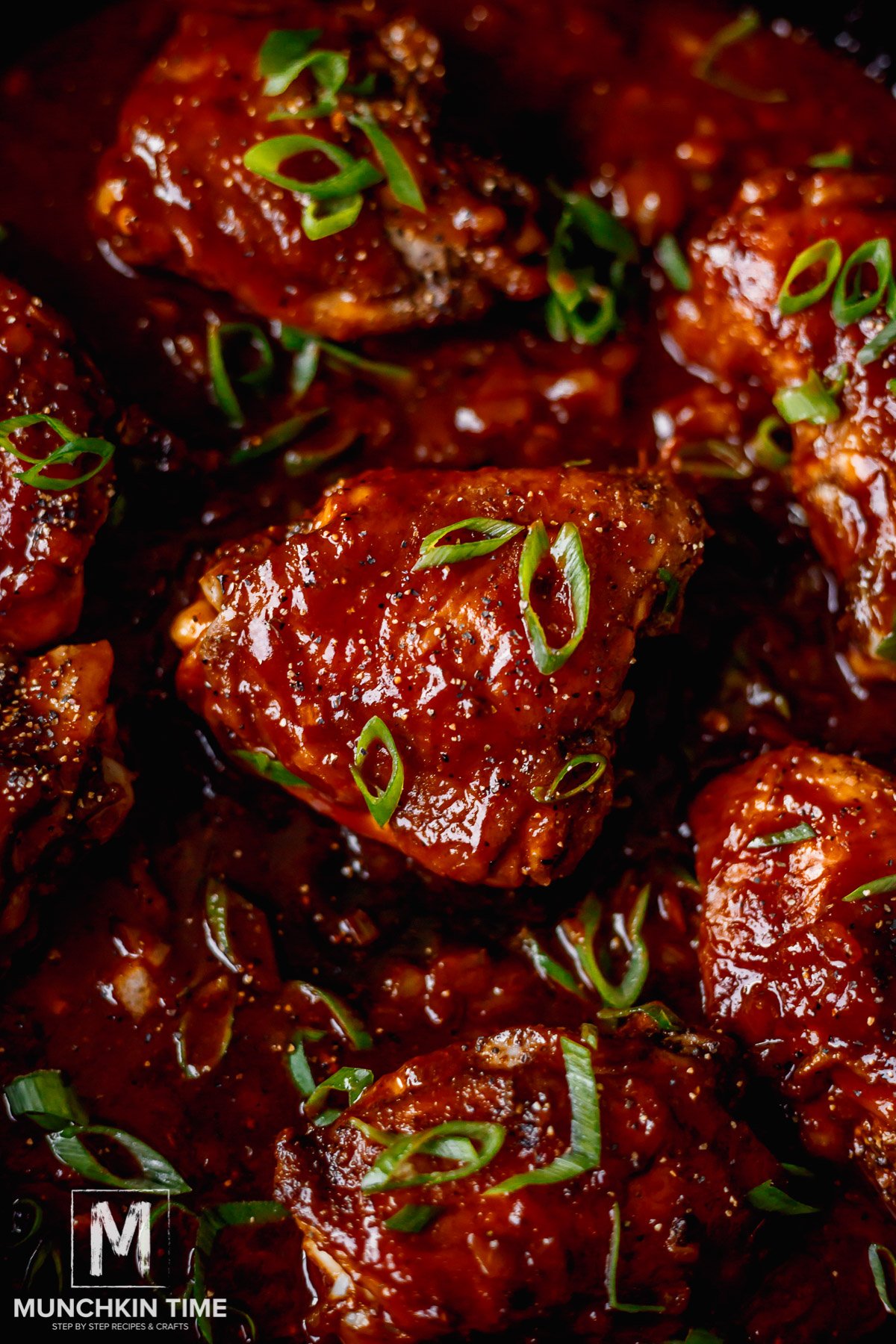 Coated in a sweet and spicy dry rub then browned and baked in a cast-iron skillet, these BBQ chicken thighs come complete with an easy finger-licking homemade BBQ sauce.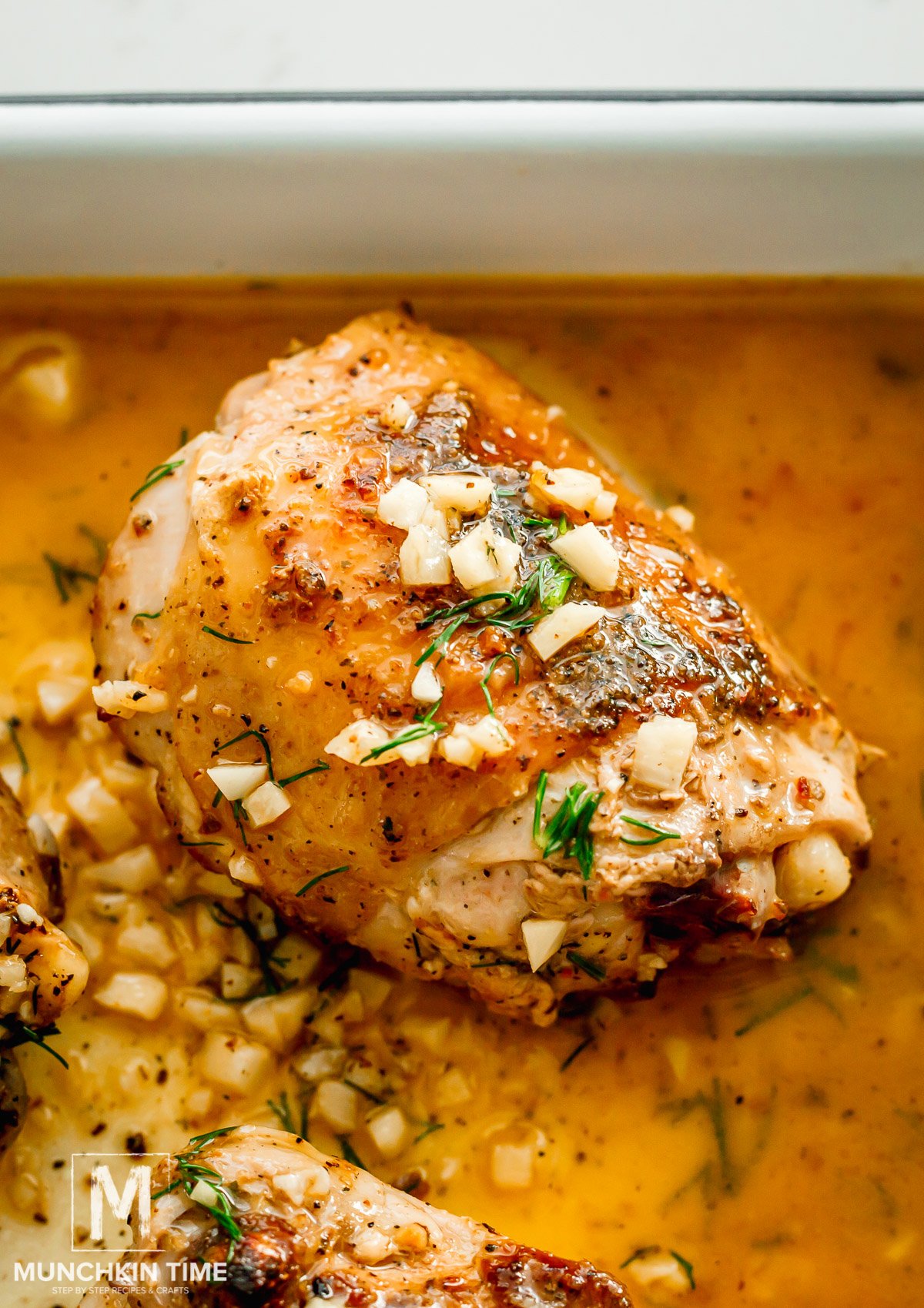 4. Garlic Butter Baked Chicken Thighs
We're using bone-in and skin-on for that extra flavor and crispy skin that gets seared until golden then smothered in a garlic butter sauce made with white wine and fresh dill. Pair with mashed potatoes and veggies for the ultimate feast.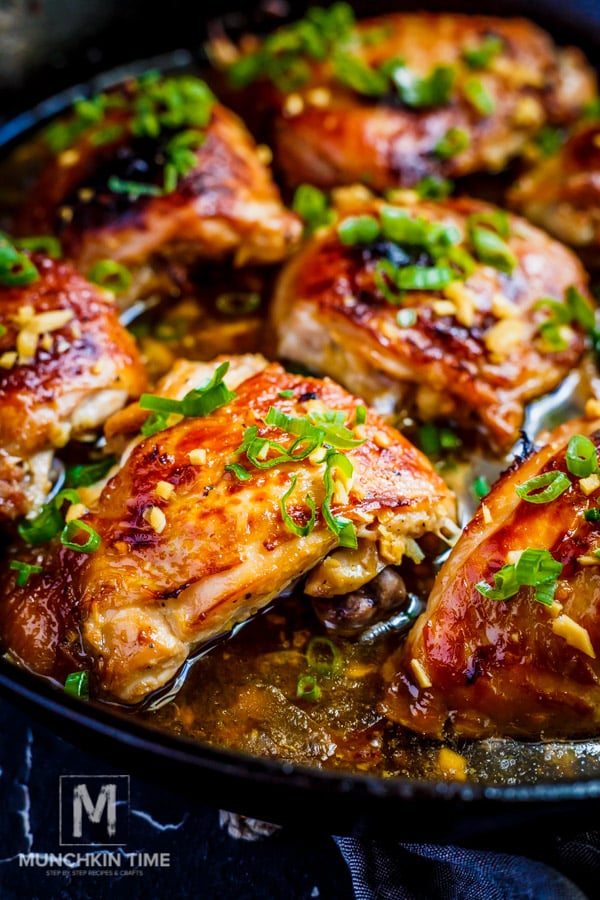 5. Baked Pineapple Chicken Thigh Marinade
The secret to the impressive flavor in this marinade is the combination of sesame oil and pineapple juice! Such an easy way to add another layer of flavor using items you may already have in your kitchen.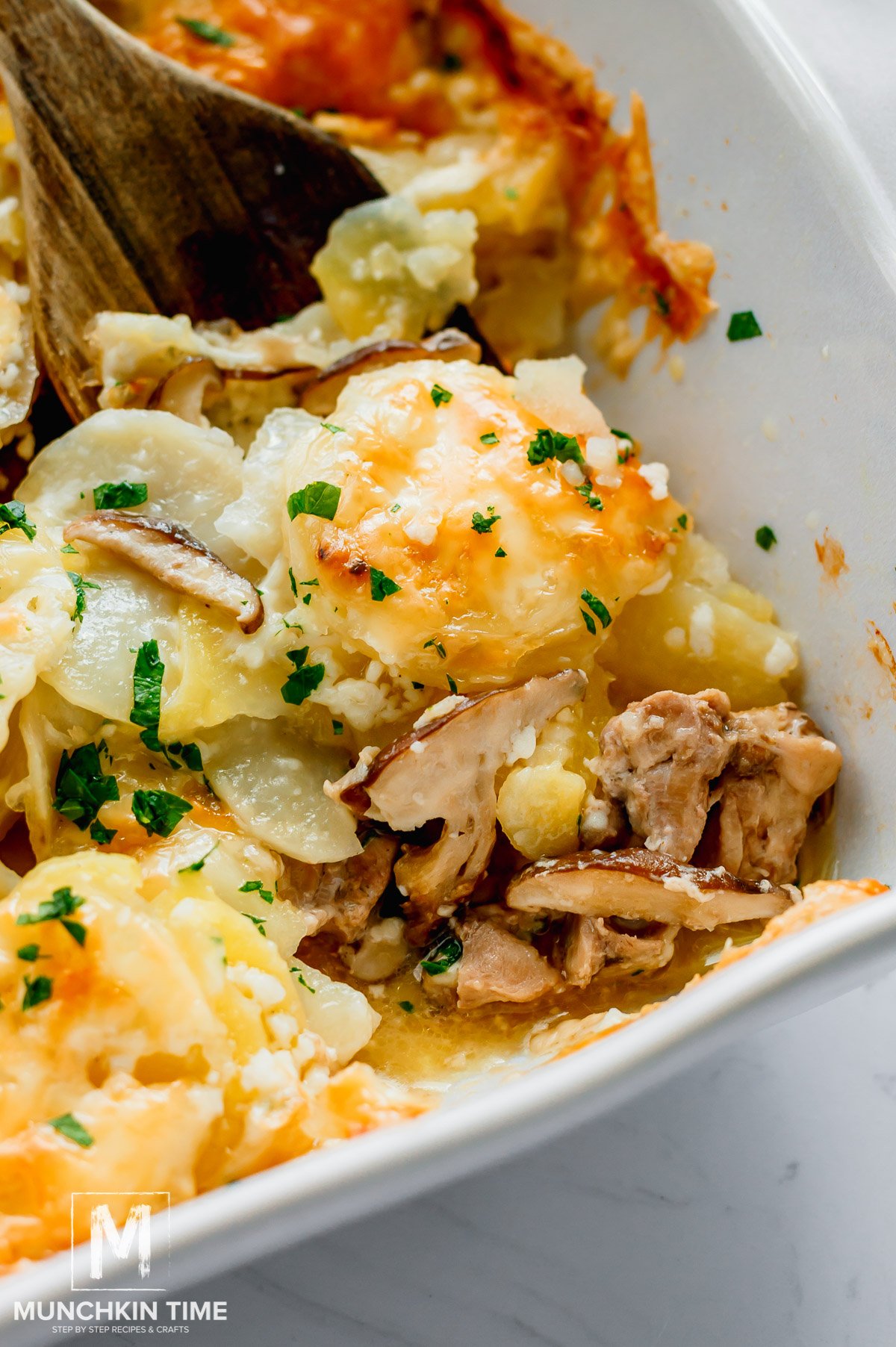 Easy all-in-one dinner meal where boneless chicken thighs & shiitake mushrooms are topped with potatoes and then smothered in a mayo and cheese topping. An easy way to feed a family any day of the week!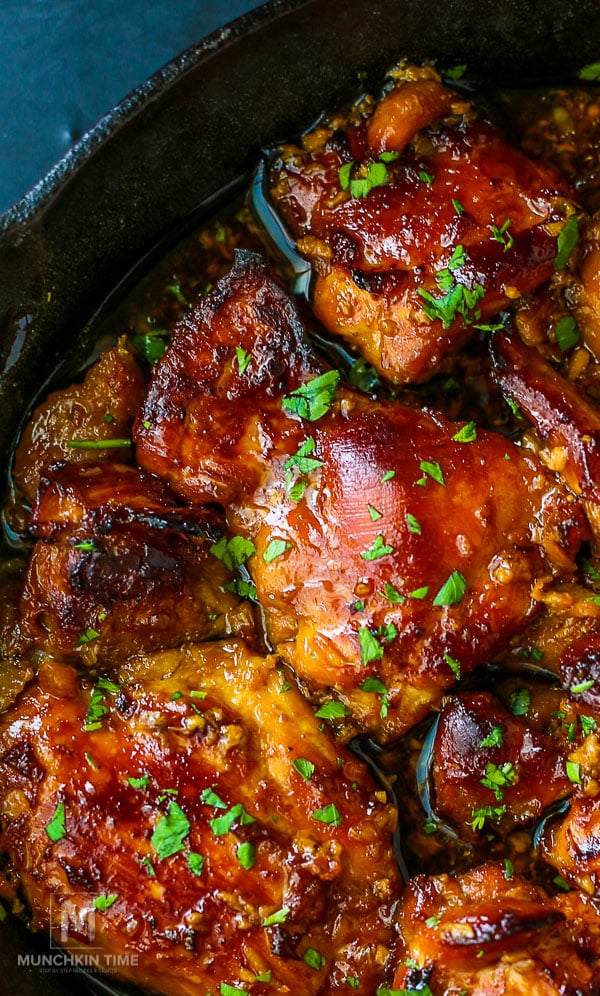 Boneless Chicken Thigh Recipes
This one-pan dish is prepared with just 1 hour of marinating time using the aromatic flavors of garlic, ginger, honey, and soy sauce. Baked and broiled until beautifully roasted, you'll love it garnished with fresh parsley.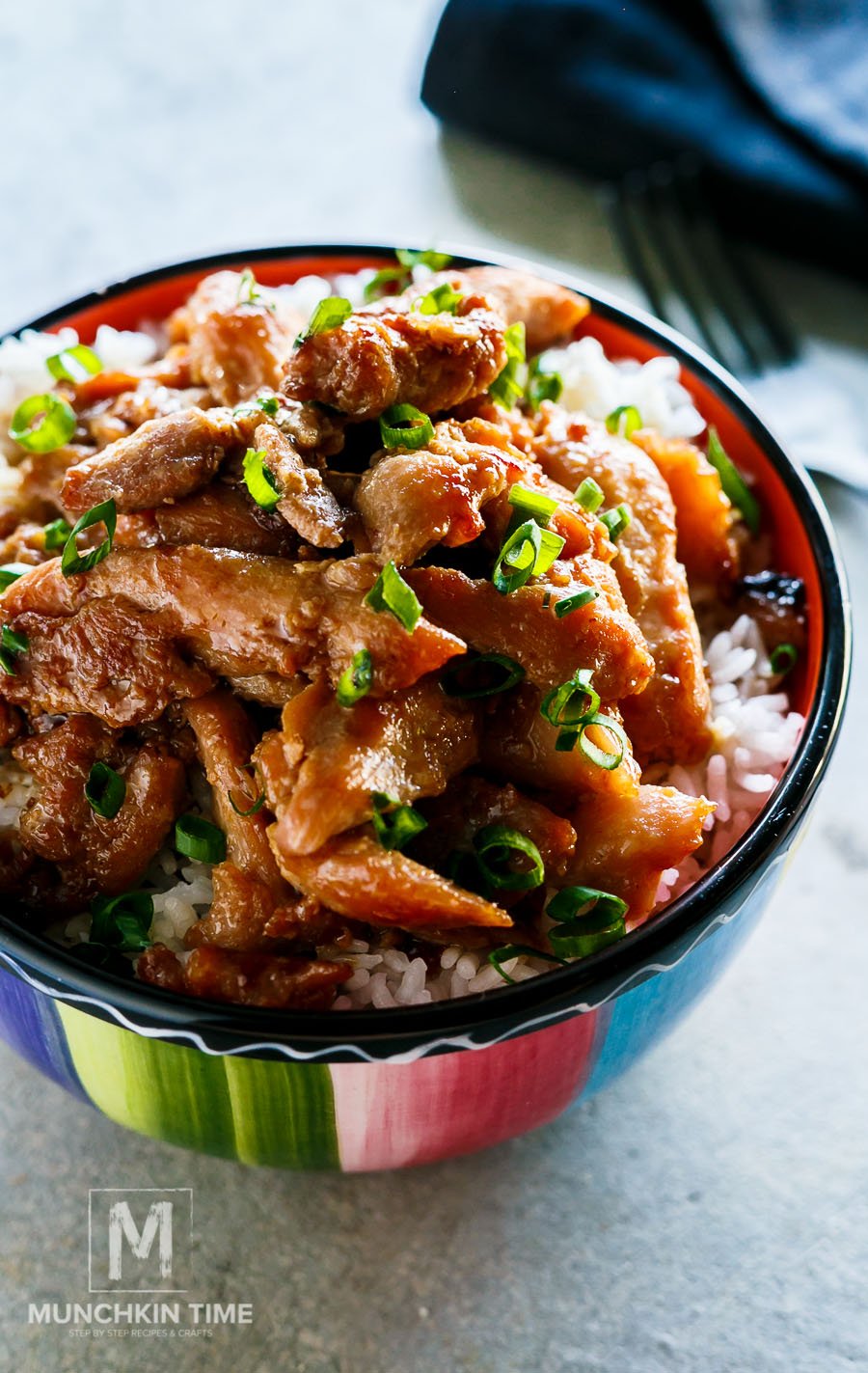 Thin strips of chicken thighs are cooked until golden brown and then coated in a sweet and sticky homemade teriyaki sauce. Marinate it in advance and serve it with rice for a quick tasty meal.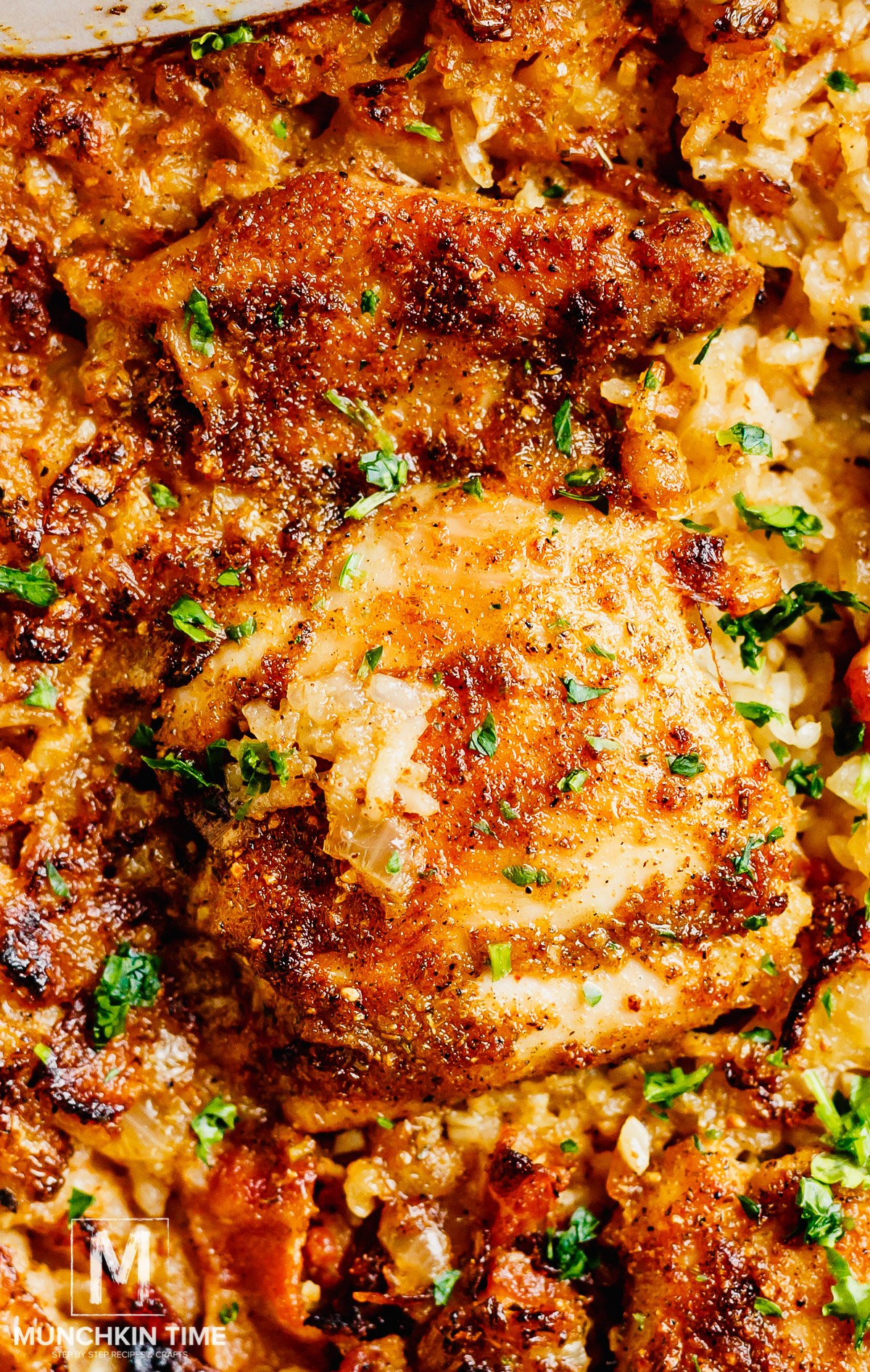 9. Easy Chicken Thighs and Rice Casserole
I love a good comforting casserole and this one comes together so easily. Seasoned chicken, cooked bacon, and rice that absorb all of the yummy flavors are baked together for a wholesome family-style meal.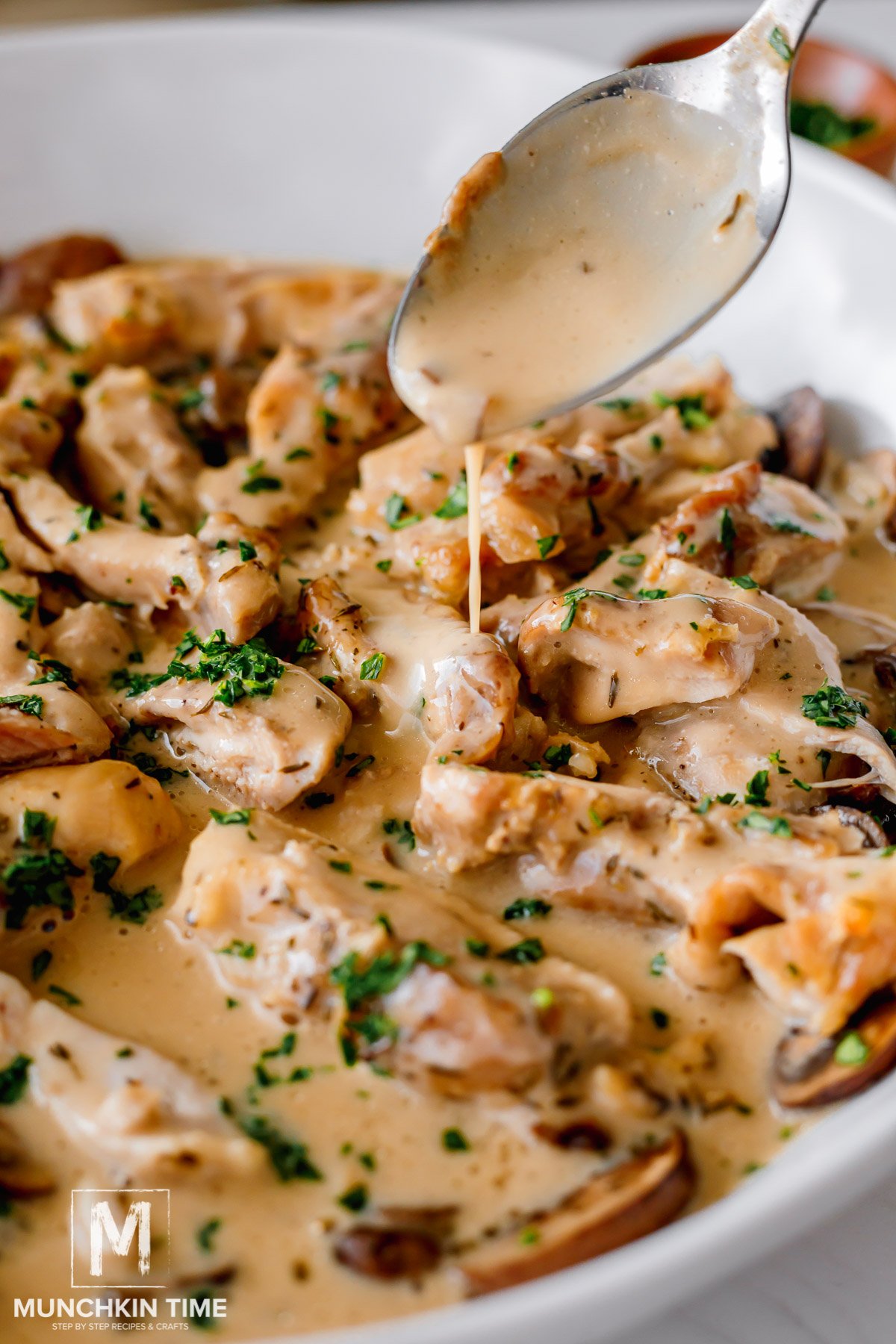 10. Creamy Chicken Mushroom Recipe
Baked chicken and heavenly mushrooms are smothered in a creamy white wine sauce where the bright flavors of garlic and thyme shine through. It's impressive yet easy which makes it suitable for all occasions.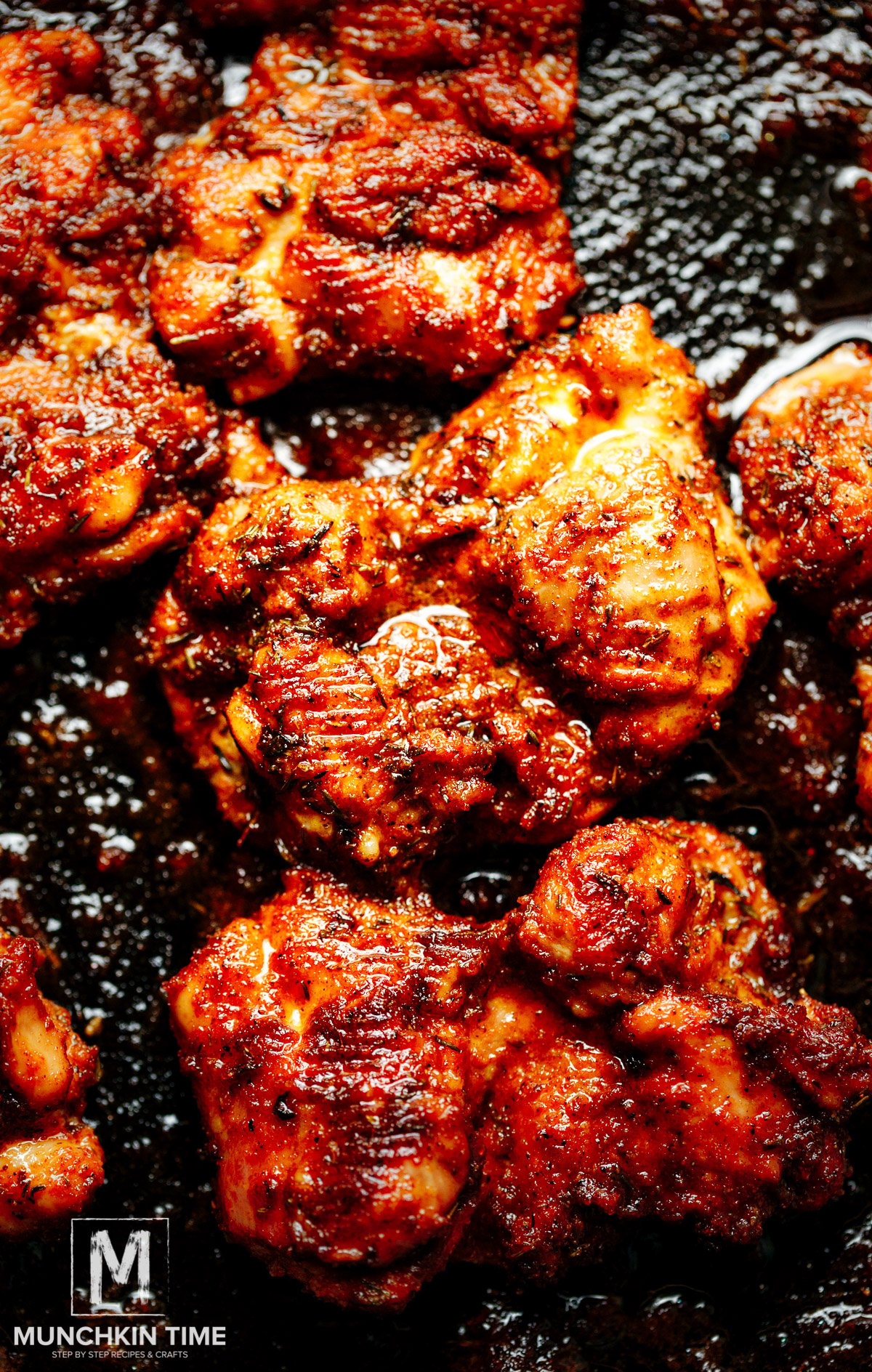 11. 30-minute Oven Baked Boneless Skinless Chicken Thighs
A simple chicken thighs recipe made with a sweet and smoky dry rub and cooked right on the stovetop for an easy meal any day of the week. Serve with all your favorite BBQ side dishes.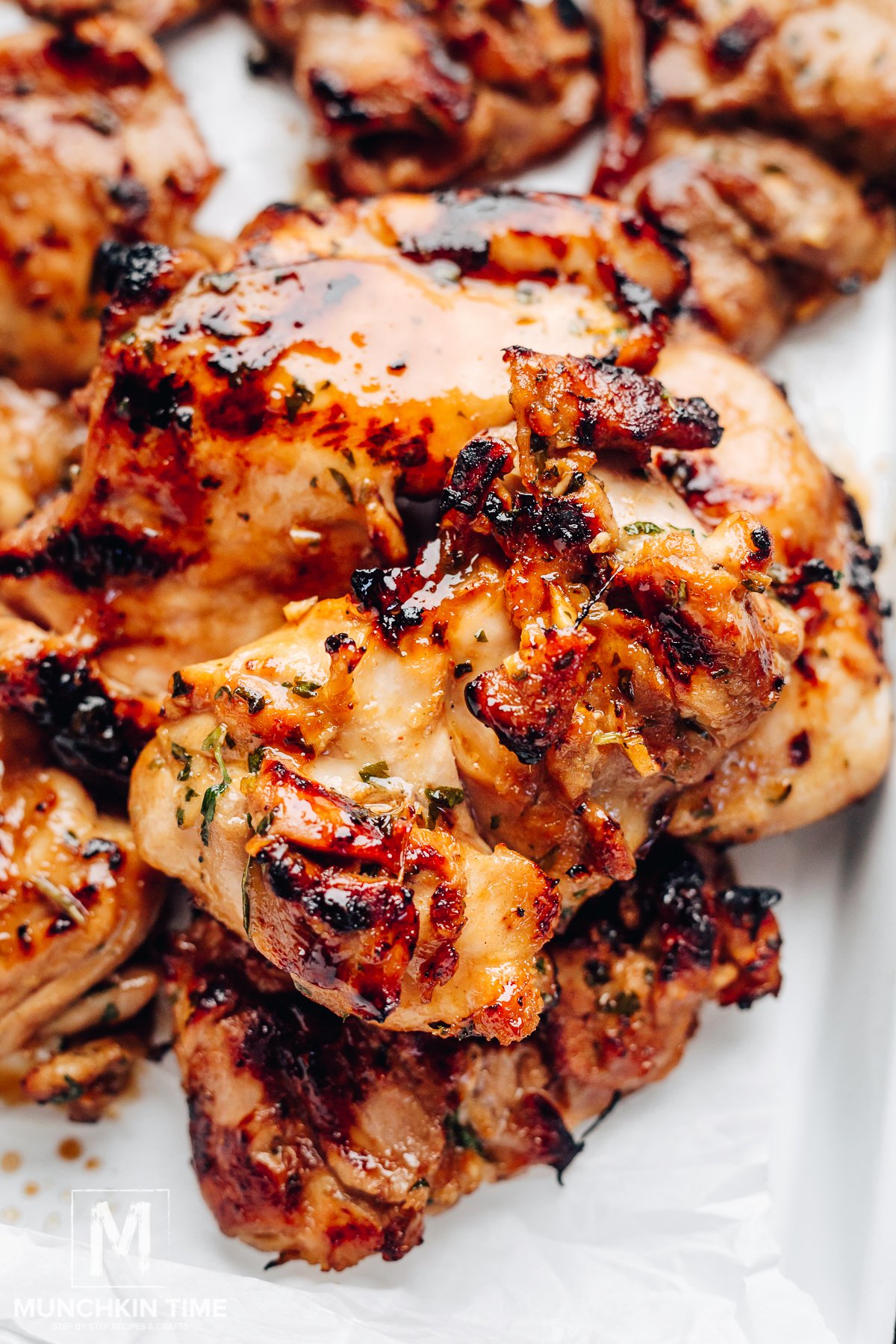 Grilled Recipes
12. Chicken Marinade with Honey and Soy Sauce
Prepare this easy marinade ahead of time and fire up the grill when you're ready to eat! Sweet and zesty with a hint of spice, this is one of the most sizzling ways to enjoy chicken thighs.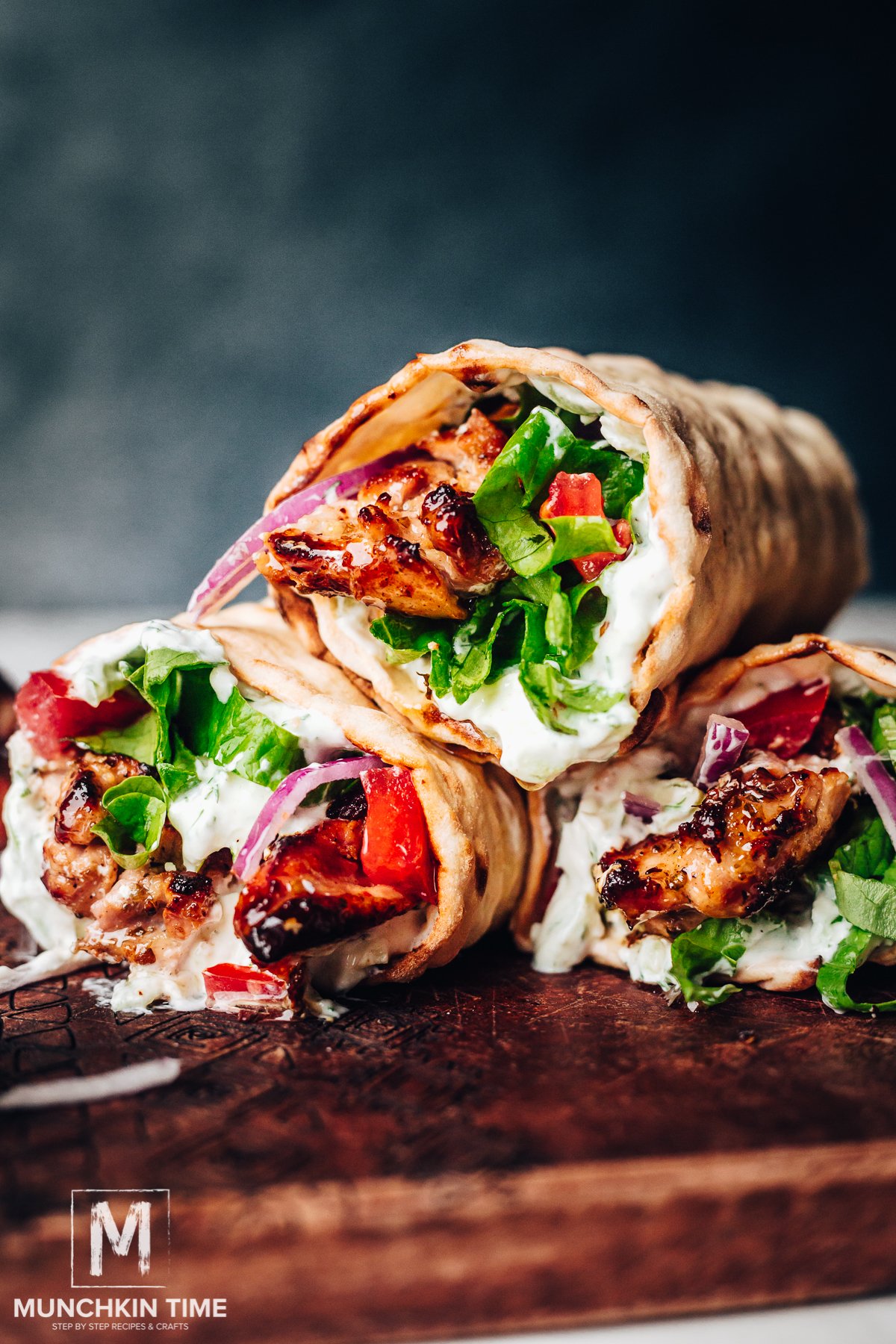 13. Greek Chicken Gyros Recipe
Make this traditional Greek street food right at home with beautifully charred grilled chicken, seasoned with Mediterranean-inspired herbs and spices in a wrap with fresh veggies and a homemade tzatziki sauce.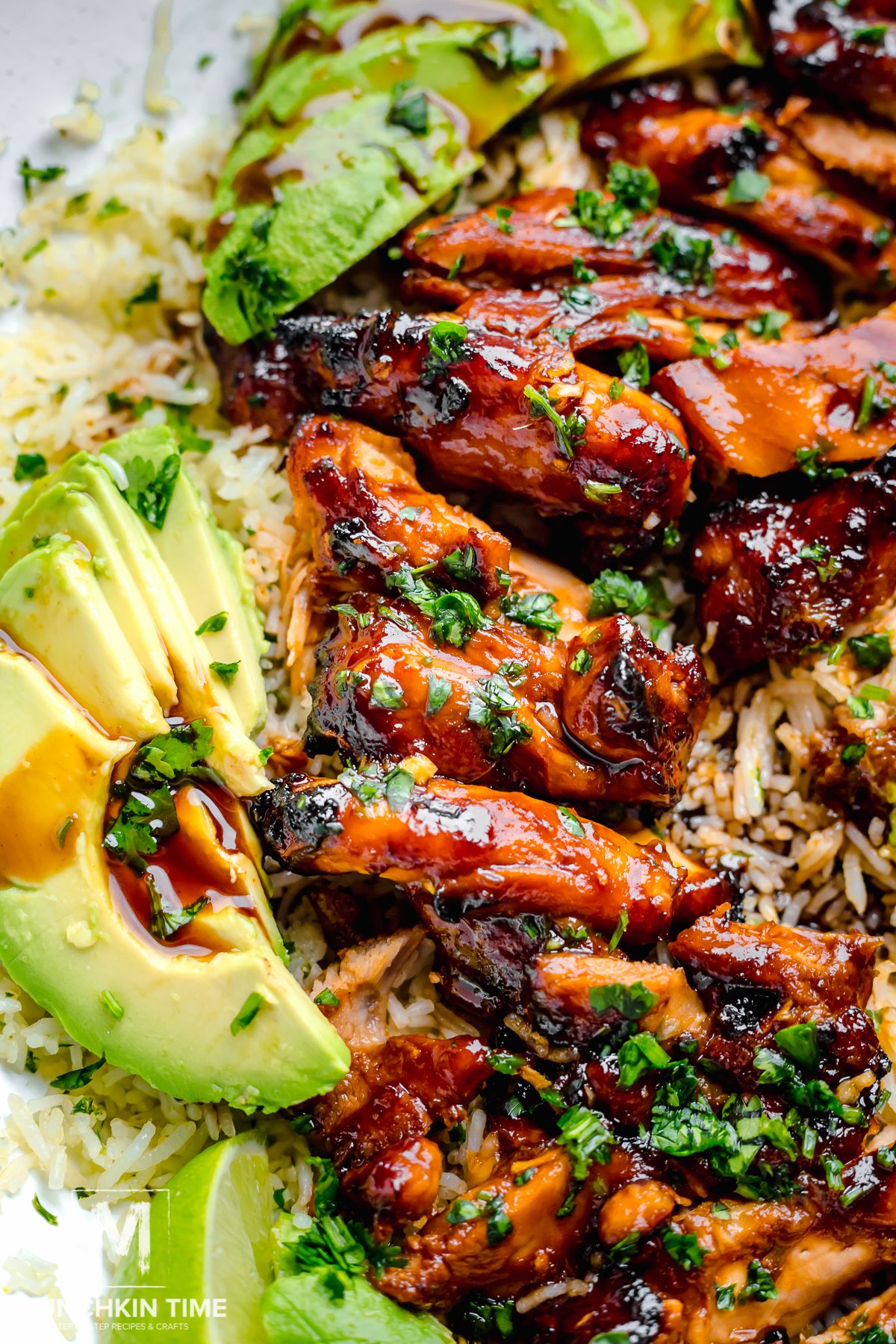 14. Best Hawaiian BBQ Chicken Recipe
These marinated Hawaiian BBQ chicken thighs caramelize so beautifully on the grill. The mouthwatering sweet and savory flavors pair well with everything from rice and salad to grilled pineapple!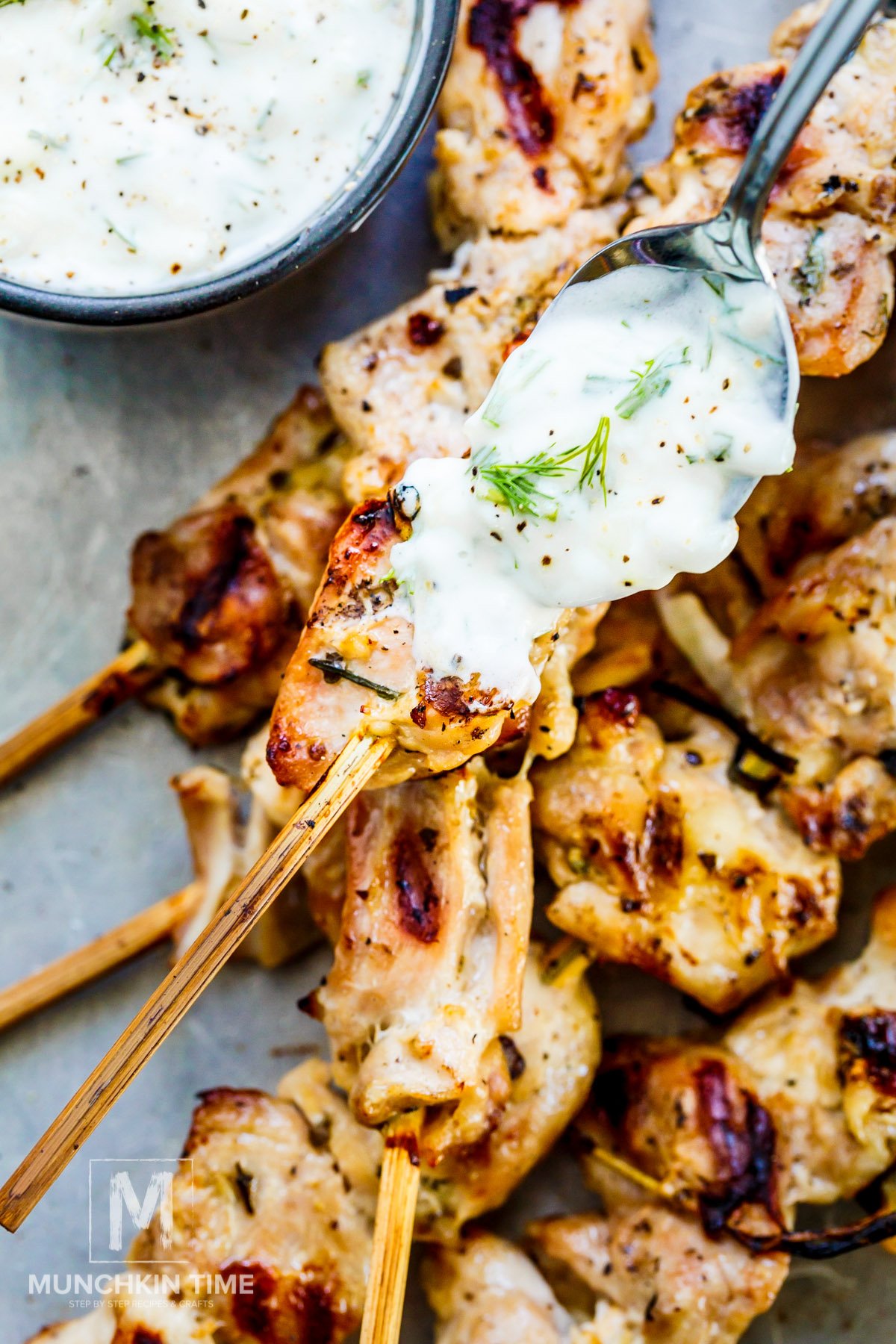 15. Greek Style Best Chicken Thigh Marinade
Greek-style shish kebabs are infused with Mediterranean-inspired flavors like rosemary, oregano, garlic, honey, and vinegar then skewered and grilled to perfection. Also included is a homemade tzatziki sauce that can't be missed!
Did YOU like these Easy Chicken Thigh Recipes?
Let us know in the comments below, we would love to hear from you!
Thank YOU for YOUR Comment, Share & Recipe Review!