35-Minute Homemade Salisbury steak is exactly what you want in a comforting classic meal! Juicy, seasoned meat patties smothered in a delicious mushroom and onion gravy served on a bed of mashed potatoes. It's an entire meal ready in under 35 minutes and is the perfect reason to gather around the table!
This delicious Salisbury steak with mushroom gravy is definitely a wholesome comfort classic. Back in the day, it was known as a poor man's steak because it's made from ground beef that's been shaped into a patty (or the shape of a steak) and smothered with a thick velvety gravy.
Today, it's a popular budget-friendly dinner idea that has stood the test of time. And for good reason!
It's made with tender juicy seasoned beef, topped with a creamy mushroom sauce made with fresh slices of mushrooms and a ton of flavor! Served on top of mashed potatoes and a side of broccoli, and your meal is complete in 35 minutes! It's a healthy and hearty dinner idea for after school when hangry kids are "sooooooooooooo hungry!"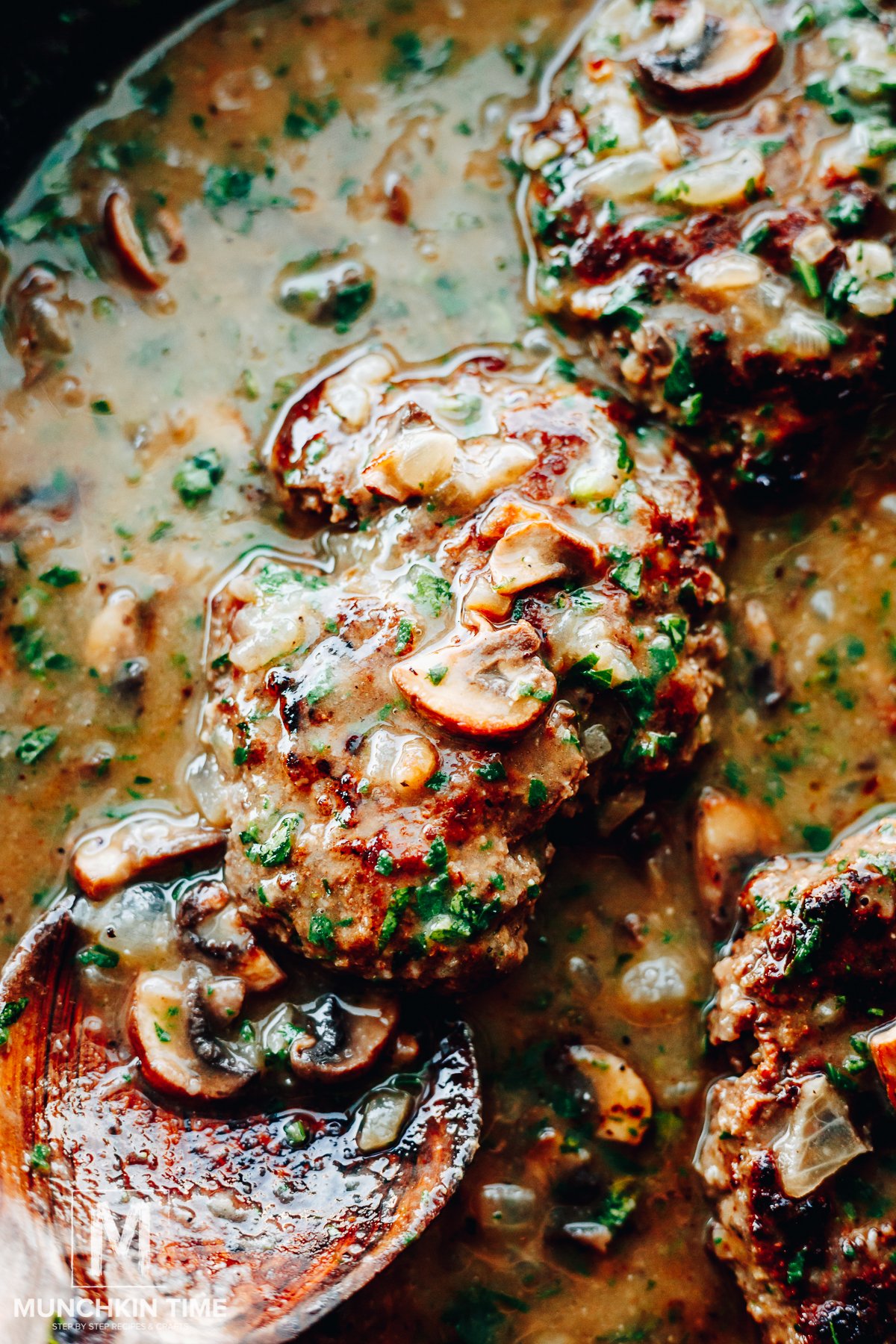 This Salisbury steak recipe starts off as a must-try and very easily will move to a must-keep because your kids will be asking for it time and time again. Good thing it's freezer-friendly, that way you can make more patties than you need, freeze them, and heat them up for an even quicker dinner!
Whether you're enjoying it throughout the week or needing a warming comfort food idea for a cozy weekend, this Salisbury steak is a welcome addition to everyone's table!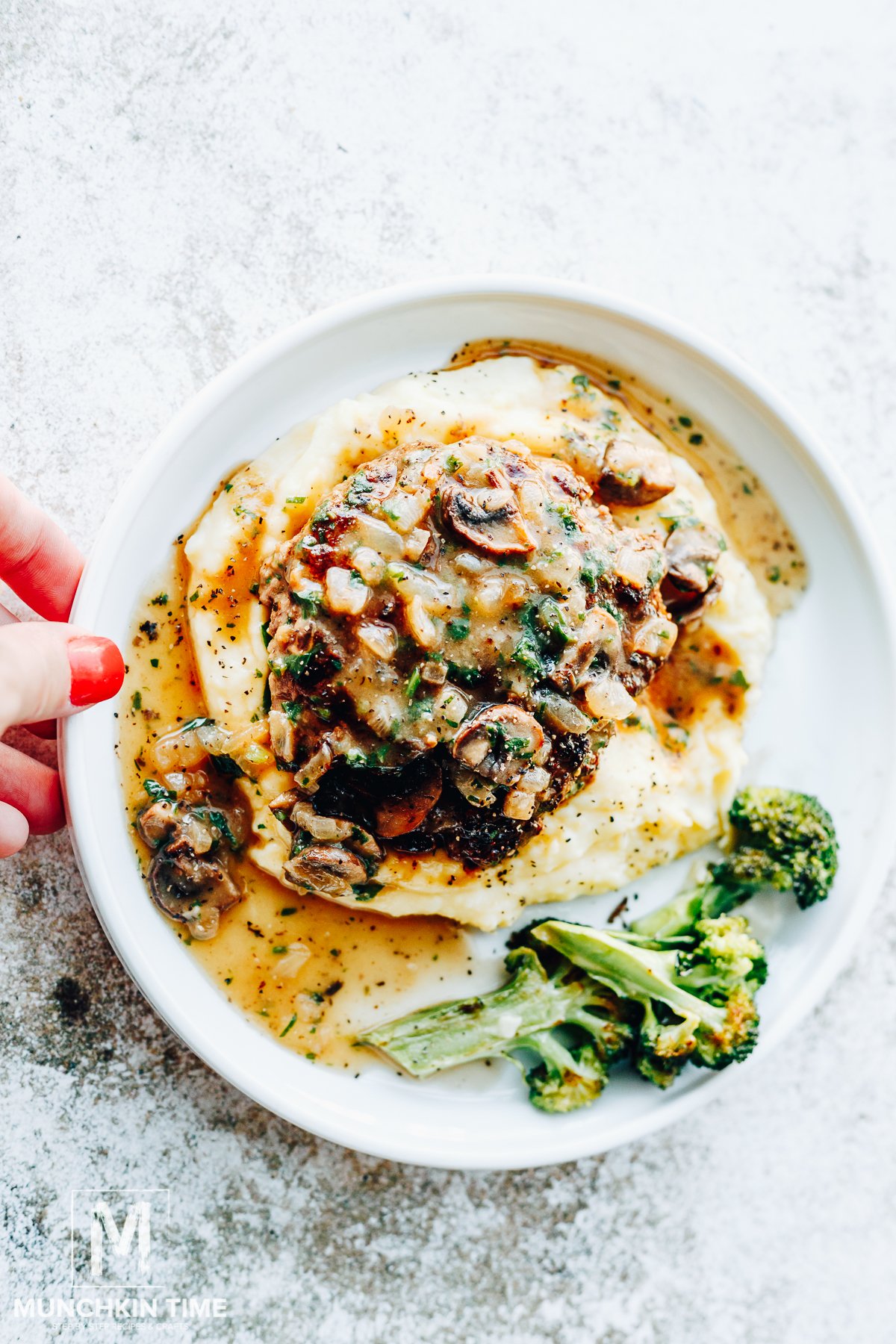 What is Salisbury Steak Recipe?
This dish is an American class, originating in the States. It's named after a man named James Salisbury, who, as a doctor, decided that a meat-centered diet is the healthiest way to be.
So, this dish was created. It was also easily accessible to folks who were not able to afford real steaks, which meant most people. It's made with ground beef patty and other fillers (seasonings and such) and is usually served with brown gravy.

Ingredients
For the Steak Patties
Ground beef – If you can, use grass-fed beef. I like to use 85% lean ground beef, that way it's not overly greasy but still has enough flavor.
Butter – You can also use oil. It's for frying the patties, so you only need a bit.
Breadcrumbs – I like to use Panko bread crumbs instead of regular breadcrumbs because of the lighter, crispier texture you get from the coarse flakes. If you want to use the finer breadcrumbs you can. It's meant to absorb some of the liquid in the beef mixture so it will help bind everything together.
Worcestershire sauce – It gives the meat a nice tangy flavor.
Montreal steak spice – A great seasoning blend that is all you need to add a fantastic flavor to the meat patties.
For the Gravy
Butter – The base of the gravy that is used to cook the mushrooms and onions. Can you smell it now?
Mushrooms – I enjoy shitake mushrooms for their health benefits, but you can't go wrong with any brown mushrooms. Sliced or diced.
Flour – Regular All-purpose flour is great for use as a thickener in any gravy.
Broth – If you've got homemade broth on hand, use it! Chicken or beef broth works, whichever you prefer. If you're using store-bought aim for a low sodium option if you can. If not, adjust the added salt and pepper to your liking.
Worcestershire sauce – A popular addition to all kinds of gravy recipes. It adds a little something-something!
Seasoning – Garlic powder, salt & black pepper are all you need for the perfect flavor balance. Along with the Worcestershire sauce, it comes together in mouthwatering, salty, savory, and earthy combination!
Parsley – Fresh parsley for garnish is totally optional but does give the dish a nice fresh pop of green and a herbaceous finish.

How to Make Salisbury Steak
Step 1: Combine the steak ingredients in a large bowl and mix to combine. Don't be afraid to get your hands dirty. Mixing with your hands can be the best way to make sure all of the meat gets even seasoning. If you have gloves, use them. If not, don't worry about it!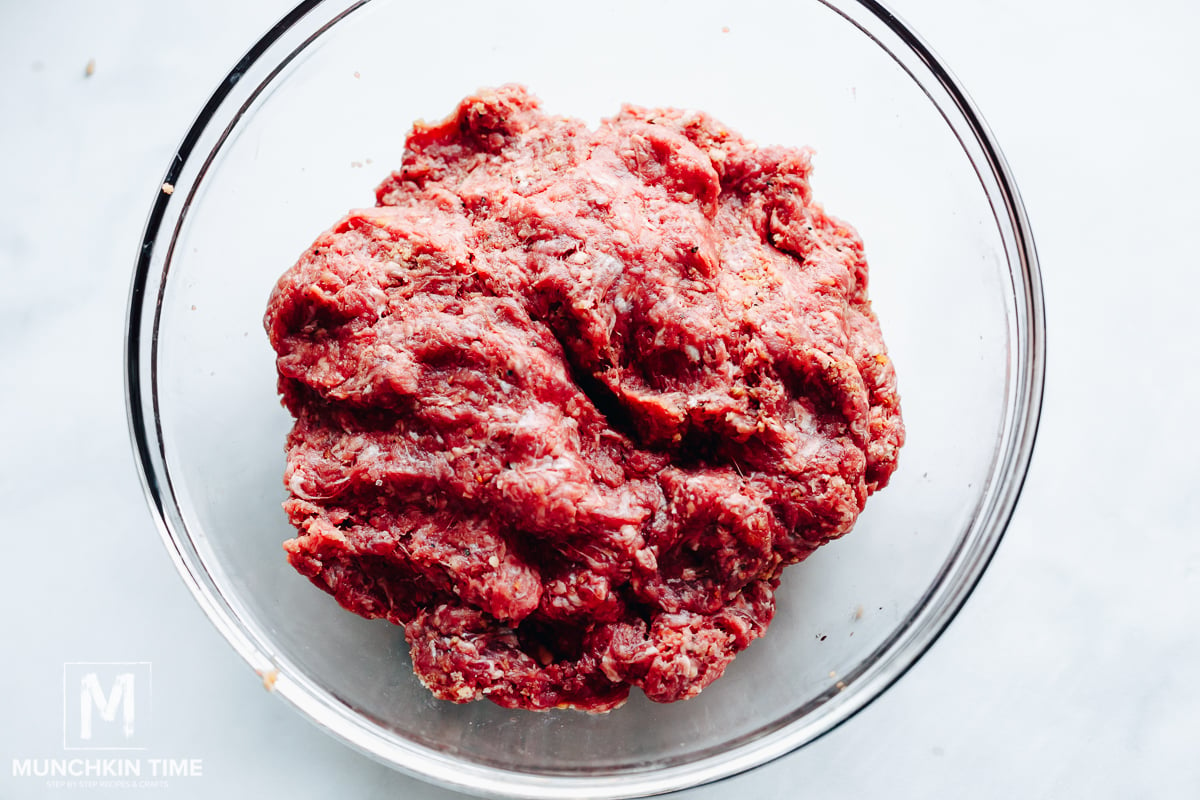 Step 2: Once combined, cover the bowl with plastic wrap and allow it to rest at room temperature for 20-30 minutes.
TIP: While the meat is resting, make the sauce and whatever other sides that will be included in the meal.
How to Make Salisbury Steak Gravy
Step 3: Melt butter in a large skillet over medium heat then add the onion and mushroom. Season with salt and pepper and cook down the onion and mushroom for about 7-10 minutes until the onions are golden in color. Stirring occasionally.
Step 4: Add the flour and saute for a couple of minutes while stirring continuously. Slowly, whisk the broth into the skillet and season with Worcestershire sauce, garlic powder, and salt and pepper. Stir continuously and once everything has combined, bring it to a simmer until the sauce thickens.
Step 5: Form rested meat into 4 even patties about 1/2 thick. Melt butter in a nonstick skillet over medium heat and cook steaks until brown on both sides. This should be about 10 minutes, flipping halfway. If you have a thermometer, check that it reads 160F in the center of the patty.
Step 6: Add patties to the gravy. Serve smothered in gravy on top a bed of pillowy mashed potatoes and a side of broccoli. Garnish with parsley and dig in!
Old Fashioned Salisbury Steak Recipe
This Homemade Salisbury steak is exactly what you want in a comforting classic meal! Juicy, seasoned meat patties smothered in a delicious mushroom and onion gravy served on a bed of mashed potatoes.
Instructions
For Steaks
Using a bowl, combine all steak ingredients and using gloves mix with your hands. Cover with a lid or plastic wrap and let rest in room temperature for 20-30 minutes. While steak is resting lets make the sauce or mashed potatoes.

After meat is done resting, form 4 same size patties 1/2 inch thickness. Melt 2 tablespoons of butter in non-stick skillet over medium heat. Add steaks and cook until browned on both sides, about 8-10 minutes flipping once, or until the thermometer reads 160F when inserted inside the patty.

Remove from the skillet and let it rest. Serve with sauce and mashed potatoes and sautéed broccoli. Enjoy!
For the Sauce
Melt 2 tablespoons of butter over medium heat, add onion and mushroom. Season with salt and pepper and saute for 7-10 minutes, stirring few times or until golden color.

Next, add flour and saute for 1-2 minutes stirring nonstop. Slowly whisk in chicken broth, and season with Worcestershire sauce, garlic powder, salt and pepper (if needed more), stirring nonstop. Simmer for 2 minutes or until the sauce thickens.
Notes
Add 1/4 cup of finely chopped onion into the patties to make them EXTRA juicy.
When YOU make this Easy Salisbury Steak Recipe, tag us on Instagram @MunchkinTimeBlog & hashtag #munchkinrecipes. We would love to see YOUR creation!
Nutrition
Calories:
421
kcal
Carbohydrates:
15
g
Protein:
24
g
Fat:
29
g
Saturated Fat:
14
g
Polyunsaturated Fat:
1
g
Monounsaturated Fat:
11
g
Trans Fat:
2
g
Cholesterol:
107
mg
Sodium:
723
mg
Potassium:
565
mg
Fiber:
1
g
Sugar:
3
g
Vitamin A:
525
IU
Vitamin C:
14
mg
Calcium:
62
mg
Iron:
4
mg
Can I make Salisbury Steak Recipe gluten-free?
You can! As long as you're using gluten-free flour and gluten-free breadcrumbs you this dish can easily become a gluten-free meal. Just keep in mind gluten can be hidden in all kinds of things, so be sure to check the labels on the seasoning you're using. When in doubt, opt for certified gluten-free ingredients.
Do I need to add mushrooms?
Although this dish is very popular with mushrooms, because of the added texture and earthy flavor, it's not a must-have. If you or someone in your family absolutely won't eat mushrooms, by all means, leave them out.
What Other Seasoning Can I Use?
Jazz up the seasonings for a bit of a different flavor!
Dijon mustard, ketchup, Italian seasoning are the ones to try.
Although ground beef is classic, you can switch up the meat if you'd like. Use a blend of ground beef and chicken or ground turkey, or use chicken or turkey on its own. If you have hamburger patties they can work too.
Add an egg for extra binding assurance if you'd prefer.
Add 1/4 cup of finely chopped onion into the patties to make them EXTRA juicy.
Use freshly grated garlic in place of the garlic powder. Saute minced garlic with onion 1 minute before adding chicken broth.
Toss in a bit of mustard into the gravy mixture for added tang.
Some people enjoy making their gravy a little more tomato-based and acidic by using a bit of tomato paste and wine.
What to Serve with Salisbury Steak
Although my favorite is plain and simple mashed potatoes and a side of broccoli, there are other ways to serve this steak, especially if mashed potatoes aren't your thing.
Serve it on the side of scalloped potatoes, crispy wedges, air fryer french fries, or herb-roasted potatoes instead!