Candy Cane Cherry Cheese Danish Recipe is an incredibly delicious puff pastry dessert with cream cheese and cherry filling, formed as a candy cane for Christmas and all your holiday gatherings!
When YOU make this Cherry Cream Cheese Danish Recipe, take a picture & tag your Food Creation on Instagram using @MunchkinTimeBlog, we would love to see your creation!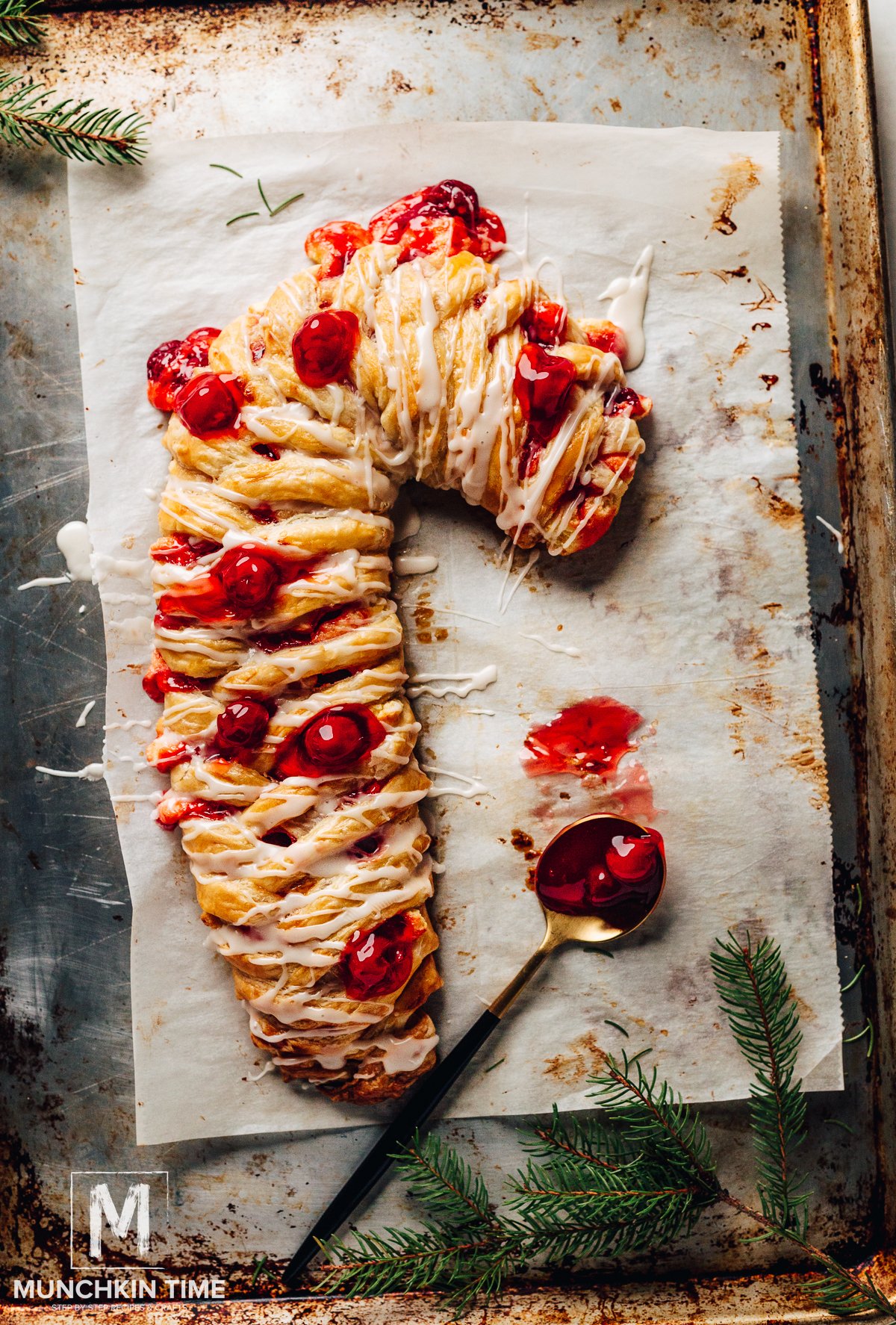 On the table, we always have a freshly baked cherry cheese danish in the shape of a festive candy cane for a little extra fun!
It's made with a golden brown flaky pastry filled with a cherry pie and sweet cream cheese filling, then topped with a drizzle of icing!
It's so beautiful to look at but easy to make using store-bought puff pastry and cherry pie filling and it's ready in under an hour. The kids can even help make it.
Whether you have it for breakfast or brunch with a hot cup of tea or coffee, or dessert with a glass of sparkling wine, this adorable candy cane cream cheese danish recipe is going to become everyone's favorite Christmas treat!
In fact, make two, put them together in the shape of a heart, and you've got everyone's favorite Valentine's day treat too!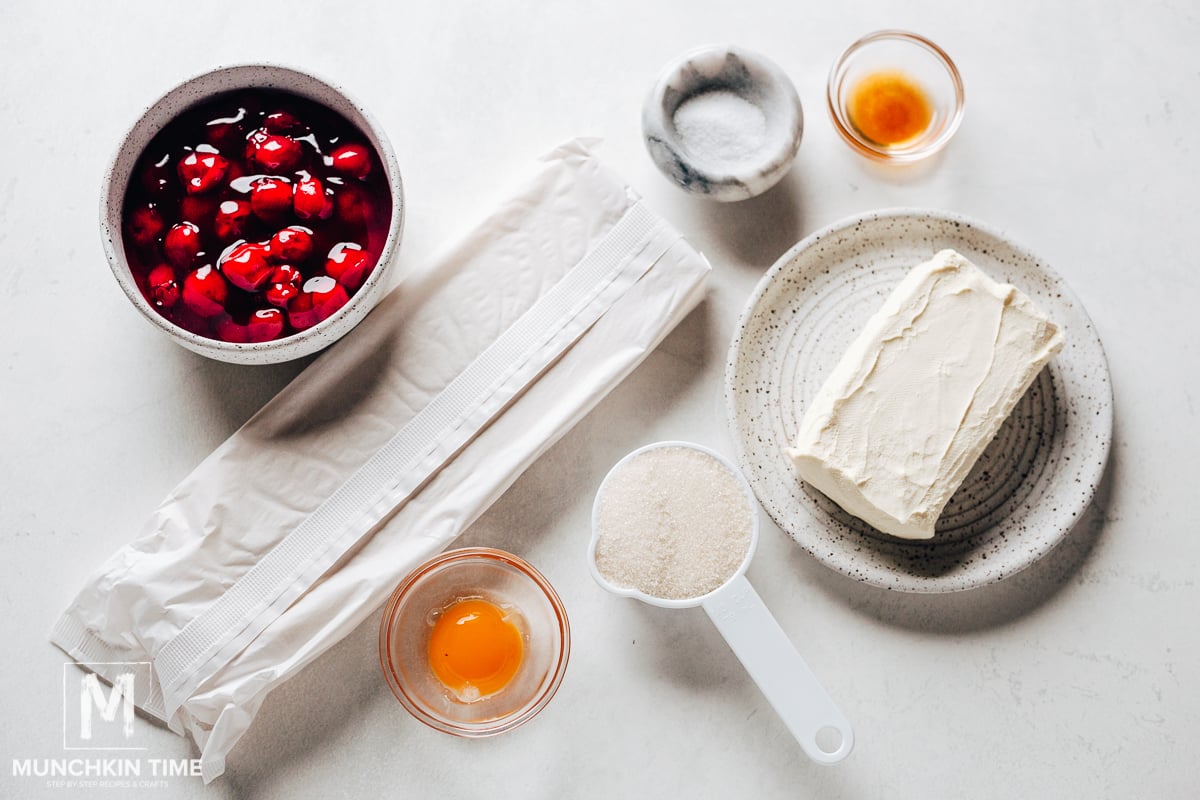 Ingredients for Cherry Cream Cheese Danish
Cream cheese: Bring it to room temperature ahead of time so that it's nice and soft and creams easily.
Sugar: Granulated white sugar is just the thing to ensure a deliciously sweet cream cheese. On its own it's pretty tart and tangy, so we need to sweeten it up.
Egg yolk: You'll need to separate the egg (see the tip below on how to do this) and just use the yolk. You can always keep the white for breakfast tomorrow!
Vanilla extract: A delicious extract that adds a lovely warm vanilla flavor to the filling.
Lemon juice: This will brighten up the flavors of the filling and adds a bit of tartness which balances out the sweet cherry filling.
Puff pastry: Found in the frozen section of your local grocery store. Be sure to thaw the 2 sheets before using them.
Cherry pie filling: I prefer to use the storebought filling to save time.
Glaze: Just a quick mix of powdered sugar and milk.
Egg wash: Whisked egg and water to brush over the pastry for a golden brown finish. Just like the pros!
How to Separate Egg Yolk from Egg White
You'll only need to do one for this recipe, but this is a great tip to use, especially when you've got a few to do.
I always say to have a few extra on hand, just in case one doesn't work out!
First, you'll want to get a small bowl. It's always easier to remove any shells from the yolk if it's still separate from any other ingredients.
Gently tap the side of the egg so that it has a nice crack on the side. Not too light that you need to tap it over and over again and it has too many small pieces.
Carefully open the shell, using your two thumbs to separate the crack, and hold the egg so that the egg yolk and white are both in one half of the shell.
Once completely broken in half, you'll have one-half of the empty shell in one hand and a full half shell in the other hand.
Now, gently move the contents of the shell back and forth between shell halves, over the small bowl. The egg whites will naturally fall out of the shell as it is transferred back and forth.
The egg yolk is all that should remain in one half of the egg. Use that in the recipe.
If you've mistakenly dropped a piece of shell into the bowl, use the half shell to scoop it out.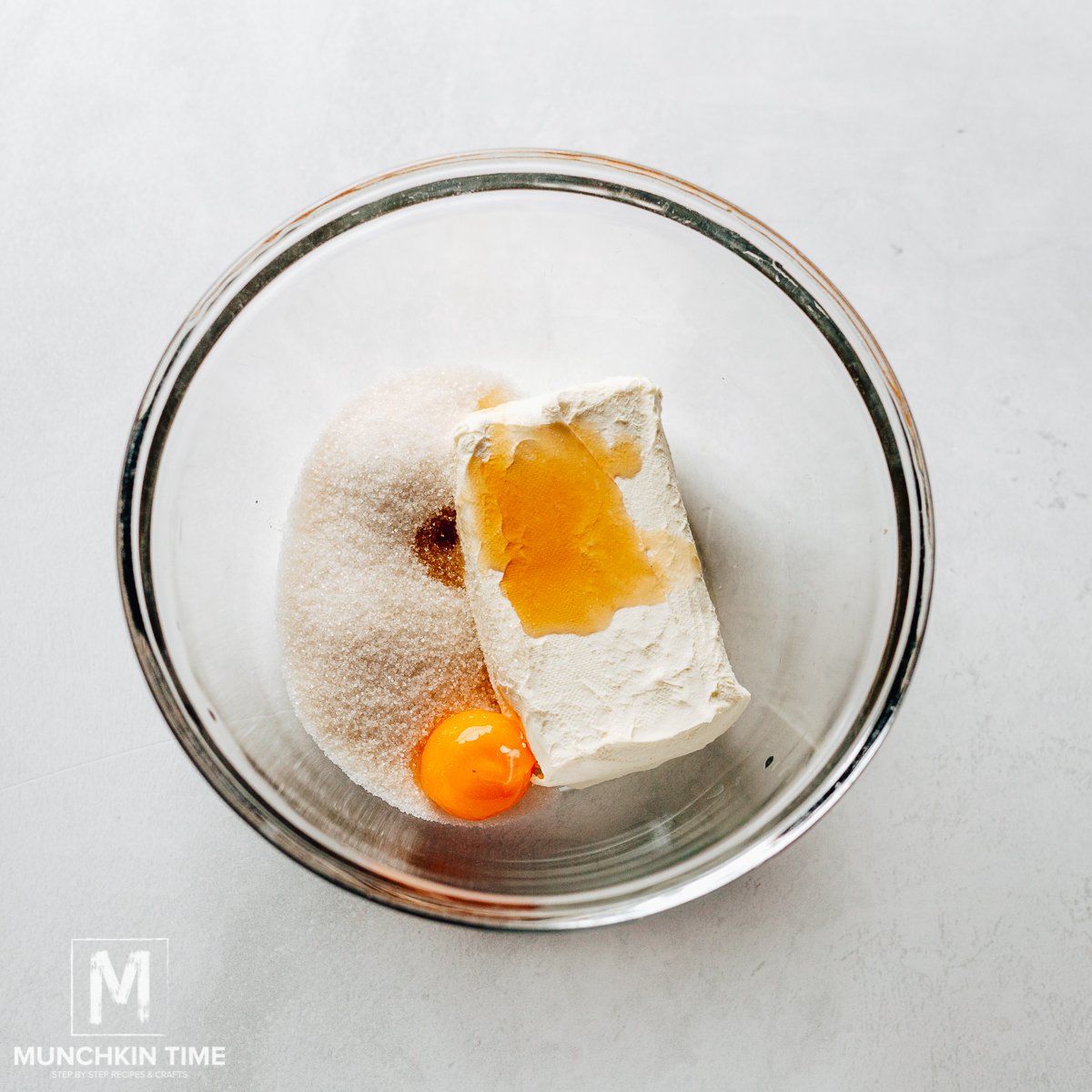 How to Make
Cherry Cheese Danish
If you're not looking for a candy cane shape, you can still make a regular cheese danish by not curving the end. Either way, it tastes amazing and I can't wait for you to try this puff pastry recipe!
Step 1: Combine cream cheese, sugar, egg yolk, vanilla, lemon juice, and a pinch of salt. Beat with a hand mixer on medium speed until everything is creamed and combined. Set it aside.
Step 2: Place one sheet of puff pastry on a baking sheet lined with parchment paper. Roll it into a rectangle.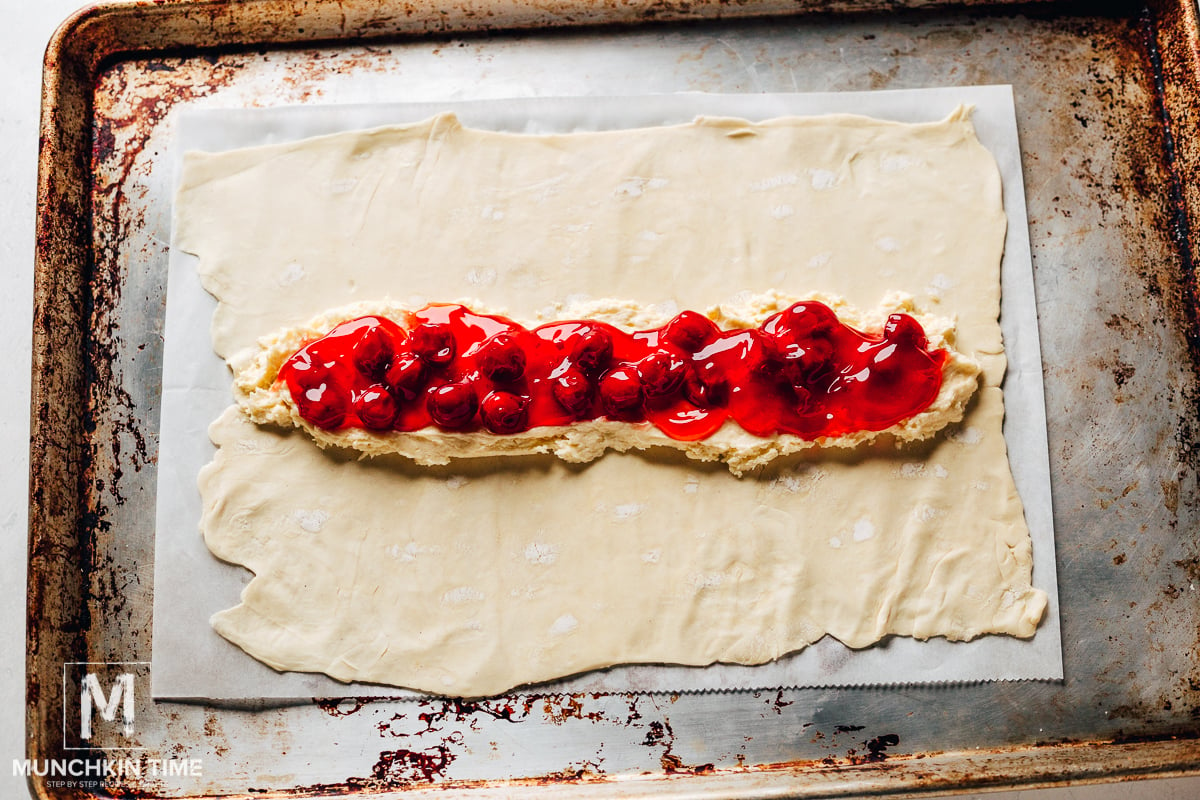 Step 3: Add half of the cream cheese filling onto the pastry sheet and spread it down the center of the rectangle about 2-3 inches wide.
Step 4: Next, add half of the cherry filling and spread it over the cream cheese mixture. You should now have a 2-3 inch wide spread of cheese danish filling all the way down the center of the length of the rectangle pastry sheet.
Step 5: Use a pizza cutter to cut skinny strips about 1" wide along the length of both sides of the filling.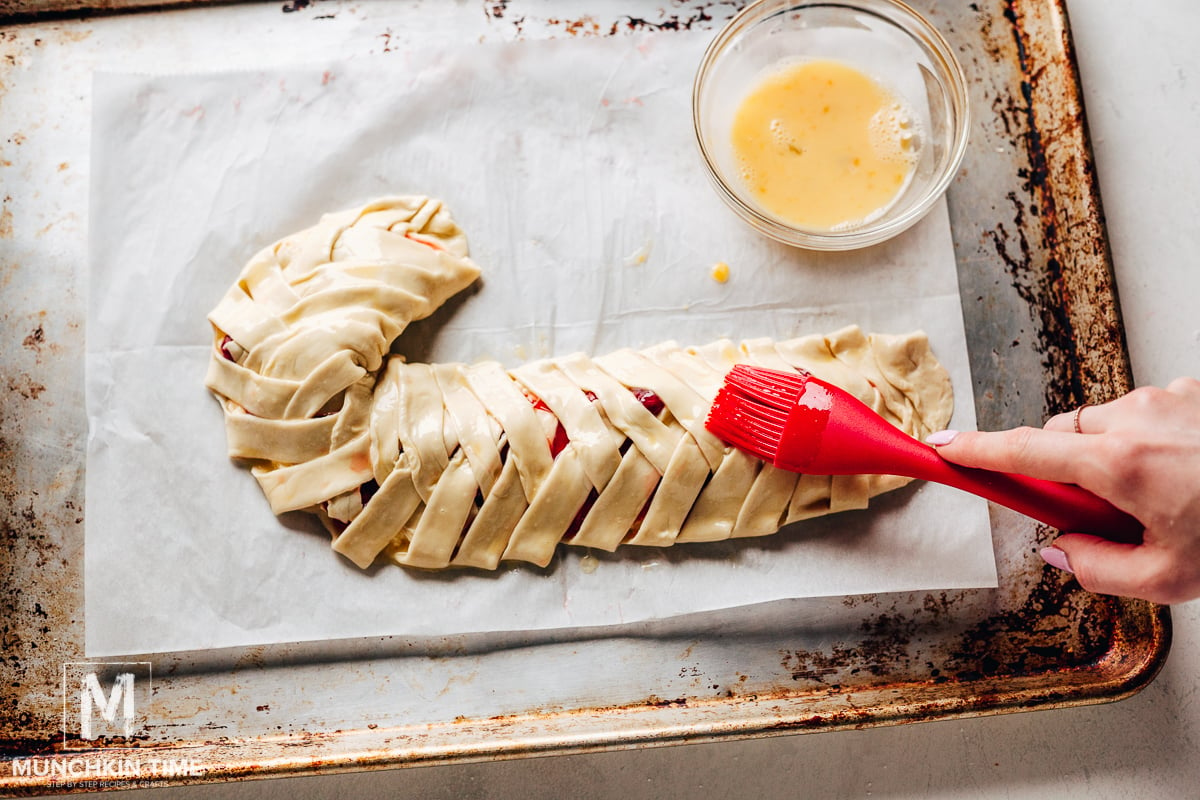 Step 6: Braid the pastry by folding the strips from both sides so that they meet in the middle and overlap. Once you've formed the log of unbaked danish, you can then take one end of it and curve it gently to form it into a candy cane shape!
Step 7: Repeat the entire process with the second puff pastry sheet for two candy cane pastries, if serving a large crowd.
Step 8: Brush the assembled cheese danish with egg wash and bake for 25-28 in a preheated 400-degree oven. Once golden brown, remove it from the oven and drizzle with a powdered sugar glaze made with milk and powdered sugar.
Garnish with extra cherries and a dusting of powdered sugar if desired. Enjoy!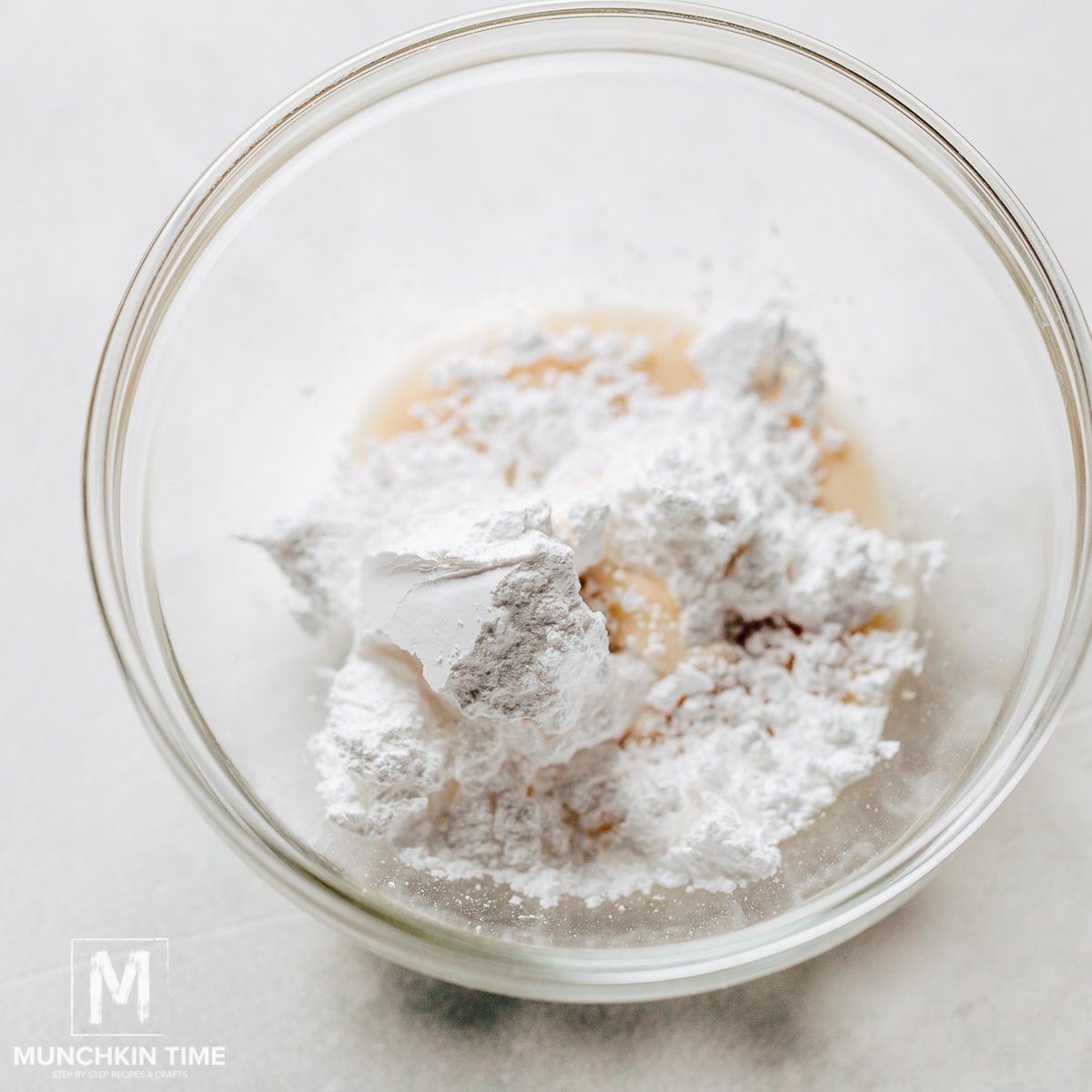 How to Make Glaze

for

Cheese Danish
Now, to make a glaze, in a mixing bowl combine 1/3 cup of powdered sugar and 1/2 tablespoon of milk. Whisk until combined.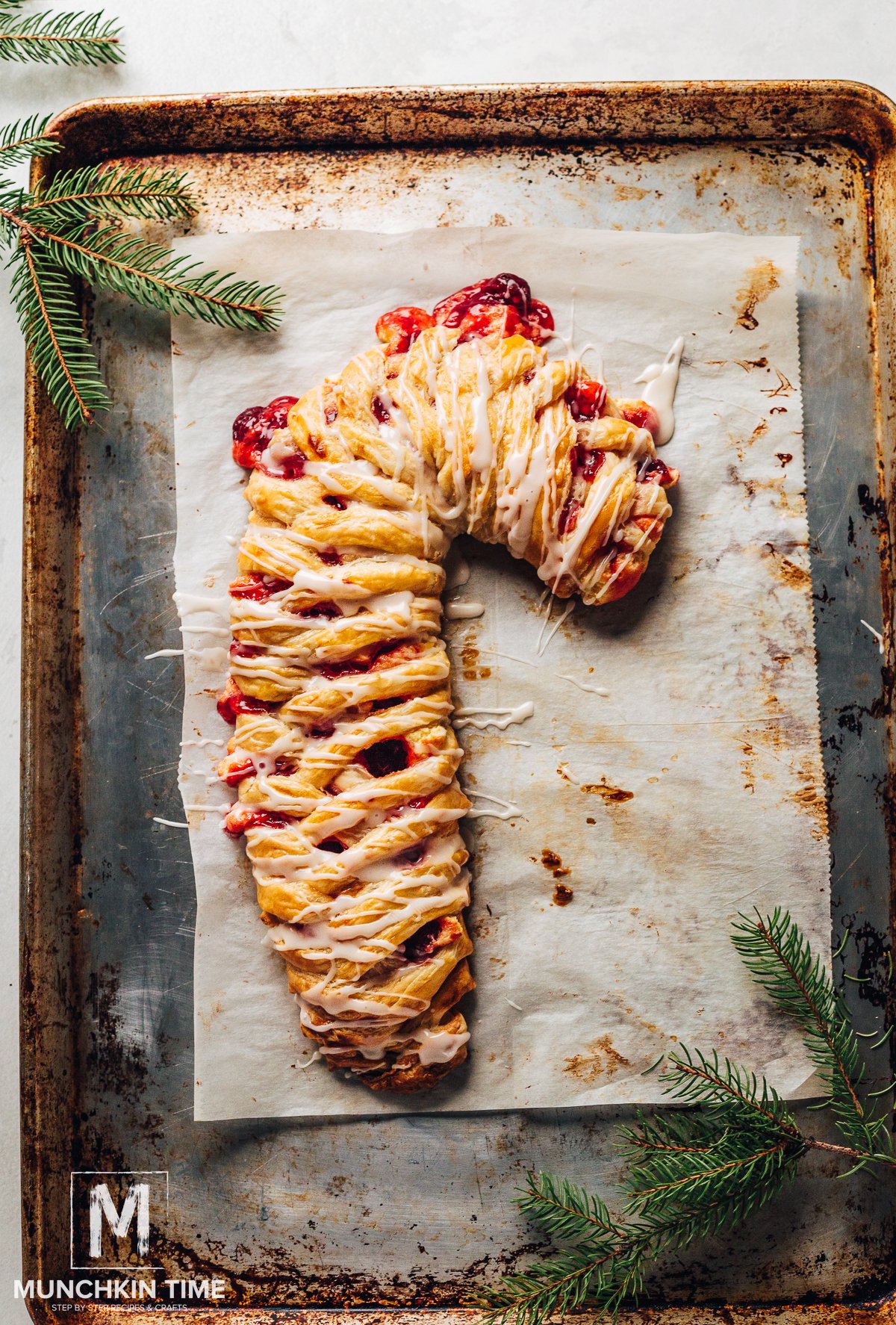 Recipe Tips
Use cream cheese from a block. As tempting as it might be you use the spreadable tub of cream cheese, it's got a higher water content which may disrupt the consistency of the filling. Stick with the block.
Don't skip the egg wash! It makes pastries look alive. Without it, they're pale and slightly dull looking. Still delicious, but if you want that professional golden brown look with a beautiful sheen, it's all thanks to the egg wash.
Adjust the consistency of the glaze. If you like yours to be a bit thinner, add a bit more milk. If you want it thicker, add a bit more powdered sugar.
Serve cool, warm, or straight out of the oven. It'll be hot right out of the oven, especially the filling, so be careful. If you add the glaze right away it will naturally thin out because of the heat.
For extra indulgence, serve with a scoop of vanilla ice cream and enjoy a piece or two!
Check Out More Holiday Recipes
Cucumber Appetizer Bites with Smoked Salmon
Strawberry Puff Pastry Dessert
Best Sweet Potato Pancakes (My Favorite!)
Juicy Garlic Shrimp – shaped as a Christmas Wreath
Almond Crusted Salmon Kale Salad
Candy Cane Cherry Cheese Danish Recipe
Incredibly delicious puff pastry dessert with cream cheese and cherry filling, formed as a candy cane for Christmas holiday gatherings.
Ingredients
Cherry Cheese Cream Danish
8

oz

cream cheese

room temperature

1/3

cup

sugar

1

egg yolk

1/2

teaspoon

vanilla extract

1

teaspoon

lemon juice

pinch of salt

2

sheets

puff pastry

thawed

1

cup

cherry filling

store bought
Glaze
1/3

cup

powder sugar

1/2

tablespoon

milk

more if needed
Instructions
How to Make Cherry Cheese Danish
Preheat the oven 400F and line a baking sheet with parchment paper. Next, in a mixing bowl combine 8 oz. of cream cheese, 1/3 cup of sugar, 1 egg yolk, 1/2 teaspoon of vanilla extract, 1 teaspoon of lemon juice & a pinch of salt. Whisk with hand mixer until everything is combined.

Next, put puff pastry on a baking sheet and roll it to create a rectangle. After, add half of cream cheese filling onto the center of puff pastry. Spread cheese filling 2-3 inches wide.

Next, add 1/2 of cherry filling over the cream cheese. Using a pizza cutter cut the sides into skinny strips about 1 inch wide, on both sides. Braid the pastry by folding strips in, from both sides. Take one side and curve it to make it look like a candy cane. Repeat with the second puff pastry sheet using the rest of the cream cheese and cherry filling.

Now, lets make an egg wash by whisking 1 egg with 1 tablespoons of water. Brush egg wash over the pastry. Bake for 25-28 minutes or until golden color. After pastry is done baking, remove from the oven and make glaze to drizzle on top.
Pastry Glaze
To make glaze, in a mixing bowl combine 1/3 cup of powdered sugar and 1/2 tablespoon of milk. Whisk until combined. Then drizzle the glaze over hot pastry. Garnish with extra cherries. Enjoy!
Video
Notes
Hi! All content & images are copyright protected. Please do not use my images without prior permission. If you want to republish this recipe, please re-write the recipe in your own words, or simply link back to this post for the recipe. Thank you.
Nutrition
Calories:
429
kcal
Carbohydrates:
40
g
Protein:
6
g
Fat:
27
g
Saturated Fat:
9
g
Cholesterol:
61
mg
Sodium:
207
mg
Potassium:
92
mg
Fiber:
1
g
Sugar:
12
g
Vitamin A:
403
IU
Vitamin C:
1
mg
Calcium:
35
mg
Iron:
2
mg
Q. Do YOU like this Cherry Cream Cheese Danish Recipe with Puff Pastry?
Let me know in the comments below, I would love to hear from you!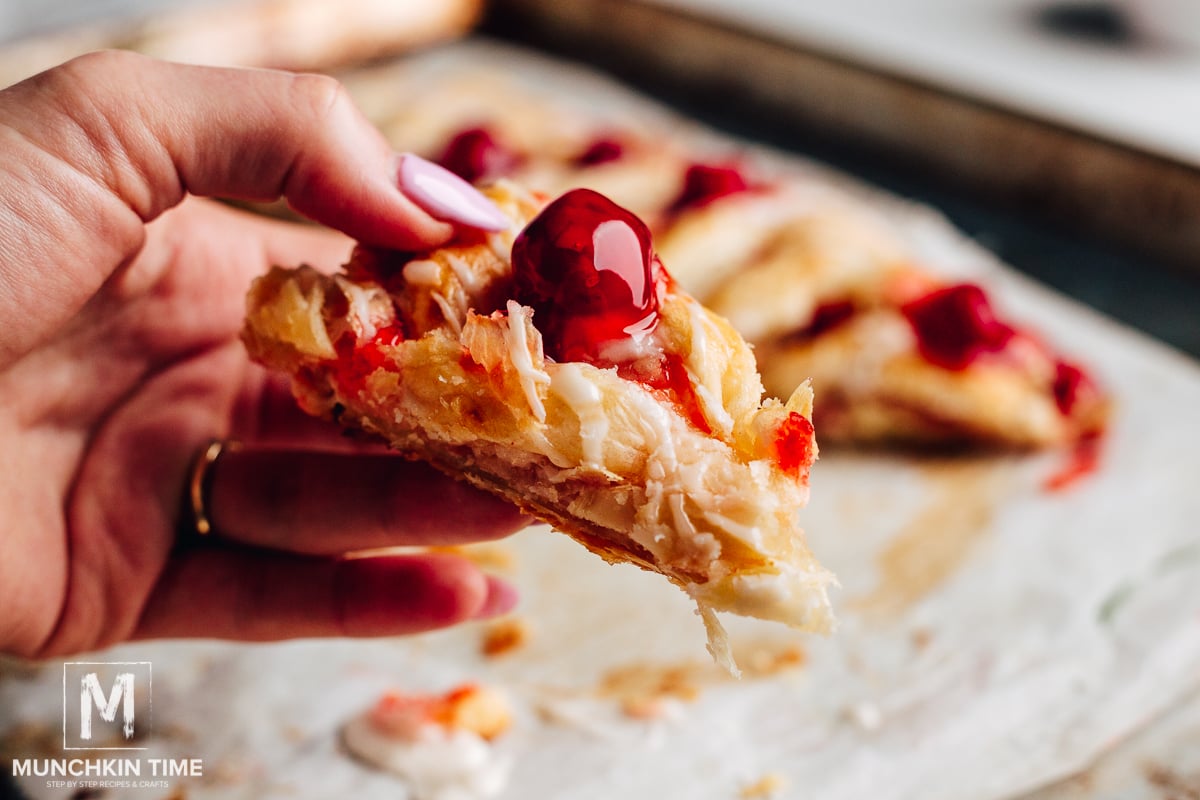 Thank YOU for YOUR Comment, Share & Recipe Review!
Quote of the Day!
Happy Cooking!