Easy Breakfast Sandwich – Made with cooked egg, breakfast sausage patties, melted cheese, and greens, layered between toasted English muffins slathered with mayo and hot sauce! You can meal prep 9 at a time and freeze them for later, have one for breakfast with your cup of coffee, or enjoy a satisfying breakfast on the go!
When YOU make this Breakfast Sandwich Recipe please tag us on @munchkintimeblog on Instagram, we would LOVE to see your creation!
This recipe was made in partnership with the Boise Co-op. The Boise Co-op has been providing fresh, local and organic products since 1973. Learn more about the Boise Co-op here.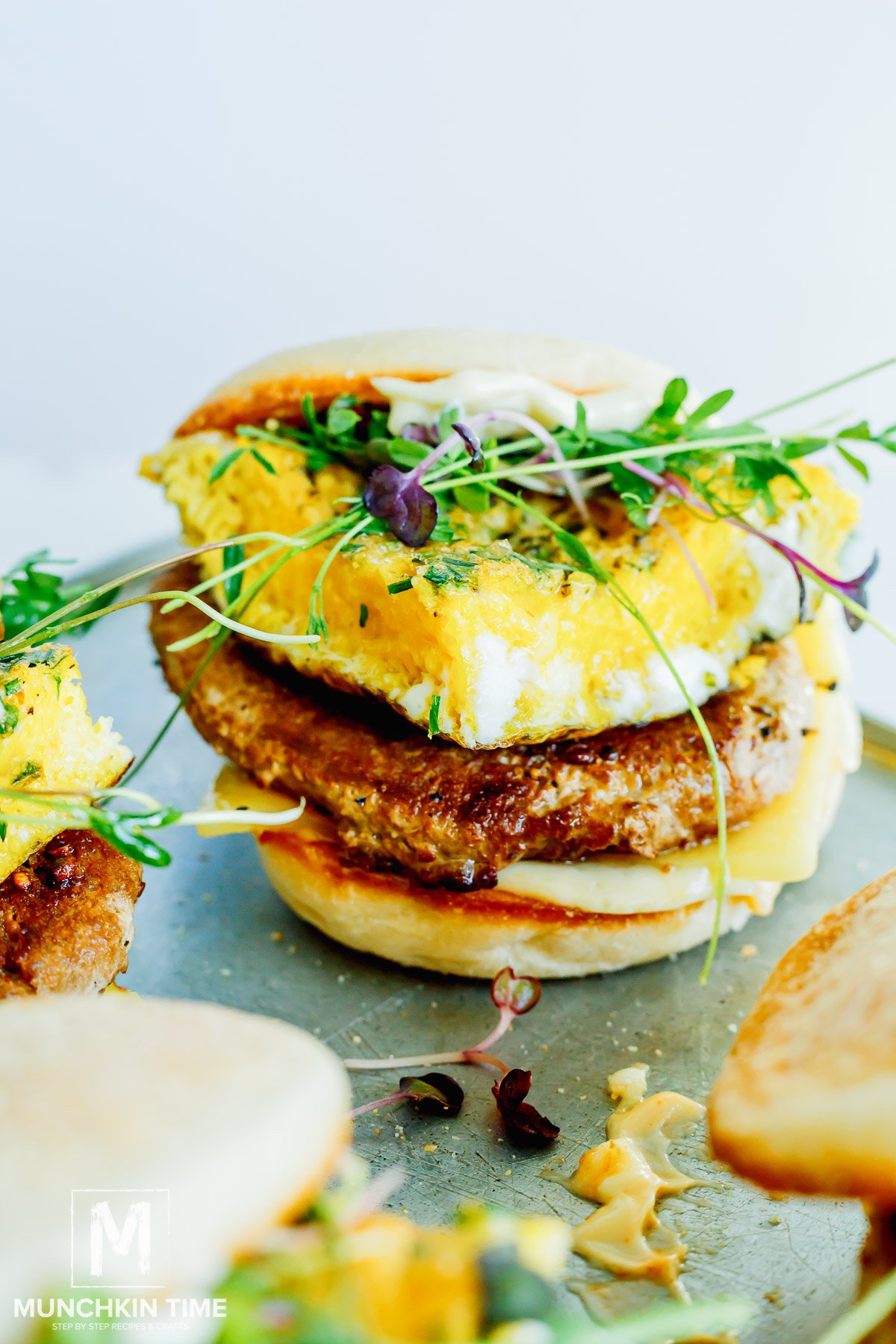 This breakfast egg sandwich recipe is the best way to get a head start on your mornings! I love the satisfaction I get knowing I'm sending my family off into the world ready to start their days on a full tummy.
The eggs are seasoned with zesty hot sauce and fresh chives, then poured into a skillet to cook one side and then it's finished in the oven and cut into sandwich-sized pieces.
Knowing that I don't have to cook the eggs one at a time makes this perfect for meal prep, busy mornings, and making 9 sandwiches in one go!
You can customize this breakfast egg sandwich recipe to your liking by loading them up with extra veggies, trying a different type of sausage, using whatever cheese you want, and adding more seasoning or fresh herbs. It's totally up to you!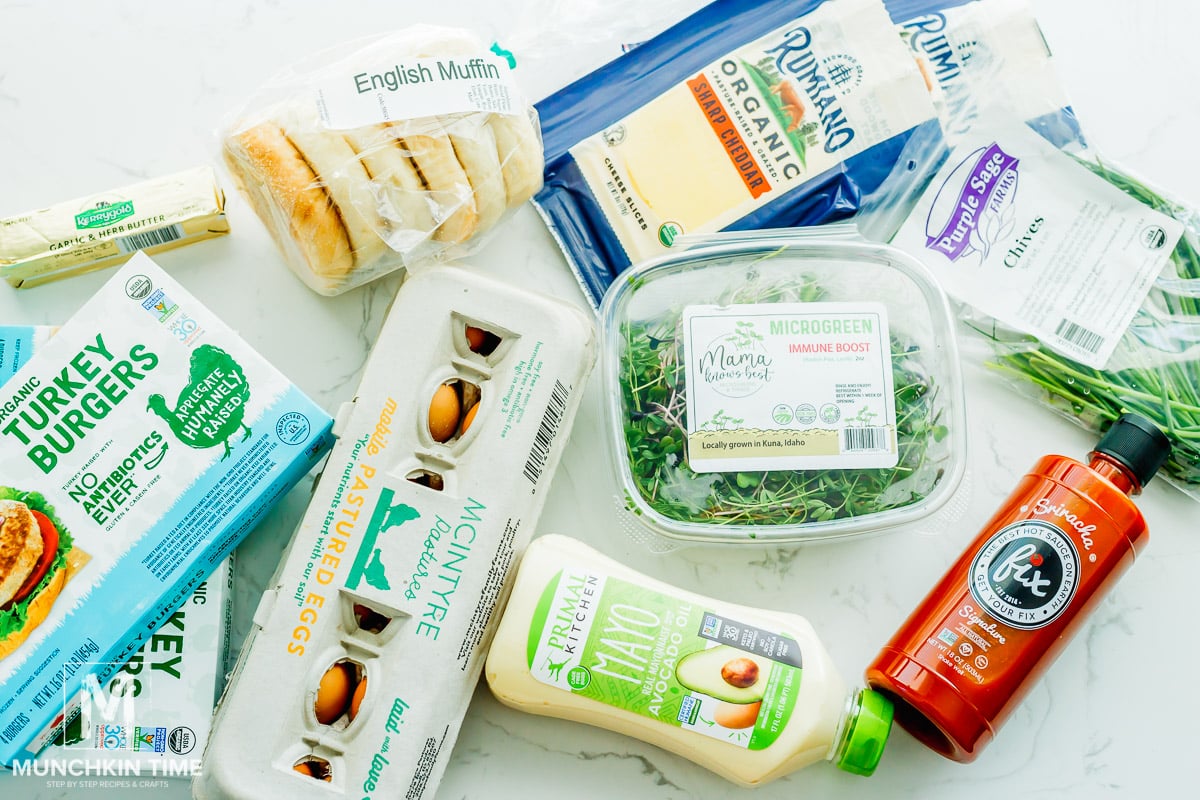 What Goes Into This Breakfast Sandwich Recipe?
Eggs: Each sandwich will have an equivalent of just over 1 egg. So we'll be using 12 eggs in total for 9 sandwiches.
Chopped Chives: Fresh chives add fantastic flavor and I love adding them to everything from fried eggs to scrambled eggs!
Hot Sauce: The amount you use will depend on how spicy you like your eggs. You can also omit any hot sauce altogether if you're making breakfast sandwiches for kids or anyone who doesn't like spicy.
Salt & Pepper: To taste.
Butter: We melt butter in a skillet before cooking the eggs to make a nonstick surface. The buttery flavor is also a nice added touch.
Meat Patties: Use whatever your favorite meat patties are. Breakfast sausages come in traditional pork or turkey patties. You can also use beef, smoked salmon, or even strips of bacon.
English Muffins: You'll need 9 English muffins sliced in half.
Sliced Cheese: I love sharp cheddar, but use what you prefer.
Toppings: Mayo, hot sauce, and greens. Use macro, micro, or any leafy greens you like. Sprouted greens or spinach are my go-to choices, normally.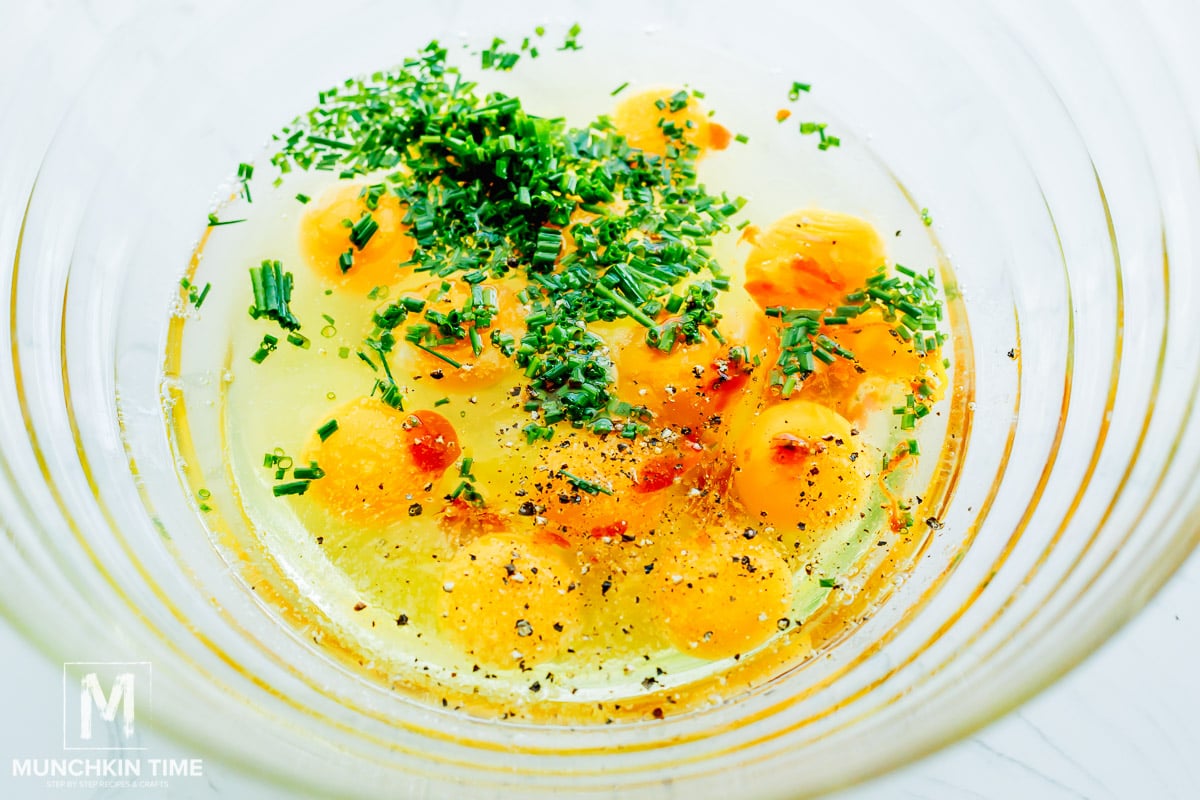 How to Make Eggs for Breakfast Sandwiches
Making baked eggs for breakfast sandwiches by batch-cooking all of them at once has never been easier!
Step 1: Whisk the eggs, chives, hot sauce, salt, and pepper in a mixing bowl until well blended.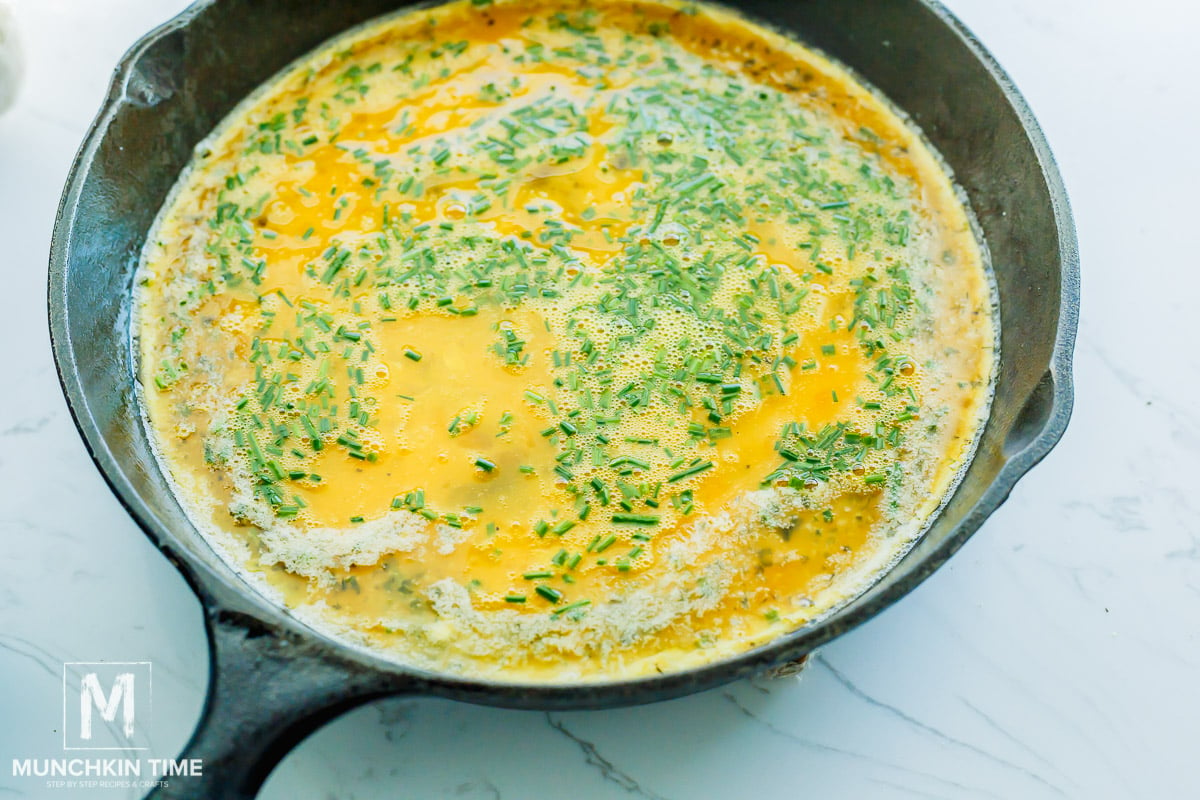 Step 2: Melt the butter in a cast-iron skillet (or another type of oven-proof skillet) over medium heat. Pour in the egg mixture so that it coats the entire bottom surface of the pan. Cook for about 3 minutes.
Step 3: Once it starts to set around the edges, transfer the skillet to a preheated 375-degree oven. Cook it for another 10-12 minutes.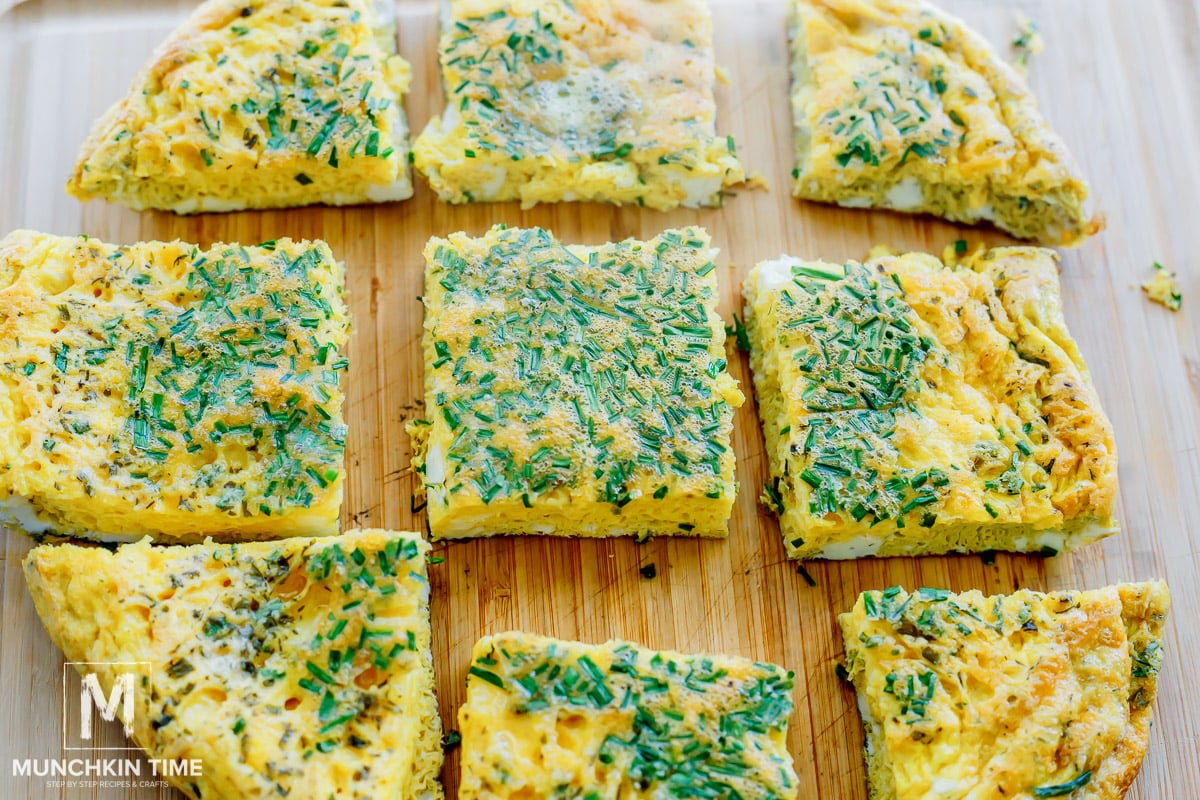 Step 4: When the eggs are cooked through, remove the skillet from the oven and allow the eggs to cool.
Step 5: Slide the egg out of the skillet onto a clean cutting board and use a knife or pizza cutter to slice it into 9 equal pieces.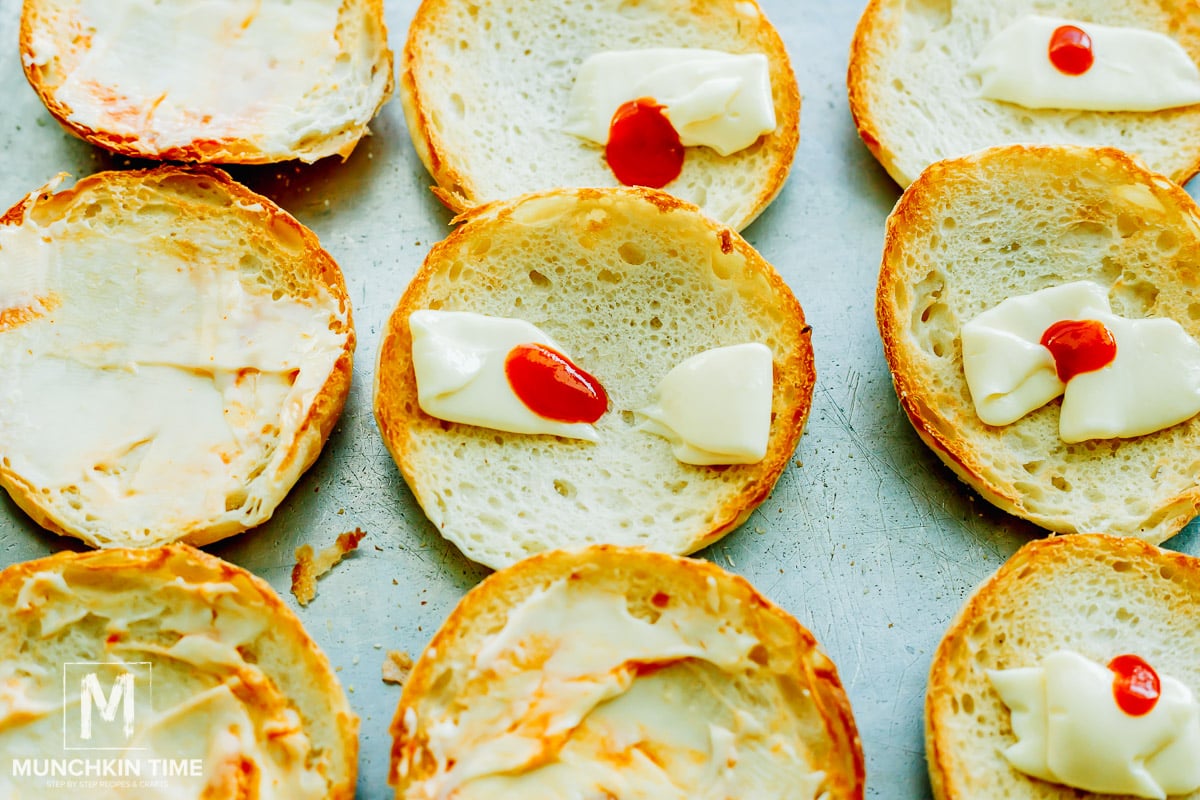 How to Make a Breakfast Sandwich
Now, it's time to assemble them!
Step 1: While the eggs are cooling, cook the sausage according to package directions and start toasting your English muffin halves. You can toast them all in the oven for a few minutes while the eggs are in there. Or use a toaster oven, a regular toaster, or an air fryer.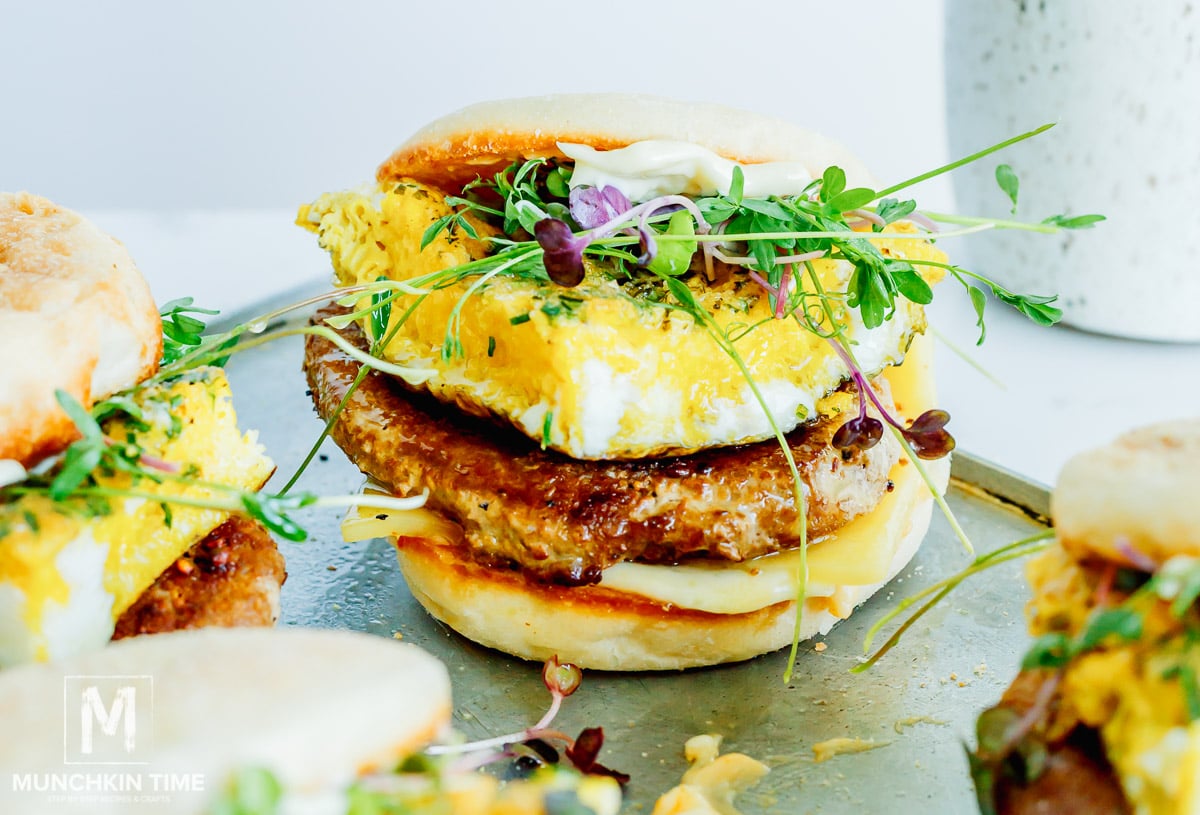 Step 2: Spread mayo and hot sauce over the buns. How much you use is up to you. Add a slice of cheese to one half, the egg, and a cooked meat patty, and add any leafy greens you want. Top it with the top half of the English muffin and enjoy!
Tips & Variations
Cook your eggs differently. If you prefer to scramble your eggs, fry your eggs, or have them sunny side up, then, by all means, cook them that way. Depending on your method, it may mean cooking them in batches.
For a little extra flavor on your eggs, use herb and garlic butter to cook your eggs.
And for extra flavor on your turkey sausage, sprinkle it with Montreal Steak Spice.
To make it a little lighter, skip the butter and use avocado oil instead.
A different cheese. Havarti, Colby Jack, Monterrey Jack, or if you don't mind processed cheese, American cheese works great. You could also do goat cheese or feta crumbles.
Use a different type of bread. You can make breakfast sandwiches on bagels, croissants, buns, or slices of toast. Sometimes I like to turn them into breakfast wraps!
Make it vegetarian by skipping the cheese altogether. An egg and cheese breakfast sandwich is just as great!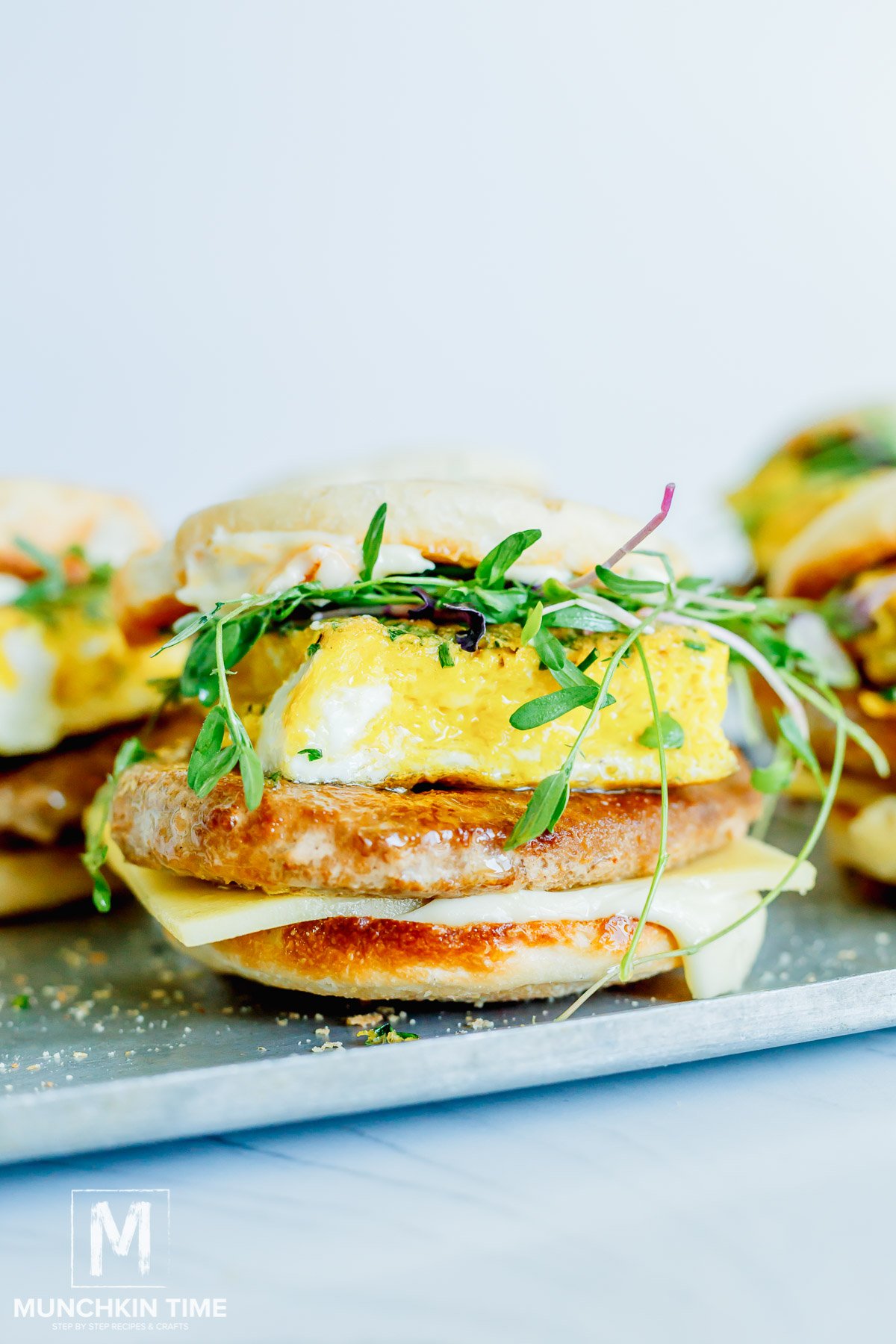 Storing, Freezing, and Reheating
These breakfast sandwiches are best eaten right away. However, if you happen to have some leftovers, you can store them in an airtight container for up to 3 days. Any greens on top will wilt and probably become soggy.
They freeze well though! If you know ahead of time that you plan to freeze them, do so without the greens. You can even wait to spread any mayo or hot sauce on the buns. Once everything is assembled and cooled, wrap each sandwich in plastic wrap or parchment paper and place them in a zip-top freezer bag. Keep them frozen for up to 6 months.
To reheat straight from frozen, remove the sandwich from the parchment paper and wrap it in a paper towel. Microwave for 2 1/2 minutes or until heated thru, add greens, and enjoy!
Breakfast Sandwich
Breakfast Sandwich - Made with cooked egg, breakfast sausage patties, melted cheese, and greens, layered between toasted English muffins slathered with mayo and hot sauce!
Instructions
Preheat the oven to 375F. Add eggs, chives hot sauce, salt and pepper to the bowl and give it a good whisk.

Heat butter in the oven proof skillet over medium heat, pour the egg mixture and cook for 3 minutes or until the eggs start to set around the edges.

Place the skillet into the oven and bake for 10-12 minutes. Transfer into a cutting board and let cool off, then cut into 9 pieces.

Toast English muffins, spread Mayo and hot sauce over the buns. Add cheese, egg, meat patty and greens, cover with another buns and enjoy! To freeze assemble the sandwich WITHOUT the greens, let cool, after wrap in parchment paper and place it into a zip bag. Freeze up to 6 months.
To Reheat
To reheat, remove sandwich from parchment paper and wrap in paper towel microwave for 2 1/2 minutes or until heated thru, add greens and enjoy!
Notes
Hi! All content & images are copyright protected. Please do not use my images without prior permission. If you want to republish this recipe, please re-write the recipe in your own words, or simply link back to this post for the recipe. Thank you.
When 
YOU
 make this 
Breakfast Sandwich Recipe
 please tag us on @munchkintimeblog on Instagram, we would LOVE to see your creation! 
Nutrition
Calories:
484
kcal
Carbohydrates:
27
g
Protein:
25
g
Fat:
30
g
Saturated Fat:
13
g
Polyunsaturated Fat:
4
g
Monounsaturated Fat:
10
g
Trans Fat:
0.2
g
Cholesterol:
284
mg
Sodium:
833
mg
Potassium:
286
mg
Fiber:
2
g
Sugar:
0.3
g
Vitamin A:
737
IU
Vitamin C:
1
mg
Calcium:
266
mg
Iron:
2
mg
Q. Do YOU like this Breakfast Sandwich Recipe?
Let us know in the comments below, we would love to hear from you!
Thank YOU for YOUR Comment, Share & Recipe Review!