Stuffed Bell Peppers Instant Pot – Every bite of these stuffed bell peppers is packed with such aromatic, rich flavors that you'll forget you're eating your vegetables! Made entirely in the Instant Pot, this recipe is easy, delectable, and healthy.
These Instant Pot Stuffed Bell Peppers feature colorful veggies, delicious bacon, filling rice, and a sauce so good you'll be tempted to lick your plate clean. As if the amazing flavor wasn't enough to win you over, this recipe is also so easy and versatile enough to find yourself making it for everything from weeknight dinners to family get-togethers.
When YOU make this Easy Stuffed Bell Peppers, take a picture & DM me your Food Creation on Instagram @MunchkinTimeBlog & I will feature it here under this recipe!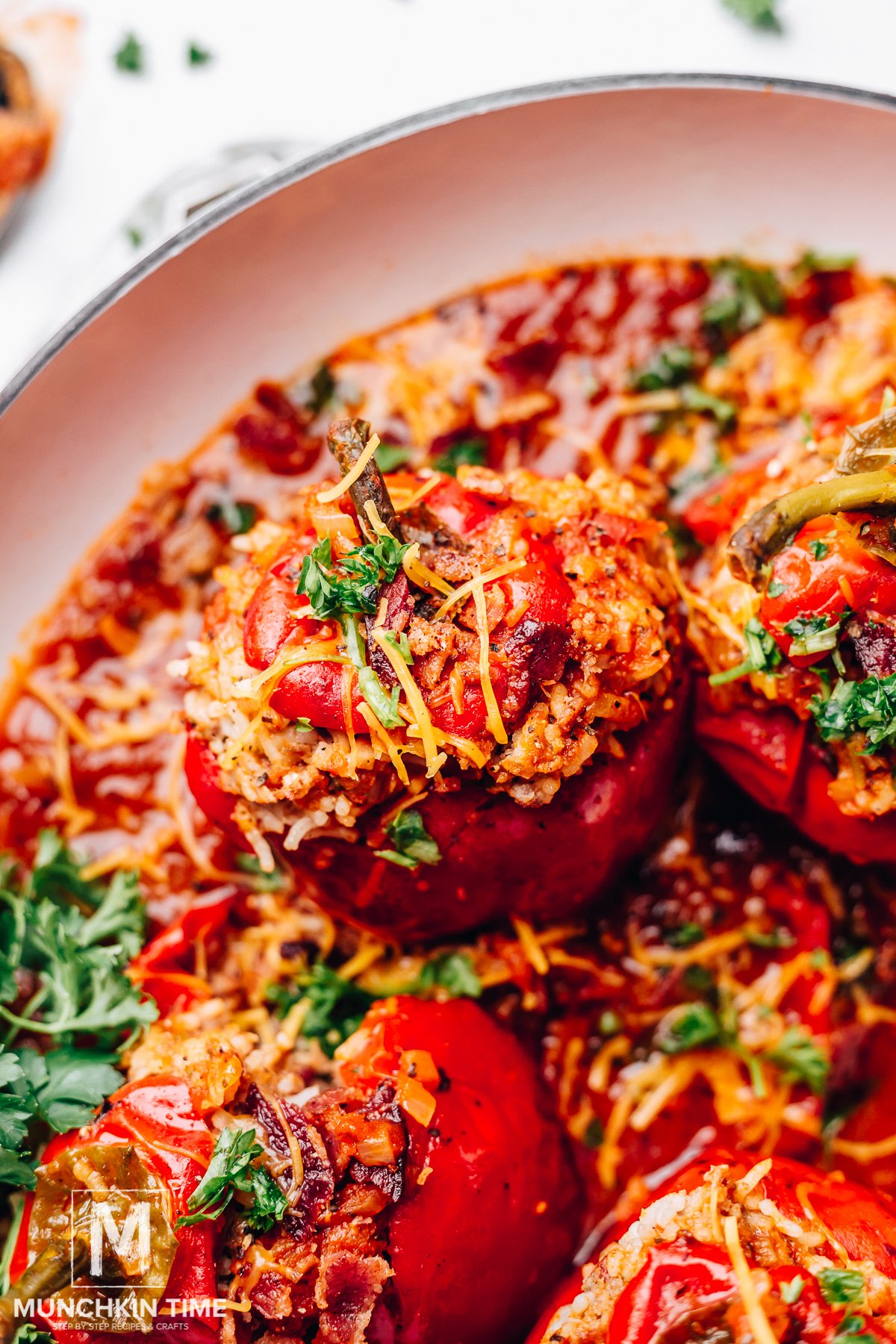 You'll also save yourself a ton of dirty dishes and time by making this classic comfort dish completely in your Instant Pot. Use the pressure cooker to cook your rice, sauté the veggies for your sauce, crisp the bacon for your filling, and cook everything together to tasty, savory perfection. In only 40 minutes, you'll have a piping hot, nutrient-filled dish sure to leave even the pickiest eater with a clean plate.
Simply pair with my No Knead Bread and Grilled Broccoli for an elegant, well-rounded meal, or serve with a side of my Baked Sweet Potato Wedges and Caesar Salad for a more casual crowd-pleaser. However you decide to serve this colorful classic, it's sure to be a big hit every time.

Stuffed Bell Pepper Ingredients
Because this recipe features many pantry and fridge staples, it's perfect to make on those days when you didn't have time to run to the grocery store. These ingredients are all you'll need to create this cheesy, filling dish:
Rice

Ground beef

Bell peppers

Marinara sauce

Bacon

Sharp cheddar cheese

Onion

Garlic

Oil

Balsamic vinegar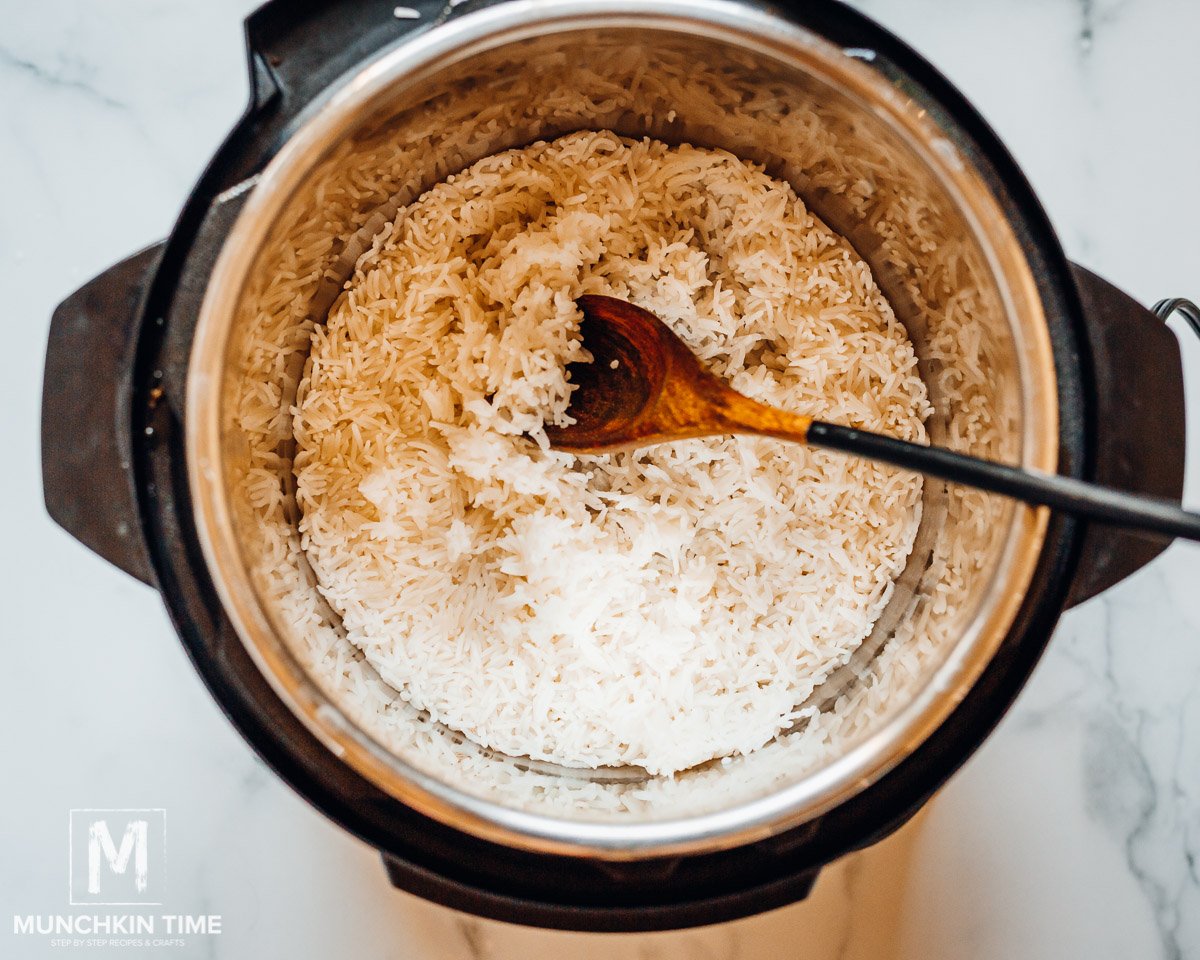 How to make stuffed bell peppers inside Instant Pot
Step 1: Cook the rice in the Instant Pot and transfer it to a large mixing bowl when it's done.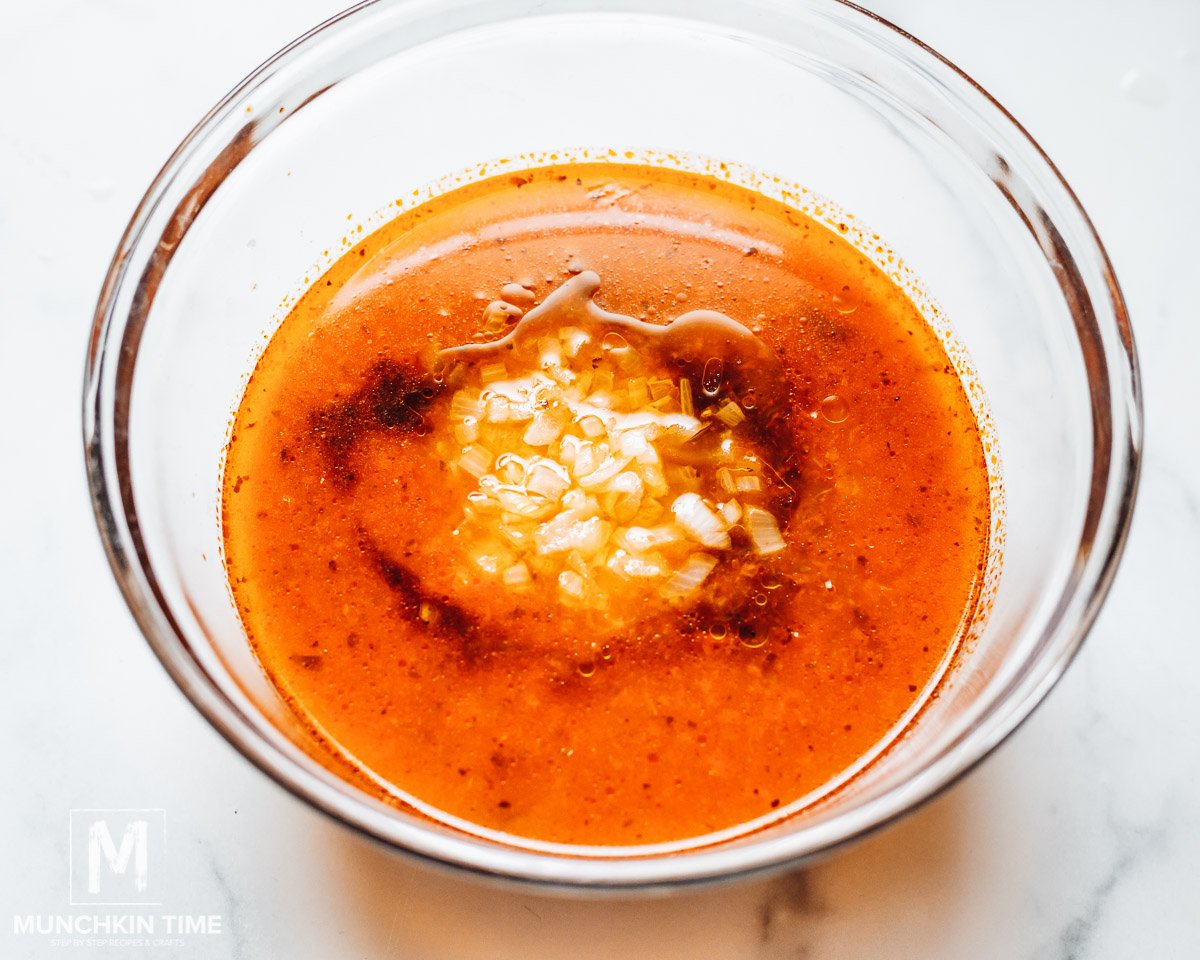 Step 2: Make the stuffed pepper sauce by sautéing the onions in the washed Instant Pot. When they're soft and tender, transfer half of the onions to a bowl with the marinara, chicken broth, and balsamic vinegar.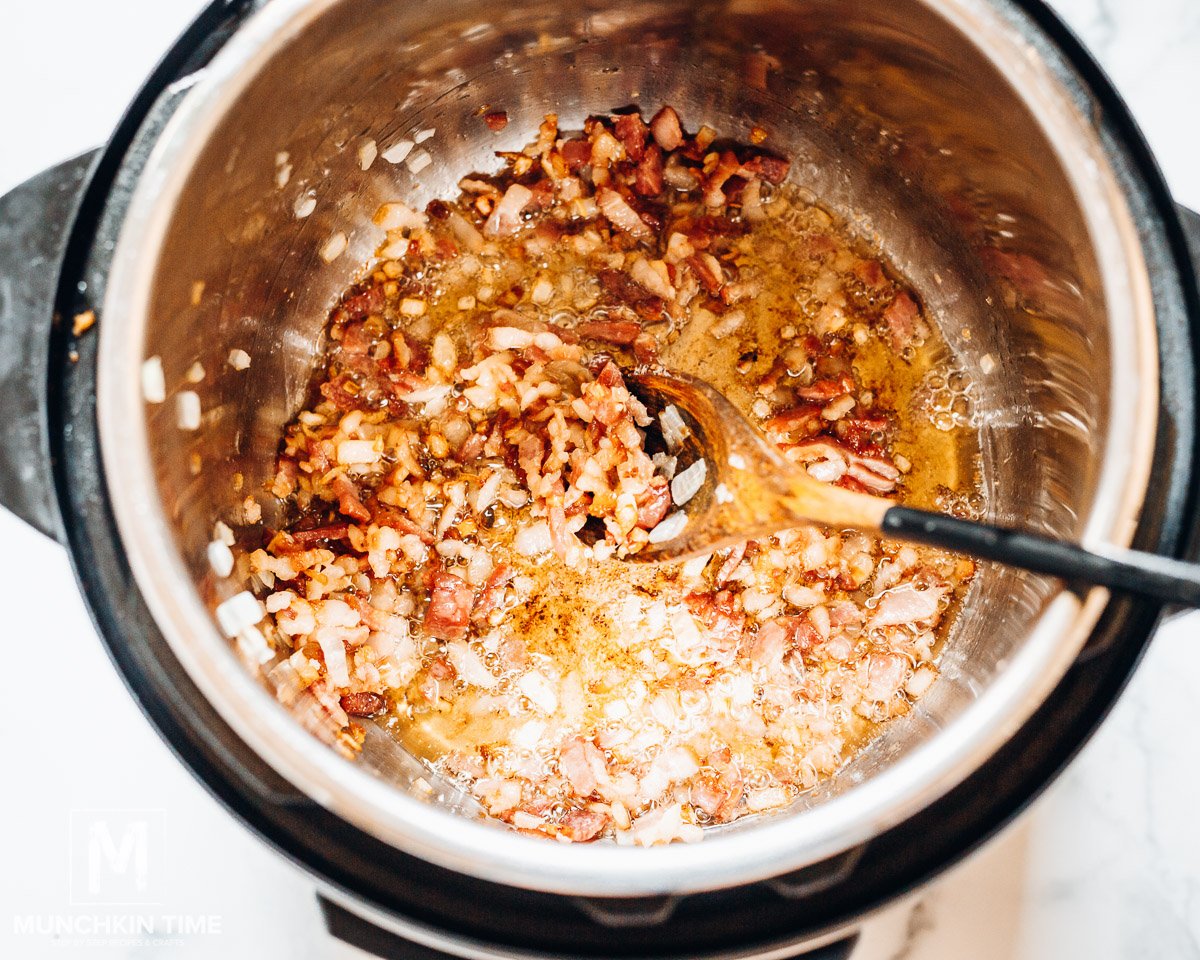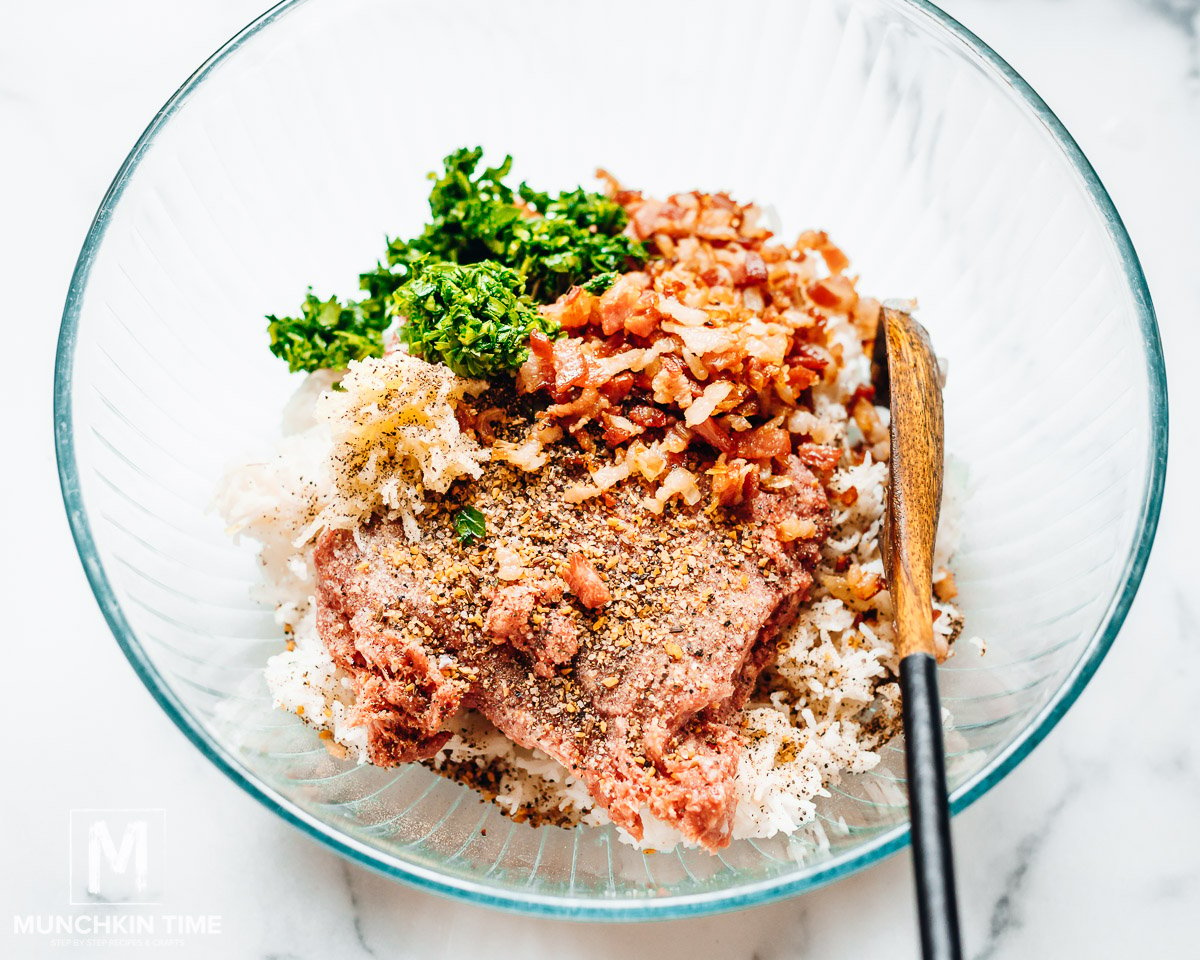 Step 3: Add your bacon into the Instant Pot with the second half of your onions and continue to sauté. When the bacon has browned, thoroughly mix it in a bowl with the rice, beef, garlic, and the rest of the spices to create your filling.
Step 4: Pour the marinara and chicken broth sauce into the Instant Pot, spoon the filling into your bell peppers, and place each one in the pot. Pressure cook the peppers for 10-12 minutes followed by a 5 minute natural release and finish with a quick release.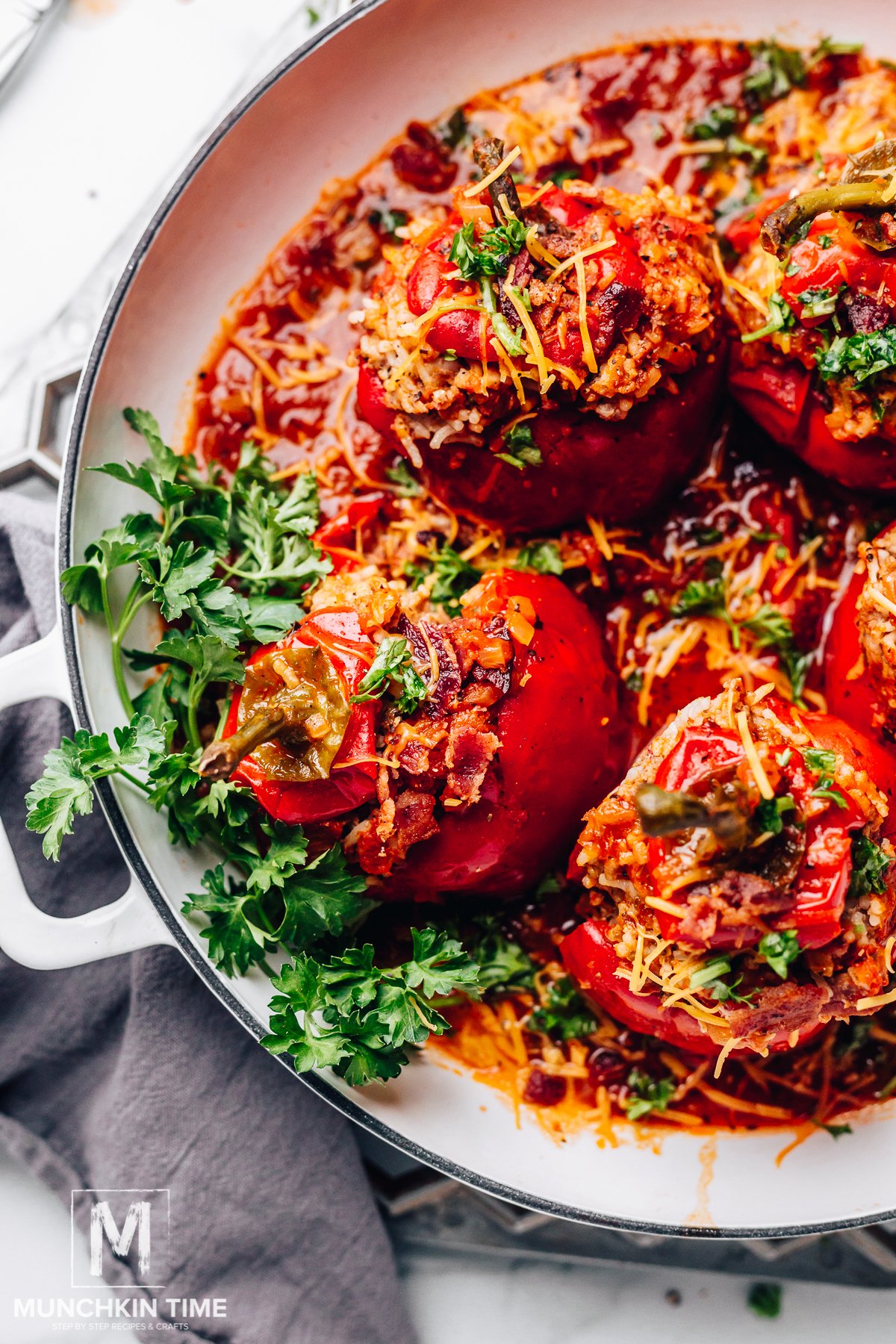 Step 5: Plate your stuffed peppers with plenty of sauce, top with a handful of cheese and a sprinkle of parsley, and enjoy!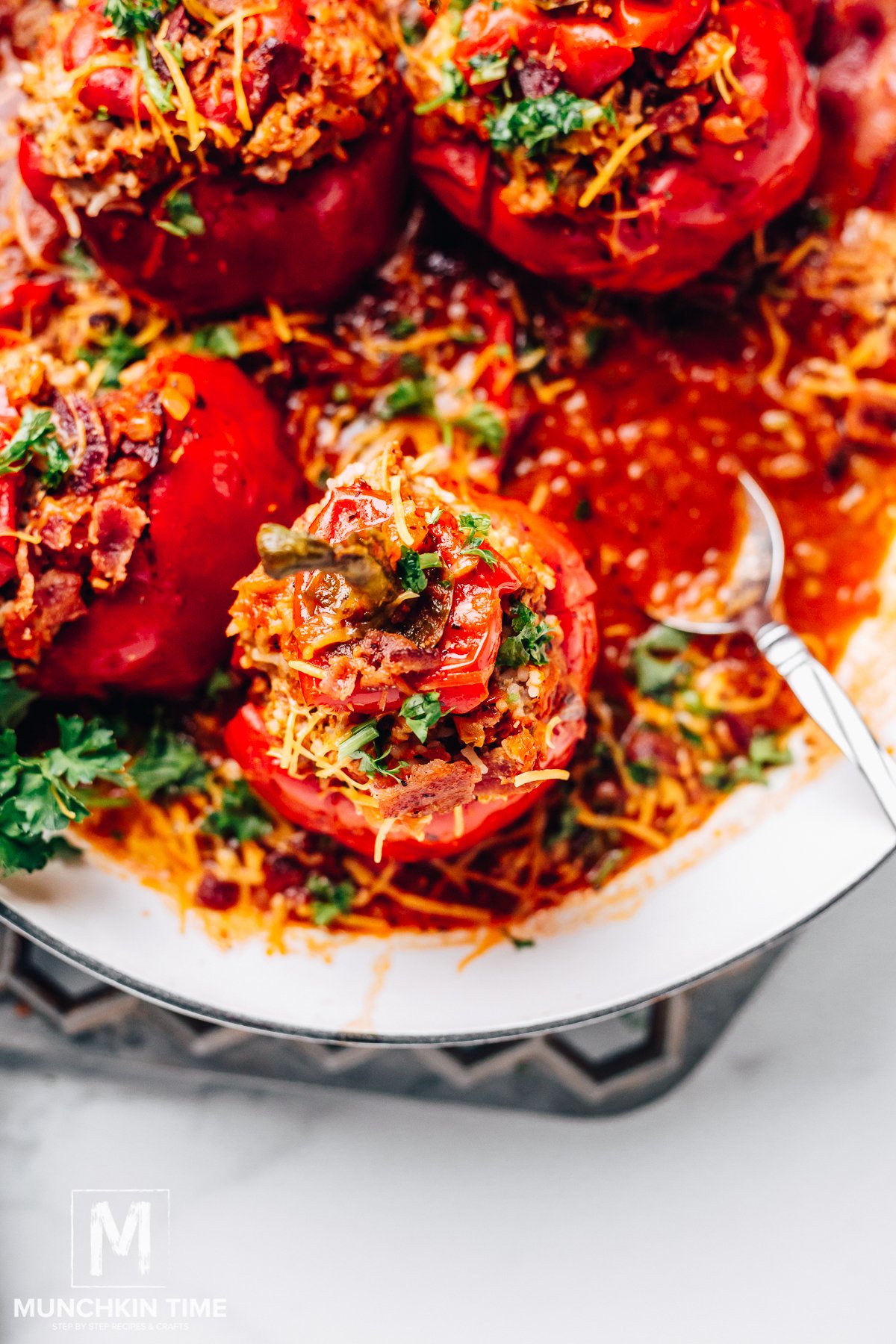 Can you make stuffed peppers with uncooked rice?
It's crucial that you use precooked rice to make the stuffed pepper filling. Uncooked rice takes more time and liquid to properly pressure cook than what this recipe calls for, meaning it would turn out undercooked and crunchy by the time the peppers are done. Three cups of leftover rice is a perfect substitute or use cooked quinoa for a healthier and even more filling alternative.
Recipe tips and variations
Want to stuff even more delicious veggies into your dish? Add a 10 ounce can of diced tomatoes to your meat mixture before filling the bell peppers.

If you're struggling to keep your bell peppers from falling over, simply slice a little bit off the base of each pepper. This will create a flat surface and allow your peppers to stand up on their own.

Out of rice? Quinoa is a delicious, nutritious, and filling alternative.

If you're not a fan of ground beef, try this recipe ground turkey or chicken instead. Plant-based meat alternatives, like

crumbled Beyond Burgers

, can also be used to create a vegetarian version of this classic dish.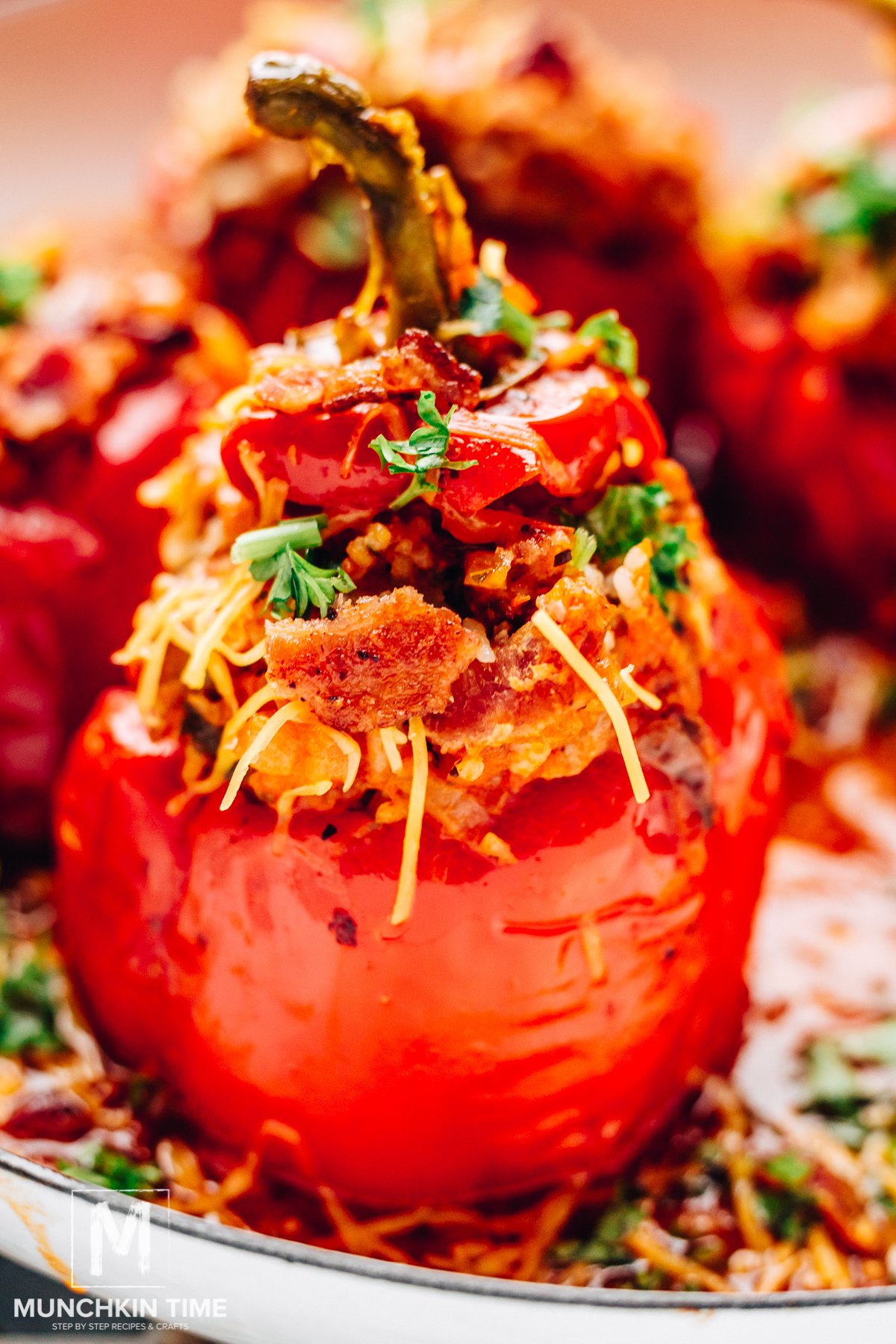 Can stuffed bell peppers be made ahead of time?
Absolutely! Cooking the rice, making the sauce, and prepping the filling in advance can save you tons of time. You can even stuff your peppers beforehand and keep them in the fridge for up to 24 hours. Just be sure to store everything in airtight containers in the fridge.
If you'd like to make your sauce ahead of time but not your filling, follow the steps as usual but only sauté half of the onion. This way, you can cook the other half fresh when it comes time to make the filling.
When you're ready to cook your stuffed peppers, remove your ingredients from the fridge, finish any last-minute prep work, and place your stuffed bell peppers and sauce in the Instant Pot like normal. Simply add 3 minutes to your cook time to compensate for the colder starting temperature.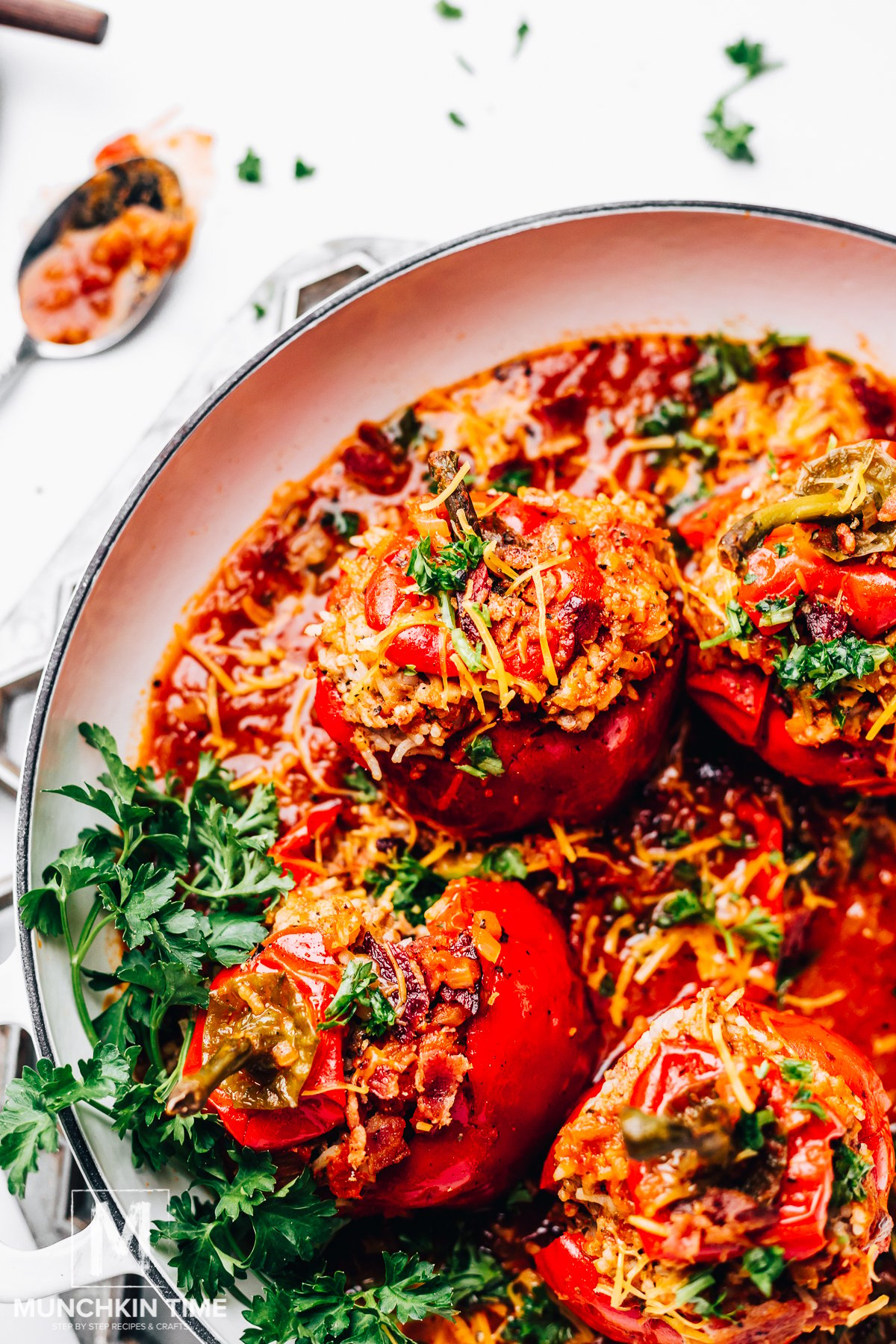 Storing and reheating leftovers
The leftover stuffed bell peppers can be easily stored in a sealed container in the fridge for up to 3 days. To reheat, bake the peppers in a 350ºF oven for about 15 minutes or for 2 minutes in the microwave.
The leftovers taste particularly good the next morning – just reheat the leftover peppers, add a sunny-side up egg and some avocado slices on top, and you've got an easy, hearty, and healthy breakfast.
What goes well with stuffed peppers?
This flavor-packed dish is pairs well with many of my lighter side dishes, such as:
Stuffed Bell Peppers Instant Pot
Stuffed Bell Peppers Instant Pot - easy stuffed bell peppers with beef, bacon & rice.
Ingredients
For Rice
1

cup

basmati rice

or any rice of your choice

1

cup

water
Stuffed Bell Pepper Sauce
2

tablespoons

avocado oil

or any oil of your choice

1

medium

onion

finely chopped

2

cups

marinara sauce

I used tomato and basil marinara sauce

1

cup

chicken broth

homemade

1

tablespoon

 balsamic vinegar
Stufffed Peppers
1

lb

ground beef

2

teaspoons

McCormick Montereal Steak Seasoning

or any of your favorite meat spices

5

slices

bacon

finely chopped

1/4

cup

parsley

more for garnish

3

cloves

garlic

minced

2

teaspoon

sea salt

1/2

teaspoon

black pepper

or to taste

4-5

medium

bell peppers

red color, washed - tops and seeds removed

sharp cheddar cheese

for garnish
Instructions
How to Cook Rice in Instant Pot
Add 1 cup of rice and 1 cup of water into the Instant Pot. Cover and cook on Rice setting for 10 minutes, after it's done cooking quick release pressure. Transfer rice into a big mixing bowl and wash Instant Pot.
How to Make Stuffed Peppers Sauce
Pour 2 tablespoons of oil into the Instant Pot and turn on a Saute Mode. Add 1 chopped onion and saute for 5 minutes, stirring few times.

Into a mixing bowl add 2 cups of tomato and basil marinara sauce, 1 cup of homemade chicken broth and  1 tablespoon balsamic vinegar. After 5 minutes, remove 1/2 of onion and transfer it into a mixing bowl with sauce.
How to Make Stuffed Peppers Filling
Next add finely chopped bacon and saute with the rest of the onion for 5-7 minutes or until bacon turns brownish color.

Transfer cooked bacon into a bowl with rice, add 1 lb ground beef, 2 teaspoons McCormick Montereal Steak Spice, 1/4 cup of chopped parsley, 3 cloves of minced garlic, 2 teaspoons sea salt & 1/2 teaspoon of black pepper. Using hands (with gloves) mix until everything is combined.
How to Cook Stuffed Bell Peppers in Instant Pot
Pour sauce into the Instant Pot. Stuff bell peppers with meat filling and place them into the Instant Pot over the sauce (If bell peppers are falling on the side, cut off a little bit of base to make them stand straight up).

Cover Instant pot and turn the steam release to SEALING and press meat/stew setting for 10-12 minutes (depends on the size of the bell pepper). Naturally release pressure for 5 minutes. Quick release the pressure and carefully open the lid.

Pour sauce into a bowl, place stuffed bell pepper over the top, sprinkle with cheese and parsley. Enjoy!
Notes
If YOU like tomatoes inside stuffed peppers, then add 10 oz can of cubed tomatoes into the meat filling before stuffing bell peppers.
If bell peppers are falling on the side, cut off a little bit of base to make them stand straight up.
If using leftover cooked rice use about 3 cups of cooked rice for this recipe.
Store leftovers in airtight container inside the fridge for 1-3 days, they taste amazing next day sautéed with sunny side up eggs and avocado slices. 
Nutrition
Serving:
1
g
Calories:
480
kcal
Carbohydrates:
37
g
Protein:
20
g
Fat:
28
g
Saturated Fat:
9
g
Cholesterol:
66
mg
Sodium:
758
mg
Potassium:
782
mg
Fiber:
4
g
Sugar:
8
g
Vitamin A:
3048
IU
Vitamin C:
112
mg
Calcium:
51
mg
Iron:
3
mg
Q. Do YOU like this Easy Bell Peppers Recipe?
Let me know in the comments below, I would love to hear from you!
Thank YOU for YOUR Comment, Share & Recipe Review!
Quote of the Day
Happy Cooking!
This recipe was updated with new images February 24, 2021.