5 Easy School Lunch Ideas is brought to you by Fred Meyer – a one stop shop for everything on your list. Thank You!
Kids are back in school and that means you have to get up early to prepare a school lunch boxes for your munchkins.
Here are 5 Easy School Lunch Ideas that will satisfy empty bellies and put a huge smile on kids faces.  You can put them together in less than 15 minutes.  They are creative, colorful and fun.
Now, who can say no to eating Moana Chicken or a Wild Lion made of macaroni and cheese!?!  I like to do my grocery shopping at my local Fred Meyer store through the ClickList Service.
ClickList is one of the Fred Meyer's website services where you can shop without entering the store, all you do is shop online and then pick up your purchase on scheduled time.
It is super helpful and makes grocery shopping so much easier!  Now Scroll Down to see 5 School Lunch Ideas.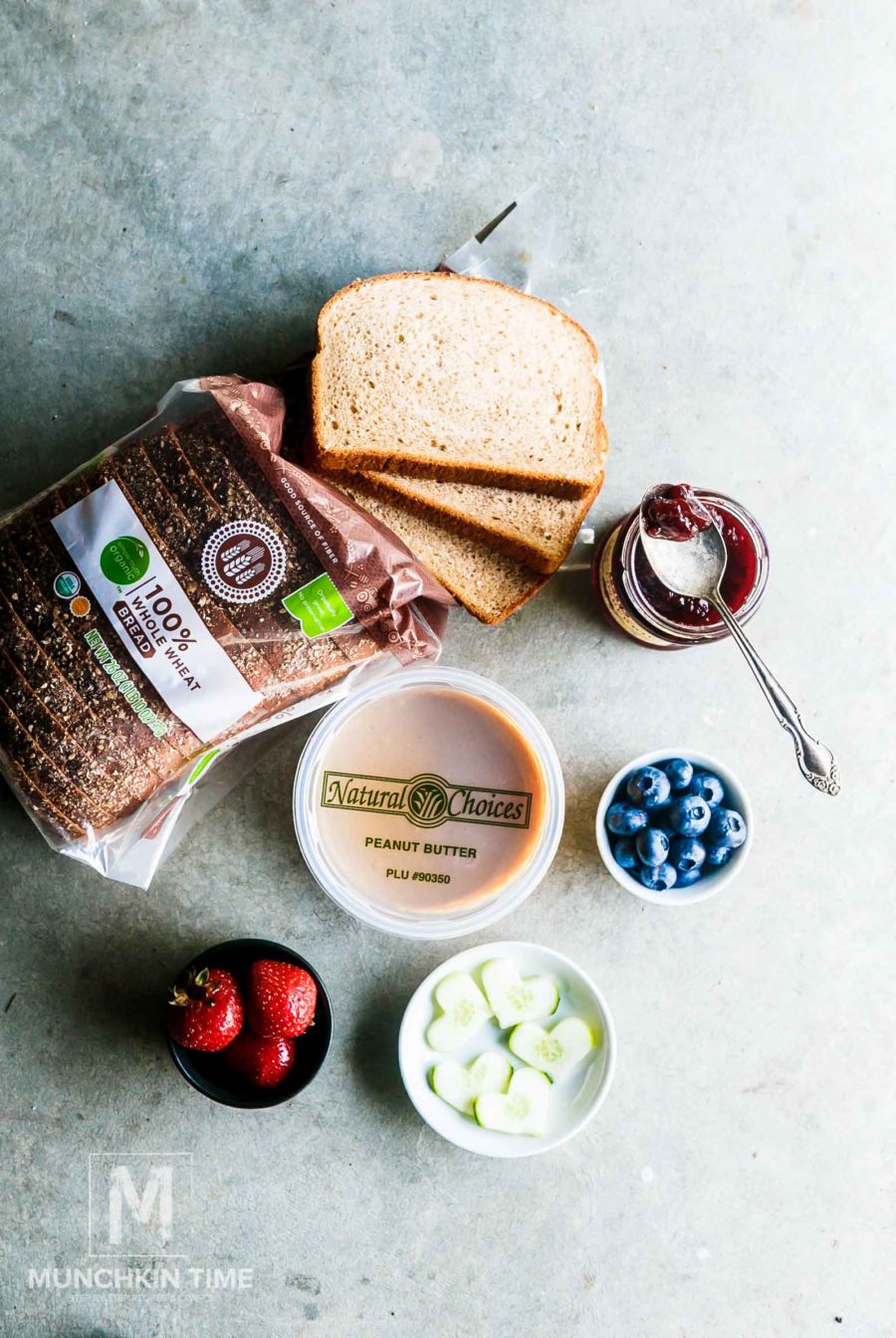 Peanut Butter & Jelly Heart
My girls love peanut butter and jelly sandwiches and I love getting a fresh peanut butter at my local Fred Meyer Store, where you ground peanuts into a butter without any preservatives.
It is perfect for Peanut Butter and Jelly Hearts!

To make Peanut Butter Hears, using a heart shape cookie cutter and 2 slices of Simple Truth Organic Whole Wheat Bread, cut out two hearts.
Then spread peanut butter and jelly, and serve it with cucumber hearts, blueberries and fresh strawberries.
Macaroni & Cheese Lion
Macaroni and Cheese are kids favorite dish, why not step by the game and surprise them with a cute macaroni and cheese Lion!?!
It is made of 2 kinds of cheddar cheeses, ham, Simple Truth chives and Simple Truth roasted seaweed.
Serve this yuminess with cooked and salted Private Selection Edamame, and Watermelon & Blueberry Stewers.
Ham & Cheese Skewers
These cute Ham & Cheese Skewers are made of Simple Truth Organic Whole Wheat Bread, a Monterey Jack Cheese, organic cucumber, ham and a baby spinach.
Serve these Ham & Cheese Skewers with fresh raspberries, star fruit slices and watermelon hearts.
Sheep Ham Sandwich
To make Ba Ba Sheep Sandwich spread cream cheese over 2 slices of Simple Truth Organic Whole Wheat Bread, add ham and cheese.
Make sure to cut out a little hole for the face before you spread the cream.  Make a bow out of ham, eyes and nose out of Simple Truth roasted seaweed and legs out of cheese.
Serve it with Simple Truth roasted seaweed dirt, Simple Truth chive bushes, Simple Truth carrot flowers and Simple Truth celery tree with grapes. Yummy!!!
Moana Rooster
My girls love Moana Movie!  Even I do! Do you know who makes us laugh the most in this movie?  It's Moana's Rooster!
It is hilarious! To make this Rooster you will need 1 boiled egg, small tomato, dried blueberries for the eyes, cheese for the neck and beak.
Peel and cut the egg in half. Then add two dry blueberries on top of the egg. Using a small knife cut tomato to create spiky hair and chicken's wattles.
Finally, cut out a neck out of cheese, then put everything together.  Serve with pistachios, Kroger cashews, and fresh kiwi hearts.

Q. – Do you like these 5 School Lunch Ideas?
Let me know in the comments below, I would love to hear from you!
Also, Check Out our Back to School Supplies Haul to see what Lunch Box & Lunch Box Kit we love using!
Huge Thank You going to Fred Meyer Stores for sponsoring these School Lunch Ideas!!!
Have a Happy School Year!
This is a sponsored conversation written by me on behalf of Fred Meyer. The opinions and text are all mine. Comments submitted may be displayed on other websites owned by the sponsoring brand.