Bacon-wrapped shrimp is made with juicy marinated shrimp wrapped in smoky, salty bacon, then baked until succulent on the inside and beautifully crisp on the outside. Serve as a bite-size starter with a toothpick or as part of your main course with a side of mashed potatoes and veggies!
We all know bacon (and cheese too, but that's another story) makes everything better! These little gems make an incredibly satisfying appetizer for game day parties and holiday parties but are also so good as part of a weekday dinner idea!
They're ready in under 30 minutes which means you've got a quick and easy way to serve a crowd all the while enjoying good company without being tied down in the kitchen. As far as easy bacon wrapped shrimp appetizer recipes go, this one is by far my favorite. Probably because they're so darn crave-able and addicting!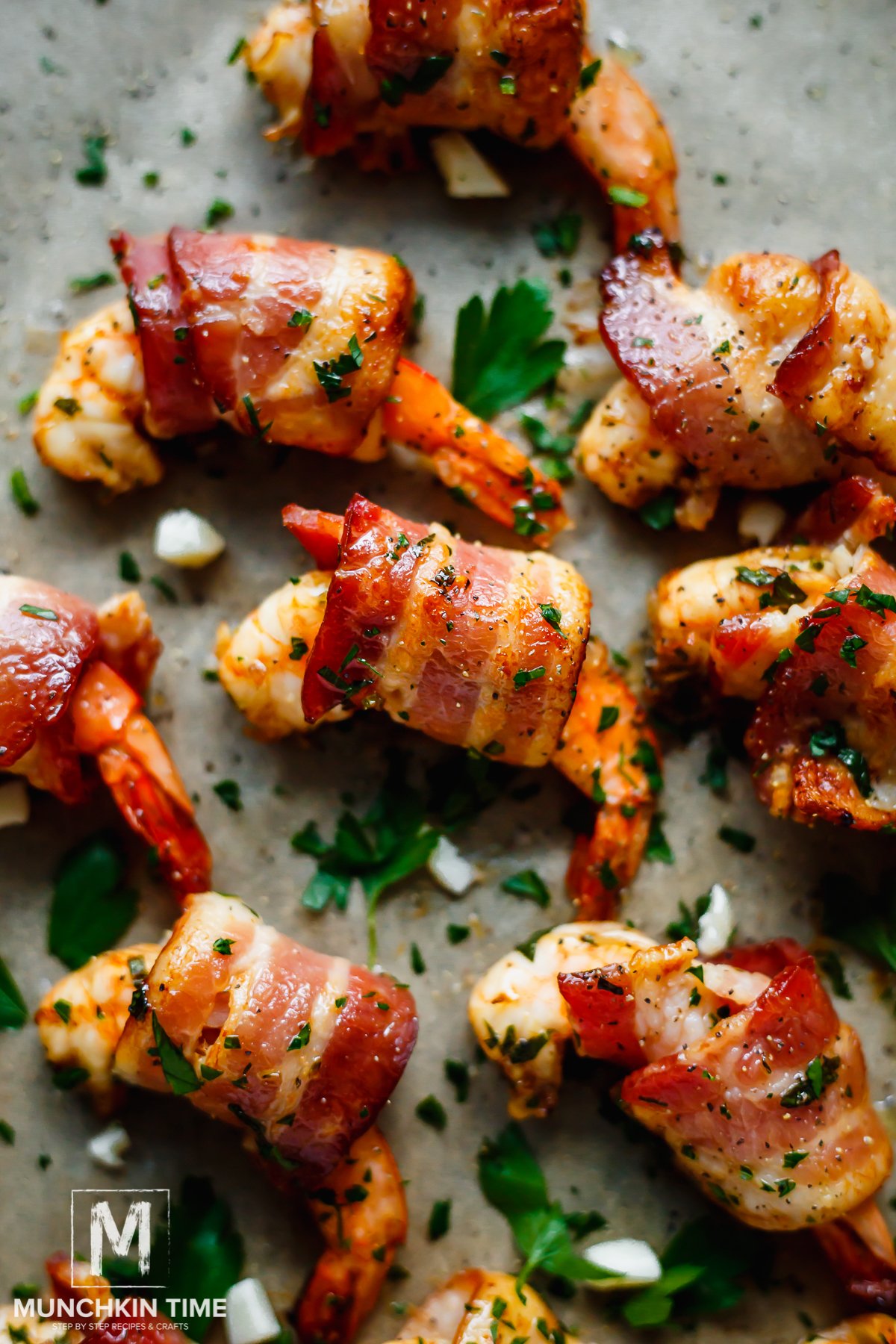 For this recipe, you're going to need jumbo shrimp, because they're really the star of the show, and a simple marinade. The salty crispy bacon that wraps around it is the trusty sidekick that adds so much flavor to an already tasty bite.
As long as you've got some shrimp and a pack of bacon you're set to go because the ingredients in the marinade can be customized to your liking!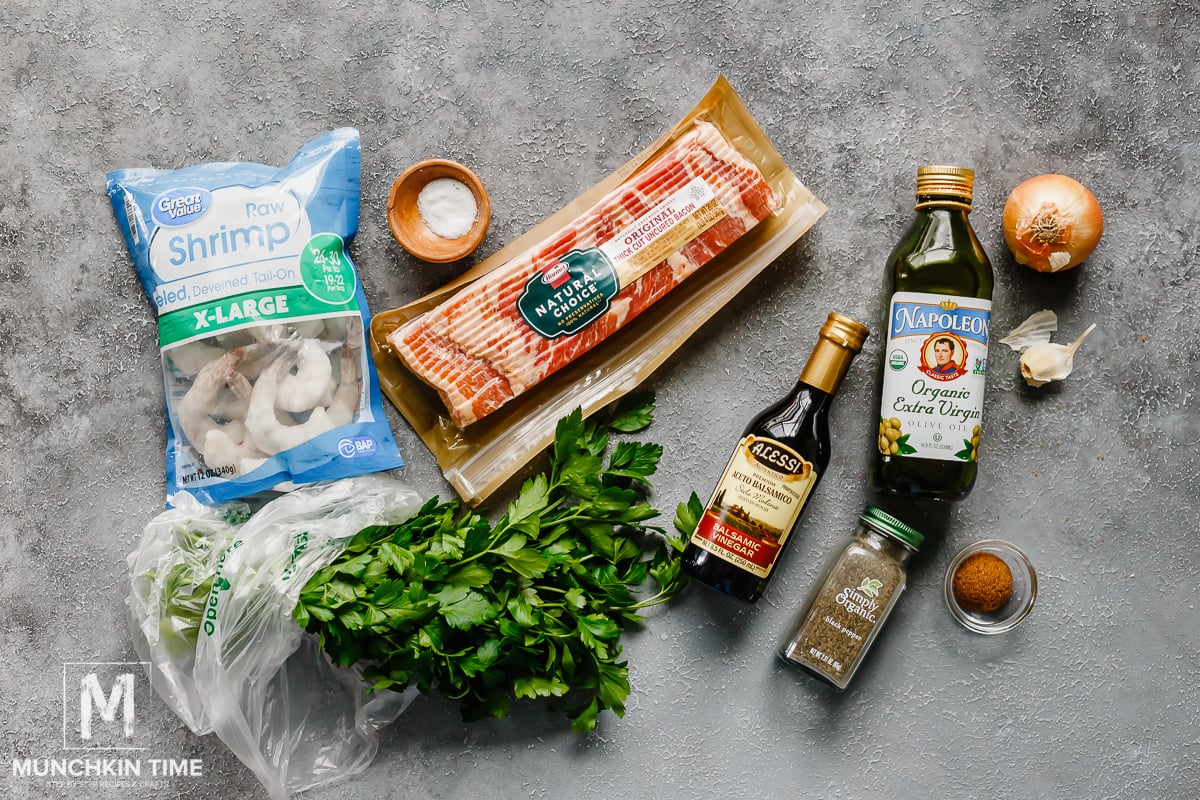 Ingredients Needed
Raw jumbo shrimp – You can use thawed from frozen shrimp or if you've got a local fish market you use, go grab some fresh while you can. Be sure to peel and devein them if they're not already.
Olive oil & Balsamic vinegar – The liquid base of the marinade. Vinegar breaks down fibers and is used to tenderize whatever it is that it is marinating. We're only doing it for 20 minutes, which is long enough to penetrate the flavors but not long enough to start breaking down or cooking the shrimp.
Chopped parsley – You can also use cilantro if you prefer. The fresh herbs work well with all kinds of seafood giving it a delicious vibrant flavor.
Garlic clove – Minced garlic is an essential aromatic to any good marinade!
Brown sugar – Adding some sugar to the marinade will give the shrimp a lovely sweet and sour combination. It'll also add some browning to the shrimp as well as help to give it a little extra crispy texture.
Salt & pepper – To taste and enhance the other flavors in the marinade.
Bacon – Baked for 8-9 minutes in a 450-degree oven. Cut each strip in half.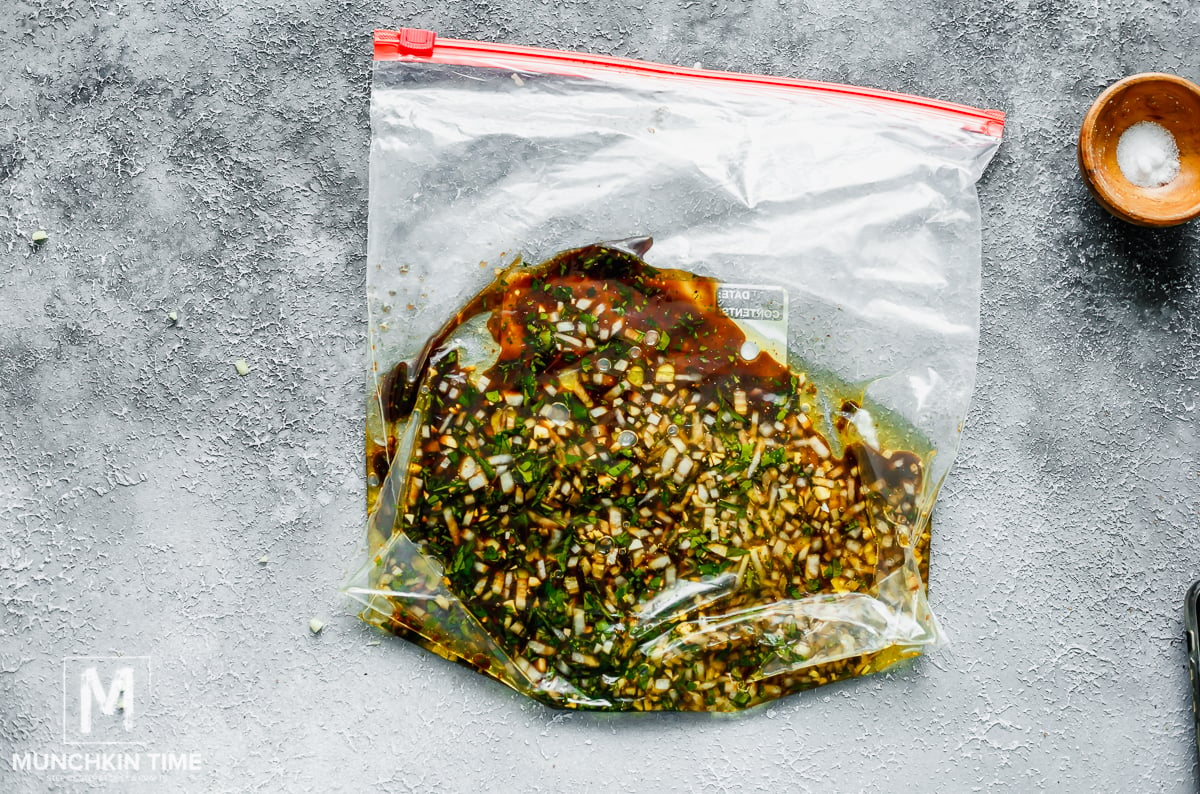 How to Cook Bacon Wrapped Shrimp in the Oven
This recipe doesn't require a long marinating time, in fact, just 20 minutes will do. It'll allow it time to permeate the flavors into the shrimp which is delicious!
Step 1: Place all of the ingredients for the marinade into a Ziploc bag. Do not include the bacon. Toss in the shrimp, making sure all pieces are submerged into the juices. Allow the shrimp to marinate for 20 minutes.
Step 2: While the shrimp is marinating cook the bacon. Place strips on a foil-lined baking sheet in a single layer. Bake at 400 degrees for 8-10 minutes. The bacon should be cooked, but still pliable to be able to wrap without breaking.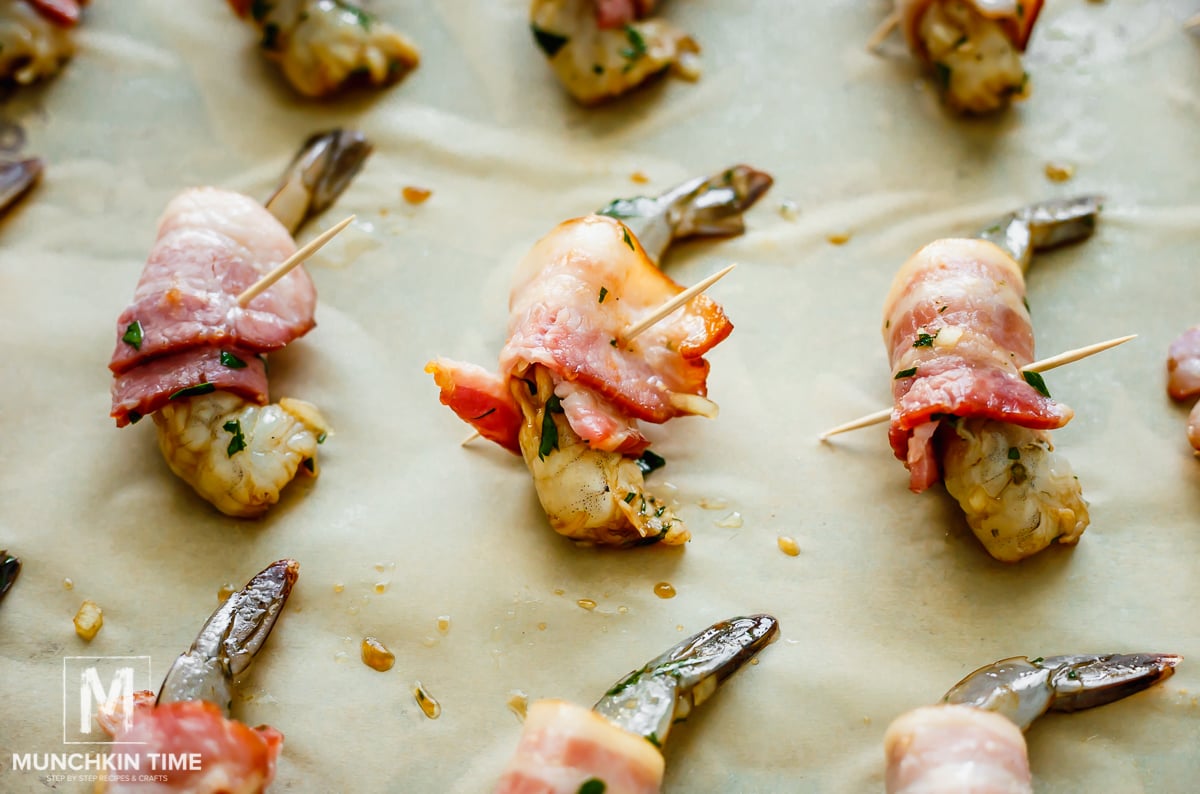 Step 3: Remove the bacon from the oven, and turn the temperature down to 400 degrees. Slice each piece of bacon in half and wrap individual marinated shrimp in a half piece of bacon. Secure with a toothpick. Repeat for all remaining shrimp.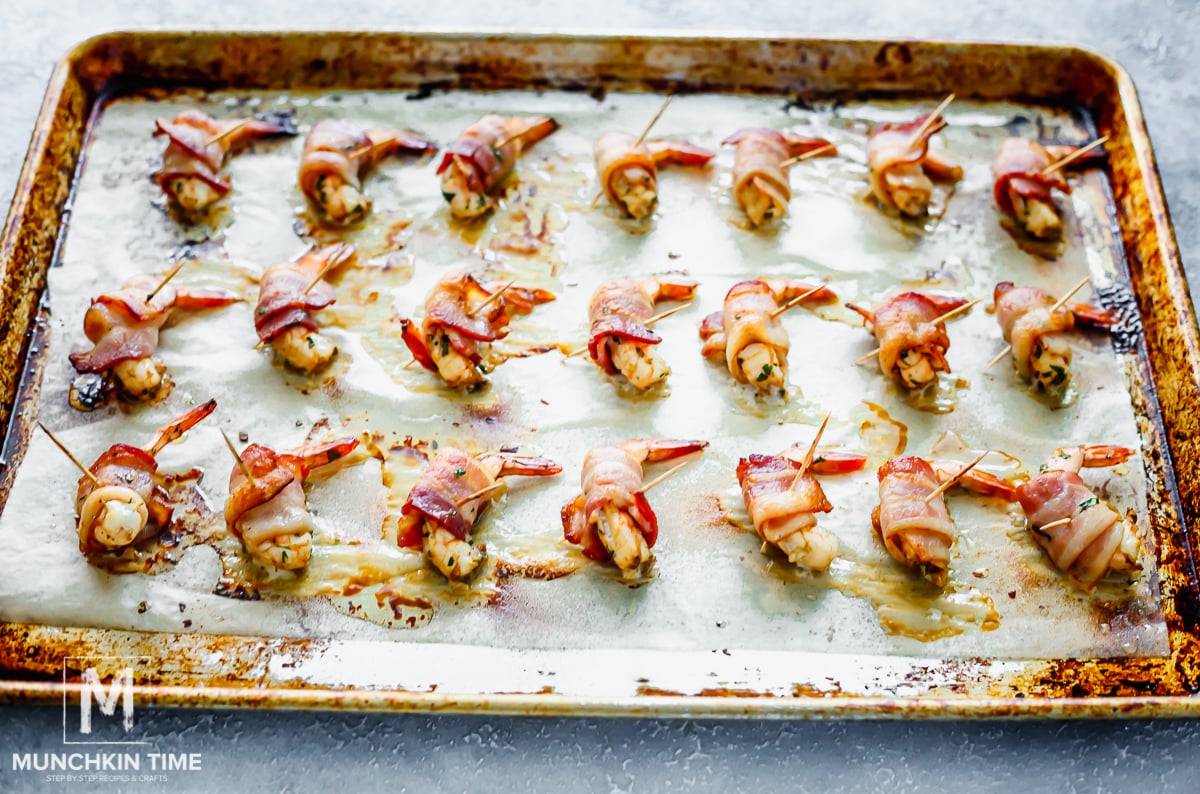 Step 4: Place all bacon-wrapped shrimp onto a clean baking tray and bake for 8-10 minutes or until the shrimp is cooked through.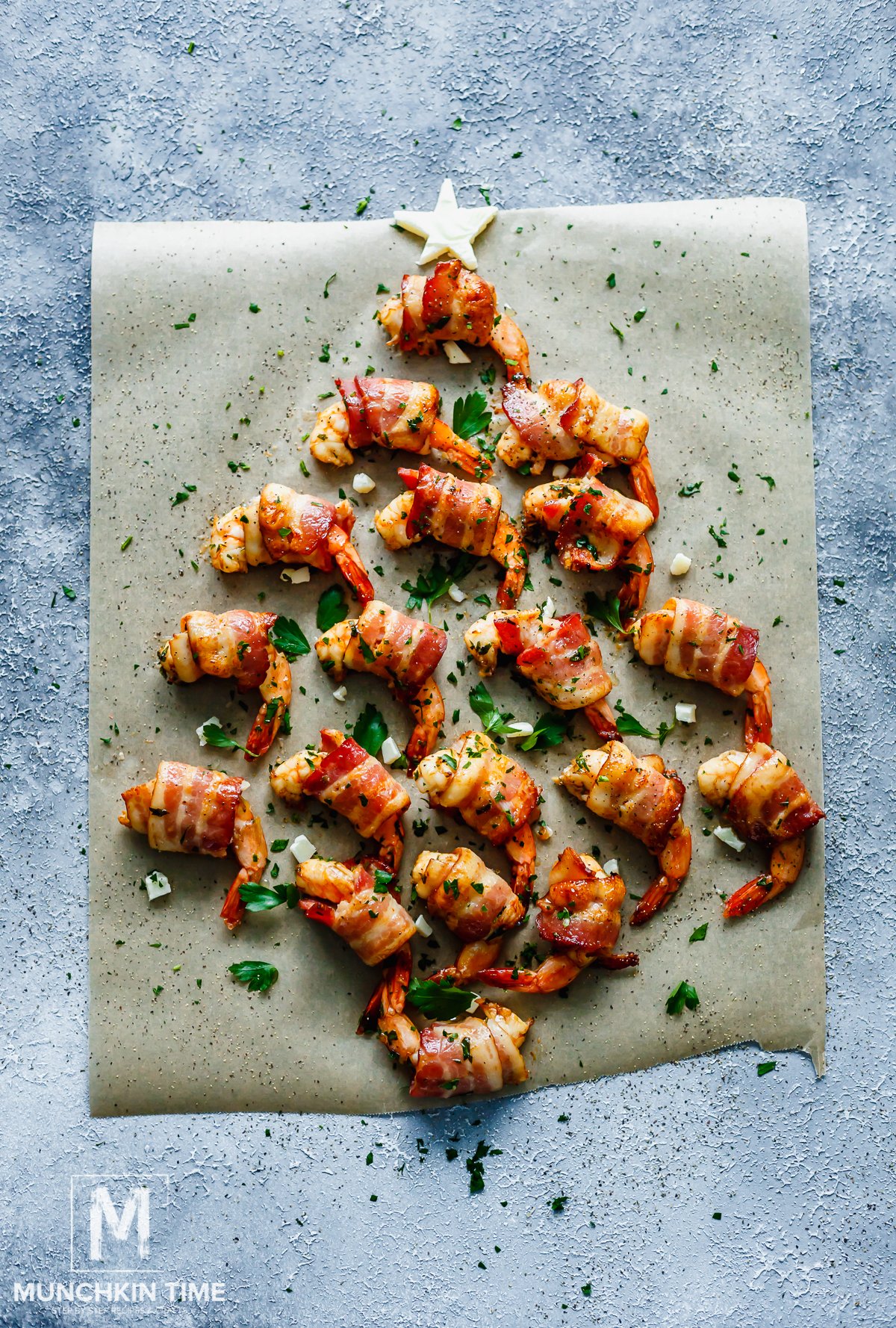 Make a Shrimp Shaped Christmas Tree for the Holidays!
Present these adorable appetizers in a festive way by arranging them in the shape of a Christmas tree, similar to my Christmas tree cheese platter!
Grab an oval or rectangular-shaped platter and start at the top place down one shrimp. Underneath, place two more side by side. Underneath that, place a row of three, and so on until you've got a triangular-shaped arrangement. Cut out a star with your favorite hard cheese and place it at the very top.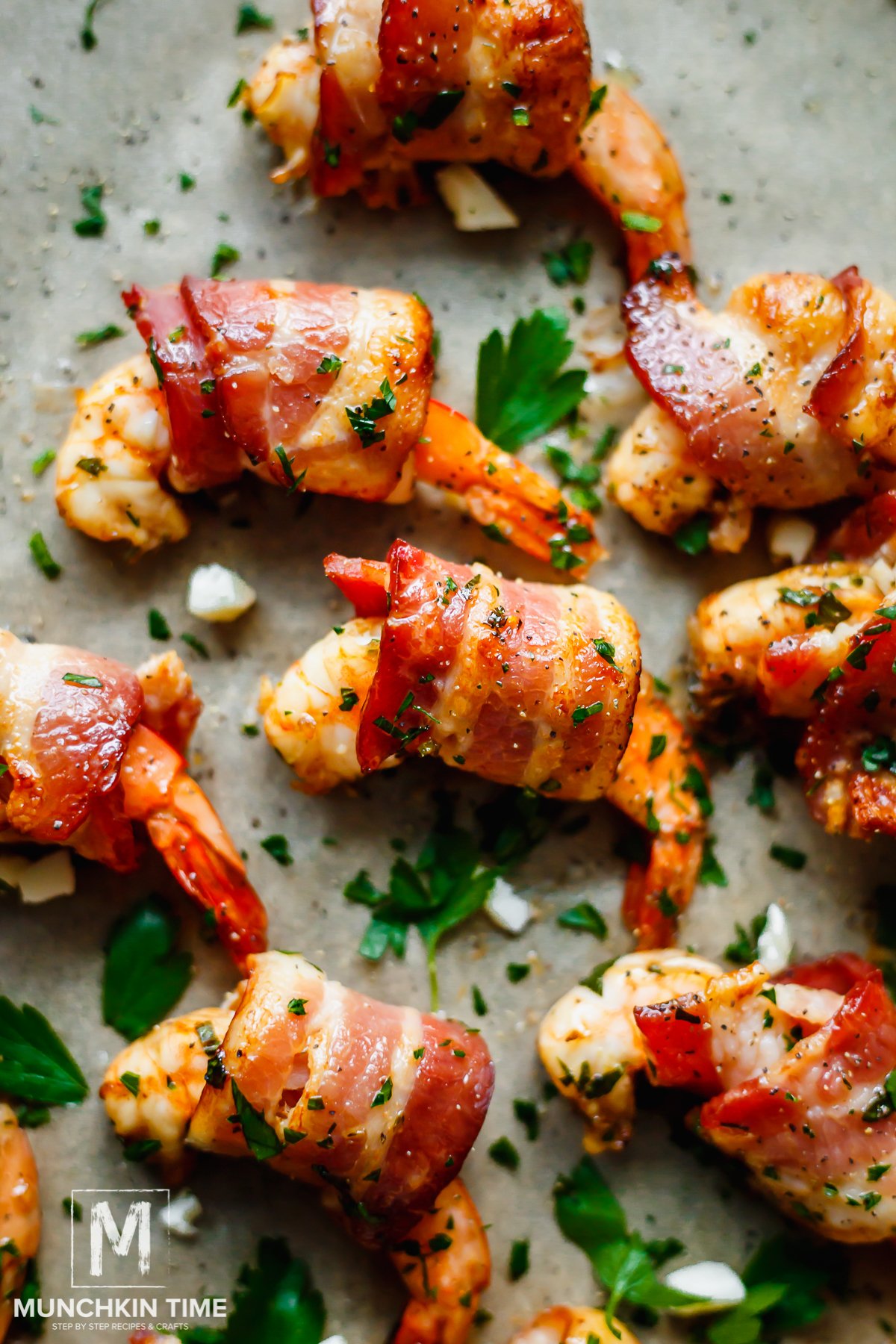 As an appetizer they're perfect on their own or with your favorite creamy dipping sauce, or lemon wedges for an extra squirt. You can serve with or without toothpicks, especially if the tails are still there for easy lifting.
If you're preparing an array of appetizers don't forget to include bang bang air fryer shrimp or oven baked shrimp scampi if you've got some leftover shrimp. Jalapeno poppers, cheese stuffed potato balls, and deviled eggs with bacon are always a hit at parties, so include them too!
As a part of a sit down meal, don't forget to include Instant Pot mashed potatoes (so easy), grilled broccoli, and a homemade caesar salad. So good!
There is no right or wrong way to serve these babies. You'll be lucky if you manage to not eat them all straight out of the oven!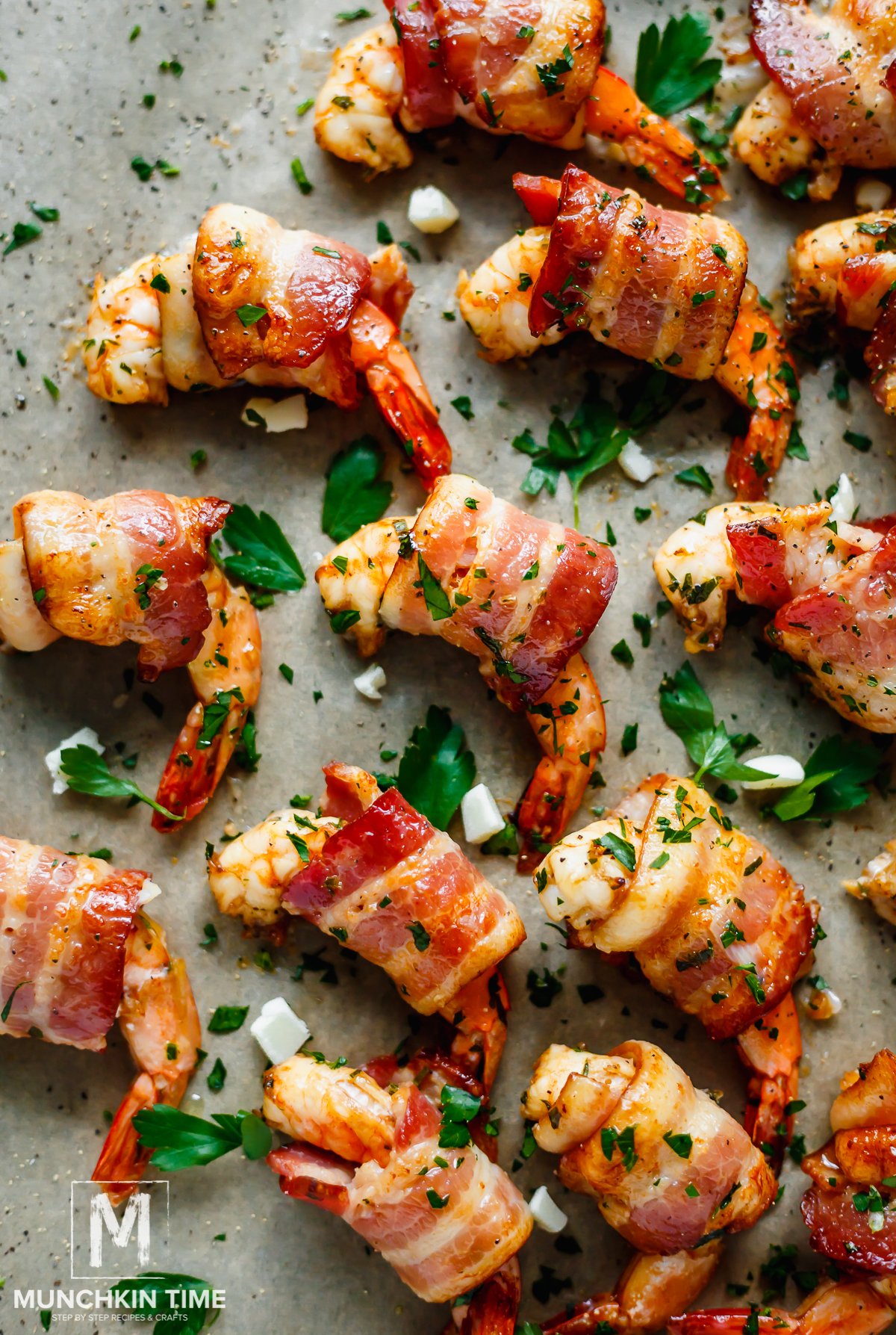 How long do I bake bacon-wrapped shrimp?
With a 400 degree oven, you want to aim for 8-10 minutes. Overcooking the shrimp can result in a rubbery texture and you also don't want to undercook it either! Along the way, the fat from the bacon automatically bastes the shrimp with flavors which is great because it keeps it nice and moist at the same time.
Some people enjoy finishing it under the broiler just to give it that little extra bit of crispiness and darker color.
What other seasoning can I use for the marinade?
The brown sugar adds such a lovely sweet balance to it, but you could opt to use maple bacon and skip the brown sugar in the marinade. Or use both! If you wanted to do a little sweet and spicy combo, throw in a little chipotle or chili powder. If you prefer to use maple syrup rather than brown sugar, do that instead!
You could also use a simple seasoning of salt and pepper and skip the marinade altogether if preferred.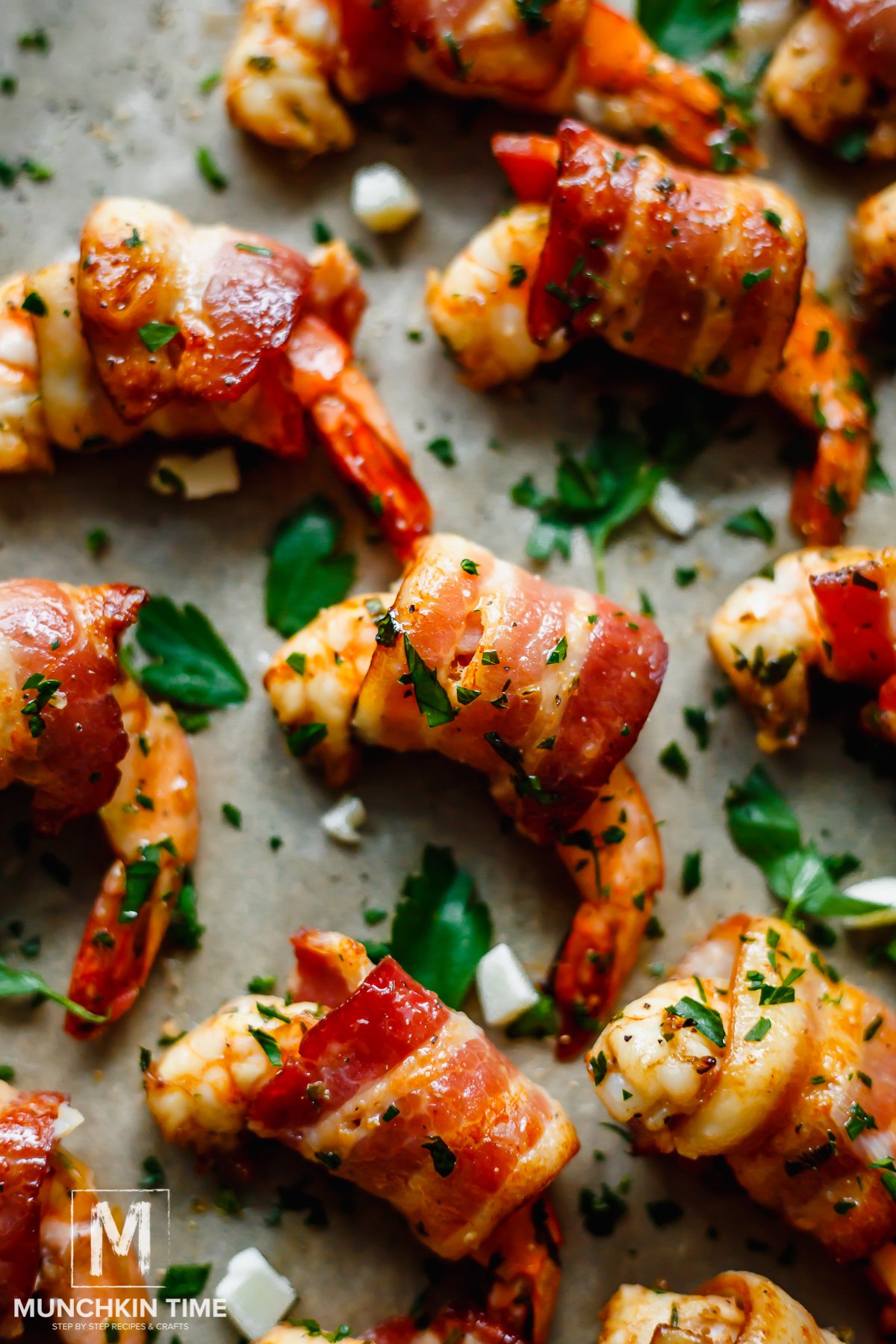 Can I cook the bacon with the shrimp?
Not initially, no. Raw bacon takes longer to cook than raw shrimp. If you were to cook them at the same time, the shrimp would be way overcooked by the time the bacon is done. Starting the bacon off first cooks it enough so that it can be done by the time the shrimp is cooked through.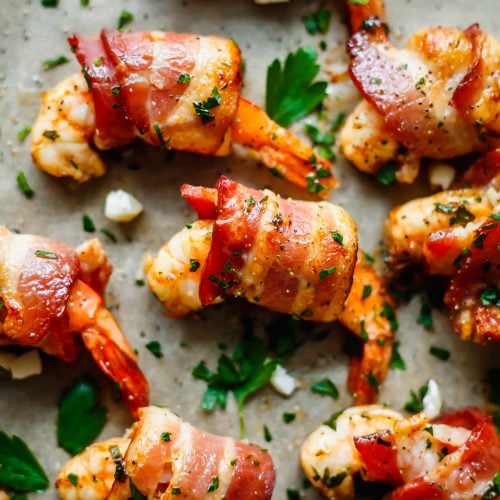 Oven Baked Bacon Wrapped Shrimp
Bacon-wrapped shrimp is made with juicy marinated shrimp wrapped in smoky bacon. Serve as a bite-size starter with a toothpick or as part of your main course with a side of mashed potatoes and veggies!
Ingredients
24

raw

shrimp

jumbo size, peeled and deveined, tail on

1/4

cup

olive oil

1/4

cup

balsamic vinegar

2

tablespoons

parsley

or cilantro finely chopped

1

garlic

1

tablespoon

brown sugar

packed

salt and pepper

to taste

12

slices

bacon

thin slices
Instructions
In the zip bag mix all of the ingredients except shrimp and bacon. Add shrimp and marinate for 20 min.

While shrimp marinating bake bacon at 400 F for 8-10 min. Slice bacon in half.

Wrap each shrimp in bacon and secure with wooden toothpick:) bake at 400F for 8-10 min or until shrimp is cooked thru.
Notes
When 

YOU

make this

Bacon Shrimp Recipe

please tag my name @munchkintimeblog and hashtag #munchkinrecipes on Instagram, we would LOVE to see your creation!
Hi! All content & images are copyright protected. Please do not use my images without prior permission. If you want to republish this Easy Shrimp Recipe, please re-write the recipe in your own words, or simply link back to this post for the recipe. Thank you.
Nutrition
Calories:
70
kcal
Carbohydrates:
1
g
Protein:
1
g
Fat:
7
g
Saturated Fat:
2
g
Polyunsaturated Fat:
1
g
Monounsaturated Fat:
4
g
Trans Fat:
1
g
Cholesterol:
7
mg
Sodium:
74
mg
Potassium:
28
mg
Fiber:
1
g
Sugar:
1
g
Vitamin A:
32
IU
Vitamin C:
1
mg
Calcium:
2
mg
Iron:
1
mg
Do
YOU

like this

Oven Baked Bacon Wrapped Shrimp

?

Let me know in the comments below, I would love to hear from you!

Thank YOU for YOUR Comment, Share & Recipe Review!

Quote of the Day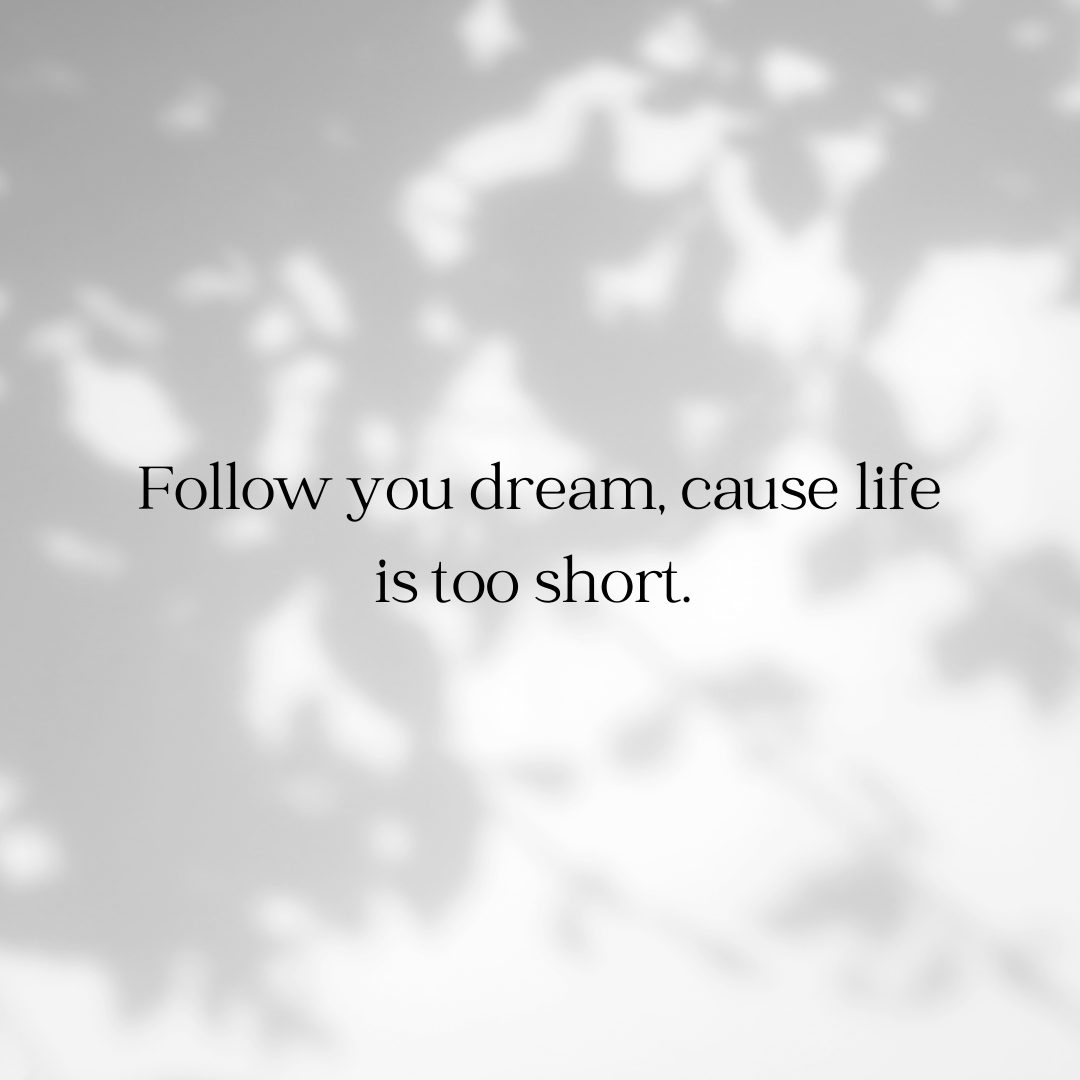 Happy Cooking!